The Spanish rental market offers strong protection, long contracts if you want them and reasonable prices, even in popular coastal areas. As a base for property hunting and an escape from the British winter, it's a popular choice.
Most British people who move to Spain opt to buy a property, often with a view to retirement or as a second home. Recent indications though show that more and more people are renting before they buy or after they have sold a property.
It's easy to buy in Spain this summer or autumn, so long as you have some help. Click here to meet your 'Golden three', the lawyer estate agent and financial experts to make it happen.
The Spanish, like the British prefer to buy their home but financial restrictions and the deposit required for mortgages have meant that many are unable to do so and so they rent. Add to this foreigners who decide to rent either for a few months or longer term and the Spanish rental market continues to be a strong one.
How do I find rental property
Many people use online portals and in Spain there are many. Local estate agents will also have some properties for rent but these are more likely to be short-term rentals (up to 11 months) or tourist rentals.
Local newspapers are another source of rentals but you might need to visit a property with a Spanish speaking friend as often the owner won't speak English. Keep your eyes open for boards outside properties saying "se alquila" (to let) or in Catalonia "lloguer."
How long can I rent?
A short-term rental is anything up to 11 months. You may find that the owner is only willing to let his property up to the summer season when he will rent it out to tourists at a high weekly rate. This is fine if you plan to buy a property within a few months but if you feel that you need to rent in Spain for a longer period to see if you really enjoy the way of life, you will need to look for a long-term let which is fixed for three years.
In the past, if you only wanted to rent for a couple of months you could find yourself paying the higher tourist rate unless you could negotiate with the owner who might lower the price offseason. The arrival of websites like Airbnb and others has changed all that, with many more options for longer-term rentals and sublets that bridge the gap between holiday and long-term lets. This is invaluable for anyone planning to see how they enjoy the Spanish lifestyle, or allowing them to look for a home to buy there without the ticking clock of a brief buying trip.
You can get three year rental contracts?
If the landlord wants his property for himself or a member of his family to live in, he must give the tenant two months' notice and this only after a year's rental period.
Most long-term rentals are fixed for three years after which the contract can be renewed for a further year with the agreement of both parties. The annual renewal is continuous until either the owner requires his property back for his own use (note, this must be proven) or the lessee gives notice or one or two months, depending on the contract details. If the landlord wants his property for himself or a member of his family to live in, he must give the tenant two months' notice and this only after a year's rental period.
Usually the tenant will be asked for a deposit of one month's rent against damage or non-payment for an unfurnished property but in some cases this could be two months' rent, mainly when the property is furnished. Under recent laws, the proprietor must show an energy certificate to indicate the cost of heating the property. Payment is usually made at the beginning of each month by bank transfer.
The tenant will be responsible for payment of electricity, gas, water and telephone and also may have to contribute to the maintenance of communal areas of a building and for rubbish collection which is a tax paid to the local council. The landlord is responsible for maintenance and major repairs.
The landlord is responsible for maintenance and major repairs.
All rental contracts must be in Spanish. You will need to show yours to the local town hall when you register to be on the empadronamiento which is a list of everyone living in the district. This is something everyone should do!
Furnished or unfurnished?
The majority of properties are rented furnished and you will find that the higher the rental price, the better quality the furniture and furnishings. Furnished properties are ideal if you are renting while you look around for a property to buy but for the longer-term you might want to have your own belongings around you and so you will be looking for unfurnished accommodation. It is a good idea to tick this as a requisite when looking online or you will have to hunt through dozens of furnished apartments and villas to find the unfurnished ones. It is possible that a furnished property may not have white goods: if they are there, check with the landlord who is responsible for them if things go wrong.
A quick search of Airbnb in Marbella revealed hundreds of options for two month lets covering the whole of February and March for between £300 and £25,000!
How much should I expect to pay?
Monthly rentals in Spain vary enormously. In cities like Madrid and Barcelona, expect to pay high amounts as these cities have seen a large rise in rental prices over the last year. In Málaga for example, you can find a three-bedroom apartment by the sea for €1,200 a month, which is what you would pay for a three-bedroom house in some of Spain's provincial towns or smaller coastal resorts.
There are apartments available for €350 a month but these are generally in less sought after areas and will be quite small. The average rent for properties in better districts and close to the sea are currently between €450 and €750 and may or may not include a parking space.
Prices are just half the story. To accurately budget for your move abroad, read

The Currency Guide to Emigration,

 free to download.
For shorter-term rentals, perhaps just over the winter period, there are options for every pocket. A quick search of Airbnb in Marbella for example, revealed hundreds of options for two-month lets covering the whole of February and March for between £300 and £25,000. I know I'd pay that to escape a chilly winter in northern England!
What else should I know?
Renting is a choice made by many British people as they get older and when they sell their villa or apartment. It gives freedom, as they only need to give a month or two's notice to the landlord if they decide to return to the UK or prefer another location. The landlord is responsible for maintenance of the property, which will come as a relief to many, although the tenant will have to pay for small repairs. Renting suits many British people for a variety of reasons and leaves their assets unencumbered.
For those just beginning their journey to Spain, renting is a means to an end. It gives you time to find exactly where you want to live and the property you want to buy. People who work for British companies and are posted to Spain also find renting convenient as they may be in that job for a limited period.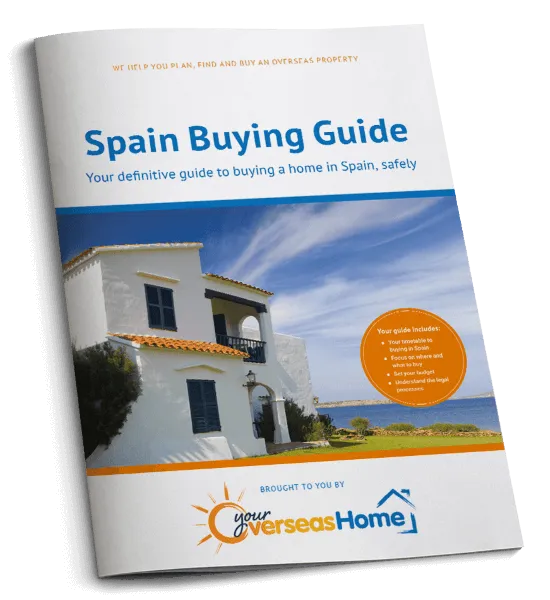 The Spain Buying Guide is a free, independent resource to help anyone who is looking to buy property in or move to Spain through each critical stage of their property buying journey.
Set up to help our readers avoid the many complexities and pitfalls of buying property in Spain, the guide takes you through each stage of the property buying process, with practical recommendations from our experts who have been through the process themselves.
✔

  Ask the right questions
✔

  Avoid the legal pitfalls
Download your free guide to buying in Spain