The best restaurants, the best beaches, new shopping opportunities and now safer roads. It's win, win, win, win in Spain right now.
The long arm of the Spanish law
When you're happily motoring along through the Spanish countryside and suddenly see that flash in your rear-view mirror or the traffic cop by the side of the road, and think you can scoot back to the UK and forget all about a fine, you could be out of luck. Following the UK government's agreement, you could now be liable to fines of up to €750 (£640) for offences committed in Spain, France and other European Union countries. Forces will be able to find owners of vehicles registered in other countries, and fine them. The rules do not only apply to speeding, but cover eight offences including not wearing seatbelts and driving while using a mobile phone. It should all add up to safer driving conditions for us all, don't forget that the rules are there to protect us!
Under EU law the vehicle owner is responsible whether or not he was driving the vehicle at the time of the offence. Conversely, in the UK it is the driver who is considered responsible, meaning that the British police will not be able to give fines to drivers from EU countries.
Under EU law the vehicle owner is responsible whether or not he was driving the vehicle at the time of the offence.
Speed limits in Spain are 120kph on motorways, 90kph on open roads and 50kph in towns. Always, however, observe the limit signalled on the road you are driving on, and bear in mind that if you are unused to driving on the right, take it easy!
Spain's beaches cleanest in the world
There will be 684 Blue Flags this summer signalling beaches with top quality facilities, cleanliness and ease of access in Spain, more than anywhere else in the world. The region of Valencia has the most Blue Flag beaches at 129, Catalonia comes next with 95 and Andalusia third with 90.
Spain has been top of the playas for 30 years, since the scheme was started. Greece, France and Turkey are on the list after Spain in that order.
Mallorca bans plastic cutlery
A new law banning plastic partywear will come into force in 2020 on the island of Mallorca. In a bid to reduce the mountain of plastic found in the sea and on beaches, the government's new rules will also apply to plastic knives, forks and spoons. In 2019 there will also be a ban on one-use plastic bags, except for those used for vegetables and fruit. Biodegradable bags will be permitted.
Three Spanish restaurants in this year's top 10
Restaurant Magazine's top 10 worldwide restaurants feature three from Spain. El Celler de Can Roca in Girona, Catalonia is number 3 and it also won the prize for the "Art of Hospitality" at the award ceremony. Owned and managed by three brothers, all of whom are involved in the restaurant's cuisine and wine, it has consistently been in one of the 3 top positions for many years.
At No 6 is a Basque restaurant, Etxebarri, whose chef, Bittor Arginzoniz, works his magic in a lovely location in the foothills of Mt. Anboto around 25 miles from the city of Bilbao. Extebarri means "new home" in Basque and has been open since 1988. Almost everything on the menu is in some way cooked on charcoal grills.
A suburb of San Sebastian is home to ninth on the list, Restaurant Arzak which has been open since 1989. A father and daughter oversee the kitchen and restaurant which is in on old building but is surprisingly contemporary inside. Their wine list is also of particular interest.
Amazon expands in Spain
Amazon, the online superstore's popularity in Spain is rising fast, to the extent that the company is opening its sixth Spanish centre this autumn. It will be the fifth in Catalonia, giving work to 650 people, and supporting the thousands of small businesses which use Amazon's 3rd party facility.
Lidl takes on Zara and Primark
Discount supermarket Lidl in Spain is to offer 5 "mini collections" in its fashion range for women, Esmara. It is looking to increase its profit from textiles, which currently represents 10% of the total. Between now and 22nd June, limited editions of fashion will be on sale for under 10€. Each month they will have a new offer.
A recent report by Kantar Worldpanel shows that 50% of women buy their clothes in supermarkets. One third say it is because of lack of time while 60% say it is because of cost.
Warnings before power switch off
Power companies must send three written warnings to customers and wait two months after the final warning before cutting off the electricity supply.
More than one holiday home-owner in Spain has left their Spanish home for a month or two and come home to find the electricity cut off. Now Spain is extended the period where you can be a little disorganised or forgetful! The government has sent a draft law to all of the country's autonomous regions addressing the problem of cutting off supply to customers who haven't paid their bills. Under the new law the company will have to send three written warnings to customers and must wait two months after the final warning before cutting off the electricity supply. For vulnerable people, those on benefits and people who pay reduced bills due to poverty will be allowed four months to pay the bill.
A permanent database of all the customers cut off from electricity will be kept in each region so that the authorities can determine if these people "are at risk of social exclusion" and if necessary, can move to help them.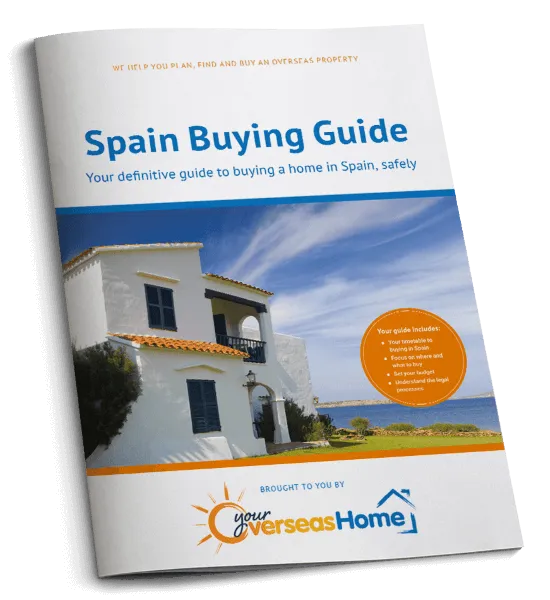 The Spain Buying Guide is a free, independent resource to help anyone who is looking to buy property in or move to Spain through each critical stage of their property buying journey.
Set up to help our readers avoid the many complexities and pitfalls of buying property in Spain, the guide takes you through each stage of the property buying process, with practical recommendations from our experts who have been through the process themselves.
✔

  Ask the right questions
✔

  Avoid the legal pitfalls
Download your free guide to buying in Spain