It's good news from Spain as tourist numbers and the welcome to visitors hit new heights, while unemployment and taxes fall.
The end of Spanish austerity?
The Spanish government says that unemployment should fall to 16.6% by the end of this year. Just three years ago it was above 26%. This is excellent news for Spanish people who have faced years of hardship but it is also good news for anyone hoping to live and work in Spain.
Falling unemployment costs and rising tax income means that considerably more money will be spent on healthcare in Spain, also creating jobs, as will an injection of funds into transport, education and social services. The budget also allows for increased spending on students and education, help for the elderly and disabled and around 67,000 new civil positions. All of this is because Spain's economy is steadily improving and consumer confidence is returning. The latest data from the EU registered a rise in GDP of above 3% last year, 4th highest in the Eurozone and well above the UK. Spanish exports are likely to increase again this year, but more interestingly, imports are also expected to go up – it is 10 years since this last happened.
Startups and new companies will be encouraged by these figures and this includes many British residents who are self employed or running small businesses. The government accepts that unemployment is still too high but Spain's economy is looking a lot rosier than for years.
Spain was crowned "most tourist friendly country" mainly due to its vibrant culture and wonderful natural parks, great tourism infrastructure and excellent airline connections.
British tourist numbers up
The fall in the value of Sterling hasn't stopped the British heading for Spain. Latest figures released for tourism in Spain show that the largest number of visitors in February came from the United Kingdom, 921,000 out of a total of over four million. The Canary Islands always fare well in the winter and this year was no exception, but the largest number of British visitors went to the Valencia region (which includes much of the Costa Blanca), with a third of all tourists. Andalusia also saw an increase in British tourism.
Not only is this excellent news for the Spanish economy, it is also good for British people letting out properties to tourists and those running bars, restaurants and other services which cater to the British.
Spain named "most tourist friendly country"
More encouraging news for anyone who lives in Spain and works in the tourist sector, as the country has been given the number 1 position out of 136 countries by the World Economic Forum's tourism report.
The report is based on ratings for safety, security, hygiene and transport. France came second and Germany third, with the UK fifth. Spain was crowned number 1 mainly due to its vibrant culture and wonderful natural parks, great tourism infrastructure and excellent airline connections.
Inspired by this good news? Why not head out to Spain for a viewing trip to find your dream home. Find out how to make the most of your visit by downloading our free guide to planning a viewing trip.
Tax reduced on live performances
Another piece of good news for anyone living in Spain is that IVA, the Spanish VAT tax, is to be reduced from 21% to 10%, for performing arts, giving a much needed boost to theatre, dance and music concerts. Unfortunately this will not apply to films or dvds. It also means that bullfights are cheaper as they are also classed as live performances, which not everyone is so thrilled about.
Leaders in some Spanish regions, particularly the mayor of Barcelona, have been calling for rent controls
Calls for rent controls ignored
Leaders in some Spanish regions, particularly the mayor of Barcelona, have been calling for rent controls. Many cities and regions have seen a huge rise in the cost of rents to the local population, as landlords rent apartments and villas to tourists at higher rates. The Spanish government, however, has made it clear that they are not prepared to consider universal rent controls. This sounds like good news for the many British people who let out their property for all or part of the year on short term or touristic leases, but the problem for local people still remains as prices are often beyond their reach. It should be noted too, that many elderly British people are renting in Spain and are seeing a reduction in their pension due to the reduced level of the pound in the past year. Many must be rueing their failure to buy a home there when prices were at rock bottom.
Spain's top cities for cyclists
If you're keen on cycling and fancy living in Spain, Valencia and Seville stand out as super-cyclist-friendly. The Spanish people are into cycling and in a recent survey by the consumer organisation, OCU, seven out of ten citizens said they felt that their town or city should do more to encourage and help cyclists.
The head of the regional party, Compromis, in Valencia arrived at his first day of work on a bicycle and is really keen to improve the city's roads for cyclists. "I've always used my bike to get around Valencia, and that's not going to change just because I'm the mayor," he said.
Valencia has on-street bike-hire which can be picked up, used and dropped off at the various distribution points. This service is available in many other of Spain's larger cities, including Barcelona and Madrid, but Madrid suffers from air pollution problems which is why it is not near the top of the list.
Seville has the best overall cycle network of any city in Spain but some of the infrastructure needs better maintenance. In Barcelona some of the cycle paths clash with pavements and therefore put cyclists and pedestrians at loggerheads, but generally the city has very good paths for cyclists. Zaragoza has an excellent cycle circuit but links between the paths need improving, while Palma de Mallorca has good cycle routes but maintenance doesn't always keep pace. The Andalusian city of Málaga has poor cycle paths which often clash with pedestrian routes, as in Barcelona, but overall Spain is one of Europe's most cycle friendly countries despite its often mountainous terrain – of course, some cyclists would see this as an advantage.
Most coastal and inland cycling routes are unpolluted and offer beautiful scenery but are perhaps a little too hot in the height of summer for most people. The upside is that the coastal tracks are rarely too cold in the winter.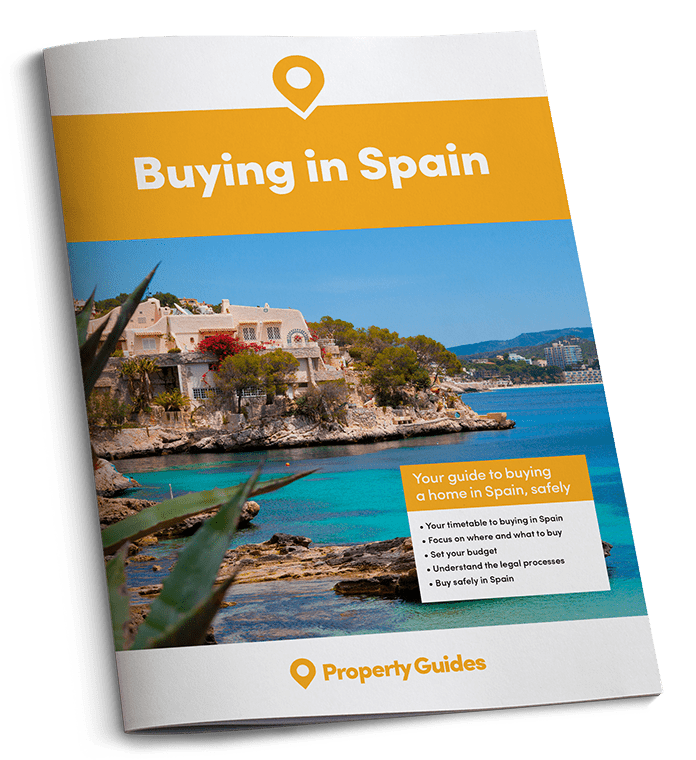 The Spain Buying Guide is a free, independent resource to help anyone who is looking to buy property in or move to Spain through each critical stage of their property buying journey.
Set up to help our readers avoid the many complexities and pitfalls of buying property in Spain, the guide takes you through each stage of the property buying process, with practical recommendations from our experts who have been through the process themselves.
✔

  Ask the right questions
✔

  Avoid the legal pitfalls
Download your free guide to buying in Spain