The news has been coming in thick and fast from Spain as 2018 gets into full swing. Join us as we run through the stories that are of particular interest to overseas property buyers there.
British Airways announce flights to Gibraltar
Flights to Gibraltar from Gatwick airport ceased following the collapse of Monarch Airlines last year. British Airways plans to fill that gap during the peak season, by flying there six times a week between 28th May and 29th September. It is hoped the new service will help people living in Gibraltar and those on the Spanish side of the border to get to and from London more easily, in addition to the existing Heathrow schedule.
Minimum wage to increase over the next three years
Good news for people working in Spain on the minimum wage. Spain's government has agreed a 4% salary rise for the country's lowest earners in 2018, and a further increase up to €850 a month by 2020.
Spain's government has agreed a 4% salary rise for the country's lowest earners in 2018.
Madrid or Barcelona?
A recent report by travel price comparison website Jetcost provides an interesting insight into travellers' preferences when it comes to choosing between Barcelona and Madrid. It appears that overseas visitors prefer to head to the third most searched for city on Jetcost's site, Barcelona, while those living in Spain opt for fifth on the list, Madrid. In fact there are ten Spanish destinations in the top 20, including Málaga, Palma de Mallorca, Santa Cruz de Tenerife and Las Palmas de Gran Canaria.
If you're ready to buy in Spain in the next three months, call our friendly Spain Resource Team on 020 7898 0549 or email spain@propertyguides.com.
Cost of Spanish mortgages decrease
At the end of 2017 the cost of a mortgage in Spain was at its lowest level ever as the Euribor (the rate of interest at which large European banks lend each other euros) fell again. Back in 2008 the Euribor reached its highest level (5.5%), while in December last year it was in negative territory ( -0.19%), causing mortgage repayments to fall.
The majority of mortgages in Spain are set at a variable rate, meaning the cost can go up or down depending on the Euribor. Recently, however, the government has been encouraging the use of fixed rate mortgages, making it easier for mortgage holders to calculate their repayments over a given period. Experts say the Euribor could dip even lower in 2018 – or at least stay the same – which is comforting news for the millions of home owners with variable rate mortgages.
Property sales continue to rise
The New Year has brought continued optimism in the Spanish property market. Figures released by the central government for November 2017 reveal the registration of property sales and purchases reached 40,579, an increase of over 18% compared to the same month in 2016 – the tenth year-on-year increase in the in the first 11 months of 2017.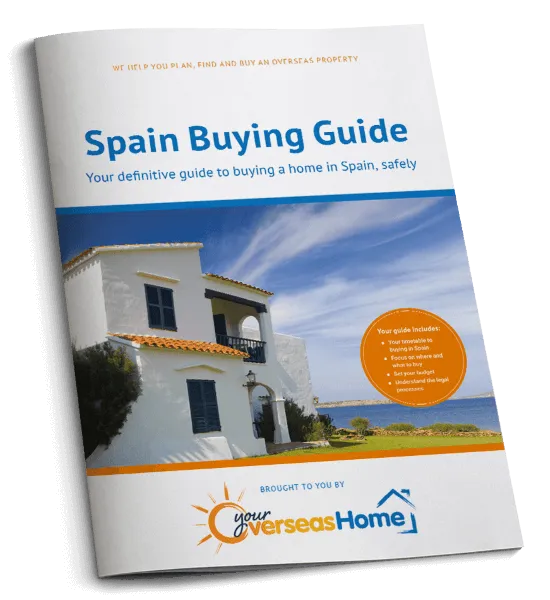 The Spain Buying Guide is a free, independent resource to help anyone who is looking to buy property in or move to Spain through each critical stage of their property buying journey.
Set up to help our readers avoid the many complexities and pitfalls of buying property in Spain, the guide takes you through each stage of the property buying process, with practical recommendations from our experts who have been through the process themselves.
✔

  Ask the right questions
✔

  Avoid the legal pitfalls
Download your free guide to buying in Spain