Keeping EU citizenship after Brexit is vital for a large number of British people, while the UK government proposes to continue paying for healthcare and pensions. More police patrols in popular holiday places and new rules for renting out apartments in Madrid.
Theresa May pledge on pension and healthcare
British Prime Minister Theresa May has said in the House of Commons that she is prepared to continue to cover pensions and healthcare for British expats in Europe. She also said that British pensioners will continue to receive the annual increments they currently enjoy. Disability payments would also continue under her proposal.
Research by The London School of Economics (LSE) reveals that 85% of British 18 to 24 year-olds want to retain their EU citizenship
The existing arrangement between the British and EU countries would remain, whereby the UK government covers the healthcare costs of pensioners living in Europe and the EU countries pay for their citizens in Britain. She also said that the UK's intention was to carry on with the EHIC (European Health Insurance Card) scheme whereby British who visit Spain and the other countries in the EU will have emergency health costs covered.
This will go some way to allay the fears of expats living in Spain after Brexit. It should be noted though, the EU negotiators have not yet accepted this approach.
85% of UK youngsters want to retain EU rights
Research by The London School of Economics (LSE) reveals that 85% of British 18 to 24 year-olds want to retain their EU citizenship after the UK leaves the EU. Moreover, it seems that many people would consider paying substantial sums of money to keep their current rights in EU countries.
When it came to how much they would be willing to pay, the LSE survey found that 68% of respondents (of all ages) would be willing to pay to maintain their EU rights, with an average cost of £594 per year. This might seem odd, firstly given that 52% voted to leave the EU. Perhaps the imminent loss of the right has focused the mind, or maybe a substantial number of the 52% didn't want a hard Brexit at all. Secondly, this is four times more than the UK is currently paying into the EU per person.
These findings, according to Professor Michael Bruter, professor of political science and European politics at the LSE, showed that "Many British citizens – and particularly young ones – are still very unhappy to lose the rights associated with their current EU citizenship, notably the rights to live, work, and study anywhere in the EU. They would paradoxically be willing to pay far more than they currently do to retain those rights."
Will Madrid ban tourist rentals?
Communities of apartment owners in Madrid may have the right to ban short-term rentals to tourists. Such rentals have upset many local people who claim that they hike up rental prices and cause disruption to their way of life.
Draft proposals allow the owners of apartments in comunidades de propietarios to insert clauses in their statutes specifically prohibiting the rental of apartments within the community for short-term tourist lettings, such as those offered by the likes of Airbnb.
Despite there being a central register for tourist rental apartments, many owners in Madrid have ignored this. Regional premier Cristina Cifuentes said it was not her party's (PP) intention to ban tourist rentals totally but to regulate them in order to improve quality and safety for visitors. Therefore, owners will have to have insurance to cover civil responsibility and to provide complaint forms. They are also planning to introduce a rental certificate showing that the property has the basics such as hot and cold water, heating and sufficient energy supply.
Mrs Cifuentes also said that she is against the suggestion of a tourist tax or a suspension of new hotel construction proposed by some of the local councils as she claimed the problems in Madrid aren't in any way similar to those in Barcelona, where the number of private holiday rentals is considered to be a serious issue.
Doubling police numbers to keep tourists safe
There are now 2,639 police officers on patrol in Spain's tourist areas, double the number a year ago. They are being deployed throughout the country but mainly in Andalusia, Madrid and the Canary Islands.
Spain's Minister of the Interior, Juan Ignacio Zoido told a press conference "With this, we are confident that all Spaniards and foreigners can enjoy their holidays safely and without having to worry… We want to offer more and more security to the tourist." Police from other countries will join patrols of Spain's beaches and tourist spots.
Tourists and residents of Spain can use the app, Alertcops, to report any crime or to ask for police assistance.
Tourists and residents of Spain can use the app, Alertcops, which you need to sign up to (in English) and which can be used to report any crime or to ask for police assistance. The dialogue can be in English or Spanish and other languages.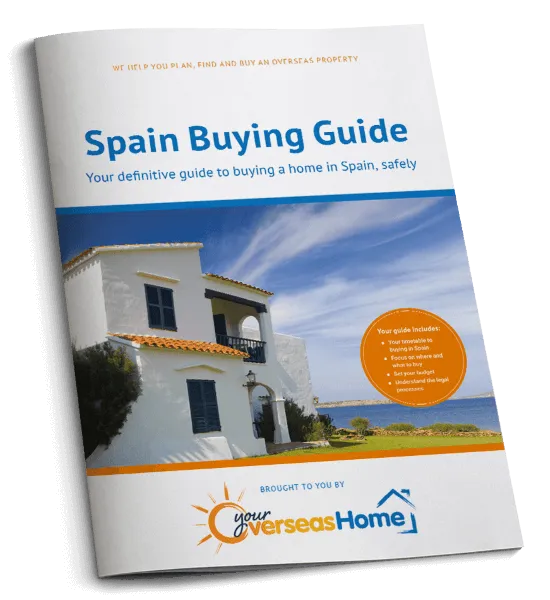 The Spain Buying Guide is a free, independent resource to help anyone who is looking to buy property in or move to Spain through each critical stage of their property buying journey.
Set up to help our readers avoid the many complexities and pitfalls of buying property in Spain, the guide takes you through each stage of the property buying process, with practical recommendations from our experts who have been through the process themselves.
✔

  Ask the right questions
✔

  Avoid the legal pitfalls
Download your free guide to buying in Spain