Property prices are stable, demand is up, new developments are underway, and we're ready for fiesta season as El Escudo kicks off in Cieza. Oh, and Spain officially has the most 'Blue Flag' beaches in the world. What a difference to the Brexit cloud hanging over the UK! Find out what's been happening this week on the Spanish costas.
Spanish property market sees biggest growth in Europe
Good news for anyone looking to invest in a Spanish property: the very latest figures show that the first quarter of this year saw Spain's real estate market growing at the highest rate among key European markets, at 3.8%, according to the Deutsche/HYPO index. El Pais reports that this upward trend is set to continue at a more stable rate of 2..1%. If nothing corrects the market, according to the Asociación Española de Análisis de Valor, we'll be looking at annual price growth of 4%. If you're concerned about the stability of British property during Brexit, perhaps Spain could be a good place to look?
That said, it doesn't mean house prices have reached unsustainable levels – and, if you know where to look, you can find some fantastic bargains. Despite growth in the market, Survey Spain reports that almost 70% of sellers have agreed to cut their asking price by 10%, with an average discount of almost €15,000.
New 'golden mile' a goldmine for property buyers on the Costa del Sol
You've probably heard talk of the 'new golden mile', an up-and-coming area of the Costa del Sol stretching from Estepona to San Pedro de Alcántara. As our partners at Survey Spain tell us, you can see increasing cases of properties selling as soon as they're announced. There's strong interest from Nordic, Belgian and Dutch clients, which also backs up what we see in the rental market: if you're buying property on the Costa del Sol to rent out as a holiday let, then these are key markets to target.
When you do decide to buy in Spain, Smart Currency Exchange is the specialist in protecting your money from the risks of international transfer. They have two offices in Spain too, in the Costa Blanca and Costa del Sol. Read Smart's Property Buyer's Guide to Currency here.
Marbella, of course, is still one of the most popular areas, and anyone driving around will notice more and more cranes go up. It seems like slowness on building permissions is abating, and, consequently, a lot of long-await developments are going ahead. British buyers, as always, particularly appreciate the area around Mijas, although sales are slowing a little. As Kimberley McKenna from our Spain office highlights, 'This is the perfect location if you want affordable property within a few minutes' drive from Marbella! It's growing in popularity among buyers and there's a fantastic mix of affordable and multi-million properties. Most buyers are looking for a more contemporary style and, with a pause on building during the crash, there is high demand versus supply.'
Tourist numbers up nationwide for seventh year in a row
In yet more good news for us here in Spain, tourist numbers are continuing to grow. Madrid, which we have recently written a new area guide about, has seen a whopping 21% increase year-on-year. The top countries of origin were, unsurprisingly, the UK, Germany and France. We've seen an increase in other areas, too, with more and more visitors arriving from the US, Russia and neighbouring Portugal. Plus, the amount spent by visitors in Spain is on the up by 6%.
All in all, it's great news for anyone who rents out their property in Spain, or is thinking of renting out their property here. The tourist market is strong and, with advice from the right experts, you can find a home with a fantastic yearly return.
New cultural space and food market opens in Denia
Dénia has got another string to its bow, as a new cultural space and food market opens its doors (or gates). Els Magazinos, with more than 22 food stores, covers a 22,000m2 space between the castle and the port. Guests will be able to experience delicious food from Spain and the wider Mediterranean region, as well as discover local handicrafts and artisanal products.
Fiesta del Escudo kicks off tomorrow in Cieza
The town of Cieza is gearing up for one of the biggest and most colorful events in its calendar: the Fiesta del Escudo. Postponed because of the elections this year, the festival celebrates the medieval inhabitants' heroic defense of the town against the Nazarid armies. On the Friday, there'll be a market full of delicious food and traditional products, as well as family entertainment such as an animal petting zone. The processions start at 19:30 with the 'Commander' heading to the Plaza Mayor. The second, bigger parade, Pascales, kicks off at noon on Saturday, followed by colourful fireworks, tasting of 'torta de la muda' and a reenactment of the battle.
Spain leads the way in 'Blue Flag' beaches
Spain is once again the world leader in 'Blue Flag' beaches – 556 of them, to be precise. That includes the newly award Playa Granada, as well as the beaches of Torrenueva Costa and Calahonda, both popular areas among British home buyers. The highest number of 'Blue Flag' beaches is up in the Valencian Community, with 135 of them. You might not have thought of Galicia as a beach destination, but it's number two on the list, with 107 beaches.
Your Overseas Home comes to Chester
We're very excited to be returning to Your Overseas Home, the how designed specifically for serious buyers to get expert advice. This time, it'll be at Chester on June 8th, so mark the day in your calendars. You'll have the chance to speak to experts in real estate, property law, finance, currency and more, as well as meet our presenter, Hayley Sparkes – left, interviewing Shirin Sharifi from The Spanish Estate Agent at our event in Birmingham earlier this year. It's this kind of expert insight and specialist knowledge that helps set us apart. We have had reader who, through the connections they've made, have put an offer on their dream home within a month of the show! So don't miss out – tickets go fast, so book your free places today. We look forward to seeing you there at Chester!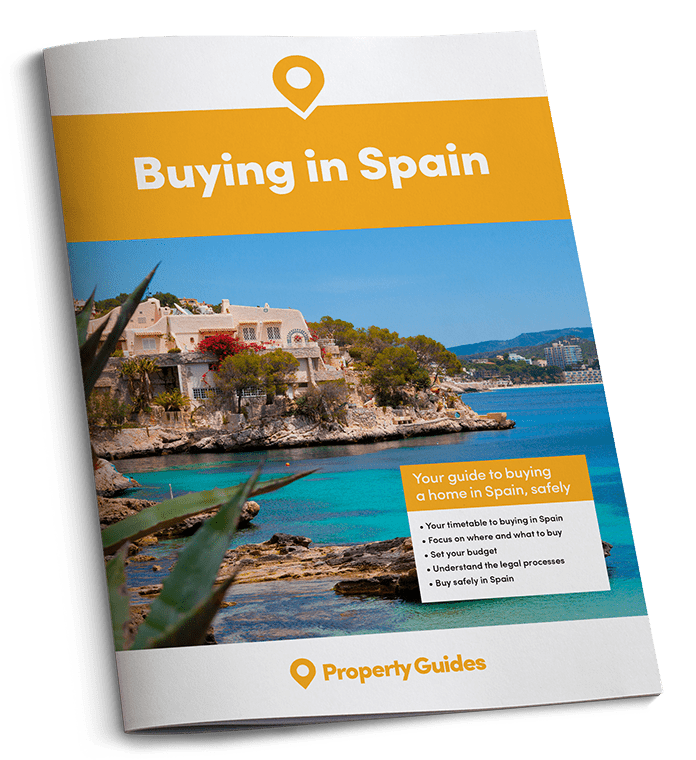 The Spain Buying Guide is a free, independent resource to help anyone who is looking to buy property in or move to Spain through each critical stage of their property buying journey.
Set up to help our readers avoid the many complexities and pitfalls of buying property in Spain, the guide takes you through each stage of the property buying process, with practical recommendations from our experts who have been through the process themselves.
✔

  Ask the right questions
✔

  Avoid the legal pitfalls
Download your free guide to buying in Spain