Gin and tonic tastes a million times better with home-grown lemons. Trust me, I've tried it, so have the neighbours! So, finding my four-foot lemon tree dripping with fruit when I arrived at my Costa Brava villa this week was a real treat, at least for me and the wife, who enjoy a sundowner. The children – three year old Clemence, six year old Harry and nine year old Maddy – were more excited about slurping away on their all-time favourite drink, chocolate flavoured Cacaolat, which you don't get in the UK. I think the youngest can see off a carton in under 10 seconds now.
All this adds to the fun of an Easter break to our second home in L'Escala, a small resort 35 minutes from Girona airport, 90 minutes from Barcelona. In fact, it's becoming one of my favourite times of year to go. The evenings are cool, but the days are usually sunny, with clear skies, so much so that you can see the snowy peaks of the Pyrenees across the bay. A more soul soothing view is hard to find.
There's enough life around the town and on the beachfront to make a visit worthwhile, it's just low season, which means low key.
There's enough life around the town and on the beachfront to make a visit worthwhile, it's just low season, which means low key. Visitors tend to be Catalan or from France, 40 minutes away over the border, who are getting away for a few days over the Easter break. Most of the bars and restaurants treat the bank holiday weekend as the start of the season, when they open up for the first time after the winter; a few prefer to stay shut. You can feel a tingle of excitement about the approaching summer season. Builders and tradesmen are busy getting bits done before the holidaymakers start to flood in, typically around June.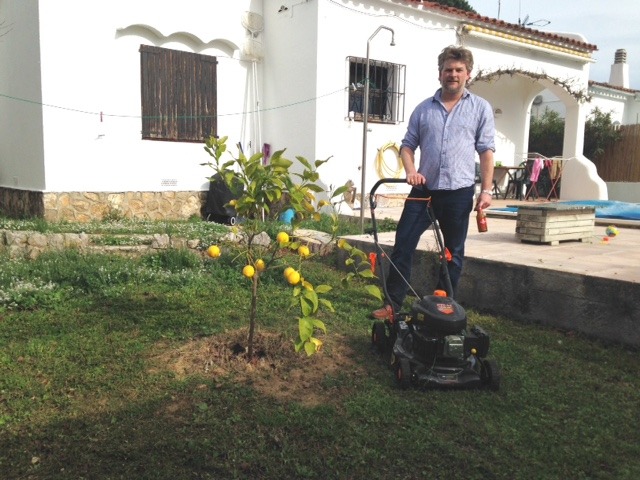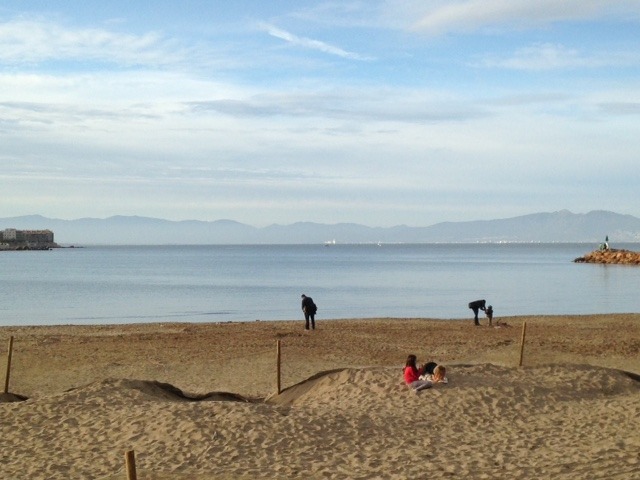 L'Escala, like many of the resorts in the Costa Brava, is a second home destination. Travel operators don't come here – the short summer season and cold winters make sure of that. In fact, I just learned that the last remaining large hotel, Nieves Mar, shut down this year. There are still a few small family run places in the old town, which get passing trade, but typically they have popular restaurants that are an equally valuable source of income.
As a homeowner, Eastertime is ideal for combining day trips to those places you'd be a fool to go to in the scorching summer months with getting bits done around the villa. We had Easter Sunday lunch at one of favourite restaurants, Mas Pou, in a small village called Palau-Sitor near Begur. After that we had time for a brief stop at the picture postcard Calella de Palafrugell. Back in L'Escala, we rounded the day off with a stroll into the old town for tapas. Recent investment means the beachfront around the central bay is now pedestrianised – it'll make a huge difference during high season, especially for families like us.
L'Escala, like many of the resorts in the Costa Brava, is a second home destination.
We also went to the Salvador Dali museum in Figueres, an easy 25 minute drive away. We wouldn't normally take the children to an art museum – yawn – but Dali's is an exception. The man was an exception. The building that houses his museum is a masterpiece of surrealism in its own right, the exhibits inside it bizarre enough to transfix the little ones for a couple of hours. A quick lunch in the square there, and then on to the impressive town of Castellfollit de la Roca, perched along the ridge of a rocky outcrop. Back home, there was just enough time to give the garden a once over with the mower. I got the two eldest children to sweep up and do some weeding – for a bonus carton of Cacaolat…
Today's chores included trips to the bank, a furnishings shop (shower head and pillows) and the supermarket, where I picked up a new table for the patio for a bargain €28. My annual home insurance needed renewing too and I need to insure our scooter out here, so after lunch we headed over to Toroella de Montgri to see my insurance broker, a sweet English lady who specialises in helping British homeowners. After that, we lugged the kids up to the impressive mediaeval fort, perched on a hill overlooking Toroella. The plan was to tire the children out – it worked, just. Now, I'm ready for that Gin & Tonic – I just need to go and pick a lemon, one of my own, naturally!