Renting first gives you the chance to see if you like the lifestyle before committing to buying an overseas property. You can check out local amenities, social life and what everyday living entails while searching for your perfect Spanish home.
If you are unsure about living in Spain, it can be a good idea to rent before buying a home. Of course, you will be missing out on the sharp rises in Spanish property values, but spending a few months in the area where you think you might like to live can confirm or change your ideas and gives you the opportunity to try out "real life" before committing large sums of money on a purchase. The Spanish rental market, however, is not really geared to "short-term lets" other than tourist rentals, so how do you go about finding a temporary home?
Of course, if you rent you will be missing out on the sharp rises in Spanish property values.
Renting up to four months
This is effectively a long tourist rental. Each Autonomous Region of Spain has its own rules and regulations, but in general a rental is considered a tourist rental if it is for a period up to four months. This is often the best way to rent somewhere but only if you rent out of season as prices are likely to be very high in the late spring and summer months.
Tourist rental properties are mostly privately owned, should be licenced by the local authority and have a licence number. You should have a legal contract with the owner with their full details and yours clearly written, the date of arrival and departure, what is included in the rental and what is not (i.e. electricity might be extra if the rent is low in winter). The owner must provide a 24-hour contact number, which might be their managing agent or their own. Such a rental is not supposed to offer any services – properties which have maid service or baby-sitting services come under another type of rental. Be prepared to pay a deposit against damage and a cleaning charge when you leave.
If you are ready to buy in Spain, our Viewing Trip App is a great way to plan your viewing trip to Spain. And it's free! Read more about it here.
If you are planning on staying for more than a month, you should try to get a discount from the owner. Depending where the property is located, winter months can be lean for owners, although skiing areas and the warm beaches of the south of Spain will always attract people during the winter months. An apartment which can fetch €1,000 a week in the summer will probably cost less than half that from January to March.
Renting up to a year
Long-term rentals legally run for three years, with a possible break after a year. This gives security to the tenant (though it used to be for five years, which was more beneficial). Some property owners are prepared to let their apartments or houses for up to 11 months (so not tying themselves into a three-year contract), renewable on a month-to-month basis. Others won't let during June, July and August as they can get more rent from tourists during these months.
These rentals tend to be more informal but you should always ask for a legal contract
These rentals tend to be more informal but you should always ask for a legal contract stating how much notice you/they must give to vacate the property and for how long the rental will run, if it is renewable after a certain time and what the tenant is expected to pay – usually, the utilities and IBI (similar to council tax). You will be asked for a deposit against damage, usually one month's rent. The rents for these are much lower than for tourist rentals and so can be a good option. Prices vary enormously, but if you are on the coast in Murcia, you might have to pay upward of €400 a month for a six-month period which may or may not include a community charge.
Renting up to three years
As stated above, a long-term rental is for three years, renewable at the end of that with the agreement of both the owner and tenant. Usually, the property owner must give the tenant at least two months' notice to leave and can only take back the property before the end of the lease if he/she or any member of their immediate family need it to live in.
The tenant can give the owner notice of one month at any time after the first year, but must leave the property in a sound state of repair or they may not get their one month's deposit back. Rents for long-term are the most economic, expect to pay €300 and €500 a month for a modern, well-equipped two-bedroom apartment, more in the big cities or if it has a large terrace. Sometimes parking is included, sometimes you may have to pay €50 a month for your parking place. There is usually a community charge to pay as well if you are in a block of apartments or in an urbanisation. The average is €50 a month.
Rents for long-term are the most economic, expect to pay €300 and €500 a month for a modern, well-equipped two-bedroom apartment
For what is really a comparatively small outlay, renting for a while will allow you to decide where exactly you want to live, which area suits you best and whether you might need to look at a different region altogether. The tourist rental route is possibly the easiest but most expensive, the short long-term rental (under 11 months) is generally good value but be aware you may have to leave during the summer. The long long-term rental will give you the best value for money but you will be signing a three-year contract. You can leave after the first year.
When you do decide to buy in Spain, Smart Currency Exchange is the specialist in exchanging your pounds into euros, with excellent rates. They have two offices in Spain too, in the Costa Blanca and Costa del Sol. Read Smart's guide to Buying Property here.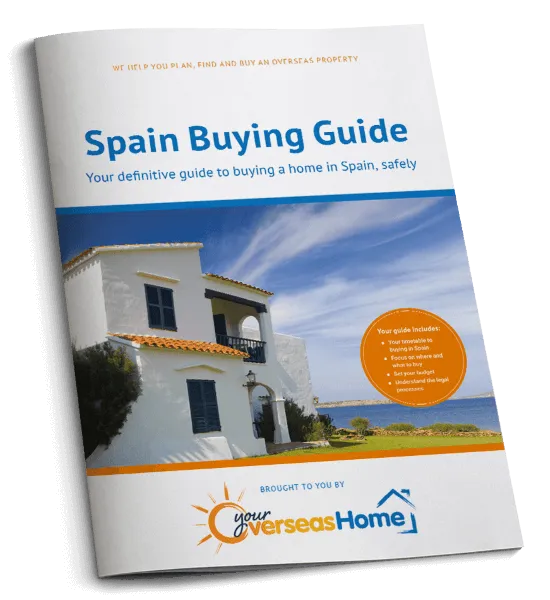 The Spain Buying Guide is a free, independent resource to help anyone who is looking to buy property in or move to Spain through each critical stage of their property buying journey.
Set up to help our readers avoid the many complexities and pitfalls of buying property in Spain, the guide takes you through each stage of the property buying process, with practical recommendations from our experts who have been through the process themselves.
✔

  Ask the right questions
✔

  Avoid the legal pitfalls
Download your free guide to buying in Spain