Will you whack your Caga Tío? Will you be waiting for the Three Kings to arrive? Perhaps you'll be King or Queen for a day?
The whole world celebrates Christmas in different ways and some of the strangest traditions are to be found in Spain. So if you think eating the least tasty meat – Turkey – along with the most pungent vegetable – Brussels sprouts – then pulling a cracker and falling asleep while watching the Queen, are odd customs, then wait until you hear what they get up to in some parts of Spain!
The whole world celebrates Christmas in different ways and some of the strangest traditions are to be found in Spain.
Caga Tío
The Catalans probably have the most unusual way of celebrating Christmas during the last two weeks of December. Traditionally people collect small logs and "personalise" them by sticking on eyes, noses and a typical red and white Catalan hat, not forgetting some sturdy sticks which become legs. This is the Caga Tío, a defecating log! He sits in the dining room, covered with a blanket and is "fed" his favourite foods every day – sweets, nuts and fruit.
Then, on Christmas Eve, the family gathers round and starts beating him with sticks while singing traditional songs. (Are you sure you want to move to this country?) You might wonder why anyone would do this but all is revealed when the bashed up Caga Tío releases all the goodies he has been fed, which are then handed out to the children. It is a strange custom and quite enjoyable but sadly people have less and less time to make their own Tío and so shops do a roaring trade selling suitably attired logs of all different sizes at sometimes unbelievable prices. Such is the commercialisation of Christmas.
The Three Kings Day
In the past, Spanish children had to wait until 6th January for their presents. Then along came an interloper, Santa Claus, so now often the children receive two lots of gifts, once on Christmas Eve and then on The Three Kings Day (Fiesta de Los tres Reyes Mages) in January. Traditionalists think it's a pity as the tradition of the Three Kings is closer to the biblical events – but the kids don't seem to mind!
The Three Kings are of course the Magi, and all around Spain on the evening of 5th January you will find cavalcades and processions for the arrival of the Kings, sometimes on horseback, sometimes in carriages and even on boats in seaside towns. Some of these are extremely elaborate affairs, especially in Barcelona and Granada, but each town and village will have a version. The Three Kings will throw sweets into the crowd of expectant children and some of the costumes are quite wonderful to behold.
On 6th January children will wake up hoping to find presents left during the night by the Three Kings. Their work is not yet over though as during the day they visit children's hospitals and continue to hand out gifts.
Shoe or Christmas tree and cake
In Andalusia children are supposed to put out a shoe into which the Three Kings will place their gifts. As with Santa Claus, so Christmas trees are now more common in Spanish homes and the shoes has been discarded, with the presents arranged around the tree as in Britain.
Whoever finds the figurine is hailed King or Queen for the day and given a gold paper crown. Whoever finds the bean pays for next year's cake!
Fortunately, most families still uphold the tradition of eating a special cake for breakfast on 6th January. It is like a sweet bread or brioche topped with dried fruit and sugar and hidden inside is a tiny figure wrapped in paper and a bean. The cake is sliced and the person who finds the little figurine is hailed King or Queen for the day and given a gold paper crown (often this is supplied with the cake) and the unlucky person who ends up with the bean must pay for the following year's cake. Don't think these cakes are always cheap, you can pay a lot for one from your local baker. The 6th January is a National Holiday in Spain.
El Gordo
This really has nothing to do with Christmas itself, but the event falls on 22nd December and most of Spain gets involved. It is Spain's biggest lottery called el gordo (the fat one!) and the draw is made on television with children singing out the winning numbers. It is complicated as you can buy a 10th of a number and often family groups or villages club together to buy a whole number (10 tickets with the same number) or different numbers from different outlets, which means that someone somewhere will be winning a lot of money. There are three main prizes and hundreds of smaller ones and the chances of winning something are surprisingly high.
Anyone can buy tickets which are sold in bars, shops and local clubs, so why not join in? You never know, you might be one of the lucky winners but remember to turn on the TV on 22nd December to find out.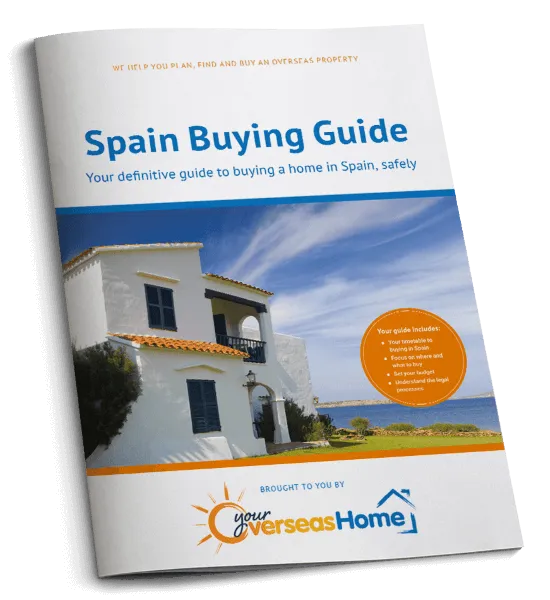 The Spain Buying Guide is a free, independent resource to help anyone who is looking to buy property in or move to Spain through each critical stage of their property buying journey.
Set up to help our readers avoid the many complexities and pitfalls of buying property in Spain, the guide takes you through each stage of the property buying process, with practical recommendations from our experts who have been through the process themselves.
✔

  Ask the right questions
✔

  Avoid the legal pitfalls
Download your free guide to buying in Spain