Thanks to Spain's glorious climate, one can enjoy water parks for most of the year. When you've had enough of days on the beach, they are very popular places to entertain the family, so living close to one is a bonus.
We've taken a look at where to find property within easy reach of some of the 45 'parques acuáticos' you'll find in Spain. Property prices in the nearby towns vary considerably depending on the region and immediate area.
If you're preparing to come over to Spain to look at properties, make sure you know what to look for by reading our free guide, 

Your Viewing Trip

.
Aqualandia Water Park, Benidorm, Alicante
Benidorm and its surroundings is one of Spain's most sought after places to buy property. As well as a long list of attractions and plenty of things to do, there are two beaches and lively nightlife. Apart from the obvious beach life, you can enjoy walking above the coast to enjoy lovely sea views over La Cala de Finestrat. There are two excellent hospitals with English-speaking staff and several English schools in the area.
Rincon de Loix is an urbanisation where British people will feel at home as many compatriots live there. There are other, smaller urbanisations with sea views and plenty of apartments close to the centre and beaches.
The Aqualandia Water Park is big and offers several different hair-raising rides for the brave, as well as a wave pool for a fun day spent with the family.
PortAventura Caribe Aquatic Park, Salou, Tarragona
Possibly Spain's best known entertainment resort, PortAventura is within easy reach of Reus airport just 6.5 km away. The delightful town of Salou is on its doorstep and there is a forum in English to help you meet people and settle in.
This part of Catalonia has an excellent climate and for those who enjoy culture and history, there is plenty to discover in and around the town. Take a trip to the old town of Cambrils for a touch of authentic Spain or discover Gaudí's architecture in Reus. Salou itself has beaches nestling in coves and an amazing fountain display after dark. There are also golf courses nearby with Club de Golf Reus Aigüesverds offering courses for children and young people. You will find a few International and English schools.
PortAventura resort is a haven for people of all ages and the Caribe Aquatic Park covers a massive 50,000 m2. With numerous rides and pools, there is an inside area fun for little people, five restaurants and shops.
Illa Fantasia, Vilassar de Dalt, Barcelona
Also in Catalonia, on the outskirts of the capital city of Barcelona, is one of the best water parks in Spain. It is about 50 minutes north of Barcelona El Prat airport and close to the town of Mataró by the sea.
Mataró is the capital of the area known as Maresme and is a popular town with people who work in Barcelona but prefer to live outside the big city. It has its own port with a marina of 1000 moorings and life is lived pretty much by the beach. It is a major fishing port, so you will find numerous excellent restaurants serving really fresh, locally caught fish. There are plenty of other types of cuisine to be enjoyed too.
The beautiful golf course at the Club de Golf Llavaneras is close by and there are several international schools in the area. It is quite an expensive place to live but offers everything you could possibly want for a comfortable way of life by the sea with some interesting culture and architecture. Property prices are higher than in many other areas of Spain.
The Illa Fantasia water park is a large complex covering 70,000 m2 with 22 water rides, picnic areas, restaurants, shops and free parking.
Water parks are popular places to entertain the family, so living close to one is a bonus
Aquavelis, Torre Del Mar, Málaga
Another popular area with British people is the town of Nerja, a 50 minute drive from Málaga International Airport. With a population of 22,300, it is a smallish town but there is an International school in Almuñecar, 22 km away. There is a 24 hour emergency centre and the nearest hospital is in Velez-Málaga, just 21 minutes' drive away.
Nerja isn't just a seaside town with a beautiful viewpoint (El Balcón de Europa). It is surrounded by nature, with marine life, vegetation and mountains. It is a family-friendly town with a large pedestrianised area and squares. For those who enjoy a good curry, you'll find some Indian restaurants. Apartments here usually have a communal pool, as do the duplexes and villas.
The Aquavelis Water Park is 20 minutes away from Nerja in Torre del Mar. It has 7 different water rides, a special area for tiny tots, spa and a lake, plus restaurants. One of its main attractions is a virtual reality park.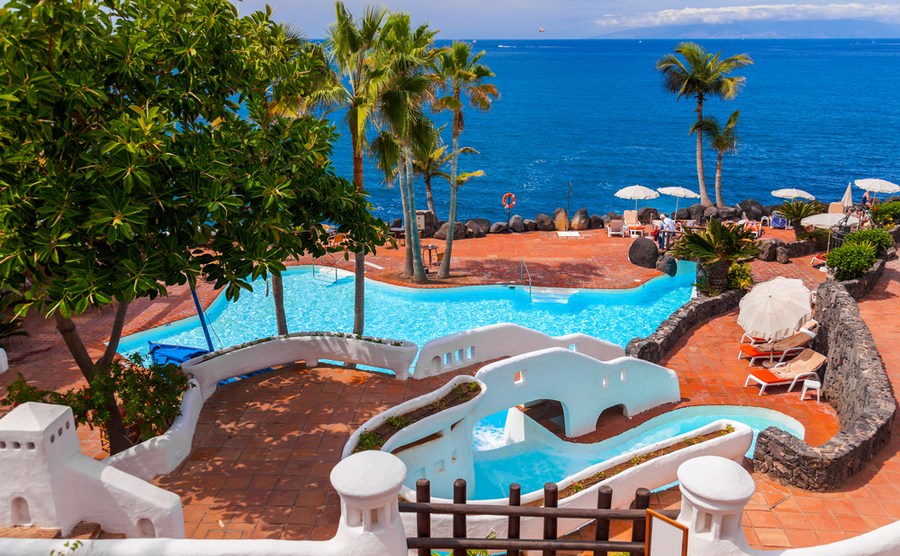 Hydro Park, Alcúdia, Mallorca
Alcúdia in the north of the island is a world away from the busy beaches and nightlife of Magaluf in the south. There are some good routes for cycling and hiking in natural surroundings. The S'Albufera Nature Reserve is the largest wetland in all of the Balearic Islands and boasts a remarkable number of migrating birds.
The medieval town of Alcúdia is considered to be one of the loveliest in Majorca with various types of property. There are traditional townhouses and in the Port d'Alcúdia, you'll find more contemporary homes. The sea is just over 3 km from the old town, which is a 2 hour journey from Palma de Mallorca airport. There is an International School in Sa Pobla, 10 minutes or so by car.
The Hydro park is not just an aquatic park – it also has a 54 hole golf course. The park offers 5 pools and a wave pool, a special area for small children and super golf. It is a more 'local' water park than some of the larger ones in Spain, but possibly all the better for it.
Spain Property Guides can put you in touch with the very best lawyers, estate agents and international payments specialists in Spain, for total peace of mind.

Get in touch with your Golden Three

here.
Siam Park, Adeje, Tenerife
The island of Tenerife enjoys wonderful weather all year round, so is the perfect place for a water park. The town of Adeje lies to the south west and is within 50 minutes' drive from both of Tenerife's airports. There is an international community here, as many people have chosen to make their home in this historic town. Within reach of 14 beaches and with the great Mount Tiede as a backdrop, Adeje has every amenity you might need. There is a hospital a few minutes' away and an English school nearby.
Property is less expensive than in other parts of the island. There is a great choice of traditional colonial style homes to more modern apartments, duplexes and villas. There is an 18 hole golf course and a good variety of restaurants and tapas bars.
The Siam water park has been voted the world number one for the past 7 years. Unlike some other water parks, many of the services are free: life jackets, sun loungers, tubes and umbrellas are all included in the entry fee. There is a floating market and several restaurants and eateries.