The Costa Brava offers a wealth of experiences, so where would you go for a day out alone or with family and guests? Here our writer in Spain takes you off the beaten track to look at some interesting places that aren't in the usual tourist guides.
Living here on the Costa Brava we receive many visitors and are lucky enough to have a wealth of places to take them. Some are of historical interest, others are a little touristy and there are those that are rather hidden away and off the beaten track.
There are some fantastic beaches and small coves on this coast of craggy rocks and inevitably they become quite busy in the summer, but are beautiful to visit in the off season.
The evening, as the sun begins to set, is the best time to wander down the path to Golfet beach.
Here are a few of my favourite places:
Golfet Calella de Palafrugell
El Golfet is a small beach hidden below the rocky coastline, just a few minutes' from where I live. However, it is the coastal path which leads to it that I love most. Called the Camí de Ronda, you can follow it almost all the way from Sant Feliu de Guixols to Begur, for some 43 kilometres.
The evening, as the sun begins to set, is the best time to wander the natural path from Calella de Palafrugell to Golfet beach. There are always other walkers, but it is never crowded and everyone greets those they pass. It is popular with young couples, dog walkers and local residents, and the little beach is delightful away from the summer months. There is a little rocky pool there; ideal for small children to splash in. Bring your own wine though, as there aren't any bars there, which also makes it quite special.
Banyoles and its lake
Sometimes you have had enough of beaches, so I go inland to the pretty medieval town of Banyoles and its nearby lake, to the north of Girona. The town has an excellent market on Wednesdays, though if you want to see its stone buildings properly it's best to go on another day as the market swamps every street.
Just outside the town is a beautiful natural lake. At 2,100 metres by 750 metres and 15 metres deep, it is on the large side. You can take a boat trip across or, as I prefer to do, walk around it under the shade of trees. The lake is home to many varieties of fish, water birds and at the right time of the year, stunning water lilies.
Its main claim to fame is that it hosted the rowing repechage at the 1992 Barcelona Olympics and the 2004 World Rowing Championships. There are several bars and restaurants close to the jetty for the boat trips and parking is easy in the back streets. It is a lovely place in which to spend a day away from the coast.
A cycle ride to ancient stone villages
The coast of the Costa Brava may be rocky and uneven but there is almost flat countryside about 30 minutes' inland, which is ideal for a gentle bicycle ride. This mode of transport is perfect to visit three lovely medieval villages which are quite close to each other and to spend time away from the more crowded coastline.
Peratallada is the biggest and best known of the villages; it's steeped in history and a wonderful place to wander around. You could go on a guided tour to learn more about this fascinating village and its connection to witches (contact Nik Duserm at nik@nikduserm.com).
Then head for Sant Julià de Boada where you will find the oldest and one of the best preserved Romanesque churches in Catalonia, dating from 1131.
Close by is Palau Sator, a small village with a large stone well, a lovely stone archway and one of my favourite restaurants! Mas Pou is housed in an ancient masia with gardens to front and rear. You might find yourself seated in one of the many dining rooms which vary in size and you will always have a good meal using local produce. The restaurant also has an interesting little rural museum full of ancient tools and farming equipment, linens and objects from a time long gone.
Castelló d'Empúries
Further north in Alt Empordà is the town of Castellò d'Empuries. I love this place for its history, charming streets, castle and great restaurants and bars. It has a distinctly French feel, which is unsurprising as it is around 40 kilometres from the border between France and Spain.
I love this place for its history, charming streets, castle and great restaurants and bars. It has a distinctly French feel.
The town has an impressive Jewish quarter, and was one of the few places where the Jews were treated as equals before they were expelled from Spain by King Ferdinand and Queen Isabella in 1492.
Aiguamolls nature reserve
Not far from Castelló d'Empuries is the nature reserve of Aiguamolls. Here you will find reed beds, rice fields and meadows full of yellow lilies. It is a Mediterranean wetland where more than 320 bird species have been recorded. I like to visit in the spring, when I can see many stork nests perched high above and the parents are feeding their young. I've never seen a polecat there, though I am told they have made Aiguamolls their home. In the winter you could see mallards and lapwings as. If you like nature as I do, go to Aiguamolls and take the children as there is plenty for them to see and learn about too.
When you're not checking out properties, you could explore some of these places on your next viewing trip. Find out how to make the most of your visit by downloading our free guide to planning a viewing trip.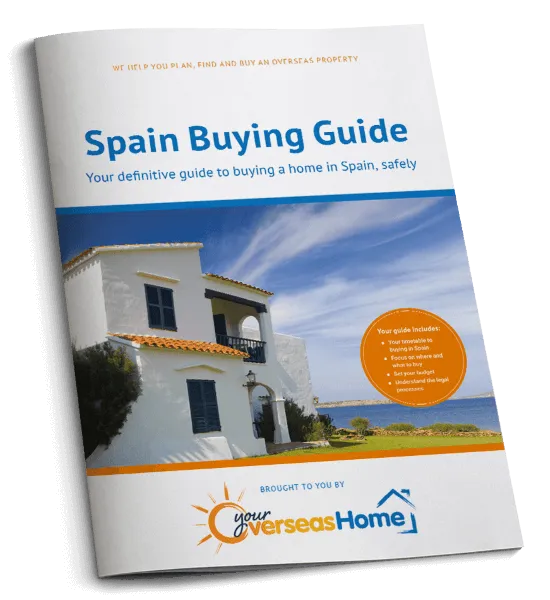 The Spain Buying Guide is a free, independent resource to help anyone who is looking to buy property in or move to Spain through each critical stage of their property buying journey.
Set up to help our readers avoid the many complexities and pitfalls of buying property in Spain, the guide takes you through each stage of the property buying process, with practical recommendations from our experts who have been through the process themselves.
✔

  Ask the right questions
✔

  Avoid the legal pitfalls
Download your free guide to buying in Spain