The local government in Catalonia is preparing for an independence referendum in two weeks time. Calling the vote illegal, the Spanish government has sent a thousand police to seize ballot boxes. Could Spain split, and what would that mean for property owners?
The 11th September is Catalonia Day (Diada de Catalunya) which celebrates the defeat of the Catalans when the Bourbons took the city of Barcelona. Most special days laud victories not defeats, but the point of Catalonia Day is really to remind Catalans that they were once a separate nation with their own government, language and culture. Nowadays, Catalonia is an autonomous region of Spain, as is Andalusia or the Valencian Community. With autonomy comes several rights: the region can levy certain taxes, run healthcare and schools, in the case of Catalonia, have their own police force called the Mossos d'Esquadra and have Catalan as a joint official language with Castilian.
Despite these and other powers however, some Catalans and especially the current Catalan government (the Generalitat) yearn to be once again an independent nation, no longer beholden to the Spanish.
Some Catalans and especially the current Catalan government (the Generalitat) yearn to be once again an independent nation
Why do Catalans want independence?
This is a complex question but basically it is because they feel marginalised by Madrid. They pay more taxes into the Spanish coffers than any other region and feel they get little back. Perhaps most importantly, they were denied the opportunity to have more autonomy when Mr Zapatero's government diluted a proposed charter (Estatut) for the region.
The governing parties in Barcelona, (a coalition of groups which support independence from Spain, led by Carles Puigdemont) is preparing for a referendum on 1st October to determine whether the region wants complete independence and to become the Catalan Nation once again.
The referendum
The Spanish government in Madrid has declared the proposed referendum in Catalonia as illegal. The Generalitat refutes this. Under the Spanish Constitution which was drawn up in 1978, three years after the death of the dictator General Franco, a referendum can only be instigated if all the regions of Spain vote at the same time. Therefore, a referendum held only Catalonia is deemed to be illegal.
The Catalan government however has passed a law allowing the referendum and they say they are perfectly within their rights to hold it.
Mr. Rajoy wants to win the next General Election and he fears he would lose support if he allowed anything to enable the Catalans to separate from Spain.
The Spanish President, Mr Rajoy, is determined not let the referendum happen. Why? Well, there are several reasons, one being that Catalonia is the richest region in Spain and contributes a lot to the treasury through taxes. Another is a political reason: the supporters of his party, the PP (Partido Popular) do not want to see an independent Catalonia and as Mr Rajoy wants to win the next General Election he fears he would lose support if he allowed anything that would enable the Catalans to separate from Spain.
How strong is support for independence?
This is an interesting question. In a previous (illegal?) referendum held by the then Catalan President, Artur Más in 2014, over 80% of the vote was in favour of independence. However, only about 33% of the Catalan population (7 million people) voted.
As is often the case, those urging independence shout the loudest. Houses all over Catalonia display the Catalan flag with a blue star, the independence flag, even some municipalities do so and one might be forgiven for thinking that independence is universally desired by one an all. Demonstrations in favour have been held in Barcelona on 11th September for the past few years, with as many as 1.5 million people attending, though this year around 500,000 Catalans paraded through their capital city. (The numbers have been disputed with the local police saying 1 million people participated, while Madrid claims it was nearer to 300,000 – but a calculation made by the newspaper El País puts the number at half a million).
There is however a strong silent majority who want a referendum but don't want an independent Catalonia. In a poll published in July, 49.4% of Catalans were against independence and 41.1% were in favour.
Family disputes
In fact, the people of Catalonia are divided on the matter of independence. However, those in favour have created a situation where people against don't want to say so publically as in some areas of Catalonia to do so is seen as a form of "treason". This unfortunately has put a lot of pressure on relationships in families, between friends and work colleagues.
Rafael Nadal, the world no 1 tennis player and born in Majorca, recently said publicly that he is against independence and feels both Spanish and Majorcan (Majorca is very close to Catalonia and the language on the island is a form of Catalan which Nadal speaks) "Spain is better with Catalonia and Catalonia is better with Spain from my point of view" he said recently. Most Catalans however prefer not to declare their opposition to independence.
What next?
The Catalan government has said that it will unilaterally declare independence from Spain the day after the 1st October vote, whatever the number of voters. In other words, even if a small minority of potential voters go to the ballot boxes and that small minority votes in favour of independence, the Generalitat will accept the votes as a declaration of Catalan's desire to be an independent country. Many people will not vote at all because the referendum is considered illegal.
The Spanish government has taken the matter to court. The judges suspended the referendum but Carles Puigdemont and others in the Catalan parliament are going ahead with the vote anyway, even though they face criminal prosecution. The same goes for mayors of each municipality – if they hold the referendum in their area, they will be liable to prosecution.
The standoff is damaging to both sides. The majority of Catalans I have spoken to are fed up with the situation. They want the government in Madrid and their government in Barcelona to discuss the matter in a reasonable and open manner, blaming Madrid for the push for independence due to its intransigence and refusal to have talks. Madrid on the other hand blames the Generalitat and accuses it of acting illegally.
As of last week, the Spanish government have sent 1,000 Guardia Civil police into Catalonia to seize anything pertaining to the referendum, including ballot boxes which have been secreted away by the Generalitat. On 15th September, Spain's Finance Minister, Cristobal Montoro, declared that the national government will take control of "most" of Catalonia's finances in order to "guarantee public service as much as possible" in the run up to the referendum on 1st October. If the Generalitat refuses to agree to the plan, then Madrid will take total control of the region's finances and they have been given 48 hours in which to decide whether to accept the plan or not. Mr. Montoro stated "We are guaranteeing that no payment, not one euro, goes towards that illegal activity."
What does this mean for property buyers?
With many of the most popular areas for British home buyers and retirees being within Catalonia, including the Costa Brava resorts and villages such as Blanes, Lloret, Palamos, Roses and Tossa de Mar, and towns like Sitges and Tarragona, some homeowners may be concerned. Laura Richards of Your Overseas Home believes that it won't make any difference, even if the "unthinkable" happened and Catalonia does one day get independence: "In any modern democracy, the rules of property ownership would be protected. We don't foresee any great potential downside for British or other international property owners, other than perhaps a chaotic handover – like Brexit appears to be at the moment. We would advise anyone to go ahead with their plans or – if anything – accelerate them."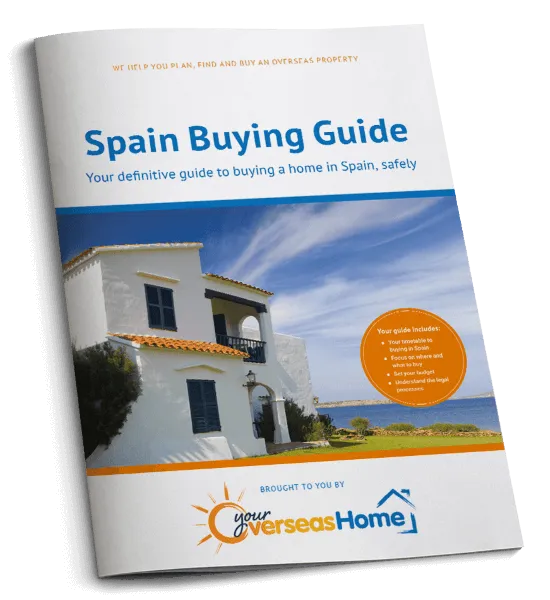 The Spain Buying Guide is a free, independent resource to help anyone who is looking to buy property in or move to Spain through each critical stage of their property buying journey.
Set up to help our readers avoid the many complexities and pitfalls of buying property in Spain, the guide takes you through each stage of the property buying process, with practical recommendations from our experts who have been through the process themselves.
✔

  Ask the right questions
✔

  Avoid the legal pitfalls
Download your free guide to buying in Spain