The UK Ambassador in Spain calmed expats' Brexit fears this week. Other good news included the arrival of Sky TV and yet more flights. No wonder Spain is still Rightmove's most searched overseas location.
Ambassador reassures expats
The British Ambassador to Spain, Simon Manley, has written an open letter to British citizens who are resident in Spain. He addresses concerns about the rights of British citizens after Brexit and says that he will keep everyone informed about negotiations with the European Union over Britain's exit in 2019.
The ambassador said: "The UK Government has been clear that citizens are our top priority in the exit negotiations. We want an agreement that provides citizens with greater certainty about their future."
Mr, Manley writes "The UK Government has been clear that citizens are our top priority in the exit negotiations. We want an agreement that provides citizens with greater certainty about their future. Last week, we held constructive and substantive discussions with the European Commission on the bulk of the issues underpinning our respective positions on citizens' rights. Together we have taken a big step forward. There is a much clearer understanding on the detail of the positions on both sides and significant convergence on the key issues that really matter to citizens. You can read this technical note which compares the UK and EU positions on these issues here. It is clear both sides want to move towards an agreement."
While this is most encouraging for the 300,000 or so British citizens who are officially resident in Spain, the EU has yet to reply but has suggested that the British proposals do not go far enough, especially with consideration to EU citizens resident in Britain.
Sky TV to start in Spain
If you're planning a move to Spain but are worried about missing Game of Thrones, you'll be pleased to hear that Sky TV is launching in Spain by the end of the year. It is following in the footsteps of Amazon, HBO and Netflix, in starting an OTT (over the top) service to Spain. For the uninitiated, OTT services are streamed over broadband or the internet. You can actually watch GoT on various Spanish channels (the Spanish are obsessed with it), but shows that travel less well, such as The Trip, A League of Their Own and Alan Partridge can be harder to find.
Sky's CEO, Jeremy Darroch, said "We intend to launch a simple and affordable OTT service in Spain, the Eurozone's fourth largest economy and the market which has the largest free-to-air (FTA) headroom in Europe outside of our existing footprint. Today is a statement of intent and we will come back with more detail."
Spain still number one choice
Despite Brexit, Britons are still keen to look for new homes in Spain, the number one destination according to Rightmove, the biggest property website in the UK. There are 2,500,000 searches in Spain per month on Rightmove, almost 75% more than for France which is the second most popular country. Alicante is the most searched region in Spain, possibly because property prices there are lower on average than in most other regions, running at €126,000. Meanwhile Mallorca shows the highest asking prices at an average of €398,000 but surprisingly it is the second most searched for area of Spain.
A combination of sunshine, lifestyle, short flying times from the UK to numerous airports and comparatively low cost of living is maintaining Spain's popularity, says Rightmove.
A flight every hour
IAT Group, which owns the airlines British Airways, Iberia and Vueling, has announced that flights managed by Iberia and Vueling between Spain's two main cities, Madrid and Barcelona, are to be combined, sharing flight numbers. This means that there will now be 26 flights between the two on Mondays to Fridays, well over one per hour at peak time, and 13 at weekends.
The move will make life easier for the thousands of people who live in one city and work in the other. Passengers will be able to book advance tickets which will be as flexible as the previous "open tickets", allowing dates and times to be changed several times if necessary without any charges. "Air-Bridge" tickets will be sold with Iberia flight numbers even when operated by Vueling. A free Iberia Plus Card is available to all passengers with which they can earn air miles using either Iberia or Vueling.
There will now be 26 flights between Madrid and Barcelona on Mondays to Fridays and 13 at weekends.
Boarding passes can be obtained online at any time after ticket purchase and can also be printed in special areas at the airports at no extra charge up to 15 minutes' of a flight's departure.
Driving lesson minimums
The DGT, the Spanish Traffic Authority, says that it may impose a set minimum number of driving lessons before a student can apply to take a driving test. The lessons would be both practical and theoretical and this would end a system whereby students can choose when to take a driving test. The DGT says this would avoid arrogant yet inexperienced youngsters being allowed to drive when they aren't ready to face Spain's roads.
Three quarters of students fail their first driving test and the need for retesting is causing backlogs and extensive waiting times in many regions. The DGT said that pupils were taking tests before they were ready on the off-chance that they might pass, which was causing backlogs in some provincial traffic authorities. They said: "More training is needed for driving students – the current failure figures are nobody's fault and everybody's fault at the same time."
Changes in requirements for pre-test training would hopefully mean that the number of candidates who pass first time is similar to that seen in the rest of Europe." As yet there has been no announcement about the precise minimum number of lessons which will be required. What is certainly not helping the backlog is that Spain's driving examiners have been on strike for months.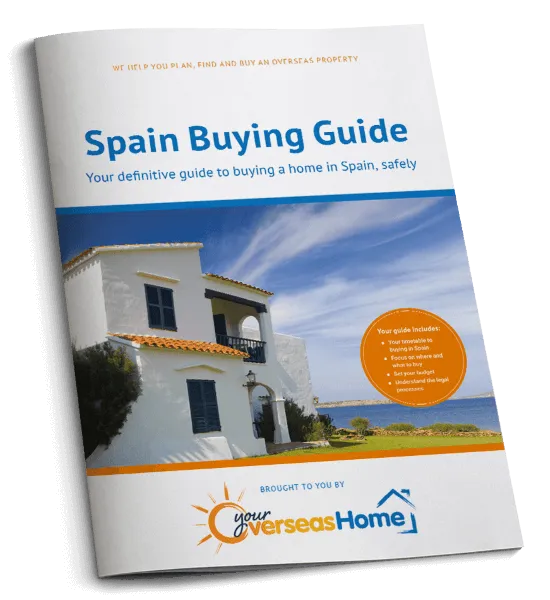 The Spain Buying Guide is a free, independent resource to help anyone who is looking to buy property in or move to Spain through each critical stage of their property buying journey.
Set up to help our readers avoid the many complexities and pitfalls of buying property in Spain, the guide takes you through each stage of the property buying process, with practical recommendations from our experts who have been through the process themselves.
✔

  Ask the right questions
✔

  Avoid the legal pitfalls
Download your free guide to buying in Spain