More challenging but more rewarding for some, is finding your dream home away from overcrowded beaches and high-rise apartments. Spain is a big country with a varied geography, and numerous places to find your home in Spain with genuine local culture and peace and quiet.
There is a school of thought that total immersion is the best way to integrate into another culture. Of course, this route isn't for everyone! It can be very rewarding, however, if a little daunting. Plenty of us have done it though, finding ourselves part of a friendly, close-knit community which welcomes people from other lands and take us to their heart.
Numerous books have been written by people who have already trodden this path in Spain, perhaps the best known being "Driving Over Lemons" by Chris Stewart. There are others which explain what it is like to up sticks and move to an isolated, dilapidated farmhouse in the Spanish highlands.
If you are ready to buy a home there, Spain Property Guide will be among the estate agents, currency experts and lawyers exhibiting at Your Overseas Home. The next event is at Epsom Racecourse on Saturday 18th November 2017 and various events in 2018. See if you are eligible for free tickets.
This is extreme immersion! Many British people, though, do look for a home away from the crowded costas and the expat lifestyle. A quiet Spanish village or town with few or no foreigners has many advantages – but you will need to learn the language to make friends. Spanish people are naturally outgoing and willing to help those struggling with castellano. Many a friendship has been forged through misused words, grammatical mistakes and misunderstandings. If you are willing to give it a go, here are a few suggestions of where to look for a Spanish home off the beaten track.
Aragón
Separating Spain from France, the mountains of the Pyrenees offer many places away from coastal life and tourism. Then in winter they become a hive of activity with winter sports enthusiasts. Nevertheless, you can find some delightful villages here which do not get overrun and offer a peaceful life all year round. Make Huesca in Aragon your base and take a trip through one of the loveliest, unspoilt regions of Spain. Further south is the region's capital, Teruel, which is the least populated provincial capital in Spain. Famous for nearby archeological
Sites, jamón serrano, pottery and history. This could be a perfect location for those who want to live in "real" Spain.
This region is a haven of peace with wonderful vistas, ancient villages and the lowest population density in Spain.
Extremadura
On Spain's Atlantic coast just above Portugal lies the region of Extremadura. Largely agricultural and unspoilt by 21st century life, this region is a haven of peace with wonderful vistas, ancient villages and the lowest population density in Spain. If you are looking for open spaces, Extremadura is for you. If you prefer a little more life, take a look at the city of Cáceres, capital of the province of the same name. There are some British and other foreigners living here but not many in comparison to the Spanish population and anyway it is nice to meet people from your own country from time to time. This region is home to the wild Iberian pigs which roam freely and eat acorns resulting in the best of all Spanish ham – jamón ibérico.
Galicia
Known as the "country of a thousand rivers," Galicia in the northwest of Spain offers wonderful inlets and low mountain ranges with areas of dense forests. Bordering the Atlantic, the climate is generally mild though quite rainy with the provinces of Ourense and Pontevedra enjoying more Mediterranean type weather. Fishing is the main industry in Galicia but agriculture features prominently in Ourense and Lugo provinces. Here you will find delightful small villages and the city of Lugo, the only place in Europe to be surrounded by totally intact Roman walls. Around 5.5% of Lugo's population is foreign but each district in the city is more like a village with its own culture and life. Go out into the countryside and you will find unspoilt views, pretty villages and smallholdings. If you are after a rural existence, this could be the place for you. Be aware though, that the Galicians speak their own language as well as Castellano Spanish.
Going off the beaten track in Spain gives you the chance to buy a sensational property for the price of a Costa del Sol flat. But what do you do if the vendor ups the price for a "wealthy" foreign buyer? Check out our guide, How to Negotiate Abroad, for the answers!
Cantabria
The Picos de Europa (the Peaks of Europe) in Cantabria offer some of the most beautiful scenery in Spain with many small villages nestling in the valleys. A region of shepherds and flocks of sheep, green valleys, high peaks and wild animals including wolves and brown bears, Los Picos don't get many tourists compared to other mountainous regions. There is something of a rural tourism boom though, particularly in the province of Liébana, so this might provide a good source of income for the intrepid Brit looking to live off the beaten track.
The Picos de Europa National Park is of increasing importance as one of the habitats of the Cantabrian brown bear and attracts nature lovers, bird watchers and hikers. Have a look around the town of Potes, 100 kilometres from Santander. The local cuisine includes a dish made with chickpeas, Cocido Lebaniego and a brandy Orujo which is made from locally grown grapes.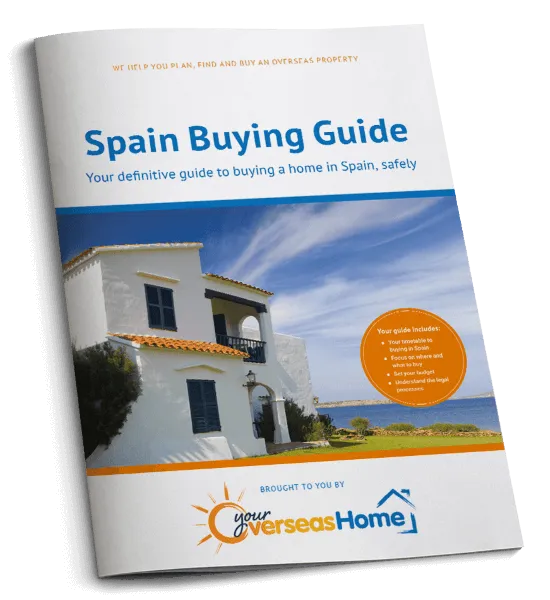 The Spain Buying Guide is a free, independent resource to help anyone who is looking to buy property in or move to Spain through each critical stage of their property buying journey.
Set up to help our readers avoid the many complexities and pitfalls of buying property in Spain, the guide takes you through each stage of the property buying process, with practical recommendations from our experts who have been through the process themselves.
✔

  Ask the right questions
✔

  Avoid the legal pitfalls
Download your free guide to buying in Spain