As the most important religious festival of the year in Spain, Easter is a spectacular occasion full of processions, re-enactments, music and performance. It's an experience you won't forget.
Stand aside Christmas, Easter – Semana Santa – is without doubt the most important religious festival of the year in Spain. Each of the country's 17 autonomous regions has their own traditions, processions and festivals to celebrate Easter. Though it is a "celebration" it is also quite a solemn occasion, where cordial behaviour is expected from the huge crowds watching the religious processions.
Easter is without doubt the most important religious festival of the year in Spain
Andalusia Spectacular
It is generally accepted that that you will find the most spectacular processions in southern Spain – particularly in Andalusia – which take place during the week before Easter. Full of music, colour, re-enactments of biblical stories, the biggest parades are held in Seville and Málaga. The parades begin on Palm Sunday – Domingo de Ramos – continuing until Easter Monday – Lunes de Pasqua. If you want to witness the biggest and most extravagant you should attend on Maundy Thursday or Good Friday.
The Tronos – huge floats carried by an army of people through the winding streets of Málaga – are a spectacle to behold, with penitents wearing purple robes, women dressed in black carrying candles and music with flamenco influences played along the route. If Málaga provides sensation, it is Seville that has become a world famous venue for Semana Santa, with thousands of pilgrims descending on the city, which is presented in all its glory for the festival. Here the evening of Maundy Thursday is of particular importance, with people congregating the following morning outside Seville's magnificent cathedral to watch enactments of Christ's trial and subsequent events.
Easter in Murcia
Murcia also celebrates Semana Santa in an extravagant and special manner, particularly in the beautiful town of Lorca which straddles a high hillside. Here you'll see horse drawn chariots, penitents and huge floats carrying ancient baroque statues representing biblical stories. Lorca has two brotherhoods, the whites and the blues, who try to outdo each other at the parades. Each wearing their beautifully embroidered silk costumes in their chosen colour.
The town of Murcia itself also holds fabulous processions, which are particularly baroque in style. A great spot for anyone with a sweet tooth, as sugary treats are handed out to the onlookers.
Catalonian Easter
The religious celebration is more reserved and solemn in Catalonia; however there are several interesting events.
A silent, candlelit procession through Badalona is a moving and serious affair, with its origins dating back as far as the 17th century. While the city of Tarragona holds a very unusual parade made up entirely of women. It is called the Procession of Loneliness and is held on Easter Saturday.
Steeped in ancient and unique symbolism the famous Death Dance is performed on Maundy Thursday
Probably the most remarkable events in Catalonia are the Death Dances in the town of Verges. Held on Maundy Thursday proceedings open with a parade of Roman soldiers, who march through the town to collect the various floats and escort them to the church. From there is a procession enacting the life and crucifixion of Christ in a theatrical manner. The main square of this medieval town is the stage for the plays, after which the procession continues through the ancient streets to the church. There is also a children's' procession on Saturday afternoon.
Steeped in ancient and unique symbolism the famous Death Dance – danse la mort – is performed on Maundy Thursday. Five skeletons dance to the rhythm of a drum played by another skeleton while forming the shape of a cross. Another two skeletons appear, one holding a scythe on which is written "death forgives no-one" and the other waving a black flag on which is written "life can be short". Two children dressed as skeletons join in with dishes bearing ashes, while a third child dances with a clock without hands. All are escorted by a further four skeletons holding candles, which cast a gloomy glow over the proceedings.
Wherever you may be in Spain over Easter you'll be sure to find unusual, colourful, sombre and quite amazing spectacles, processions and theatrical events. Magnificent floats, superb costumes and music are also part of this religious festival which though in truth a very solemn occasion, offers everyone the chance to be part of something very special.
We firmly believe that there are three key things necessary for a successful overseas purchase: a good estate agent, lawyer and currency specialist. If you are ready to buy a property in Spain within the next few months, call our resource centre on 020 7898 0549 to be put in touch with the professionals who will smooth your path.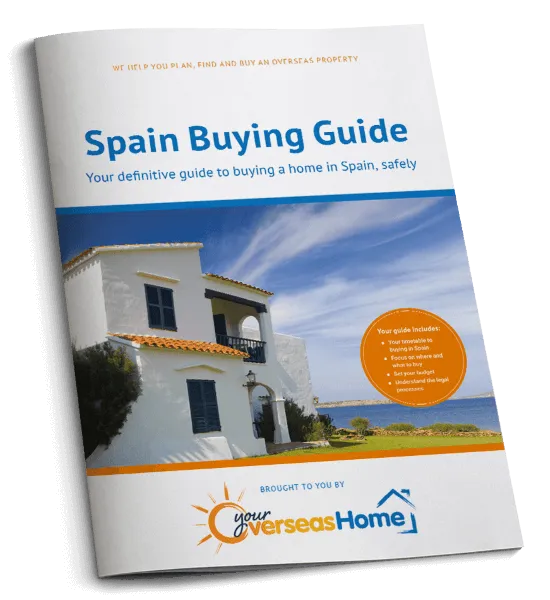 The Spain Buying Guide is a free, independent resource to help anyone who is looking to buy property in or move to Spain through each critical stage of their property buying journey.
Set up to help our readers avoid the many complexities and pitfalls of buying property in Spain, the guide takes you through each stage of the property buying process, with practical recommendations from our experts who have been through the process themselves.
✔

  Ask the right questions
✔

  Avoid the legal pitfalls
Download your free guide to buying in Spain