How do you get your dream home for the best price?
When buying an overseas property, would you be confident of getting the best price?
Buying a home abroad is harder than in your own neighbourhood. You're out of your comfort zone, operating in a different language, currency and legal system, with little to compare prices to. Even worse, as a foreign buyer, many sellers will ramp up the price to take advantage.
Yet the stakes could hardly be higher for one of the biggest purchases you will ever make.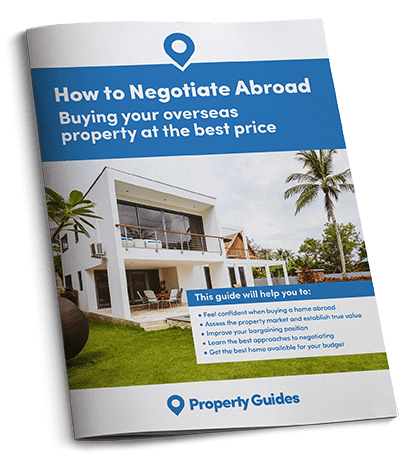 How to negotiate abroad is the guide to put you back in control:
• Feel confident when buying a home abroad
• Assess the local property market
• Improve your bargaining position
• Learn the best negotiating tactics
• Get the best property for your budget.
In clear and simple steps, it gives you a strategy for working with overseas estate agents to get a fair deal, and turn your overseas property dream to an affordable reality!
Download your free Negotiation guide
We partner with some of the most trusted names in the industry



Our team can help you buy a property in Spain
We have built a trusted team of experts to help you along the way – experienced estate agents, bilingual lawyers, tax and financial advisors, and expats who have made the move themselves and can share their unique knowledge and experience with you to make sure you have access to information that is not readily available elsewhere. This team includes our expert expat, Sally Veall, who has lived in Spain, France and Italy, and has been through the process of buying overseas property herself, so is well placed to guide you through the various pitfalls and offer tips to make the most of your property purchase and life in Spain. Sally writes free newsletters and articles for our readers, covering all aspects of buying, moving and living in Spain.
Spain Property Guide experts on the ground
In addition to our Resource Centre in London, we have a dedicated team based in the Spain Property Guide offices in Cala de Mijas, on the beautiful Costa del Sol, are here to help make your Spanish property purchase is a success. Both experienced teams can help answer any questions and offer advice on the different aspects of buying property in Spain, here to support you before and after you travel to Spain, and are on hand to share their knowledge of your chosen region of Spain and connect you to the right professionals to meet your particular needs.