Download your free guide to buying property in Spain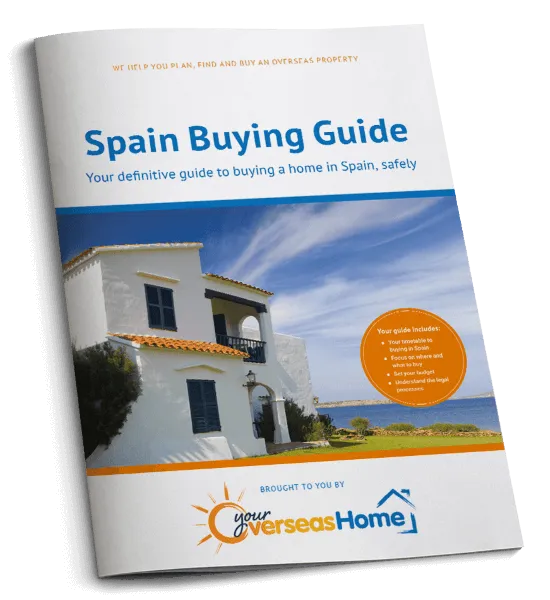 The Spain Buying Guide is a free, independent resource to help anyone who is looking to buy property in or move to Spain through each critical stage of their property buying journey.
Set up to help our readers avoid the many complexities and pitfalls of buying property in Spain, the guide takes you through each stage of the property buying process, with practical recommendations from our experts who have been through the process themselves.
✔

  Ask the right questions
✔

  Avoid the legal pitfalls
Download your free guide to buying in Spain
After research and help from the Spain Property Guide, we understood the step-by-step way to buy a property in Spain and knew how to approach our property viewing trip, treating it as a business trip and not a holiday. We saw about ten places, but knew as soon as we saw our dream property that it was the one. We put down a fee to reserve it there and then and got organised ready for buying, finding a local, independent lawyer, opening a bank account in Spain and getting our NIE number before we flew home
Barry Kimber
We partner with some of the most trusted names in the industry



Our team can help you buy a property in Spain
We have built a trusted team of experts to help you along the way – experienced estate agents, bilingual lawyers, tax and financial advisors, and expats who have made the move themselves and can share their unique knowledge and experience with you to make sure you have access to information that is not readily available elsewhere. This team includes our expert expat, Sally Veall, who has lived in Spain, France and Italy, and has been through the process of buying overseas property herself, so is well placed to guide you through the various pitfalls and offer tips to make the most of your property purchase and life in Spain. Sally writes free newsletters and articles for our readers, covering all aspects of buying, moving and living in Spain.
Spain Property Guide experts on the ground
In addition to our Resource Centre in London, we have a dedicated team based in the Spain Property Guide offices in Cala de Mijas, on the beautiful Costa del Sol, are here to help make your Spanish property purchase is a success. Both experienced teams can help answer any questions and offer advice on the different aspects of buying property in Spain, here to support you before and after you travel to Spain, and are on hand to share their knowledge of your chosen region of Spain and connect you to the right professionals to meet your particular needs.