Where to buy property in Málaga
Living in Málaga means enjoying the very best that the Costa del Sol has to offer, from year-round sun to delicious food and wonderful properties – no wonder that the city has been voted the best in Spain for quality of life. A once-industrial port, it's now been completely transformed, with stylish bars, restaurants and a great beachfront.
What's it like living in Málaga?
Málaga has previously been voted to have the best quality of life in Spain by a European Commission survey. In the years since then it has only got better, with a beautiful old town, newly refurbished promenade and wonderful museums and restaurants.
The focus has been on taking an industrial city and port, and making it liveable. The historic centre is condensed into a small area and is an absolute delight, renowned for its tapas bars and restaurants. It's a now a lovely place to stroll in the evening, to stop for a tapa and a glass of wine, or two.
Málaga isn't cheap, so if you need to raise a little extra money to buy here, read our brand-new guide, How to pay for a Spanish property.
But it's not just about the money that's been spent. Marbella, for all its wealth, cannot compete with Málaga for culture. It offers every type of art, music, history and museum. Andalusia may be the home of flamenco but Málaga has some very good jazz clubs too. The new Clarence Jazz Club is one of our favourites, just behind Málaga Cathedral.
Málaga has been voted as the city with the best quality of life in Europe.
The Picasso Museum is a big draw for tourists, but actually there are some other wonderful museums to visit too, amongst them the Museo Carmen Thyssen, the Automobile and Fashion Museum. With so much culture and great food and drink, Málaga has become highly popular for the weekend break market, with all the potential that offers property owners from Airbnb.
How easy is it to get to Málaga?
Málaga is extremely well connected. There are flights here from every corner of the UK and Europe, all year, including London, Birmingham, Bristol, Leeds, Belfast, Liverpool, Edinburgh, Cardiff, Glasgow and Exeter. It's also just 2.5 hours from Madrid on the AVE (high-speed train). It's a busy port too, with ferries to Morocco.
The Costa del Sol is seeing a building boom, but read how to buy new build safely with your FREE Spain Off Plan Guide
Within the region, the 'Cercanias', or regional trains, connect nearby towns to the city, and, within the city, the two-line metro system is cheap and efficient.
Where are the best areas to live in Málaga?
Anyone looking at living in Málaga has a huge range of areas to choose from, from quiet and relaxed to busy and bustling. Here are some of our top spots, plus how much the average property would cost:
El Palo
El Palo, just twenty minutes' drive from the centre, is a former fisherman's town undergoing a certain degree of 'gentrification' – while still being very much authentically Spanish. Frontline sea-view properties are generally low rise, giving the feeling of being much further out from the centre than you actually are.
Average price: €2,200/m2
Playa de la Malagueta
La Malagueta really puts you in the heart of everything that attracts people to living in Málaga – it's located on the seafront, right in the centre of Málaga city. The spectacular 1,200m beach is one of the cleanest in Andalucia with a gentle slope to the sea (the advantage of being manmade). The shallow water, shady palm trees and plentiful facilities, as well as the lifeguards in season, make it ideal for families.
Average price: €4,600/m2
El Limonar
To the northeast of La Malagueta, El Limonar is a quiet, green neighbourhood that's perfect for families. You can walk to the Playa de la Caleta, and you're well linked by bus to the historic centre. Properties along the main road, Paseo Limonar, are mainly apartments, but the rest are largely spacious, detached family houses.
Average price: €3,300/m2
Centro Histórico
The Centro Histórico is Málaga's characterful old town, situated at the foot of the medieval Alcazaba. Most apartments here are in historic, 19th- and early-20th-century buildings. While outdoor space tends to be at a premium, with just small balconies, this is more than made up for by the location, with plentiful cafés and bars lining the narrow streets and squares. It's a typically Spanish district, and can feel a world away from the tourist developments on the coast.
The Centro Histórico feels a world away from the tourist developments of the coast.
Average price: €4,160/m2
Paseo Marítimo de Oeste
Paseo Marítimo is between Málaga and Torremolinos, and has more of a 'holiday resort' feel than the neighbourhoods closer to the city. It's perfectly set up for visitors, with plenty of restaurants, bars, cafés and small shops in walking distance, and a long, sandy beach. The perfect spot for a holiday home or rental investment?
Average price: €2,900/m2
Cerrado de Calderón
Only recently developed in the past twenty years, Cerrado de Calderón is quiet, friendly and boasts stunning views over the hillsides and down to the sea. It might be a bit further from the beach (albeit only ten minutes in the car to Playa Pedregalejo), but the trade-off is that it's very green and there's not much of a bustle compared to the seafront.
Average price: €2,5210/m2
What rental yields can you expect in Málaga?
People expect quality, so for a good two- to three-bedroom apartment in the city centre, you could expect an income of €1,000 a month. Close to the sea or in a favoured residential district, a 140-square-metre, four-bedroom apartment would bring in €1,200-1,500 per month for a long-term rental. You could be looking at well over €2,000 a week for short-term tourist rentals in the height of the season.
The climate in the Costa del Sol being pretty good all year round, Málaga has a 12-month season for tourism. The inconvenience is the management of tourist apartments, added to which Andalusia now requires licensing of all tourist rentals. There are several conditions with which you would need to comply in order to get your license – however, once it's done, that's usually it for a period of time.
A big plus for would-be property investors is that Málaga has a 12-month season for tourism.
A word about long-term lets: currently these are generally for a three-year term after which they can be renewed with the agreement of both landlord and tenant. The tenant can give one month's notice to quit (unless otherwise stated in the rental contract) but may still be liable for rent on the unused portion of the lease.
With the reluctance of many landlords to rent out property long term, there is a shortage in this market so it could be a good and secure investment. On the other hand, the high price of tourist rentals attracts many prospective buyers to aim for the tourist market. Either way, Málaga is generally a safe choice for investment – and with more and more people from overseas considering living in Málaga, you can expect demand to remain high if you do come to sell your property.
To work out rental yield, simply divide your rental income by the total value of the property.
Things to do in Málaga
Anyone living in Málaga is spoilt for choice with activities – perhaps you might find your move leads you to take up a new hobby, or pick up an old one you'd always intended to restart. You can try yachting at the new Port Arena, or go rock-climbing at the magnificent Chorro Gorge, fifty minutes' drive from the centre. For something a little more relaxing, enjoy the year-round sunshine on one of the fifteen beaches inside the city limits. Generally, beaches in the East are smaller and perhaps a little quieter, whereas the West has those sweeping sandy beaches you'll see in brochures.
Of course, don't forget to sample the delicious local cuisine at the thousands of restaurants, cafés and tapas bars in the centre and lining the waterfront. Seafood is in abundance here, with typical dishes including espetos (grilled sardines), cazon en adobo, deep-fried fish, anchovies and squid and clams in white wine sauce.
Plus, don't forget that the climate means you can enjoy even outdoor hobbies all year round. Even in January, you can expect 180 hours of sunshine – more than double London's 60 hours!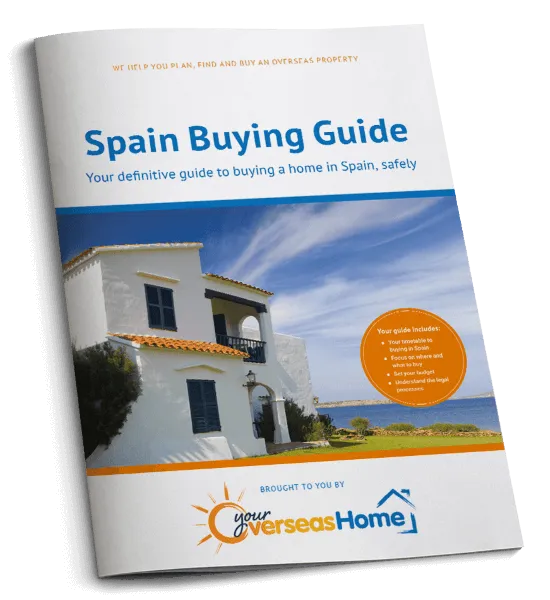 The Spain Buying Guide is a free, independent resource to help anyone who is looking to buy property in or move to Spain through each critical stage of their property buying journey.
Set up to help our readers avoid the many complexities and pitfalls of buying property in Spain, the guide takes you through each stage of the property buying process, with practical recommendations from our experts who have been through the process themselves.
✔

  Ask the right questions
✔

  Avoid the legal pitfalls
Download your free guide to buying in Spain