Living in the Centre of Spain
Spain's costas and islands are so popular that many of us tend to forget the interior of Spain. Which is odd when you think of it. Suppose people buying in the UK never considered the Cotswolds or Lake District, or towns like Oxford or Bath!
Spain has a wealth of lovely towns and countryside far from the sea. Authentic Spanish life continues here, without the summertime crowds. Spain is a large country so we can't cover everywhere in one article, but we wanted to highlight some of the inland jewels.
Jaén
Ask a Spaniard about Jaén and they'll tell you that it is the world capital of olive oil, known locally as "liquid gold." It is in fact the largest producer of olive oil but that is not all that attracts people from all over the world to this hilly town. It is in the Santa Catalina mountains, 65 kilometres from Granada airport and 167 kilometres from Málaga airport. The fast AVE train runs from Jaén to Madrid in a couple of hours.
Jaén's old town is extremely pretty. The rest of the town has grown to population of about 113,500, spread out across the hills. The climate is continental rather than Mediterranean and it is warm or hot almost all year round. The temperature rarely drops below 12º in January and regularly reaches the low 30ºs in the late spring and summer months. It is however a dry heat and much easier to live with than humidity plus heat which is often the climate nearer the coasts.
This is realy old-school Andalusia, so at Jaén's wonderful selection of tapas bars you get a free tapa with your drink (unlike in some other cities).
The Moors were here and have left their mark which today includes a wonderful green pottery first produced during their occupation of Spain. As for olive oil, it is all around you. Jaén produces one third of all olive oil in Spain and boasts the largest olive oil factory in the world.
There are over 11,000 foreign residents in Jaén, of whom about 10% are British. Saint Philip's British School caters for children of all ages and is considered to be excellent, with many Spanish parents opting to send their children there too.
Property is comparatively inexpensive.
Segovia
Just under 100 kilometres from Madrid is the town of Segovia in the province of Castilla y León and a very pleasant place it is. Probably best known for its magnificent Roman aqueduct and Gothic Cathedral, Segovia was declared a World Heritage by the Unesco in 1985. The old Jewish quarter still possesses some original buildings dating back to when Segovia was the centre of trade in textiles and wool. It is twinned with Edinburgh. The population is just over 50,000.
Quite chilly in winter, it is warm and dry in the summer and for those who enjoy real winters, it has been known to snow there. Segovia has several parks and green areas for locals to savour, such as the Alcazar gardens laid out in a formal geometric pattern or the Jardines de los Huertos which have recently been restored and which once were the orchard of a Friary.
These days tourism is one of the main industries which opens up opportunities for jobs, especially for those speaking Spanish, English and one other language. One of the joys of Segovia is that it is a small city but still boasts a lovely lake, tens of thousands of trees, 26 fountains and numerous statues. Many people describe life in Segovia as living in a fairy tale. A brand new duplex very close to the centre with 3 bedrooms costs €275,000 and for further €22,000 you can have a garage space too.
Burgos
The outskirts of the capital of Castile are quite uninviting but venture towards the centre and here is a one of Spain's jewels, old Burgos. 250 kilometres south of Hendaye in France and 2.5 hours' drive north of Madrid, this city is close to many places of interest, in fact Logroño, capital of the La Rioja wine region is a mere 90 minutes away by car and it takes roughly the same time to get to Bilbao and the ferries to the UK. Madrid is the nearest airport for all destinations but there is a flight from Burgos to Barcelona. There are regular train services to most major towns and cities. 176,000 people live in the city with about 6,000 foreigners and 357,000 in the greater urban area.
Those of you who have seen the epic film El Cid starring Charlton Heston will be interested to know that Rodrigo Díaz de Vivar, a medieval nobleman and called El Cid by the Moors, was born just a few kilometres from Burgos and is probably its most famous citizen.
Being in the north of Spain it experiences cold winters and snow but also dry summers and would suit people who enjoy all 4 seasons. Its magnificent cathedral is surrounded by narrow, winding lanes and the historic centre is a real gem. It is an important university city too, and the young people who study there bring life to the streets, bars and restaurants.There are almost 3 square miles of parks to wander in and several tree lined garden paseos or walkways. A network of over 100 km of bicycle lanes net the city making it the 6th largest bicycle lane network in Spain and the first in kilometres per resident.
Anyone who has been to a Spanish supermarket will have seen a cheese called "Burgos" , made with whey which results in a soft and unctuous cheese which is very popular all over Spain. The black pudding of Burgos made with rice, spices and herbs is certainly one of the healthiest and lightest examples in the country.
Out of the centre there are some pleasant properties and €230,000 will buy a large three-bedroom house with garage.
Vic
To the east in Barcelona province lies the Catalan town of Vic, equidistant from the Pyrenean mountain range and the Capital city of the comarca of Osona. In 2007 it was voted one of the seven wonders of Catalonia.
The climate is similar to that of northern Italy and eastern France with cold winters. Summers are dry but prone to Mediterranean style thunderstorms. Vic is one of the most important towns in Catalonia, has a university and an undeniably attractive medieval centre with a stunning main square.
It is well connected by train and is just 75 minutes' from Barcelona and 69 kilometres from Girona. Girona airport serves much of Europe and several UK destinations (though not between November and April), whilst Barcelona El Prat airport flies to practically everywhere. Although it is very Catalan in nature, Vic is a multicultural place
The main square is always busy and hosts many craft markets, an annual medieval market and weekly markets on Tuesdays and Saturdays. There is plenty to keep one occupied in the area including riding, cycling, tennis and hiking in the foothills of the Pyrenees. In winter, it is an hour 20 mins to drive to La Molina ski resort and if you keep going, you will be in Andorra.
The city is famous for its sausages and salamis, the best known being fuet, a thin cured sausage and is strong on Catalan cuisine in its many very good restaurants. Expect to pay €320,000 for a modern duplex with terraces close to the centre.
Buñol
While we are on the east of Spain, let's look at Buñol in the Valencian Community. Valencia City has many charms but some people prefer to live in a more rural environment and head for Buñol. With a population of 9,500 it is a small town with a different feel from its large neighbour Valencia, which by the way, is just 35 minutes' drive away.
It's current fame is the tomatina festival when thousands of people arrive in the town to throw tomatoes at each other. Crazy? Yes but very Spanish.
It is a very pretty town surrounded by some stunning nature, waterfalls and hills. The town itself is overlooked by an imposing castle which lies partly in ruins. This is a town of music and is home to a lovely open air auditorium on the Paseo San Luis where there is also a park and a bar. The town hold a biennial music festival in the summer months with all types of music played and the next event will be in 2020.
A comfortable town for people of all ages within very easy reach of Valencia and the sea. Property is very good value and a detached house with 4 bedrooms, pool and garage will cost in the region of €150,000.
Castilla–La Mancha
Located at the very centre of the Iberian peninsula, Castilla-La Mancha is one of the most sparsely populated of Spain's autonomous communities and the heartland of old Spain. It is here that the renowned novel Don Quixote was set, which has helped to put the region on the map – alongside its vineyards, sunflowers, windmills and Manchego cheese.
Like much of mainland Spain, the climate here is Mediterranean, albeit more continental than some areas – and with it Castilla-La Mancha also enjoys the extreme temperatures typical of a continental climate due to the lack of marine influence. Summers are hot and dry, with temperatures often reaching higher than 30˚C and even 35˚C, while in winter it will very often hit below 0˚C. Very little precipitation falls on the region – although it is more common on the mountainous areas.
The landscape here falls in two distinct types – uniform plain with little relief (known as the Manchegan plain), and the mountainous zones that serve as the region's natural border.
Castilla-La Mancha is where the renowned novel Don Quixote was set, which has helped to put the region on the map.
Located here are numerous provinces, cities and towns of monumental and historical importance, such as:
Toledo
The former capital of Spain and the capital of the Castilla-La Mancha region, Toledo is one of Spain's architectural treasures, a living museum. Historically, the city was known as the 'City of Three Cultures', thanks to the historical influence of the co-existence of Christians, Muslims and Jews. It was also the hometown of the Spanish Renaissance artist El Greco, and was the main venue of the court of Charles I of Spain. The city has been a UNESCO World Heritage Site since 1987, having been declared an Historic-Artistic Site in 1940; major attractions here include the tomb of Saint Beatrice of Silver (founder of the Order of the Immaculate Conception), the 11th Century Tornerias Mosque, the 13th Century Gothic Cathedral and Santa Maria la Blanca – the oldest synagogue building in Europe, now owned by the Catholic Church.
Cuenca
The historic walled mountain city of Cuenca is known for its enchanting landscape and incredible beauty, and has been declared a World Heritage Site by UNSECO. Like Toledo, there are numerous architectural highlights here – including the famous Hanging Houses, built over a rock above the Huecar River gorge, and the Cathedral of our Lady Grace and Saint Julian (the first gothic style Cathedral in Spain) – as well as beautiful nature parks surrounding the city. The most famous of these is Ciudad Encantada (the enchanted city). Foreigners are relatively scarce in this part of the country, and it would suit would-be expats looking for a slice of a real and genuine Spanish life.
Guadalajara
Guadalajara comes from the Arabic meaning 'streambed/valley of stones' and has been inhabited since the Paleolithic period. Numerous cultures have made home here since then, from the Romans to the Mendozas, to those in the military who settled here in the mid-19th Century. Major attractions in the province of Guadalajara include the Mudejar influenced church Santa Maria la Mayor, the Moorish town-walls and bridge, and the medieval town Siguenza – especially its fortress and cathedral.
The gastronomy of Castilla-La Mancha here is typical of Spain – notably you will find stews, game, sausages and of course, Manchego cheese, along with excellent regional wines.
Madrid
This region's official name is the Community of Madrid, but as a region with one province and the capital city of the entire country, the region does get swept into the name Madrid. Madrid has been the capital city of the country since 1561, and officially designated as such in the 1978.
Like Castilla-La Mancha, the Community of Madrid has a temperate Continental Mediterranean climate. Winters are cold, and temperatures can reach below 0˚C, while summers are very hot and can often reach 40˚C in July and August. Precipitation levels are fairly low, on average, and are evenly distributed throughout the year.
The Community of Madrid may be one of the smallest regions on mainland Spain, but it is also one of the most densely populated
The Community of Madrid may be one of the smallest regions on mainland Spain, but it is also one of the most densely populated – with around 5 million people living in the city of Madrid alone. Outside the capital, the Community has some remarkably unspoiled areas, including the mountain peaks of the Guadarrama mountain range and the Park Regional del Suroeste.
The city of Madrid itself is incredibly popular with the younger generation of those moving to Spain, thanks to its vibrant lifestyle. While retirees are often searching for sunnier shores, those emigrating to further their careers in Spain will without a doubt be attracted to the quality of life in Madrid. Life here is cheaper than other equivalent capital cities, such as London – but expats are also warned that salaries are usually much lower than in these other cities as well. Housing here is relatively difficult to find at a good price, making it important to invest in the services of professionals who can help you with this process. There is a sizeable expat community here; around 20% of the city's population are immigrants.
Those expats looking for a more rural, authentically Spanish life will tend to look at the areas further out of the capital city. San Sebastián de los Reyes, for example, is just over 10 miles north of Madrid, with great connections to the city and the airport; this is a perfect area for expat families, and home to some major shopping destinations. Slightly further north, you will find Tres Cantos, a city of science and innovation – and home to many bilingual schools.
There is also plenty to see in this region outside the city of Madrid. Aranjuez is located towards the south of the Community; this has been one of the Royal Estates of the Crown of Spain since 1560. The city was declared Conjunto Histórico-Artistico (Historic Artistic Junction) in 1983, and a UNESCO World Heritage site in 2001; significant sites here include the 17th Century Mariblanca and the Plaza de Toros, as well as Saint Pascual's Royal Convent and Charles III's Royal Theatre. We would also recommend San Lorenzo de El Escorial, the location of the renowned monastery of El Escorial, and Chinchón, known for its festivals and Plaza Mayor.
Attractions in the city of Madrid itself include the famous art museums that make up the Golden Triangle of Art – the Prado Museum, where Diego Veláquez's Las Meninas hangs, the Thyssen Bornemisza Museum, established from a private collection, and the Reina Sofia Museum, home of Pablo Picasso's Guernica. In the city you will also find the Royal Palace of Madrid, the Museum of the Americas and San Nicolás de los Serboyas, the oldest church in the city.
Getting there
There are no international airports in the region of Castilla-La Mancha itself, but Barajas Airport in Madrid is within easy access (around one hour – to one and a half hour's drive). This is served by over 93 airlines that connect central Spain with the rest of the world – including British Airways, easyJet, Monarch, Norwegian Air Shuttle and Ryanair. It is the main hub of Iberia Airlines.
Long distance railway services connect these two regions to each other and beyond, with the majority of trains into Castilla-La Mancha radiating from Madrid. Travelling from the UK can be done via the international trains from London to Paris and on to Barcelona, before the six hour train journey down to Madrid.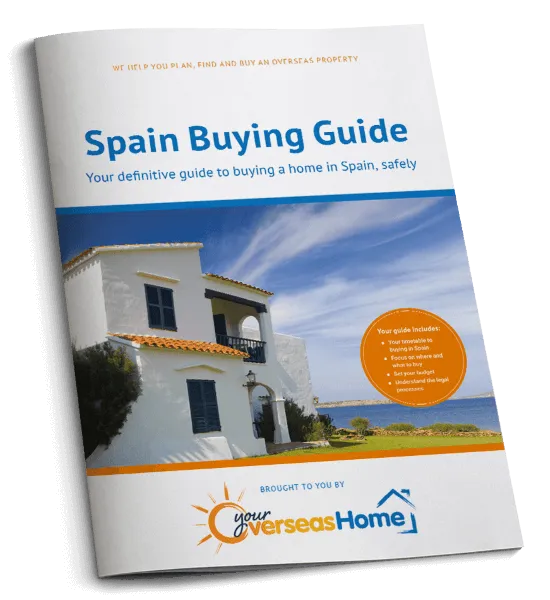 The Spain Buying Guide is a free, independent resource to help anyone who is looking to buy property in or move to Spain through each critical stage of their property buying journey.
Set up to help our readers avoid the many complexities and pitfalls of buying property in Spain, the guide takes you through each stage of the property buying process, with practical recommendations from our experts who have been through the process themselves.
✔

  Ask the right questions
✔

  Avoid the legal pitfalls
Download your free guide to buying in Spain