We may not notice it at first, because the trends can be so slow. But people are moving. Where are they going and what are they buying? Well one group, the hipsters, are moving out to the suburbs, priced out of the city centres. So where are the top hipsturbs in our favourite emigration destinations? From the UK to USA, Australia to New Zealand, Canada and others, this is where you can find style, friendship and affordability.
Suburbs have tended to have a bad press. It's hard to think of the word 'suburban' positively. But PwC and The Urban Land Institute recently released their highly-anticipated annual industry forecast – Emerging Trends in Real Estate 2020. One of the major developments highlighted in the report was the emergence of so-called 'hipsturbs'.
Don't spend any money on your move abroad until you've read

The Currency Guide to Emigration,

 free to download.
These are suburbs, but not as you might have known them. For a start, they're open later, maybe even 24 hours. They may have a conservative image, but will welcome alternative lifestyles. They tend to be closely linked to city centres by public transport or, even better, attractive walking and cycling routes. They have everything the up-and-coming millennial needs, with plentiful options for dining, recreation and shopping.
Ironically, they're a result of the yuppification of the old inner cities in the 1990s. The clearing of old slums meant rocketing prices in districts where it was possible for residents to live, work and play. Now, we're seeing suburbia being reignited in a similar fashion, and it's trend catching on around the world.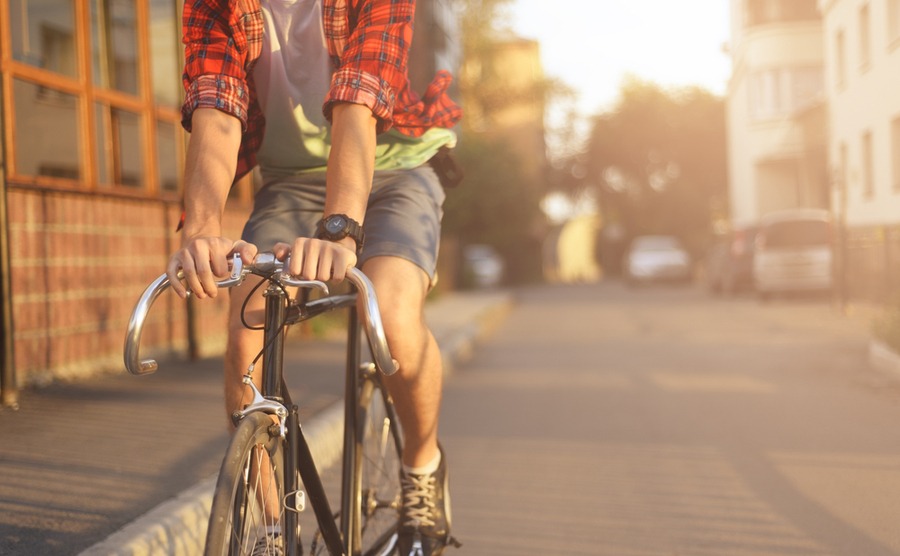 Heading from city to hipsturbia, the easy, cheap, green way
What classifies as a hipsturb?
According to the report, a hipsturb is a suburban destination, within easy reach of a major metro area. Typically, they are located on a direct trainline which allows residents to get to the city in under an hour. Importantly, these hipsturbs are home to more affordable property options than the city itself, therefore attracting young professionals looking to take their first step on the property ladder.
As they move in, so too do businesses that cater to their tastes – breweries, cafés, bars and restaurants serving fresh, locally-sourced food. This influx creates buzzy downtown areas, which mean its residents have no need to venture into the city to socialise.
Additionally, hipsturbs tend to be walkable, have areas specifically-designed for outdoor leisure time, and are often located close to universities and colleges. In some instances, major companies have even relocated their premises close to these areas to make the most of the young, educated workforce in the vicinity. An example of this is Beaverton, just outside of Portland in Oregon, which is home to Nike's US headquarters.
Here is a rundown of the most exciting hipsturbs popping up close to some of the world's most exciting cities, so those of you looking to buy property overseas can gauge what's on offer and how much things cost.
Auckland, New Zealand
Papakura
Recently, the Real Estate Institute of New Zealand (REINZ) assessed Auckland suburbs on a variety of factors, including walking distance to amenities, average rental and house prices and public transport, to determine the best areas for millennials – Papakura came out on top. This hipsturb, which is located 22 miles south of Auckland, offers residents great space, value for money, the same retailers found in the city, excellent leisure facilities, and a super speedy train to whisk residents across town.
Property prices: The median home value in Papakura is NZ$624,000 (£309,790).
Rental prices: The average rent per week for a three-bed house is $460 (£228), which works out at $1,840 (£913) per month.
Transport links: It takes just under one hour to get into central Auckland, and trains run every 20 minutes.
Ōtāhuhu
Ōtāhuhu's affordability, walkability and access to public transport also make it a hip choice close to Auckland. This suburb has enjoyed some serious investment, resulting in a train and bus station connecting it to the rest of the city, and vast improvements to its infrastructure and amenities. Hipsters looking for a cheaper corner of this notoriously expensive city have moved here in their droves. The average age is now 28.3 years. Ōtāhuhu hosts free live music and outdoor movie screenings in the park during summer, Ōtara flea market takes place every Sunday and the arts scene is thriving with great venues like Ōtara Cube and Fresh Gallery Ōtara.
Property prices: The average sale price of a three-bed home in Ōtāhuhu is $613,000 (£304,800).
Rental market: The average rent for a three-bed property per week is $480 (£238).
Transport links: Ōtāhuhu is a 15-minute drive from Auckland, or 30-minutes on the train.
USA: Tampa

Ybor City
Due to the young population studying at the University of South Florida, Tampa just keeps getting cooler, and Ybor City is a particularly hip corner of town. Following its heyday as the 'cigar capital of the world', Ybor City became very run down. Now, new life has been breathed in to the area with old factories converted into beautiful accommodation and cool places to eat, drink and generally enjoy yourself. Ybor City has a great music scene, craft breweries galore, and the chance to enjoy the natural delights of life on the water in the sunniest state in the USA. Cost of living in Ybor City is 11 percent less than in the rest of Tampa.
Property prices: The median listing price for historic Ybor City is US$165,000 (£127,400).
Rental market: Average rent per month in Ybor City is $831 (£640).
Transport links: Ybor City is a half an hour bus ride from the centre of Tampa.
St. Petersburg
While it's strictly another city, St Petersburg is the hipsturb of choice with many entrepreneurs and young professionals who travel into Tampa every day for work. With this influx came a whole range of newer and more stylish restaurants, cafes and bars – all designed to cash in on the hipster dollar. St Petersburg has great nightlife, particularly around Central Avenue, where people hang out in the cocktail bars, dive bars and speakeasies more often associated with hipper cities like New York and Atlanta. St Petersburg is less than 20-minutes from some of Florida's top beaches, has numerous art galleries and farmers markets, plus their live events calendar is superb.
Property prices: The median home value in St Petersburg is US$226,800 (£175,050).
Rental prices: The average cost of renting an apartment is US$1,326 (£1,023) per month.
Transport links: You can drive to Tampa in 25 minutes.
Australia: Melbourne
Coburg
Located 9km north of the CBD, Coburg is popular with millennials who want to raise their children in houses with gardens. Coburg has excellent leisure facilities, superb cafés, restaurants and shops, plus it constantly tops lists of 'Melbourne's Coolest Suburbs'. PwC's CityPulse map ranks suburbs out of 10 on live, work and play factors, and Coburg scores better than most – with 7.1 for live, 4.7 for work and 5.5 percent for play. The hipsturb has lots of great pubs, a main drag where you can get killer coffee and brunch, craft ales, or swing by a gallery, plus it's easy to get around on foot or by bike. Coburg is also a big fan of a market – their Makers and Shakers Market is a highlight, as is Coburg Night Market.
Property prices: The average price of Coburg property is AUG$889,500 (£474,650).
Rental market: Rent a two-bed house for $450 (£240) per week.
Transport links: Hop on a train and you'll be in central Melbourne in 19 minutes. The tram whisks you there in half an hour, or a cab will take just 10-minutes and set you back between $17-23 (£9-12).
Mulgrave
This south-east Melbourne suburb has become a firm hipster favourite due to its affordability next door to highly-desirable suburbs like Glen Waverley and Mount Waverley. Monash University is close by, which means there are a lot of students knocking around, and therefore plenty of events, every night of the week, plus affordable drinking and dining establishments. According to PwC's City Pulse Map, Mulgrave scores 'above average' for live and work, and 'close to average' for play. Mulgrave boasts a fantastic farmer's market, great hiking trails, and plenty of places to do yoga.
Property market and prices: The median property price in Mulgrave is AUD$780,000 (£415,760).
Rental prices: For the three-bed property, the average weekly rent is $460 (£245), amounting to $1,840 (£980) per month.
Transport links: As well as being close to Monash Freeway, which can whisk you into the CBD in 25-minutes. It takes an hour to get into the CBD via train and bus.
USA: New York
Hoboken
Voted as one of the 'coolest suburbs in America' in 2019, Hoboken in New Jersey is the definition of a hipsturb. Located just 10-minutes from Manhattan, the suburb enjoys a waterfront location and incredible views of the NYC skyline. The suburb is highly-walkable, is popular with young professionals and families, and constantly serves up fun events for its residents, including gallery openings, cultural festivals, and concerts. Hoboken's waterfront has an open-air biergarten, movies and waters sports.
Property prices: The median property price in Hoboken is $699,500 (£540,000).
Rental prices: Rental costs have shot up here in the last couple of years, so per month, you're looking at rental of $2,700 (£2,090). However, this is less than half the price of Manhattan rent and you are so close you can almost touch it!
Transport links: A subway ride to Manhattan takes 13 minutes.
Canada: Vancouver
Port Moody
Port Moody is a real hipster-haven full of locally-owned cafés and restaurants, plus its crowning glory – Brewery Row, an industrial three-block stretch of breweries that even entice those that live in Vancouver to visit. This hipsturb really picked up when a new line of the SkyTrain hooked it up with the city. One of the major draws to this suburb is the availability of affordable homes with water and/or mountain views. It is also home to Rocky Points Park, which hosts lots of local events, really adding to the community vibe that is luring young people away from faceless downtowns.
Property prices: The average price of property sold here is CAD$796,000 (£466,660). Condos are available from $477,000 (£279,640).
Rental prices: Renting a two-bedroom house would cost an average of CAD$2,095 (£1,227) per month.
Transport links: Downtown Vancouver is a one-hour SkyTrain ride away.
New Westminster
This hilly hipsturb is located on the north bank of Fraser River, and has been likened to Brooklyn in vibe. More of a small town really, New Westminster has an interesting 153-year history, and was British Columbia's first urban centre. This history translates into old houses oozing the kind of charm you just don't find in the inner city, plus wide tree-lined streets, and sizeable plots. Residents here enjoy an artificial sand beach at Old Timber Wharf, Westminster Pier Park and River Market at Westminster Quay – all of which boast a bevy of entertainment options. Also, the suburb is home to several modern co-working spaces, ideal for freelancers who don't have to journey into the city.
Property prices: New Westminster has an abundance of condos, ideal for the first-time buyer. Plus, plenty of old-fashion properties with wrap-around porches that may need a little sprucing up, but have lots of potential. The average price is CAD$692,000 (£405,000). Condos are available from $392,000 (£230,000).
Rental prices: For a two-bed, expect to pay around $2,077 (£1,216) per month.
Transport links: New Westminster has five SkyTrain stations, which can whisk people to Downtown Vancouver in under half an hour. It is also an incredibly walkable suburb.
United Kingdom: London
Croydon
Hipsturbia is alive and well in the UK too. As "prime London" moved from its original boundaries – the postcodes neighbouring Hyde Park – to the likes of Nine Elms (the Battersea Power Station development) and Shoreditch, so the creative types who make the city what it is are finding new areas.
Croydon, famous home of Kate Moss, Amy Winehouse and Sir Arthur Conan-Doyle, is just nine miles from central London. You can get to either the City of London or Gatwick Airport in 15 minutes by train. Once cited rather optimistically as the 'Manhattan of London', is does have some bold new tower blocks, including the pink and purple Saffron Square, pictured.
For some hipsters, even Croydon is a little mainsteam these days. The new hipsturbia is Wallington, a few miles to the west of Croydon, while Nunhead is attracting those priced out of Peckham.
Property prices: Last year flats in Croydon sold for an average of slight;y below £300,000 on Rightmove. Terraced properties sold for an average price of £397,894, while semi-detached properties fetched £479,013.
Rental prices: The average rental price per week in Croydon is £345, according to Foxtons. For smaller, hipster-type apartments you'll need around £230 per week, and for family hokes of four bedrooms, around £475.
Transport links: Southern Rail will whisk you to London Bridge station in 13 minutes. Gatwick Airport is also easy to reach by train or car, in less than 30 minutes..