With a language in common, buying property in the USA might seem like it will be a whole lot easier than other countries. However, with a completely different legal and immigration system to learn about, plus a much longer distance to travel for viewings, it can be just as much of a challenge as a destination with a language barrier.
At USA Property Guides, we've used our expertise to give a helping hand to many people making the move across the pond. With our advice and network of trusted partners, we can provide the support you need to relocate to America while avoiding many common pitfalls.
To begin with, we will take you through some of the reasons why you should buy a house in the USA, then, you can start your journey by following our step-by-step schedule to buying your home. Don't forget, you can download a PDF version of our USA Property Guides booklet to read offline, too.
If you need advice or need to ask a question, contact our team of USA experts on 020 7898 0549 (Monday–Friday, 8.30am–6pm) or you can email them at [email protected].
Buying property in the USA
With a language in common, buying property in the USA might seem like it will be a whole lot easier than other countries. However, with a completely different legal and immigration system to learn about, plus a much longer distance to travel for viewings, it can be just as much of a challenge as a destination with a language barrier.
At USA Property Guides, we've used our expertise to give a helping hand to many people making the move across the pond. With our advice and network of trusted partners, we can provide the support you need to relocate to America while avoiding many common pitfalls.
To begin with, we will take you through some of the reasons why you should buy a house in the USA, then, you can start your journey by following our step-by-step schedule to buying your home. Don't forget, you can download a PDF version of our USA Property Guides booklet to read offline, too.
If you need advice or need to ask a question, contact our team of USA experts on 020 7898 0549 (Monday–Friday, 8.30am–6pm) or you can email them at [email protected].
Should you buy a house in the USA?
Thinking of buying a house in America? From the practicalities like the lack of language barrier and the affordability of driving to wider advantages like its familiar culture and fabulous food, there are plenty of reasons to buy here.
There may be financial benefits of investing in an American home too, with low buying costs compared to continental Europe and a steadily rising market in recent years.
Let's take a closer look at some of the top property market-related benefits of buying a house in the USA.
1. There is a strong economy
When deciding whether to buy property in the USA, it's always important to study how the economy is performing and how it looks set to continue performing in the years to come. Currently, experts are very pleased with how things are going and predict that this healthy performance will continue.
The strong economy is fuelled by new career opportunities, high employment levels, lower taxes and an increase in positions that pay handsomely. A healthy economy translates into good things for the property market, so what are you waiting for?
2. There's a great market for foreign investors
The US is set to remain incredibly welcoming to foreign property investors from places like the UK, Canada, China and Singapore for the foreseeable future. Therefore, if you want to buy property in the USA as an investment, now is a good time to act.
Obviously, the staple favourites like New York City, San Francisco and Boston are top choice for investors if money is no object. However, you don't have to be dealing in millions to buy property in America. There are a range of excellent opportunities for you to capitalise on where prices are low, rental yields are high and there are often great tax advantages specifically for foreign investors.
3. There are plenty of low property prices
If you're in the market for serious bargains the USA is a great low-cost option. American property is surprisingly good value. Of course, property in the trendiest and wealthiest neighbourhoods of cities like Miami, New York and San Francisco will always be pricey, but elsewhere in this huge country most international buyers are amazed at what you can get for your money. For example, you could buy a detached home near Orlando's Disney World in Florida, with a pool and garden, for the same price as a one-bedroom flat in a typical UK town.
4. There are opportunities to rent to tourists
If you plan to buy property in the USA specifically to rent out to holiday makers, it's important to consider where the tourists are, and where they will be in the years to come. Fortunately, places like Orlando in Florida never really go out of fashion. Elsewhere, Seattle in Washington was recently named on as a top destination to visit by Lonely Planet. Additionally, Houston in Texas is one of Lonely Planet's best value cities. Given the property markets in both cities are presently performing very well, things only look set to go from strength-to-strength for these destinations.
5. There is plenty of choice outside the major cities
With sky high prices in places like New York, Chicago and LA, many people are mobilising and opting to relocate to lesser known "second cities", where they can secure more for their money, and enjoy a less stressful way of life. You'll be able to benefit from more affordable property options in a wider choice of locations that are experiencing population growth and, as a result, present a sensible investment choice for the future.
6. There are many attractive and spacious homes on the market
You will find that American homes are very attractive, with spacious living areas and lots of natural light. This is a stark contrast to the majority of homes in the UK that have been offering much more compact designs in recent years as housebuilders contend with more cramped conditions.
There are plenty of handsome properties to choose from all over the country. From the clapboard houses and white picket fences of New England, to the grand villas of Orlando, to the swish condos of California, these are beautiful and beautifully affordable places to live. So, it is no surprise that so many of us in Britain choose to buy in the USA.
Still on the fence about America? Don't worry! There are plenty of other countries to consider in your search, including other English-speaking destinations, like Canada, Australia, New Zealand, and Ireland, as well as other favourites, like Spain, France, Italy, and Greece.
How to buy property in the USA: Your seven-step process
So, you've decided to buy a property in the USA. But how do you go about choosing a location and actually finding your ideal home itself? How do you create your brief, choose your realtor, make an offer, and close the deal? Well, below we'll take you through an overview of the buying process, so you'll have a much clear idea of what's to come.
Step 1: Creating a brief for buying your perfect American home
Before you start your property search, you will should put a brief together that will help you (and your realtor) find the type of property you want, in the location you want it, and at the price you want it for. This brief will keep you focused. It can be very easy to get pushed off course throughout this process of buying a house in the USA!
Create your brief by thinking about and answering key questions about your motivations, lifestyle, and needs. Make sure that you set a budget, indicate how you're going to pay for the property, and when you'd like to buy. Be as detailed as possible.
Step 2: Finding the right estate agent
Finding a good agent can be immensely helpful in successfully navigating the process of buying a house in the USA. You need to find one who sells the type of property that you are after, who is registered and reliable, and most importantly, listens to you and understands your needs.
The word "realtor" confuses some people. Realtor is a technical term (officially Realtor ®) for an estate agent member of the National Association of Realtors (NAR).
If you are planning a viewing trip, it's advisable to select your agent or realtor beforehand and send them your detailed brief, so that you can begin the house search the moment you land.
Step 3: Hire the rest of your property team
The next step is to begin assembling the rest of your property buying team who will help you get the purchase of your US home over the line. You'll need an experienced lawyer to help you navigate any unfamiliar local laws, a currency specialist to move your sterling to dollars, and you may also wish to speak with a financial advisor to ensure the financial planning is right on the deal.
If you're planning on staying in the USA for long periods or permanently, you should discuss applying for the right type of US visa with your lawyer. This can be a time-consuming process, so it's best to get it underway as soon as possible.
Step 4: Start your property search
Start your house search by making a final decision on where you want to buy and what type of home you'd like to purchase, then start looking at property listings in the area. At this point you should have a good idea of what type of financial structure you plan to put in place so that you can act quickly should an amazing property pop up or you find a bargain foreclosure or short sale.
Get in touch with your realtor and begin narrowing down a shortlist of properties you'd like to visit on any upcoming viewing trips.
Step 5: Organise a viewing trip
We recommend that you book up a viewing trip to your area of choice once you and your realtor have established a shortlist. This will allow you to investigate different areas and suburbs, speak to locals, visit the shops and check out nearby attractions in order to establish the right spot for you.
If you plan on spending a reasonable amount of time in the USA, it's worth renting a property in one of the communities you're considering rather than shelling out for a hotel. Trying this out for a little while, even if it's just a couple of weeks, will allow you to get more of a feel for the area. It's a very helpful way of knowing whether it's right for you.
Step 6: Get your finances in place
Once you've got a good idea of the properties you might make an offer on, it's time to sit down with your financial advisor and discuss the options for financing your purchase. This may involve paying for the property in its entirety with savings, organising a UK or US mortgage, or something else. You should also speak to your currency specialist to make final arrangements for paying in dollars.
You will also need to research any matters crucial to buying your home, like legal, tax, inheritance pension, or insurance issues. If necessary, you may need to hire additional professionals to help you to smooth out areas that you're not entirely familiar with.
Step 7: Making an offer
With your financing plan in place, you can go ahead and make an offer on the home of your dreams. There may be some back and forth on the price, terms, and expected closing date, but, once a deal that benefits both parties has been reached, you can progress with your purchase.
Your attorney will begin to process the property records and paperwork of the deal, culminating in a contract of sale being signed and a deposit being paid. This is also the opportune time to organise a property survey to assess the state of the property.
Step 8: Completing the deal
Finally, when all the paperwork is in place and the finances have been arranged, you can go ahead and close the deal. Congratulations! You're now the owner of a great US property.
What should you consider before buying a home in the USA?
We are strong believers that prior planning makes for a smoother, faster property purchase. You can just dive right into looking at homes, but you're likely to spend hours wading through ones you're not sure if you like or not. Instead, focus your search by making sure you can answer these five questions before you start to look for properties.
Key questions
1. What is it that makes you want to move here?
People move to the US for many different reasons, and it can be surprisingly hard to articulate these on the spot. Think to yourself what it really is that you want to change. Write this down and use it to direct your search. Examples could be:
"I'm keen on a property with much more space, inside and out"
"My pension will get me much more over in the US than in the UK"
"I don't want to regret never having tried to buy a house in the USA later in life"
"I want to experience another country and have an adventure!"
2. How do you plan on using your home?
With your overarching motivation crystallised, write about what sort of lifestyle your new home will need to offer. Do you want a holiday home for half a year? Think about proximity to services, like shopping, healthcare, and food and drink options, as well as public transport if you won't have a hire care during that period.
Will you be working in the USA? And, if so, where will you need to commute to? Do you want to enjoy hot summers and cold winters, or would you rather a milder climate year-round? Do you want easy access to the beach, or to the countryside? Will you be renting out to tourists and need to be near the region's top attractions?
3. What details are 'musts' in your dream home?
When you buy a home in the USA, you want it to be perfect. Write down a list of everything it must have, so you can immediately eliminate 'maybe' homes from your viewing lists. Think about the type of property you want, then ask yourself questions like:
How big should it be, and with how many bedrooms/bathrooms?
Would you like a garden, a porch, or a covered terrace?
Do you want a swimming pool?
Is a view important?
Will you need parking space on a driveway or in a garage?
4. What details don't you want in your dream home?
Just as important is to go through the (liberating) process of saying loud and clear what you really don't want. If you don't want to deal with a climate where you need to shovel snow every morning for three months, say so now. A pool may seem like a good idea on the surface, but you might find the maintenance unrealistic. Now is the time to be honest!
5. Have you set out a realistic budget?
Don't guess at what you can and can't afford. Take the time to think sensibly about what you will be able to afford before beginning your search for a property in the USA. This will save you from finding your dream home and then discovering its beyond your reach further down the line.
Planning is especially key when you're dealing with a foreign currency and buying a home in the USA means changing your sterling into dollar. The exchange rate is constantly changing, and at the mercy of political events, as much as economic ones. If you put in an offer and then the rate suddenly changes, you can find that offer in dollars suddenly costs a lot more in pounds. We recommend that you look at our USA finance guides and Smart's Property Buyer's Guide to Currency.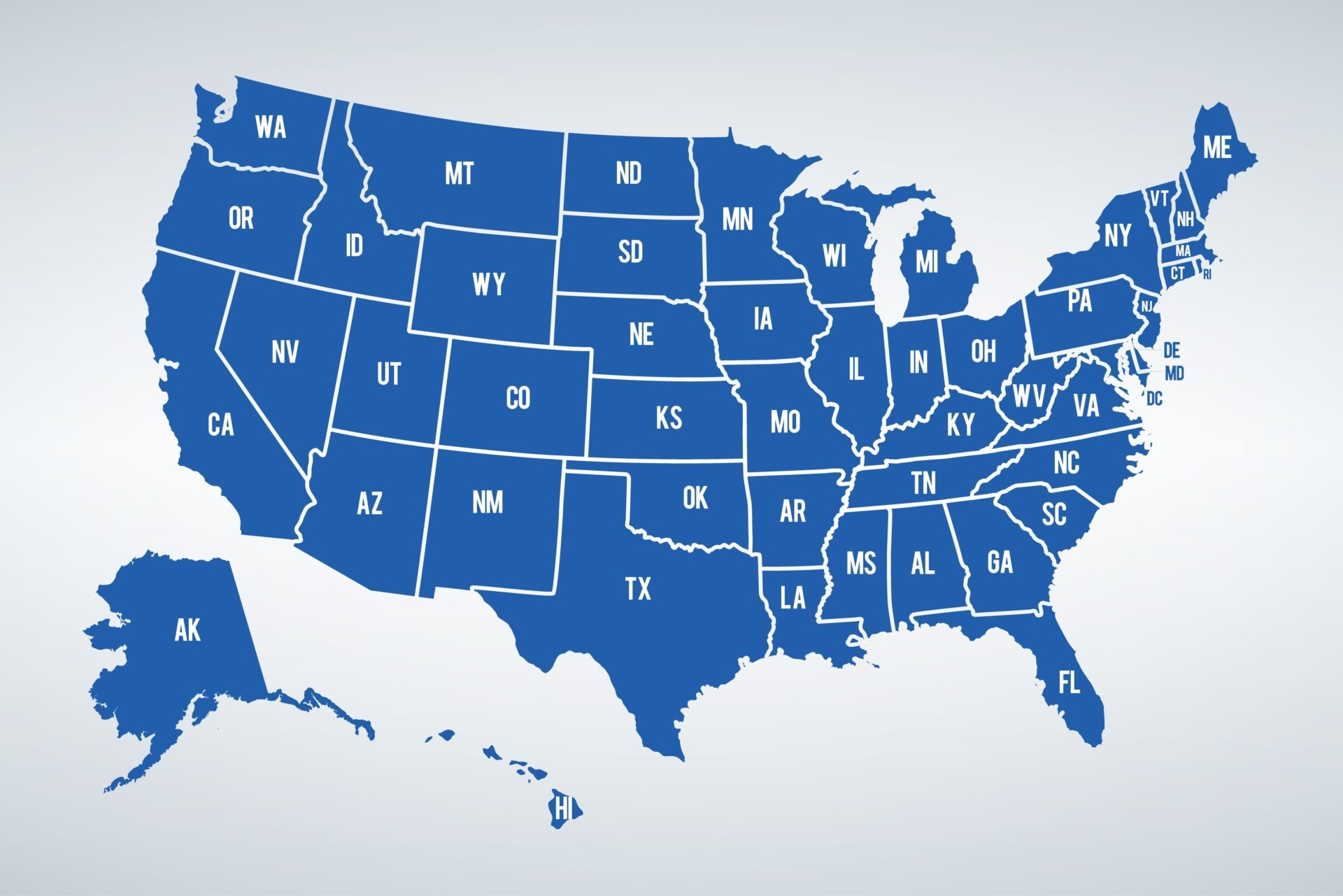 The best places to live in the US: Where should you buy?
The United States is an incredible country, with a diverse landscape, fantastic cities, and friendly people. Whether you want beachside living, a city pad, a ranch, or a retreat in the mountains, the USA has something for all.
If you don't have a preference already, you need to work out what qualities you're looking for in your location to formulate a short list. Only once you've decided on a location, can you commence the fun of the property search.
It's a good idea to sit down and work out the essentials you need from both your location and your property. A good start is to ask yourself the following questions:
Do you have a particular region or state in mind?
What type of climate and landscape do you want to live in? Perhaps you'd like to be near the ski fields of Colorado or in leafy Maine?
Do you intend to rent out your property? Is the area popular with tourists?
Would you rather live in a city, suburb, town, coastal resort or the countryside?
What budget are you working with? Are you looking at areas out of your price range and will the cost of living there be too high?
How far away do you want to be from the nearest amenities that will be essential to you? For example: shops, bars and restaurants, sports and leisure facilities, or schools.
Are there adequate healthcare facilities, like pharmacies and hospitals, in the area?
How close do you want to be to an airport?
Will you need to use public transport? If so, how far away is it from the property and how often does it run?
To help those unsure of where to focus their search, we've compiled a list of the areas that are the most popular with USA Buying Guide readers, as well as some roundups that may be of interest to those looking for something in particular:
Florida

Orlando
The East Coast
Miami
The Gulf Coast

New York City
Denver
Northern California
Florida
Far and away the most popular spot for expats in the USA is Florida, also known as the Sunshine State. What makes it so attractive? Year-round sunshine, world-class beaches and attractions, vibrant cities, regular flights back to the UK, and, of course, great value properties!
There are many reasons why Florida is the third most populous state in the USA, after California and Texas. In addition to attractions galore, year-round warmth, endless miles of pristine coastline and of course, no state income tax, the school system is one of the best in the US.
Where once Florida was just a favourite of snowbirds, now many Generation X'ers, Millennials and those with young families are moving to the state to enjoy the good weather, low cost of living, thriving job market and more relaxed pace of life. But whereabouts in Florida should you be looking?
Orlando
With excellent weather, sporting facilities and enough attractions to keep you occupied for years, it's little wonder Orlando is such a favourite among Brits. Plus, there is also its close proximity to Disney World that makes it a relative honeypot for tourists.
Not only are there lots of things to do, but if you are planning on renting out your property whilst not in the USA, in Orlando you are guaranteed heavy tourist footfall all year round, which will make it nice and easy to let out. Where once the market was awash with foreclosures and short sales, most have been snapped up by now. Having said this, it's possible to find properties at good prices.
An overview of the city
When you think of Orlando, chances are that the first thing that springs to mind is its theme parks. The city is home to some of the USA's biggest attractions, drawing in 52 million tourists each year ready to don Mickey Mouse ears or their swimming trunks and go and have the time of their lives. The tourist footfall alone makes this the perfect location for those wanting to rent out their property when they're not in town.
While the major attractions are located on the outskirts of Orlando, the downtown area has a lot to offer locals and tourists too. Orlando's neighbourhoods are modern and tree-lined, and the city has a fabulous arts and museum scene, excellent cuisine and a number of nature reserves and gardens.
Climate
Peak seasons in Orlando unsurprisingly coincide with Easter and Summer holidays. Springtime temperatures tend to peak at around 27°C during March and April. This is one of the best times to visit as you can expect clear skies, dry days and lots of sunshine. May and June heats up a bit and things tend to get a lot more humid.
Orlando has a sub-tropical climate, and this means that from mid-June to mid-September you should anticipate daily thunderstorms, with temperatures hitting around 32°C on a hot day. Autumn is a lovely time to be in Orlando — you can expect warm, balmy days with temperatures sitting at around 29°C. Things tend to get a little older in late October, when temperatures can dip down to 10°C. Even winters aren't too bad. It's not uncommon for temperatures to hit 24°C during winter, though cold fronts do roll in, and it can drop right down to 2°C.
Major attractions
Where do we start? There is so much to see and do in Orlando that it's little wonder people come back year after year. Obviously, the star of the show is Disney World — the largest theme park resort in the world, which includes the Magic Kingdom, Epcot Hollywood Studios and Animal Kingdom. There's also the Universal Orlando Resort, which boasts two theme parks, five hotels and an enormous entertainment district.
For sports lovers
If you're worried that you'll miss your weekly footy match when you move to the USA, fear not – there are two 'soccer' teams to support in Orlando alone: Orlando City Soccer Club (The Lions) and the Orlando Sharks, who play indoors. There is also Orlando's NBA team, Orlando Magic and the UCF Knights, the University of Central Florida's baseball team.
Should you prefer playing sport rather than just observing, you'll be delighted to hear that there are over 20 golf courses in and around Orlando, and three tennis clubs.
Shop til you drop
When you've tired of rubbing shoulders with Goofy and the gang, you can turn your attention to some retail therapy. Orlando's best bargains can be found at Lake Buena Vista Factory Stores and the city's two Orlando Premium Outlets, which has two sites: International Drive and Vineland Avenue. There are also two shopping malls to explore – The Mall at Millenia and The Florida Mall.
Eating and drinking
Downtown Orlando is also a great spot to head for food, drinks, and less chance of having to compete with crowds to secure a table. The majority of Orlando's evening action occurs around Orange Avenue and Central Boulevard. Here you'll find dozens of restaurants catering to all tastes: American food, Asian, Indian, Peruvian — you name it.
Orlando's Milk District has lots to offer nightlife-wise and has a slightly more bohemian vibe. If you're looking for something a little more upmarket, you should check out the Winter Park area, which is just to the north-east of Orlando, around Park Avenue, where you'll find lots of quality places to eat and drink, as well as galleries, boutiques and cafes.
Job opportunities
If you wish to buy property in Orlando to use as a permanent residence, chances are you'll need to seek employment. Obviously, the tourist industry is an enormous money spinner. Indeed, the entertainment industry in general is big in this corner of the country, aided by the likes of Universal Studios and Disney's Hollywood Studios. But the city is also a major industrial centre, recognised for its innovation. Opportunities are available in aviation, software design, digital media, engineering, aerospace and IT. In fact, over 150 international corporations have premises in downtown Orlando.
You'll also be able to source work in the health industry, in education, and within the housing-sector perhaps helping fellow expats to realise their dream to buy property near Disney World. A big draw in Orlando is the convention industry. In fact, the city competes with Las Vegas and Chicago as the convention capital of the US. The Orange County Convention Centre is a major employer.
Best suburbs to buy in Orlando
While many expats opt to be as close to Disney as possible, if you're looking for somewhere quieter, the following suburbs are great choices:
Orwin Manor
For a central location close to downtown Orlando and half an hour from Disney, consider Orwin Manor. The median home value in the suburb is $340,853 (£259,000). This is a family-friendly spot with some excellent restaurants all within a small radius.
Winter Park
In this hugely popular suburb, you're looking at an average property price of $340,400 (£258,500). In Winter Park, which is half an hour from Disney World, you'll be able to enjoy Leu Botanical Gardens, great schools and a good selection of nightlife and shops
Horizon West
This is another family-orientated corner of Orlando with a distinctly small-town vibe. Currently, the median property price is hovering around the $280,600 (£213,000) mark. This popular area is on the up, so could be a fantastic choice for an investment property.
Oviedo
For an average property price of $241,100 (£183,000) you can live in a culturally diverse location, popular with families for being safe, affordable and close to several excellent schools. Disney World is a 45-minute drive. Most of the properties located here are either large single-family homes or smaller properties perfect for renting out to long-term tenants.
The East Coast
Should your priorities be affordability, airport access and proximity to the biggest attractions in Florida state, we recommend directing your search on the East Coast in spots like Daytona, Flagler, and Cocoa Beach. It is along this coastline that you'll find the best value properties.
While many expats focus their sights on Florida's West Coast, in popular spots like Sarasota and Tampa, the East Coast has a very distinct vibe of its own. So, what can you expect from the East Coast when you move to Florida, and how much would it cost to purchase a holiday home there?
The cosmopolitan vibe
Let's be honest, when you think of cosmopolitan locations, your mind doesn't automatically think Florida — however, cosmopolitan is exactly what Florida's East Coast is! Traditionally, people from America's Midwest used to congregate on Florida's West Coast, and those from the East Coast of the US headed to the East Coast of Florida. Therefore, as a general rule, the east is a lot more liberal than the conservative west.
Miami, in the state's south-east corner, is the most cosmopolitan capital of Florida. The city has a population of around six million, made up of people from around the world — the Caribbean, South America, Europe — in fact, people flock from all corners. Two international airports make it easily accessible from all parts of the world, making it popular with tourists and those that move to Florida during colder months. The city has it all – sunshine, beaches, parties, cultural and sporting events, as well as the chance to shop til you drop.
However, you don't have to be in Miami to enjoy the cosmopolitan vibe of the East Coast. In the Miami metropolitan area, like Fort Lauderdale, there are many Europeans and Californians snapping up second homes. Jacksonville in the very north east is an exciting city, undergoing a huge economic boom right now.
Climate
If you like starting your day by watching sunrise, the East Coast is ideal. Getting the sun first means warmer mornings and that the sea breeze kicks into gear earlier, which will be helpful during the steamy summer months. Florida can be stormy, but as a general rule, the storms are more intense on the west coast. However, the East Coast lies on the Atlantic Ocean, so when the onshore wind is strong, the coastline can get battered with waves. As a guide for how much sunshine you'll actually encounter if you move to Florida, you can expect 229 days of sunshine in Daytona Beach, 221 in Jacksonville and 249 in Miami.
Activities
The East Coast has a higher population than the West Coast, which means there is plenty to do. If lounging at the beach is your bag, you have 360-miles of coastline to enjoy in the east. So much coastline means there are locations to suit all tastes, from glitzy sailing communities in Palm Beach or Miami, to laid-back spots like Vero Beach or Amelia Island.
Boating, water sports, surfing and scuba diving are all popular. The clear and warm waters of Delray Beach are perfect for novice snorkelers and scuba divers. Plus, you can explore the Delray Wreck, the shipwreck of S.S. Inchulva, which lies 500 feet from shore in 20 feet of water. You can visit the Kennedy Space Centre and Cape Canaveral, and Orlando and its attractions aren't too far away.
Job opportunities
If your move to Florida is motivated by the job opportunities, the East Coast is a great shout. Prime locations include Miami, Jacksonville and Port St Lucie. Miami has the largest concentration of international banks in the United States, and their fair share of domestic banks too. Media and telecommunications are big business in Miami, as are the film and music industry. Due to its proximity to Latin America, there are a lot of employment opportunities within international trade. In fact, 40% of all exports to Latin and South America pass through Florida.
If your experience is in research and innovation, Port St. Lucie is home to numerous companies within this field. Jacksonville is a global banking and finance hotspot, with more than 60,000 of the city's residents employed within the industry. South East Florida produces much of the USAs tropical fruit, supplying almost all of the country's vegetables during winter. The agriculture industry employs more than two million people and contributes $104 billion to Florida's economy each year.
Additionally, there are 19 commercial airports and 1,755 aerospace companies located in Florida. The industry employees over 100,000 people, and the average salary is $66,000. Finally, life science is big business on the East Coast. There are 6,200 employers within the field, providing 90,000 jobs. The average life sciences salary in Florida is $73,545 — more than double the Florida state average.
Popular locations
Jacksonville
For beachside living in Florida's largest city, Jacksonville is an affluent and cosmopolitan choice when you move to Florida. While currently flying somewhat under the radar of the international buyer market, it won't be long before everyone catches on to the city's huge appeal. Bags of jobs, affordable living, great year-round weather, plus Disney at Orlando is only two-hours away.
The pace of life here is slower than Miami and roads are less congested. While the city itself might not appeal to holiday home buyers, the nearby beach communities of Ponte Vedra, Neptune, Atlantic and Amelia Island certainly will. The median property price in Jacksonville is $177,200. In Amelia Island, a barrier island to the north of the city, you can buy a three-bed home for $200,000.
St Augustine
If you're worried you'll miss the UK's history when you move to Florida, St. Augustine could be the perfect option as it's the oldest city in the United States. As well as a number of historic landmarks and cultural attractions, the city's coastline is made up of wide, sandy beaches and state parks. While St. Augustine can be a touch touristy, nearby Vilano Beach is a quieter coastal community that might float your boat. Jacksonville is a 45-minute commute. Three-bed houses start from $154,900.
The Space Coast
The Space Coast consists of a 72-mile stretch of coastline around the Kennedy Space Centre and Cape Canaveral Space Station, just 35-miles east of Orlando. Also, it includes the beautiful towns of Cocoa Beach and Melbourne Beach.
Cocoa Beach is a six-mile long barrier island, one hour off the coast. It's called home by an active retirement community, surfers and nature lovers. This is a relaxed holiday destination with a buzzy waterfront lined with bars and restaurants. You can relax in the rolling sand dunes, or explore nature with an eco-tour, kayak rental, or windsurfing tour.
Also, Melbourne Beach offers unspoilt beaches, an array of outdoor activities from fishing to snorkelling, plus a historic town to explore filled with great shops and restaurants. Additionally, the region is home to 27 golf clubs, 13 tennis clubs, Brevard Zoo, plus a sub-tropical climate, which means plenty of beach days. The median property price here is $165,000 – lower than the Florida average. For a two-bed, two-bath condo right on the water at Cocoa Beach, expect to pay around $400,0000, but you can also snap up a one-bed condo a little inland for as little as $94,000.
Vero Beach
Vero Beach is a lovely barrier island located on the Treasure Coast. The town's location is ideal, sitting on the Indian River Lagoon and the Atlantic Ocean, only two-hours from both Orlando and Miami, which means tourists aren't quite as plentiful along this stretch of the coast.
Vero Beach has plenty of cultural activities to keep you occupied, including a world-class art museum. Moreover, there are some top-notch seafood restaurants, shops, boutiques and galleries in town. In addition, residents have access to plenty of golf clubs, all nearby. While Vero Beach was once a well-kept secret, it appears word is out — it was recently voted one of 'America's Happiest Seaside Towns'. Three-bed houses start from around $200,000.
Palm Beach County
Jupiter is a charming coastal community made up of 60,000 residents, most of whom are fiercely committed to preserving the environment. It's a very sustainable spot, air quality is superb, and there is a fantastic school system. It's also known for its community events, including the annual Jupiter Seafood Festival. This is a highly desirable area to live in. Therefore, it comes with a price tag to match — the median home price in Jupiter is $367,000.
Miami metropolitan area
Nicknamed the 'Venice of America', Fort Lauderdale is a popular choice with boat owners and fanatics. The city boasts 23-miles of coastline, and there are plenty of things to keep you busy while visiting or when you move to Florida. The median property price in the city is $319,300. This region has many perks — there are many small towns nestled between exciting cities. Also, you are close to Miami meaning you have access to culture, art, shopping, world-class restaurants and three airports!
Property here can range from multimillion-dollar mansions on the waterfront to golf and tennis communities that are a hit with second home buyers. Boca Raton is a popular spot, dubbed a 'City for All Seasons' and offers great golf, tennis and options for socialising. Currently, the median price is $340,000. In Miami itself the median price is $339,700.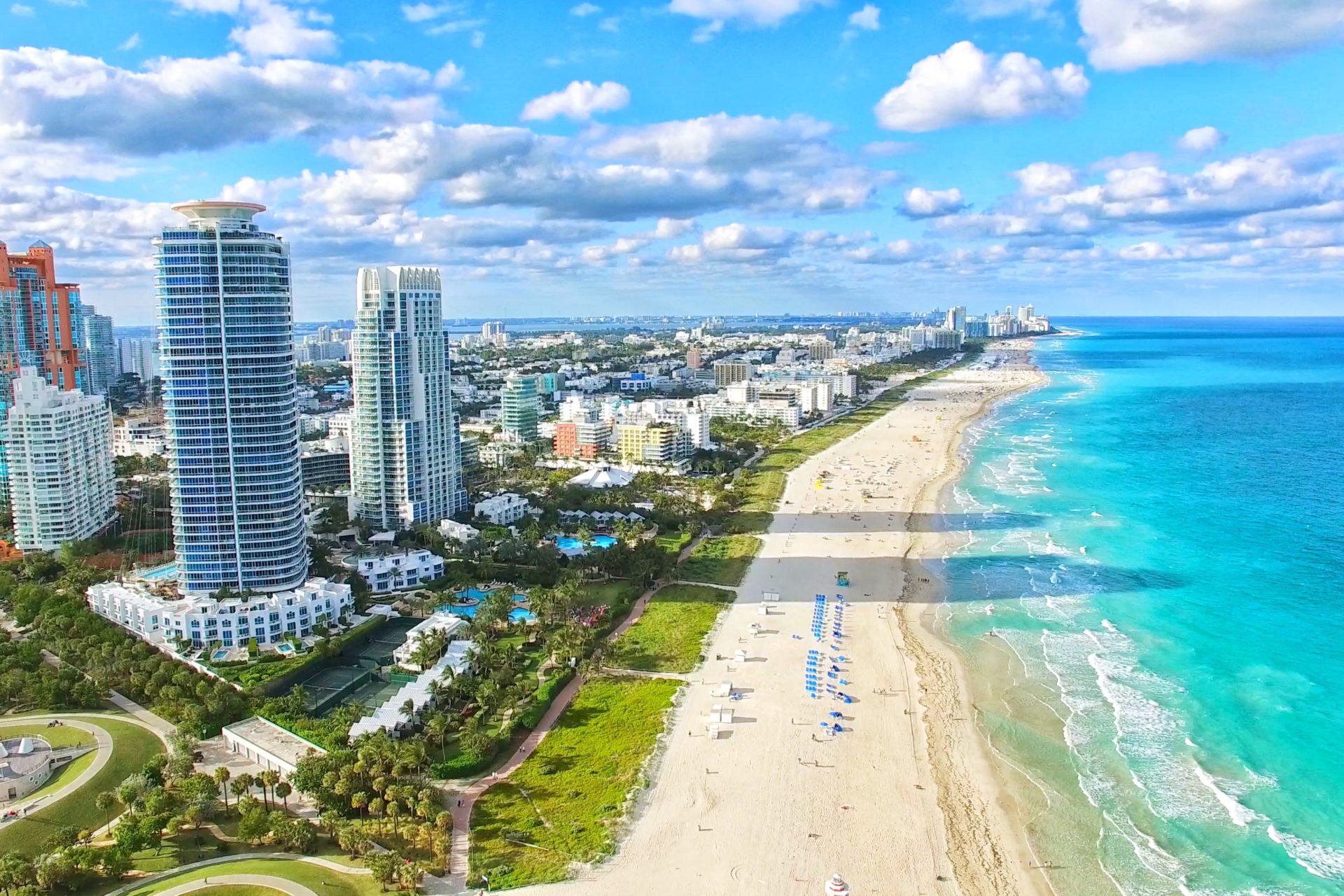 Miami
Located on the south eastern tip of Florida is the incredible metropolis of Miami. This is a city that not only boasts an enviable climate but is also a commercial centre. It is home to some of the country's best beaches, incredible retail, fine cuisine and an array of entertainment options.
The city has a fascinating history and a unique vibe as a result of the many nationalities that call it home. Expect your neighbours to hail from Cuba, the Caribbean, and Central America. Better start brushing up on your Spanish!
Climate
Although blazing sunshine will usually greet you when you open your shutters, the city's tropical monsoon climate means that there is a wet season, which starts in May and ends in October. During this season the weather is hot and humid, so you can expect afternoon showers and thunderstorms. Hurricanes can also affect Miami between June and November.
A cultural capital
Miami plays host to some of the most important cultural events on the US calendar, including Art Basel, Miami Fashion Week and a number of popular music festivals. All around town, you'll find fantastic entertainment venues where you can enjoy theatre, live music and comedy. This is the home of Miami City Ballet and the New World Symphony Orchestra. There are enough museums to keep you fully loaded with culture, including Miami Art Museum and Vizcaya Museum and Gardens. Miami's music scene is thriving too, and you'll find all styles of concert from intimate gigs to stadium concerts of the biggest international names.
If you consider yourself a foodie, chances are that Miami's cuisine is half the reason you fancy the move in the first place. The city's wonderfully named 'Floribbean' cuisine fuses American and Caribbean influences to create mouth-watering combinations. The city's location also means that fresh seafood is a dominant ingredient on all menus.
Job opportunities
If you're moving to Miami in pursuit of work, then you shouldn't find things too tricky — if you have the right credentials, of course. Miami is a world leader when it comes to commerce, finance, TV and entertainment, fashion and education, plus the tourism and building industries are both huge.
Many international companies have headquarters in the city including AIG, Sony, Microsoft and Yahoo. For those with experience working in TV, there are plenty of opportunities to be found working in the entertainment industry — although you should be aware that much of the programming is in Spanish. Other big employers include Miami International Airport, PortMiami and The University of Miami.
Leisure activites
Have you got all day? Because Miami is so geared up for leisure lovers that you might just need it! If you're a believer in retail therapy, you have come to the right place. There are so many places to splash the cash, your only chance of getting close to doing it all is to move here permanently.
Shopaholics aren't the only demographic that'll be spoilt for choice – if you're a lover of sport then Miami is a fantastic destination. You can watch major league football, basketball, baseball or hockey. If you prefer to actually participate, there are numerous world-class golf and tennis clubs close to the city, water sport opportunities, deep-sea fishing, scuba diving, salsa dancing and more.
The Gulf Coast
Other popular areas are located on Florida's Gulf Coast in fantastic locations like Sarasota, Tampa, Clearwater and Bradenton. This coast is by far the most beautiful, with incredible beaches, barrier islands, and white sands. Popular spots include Siesta Key, Anna Maria Island, Longboat Key, Naples, Cape Coral, Fort Myers, and Sanibel. The Gulf Coast is also known for its culture, which means you can expect a full calendar of music, theatre and art events.
Sarasota
How would you like to live in a peaceful coastal city of just 52,000 people, right on the warm waters of the Gulf of Mexico? If this sounds like your idea of pure bliss, Sarasota could be an excellent option when you buy property in Florida.
This Florida city is located in between Tampa and Naples, which are both highly sought-after, lively locations that you'll love having just down the road. Residents enjoy a very respectable year-round average temperature of 22⁰C, and the mercury only ever drops below freezing occasionally — perhaps once a year if you're unlucky!
There are 13 public beaches in Sarasota, collectively boasting 39 miles of pristine golden sand. This, teamed with the year-round sunshine, means you'll be able to enjoy life on the water. Sarasota Bay is perfect for water sports or getting out on that boat you've been thinking about buying when you finally move to Florida!
Also, inland you'll find Myakka River, where you can fish, canoe or kayak your days away. In addition to being repeatedly named as one of the best places in the USA to retire, the city is known for being quite the cultural hub. It has regular opera, theatre and music events, in addition to art shows and gallery openings.
If that's not enough to convince you Sarasota is the right place for you to buy property in Florida, then perhaps having Sarasota-Bradenton International Airport on your doorstep will clinch it. Good airport access makes it easy to hop to Europe or other cities in the United States. Finally, in addition to affordable property, being located in Florida means you'll benefit from no state income tax, low energy costs, and low property taxes.
Currently, the median home value in Sarasota stands at around $257,000. There is a range of homes to suit all the different tastes and budgets of those wanting to buy property in Florida. You'll have the choice of everything from townhouses to villas, modest beach-front homes to palatial mansions. The median rent price in the city is $1,950 per month, which could make you a nice little return on investment if you're looking to rent out the property while not in town.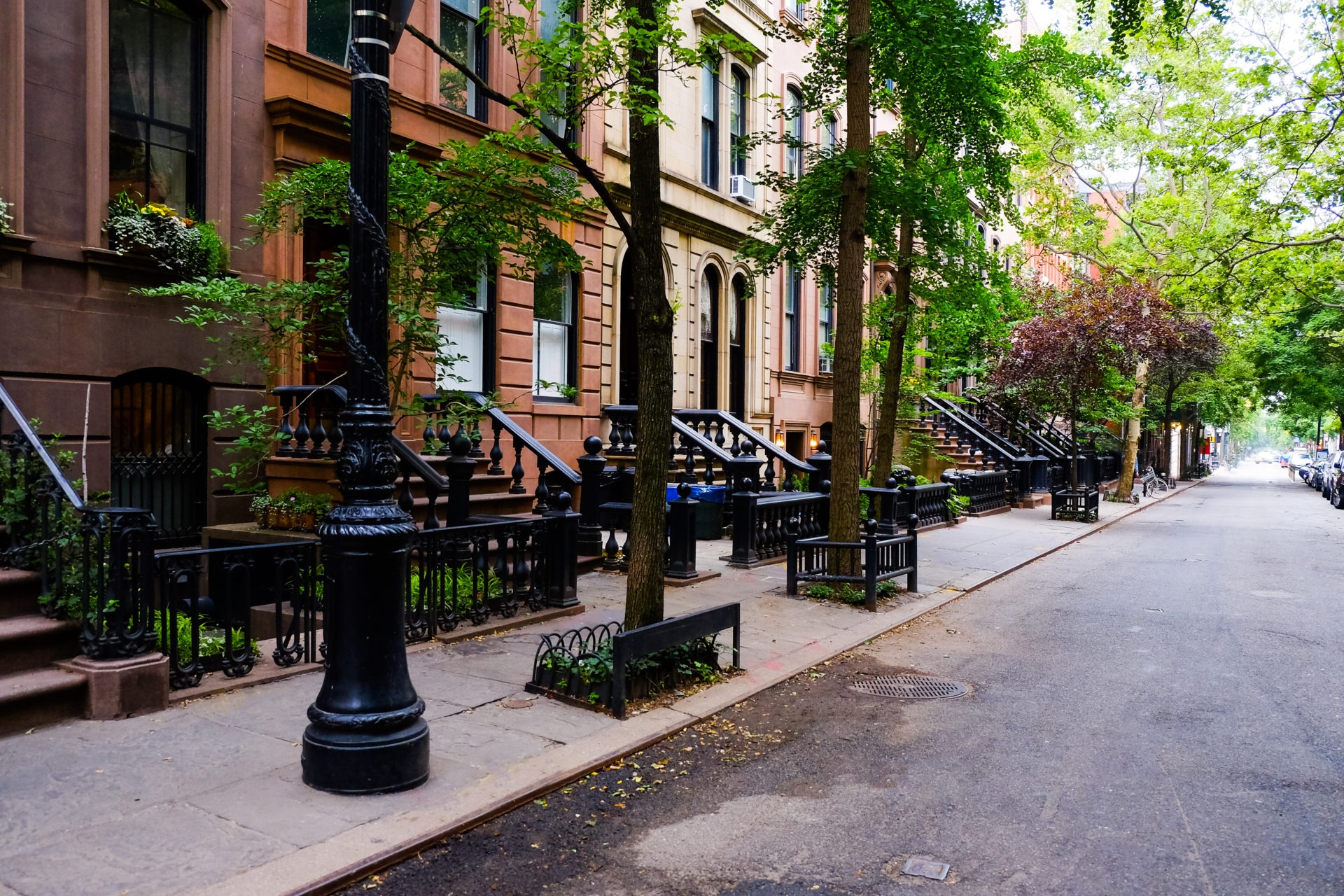 New York City, New York
Yes, you can live in New York City! Or at least, you can buy a property there. Just ask the 120,000 British people already there. The city is the pre-eminent destination for Brits to emigrate and make their fortune. There's no language barrier and you're just one direct flight from the UK. Of course, getting to work there legally is not simple, but even if you can't do like those all those other Brits and get a visa, you can still own a holiday home.
The New York property market
According to the Economist's Intelligence Unit's Worldwide Cost of Living Survey 2017, New York is the 9th most expensive real estate market in the world. The cost of living is currently 14% higher than London. The average annual wage for a worker in the USA is $51,324 (£38,000) but in New York that average shoots up to $60,606 (£45,000). Unemployment is currently just 3.9%.
Monthly rent for a one-bedroom apartment in Manhattan is on average $3,000. Outside of Manhattan, a one-bedroom apartment averages just under $2,000. If you need something bigger and central, a Manhattan three-bedroom property will set you back around $6,000 per month.
Outside of the city centre, it's just over half that amount ($3,218). Currently, the most expensive neighbourhoods to rent in are Battery Park, Carnegie Hill and Tribeca, while the cheapest are Union Port, Tremont and Oakwood. In Brooklyn, the average rent is $2,550, in Queens $2,350, and in New Jersey $1,850.
If you're looking to buy, the average price of a Manhattan apartment is around $2.19 (£1.63) million. And, you should budget for another 5% on top of the purchase price. Across the water in Brooklyn, the median home cost dips a little to $805,000. Over in Queens, the median home value is $547,900 (£410,000). If you hop across the Hudson to New Jersey, the median home price is even lower, at just under $300,000, demonstrating the closer to Manhattan, the higher the price of property.
What can you buy in New York? Co-ops and condos explained
In theory, there are no restrictions on real estate ownership for foreign buyers, and, indeed, a significant portion of New York real estate does belong to foreign corporations and nationals.
However, non-resident international buyers do face restrictions though, as co-ops (co-operative housing corporations) usually require buyers to present US tax returns and proof of New York employment. Listings clearly cite whether the property is a co-op or not.
When you buy a property of this kind, you're essentially buying shares in a corporation proportional to the size of the apartment, and you become a partner with your neighbours. The buildings are governed by co-op boards, who make every important decision regarding the building — including who can buy. Rather than owning the property outright, you own a 'proprietary lease'.
Co-ops impose limits on how much financing buyers can use to fund the property and restrict buyers being able to sublet their apartments, which automatically makes a co-op less attractive to investors. If you're allowed to rent out your co-op, your tenant will need to be approved by the board, and when the time comes to sell, so will the new buyer.
Around 25% of the residential buildings in Manhattan are condos, and they are rapidly growing in numbers. Condominiums are regular real estate where an owner owns a property and a proportional share of the common areas. There are minimal restrictions on condos — they welcome foreign investors, pied-a-terre buyers and buy-to-let investors.
It's important to understand the difference between a co-op and a condo property. If you're buying a co-op, you need to demonstrate to the co-op board that you're a reputable buyer. They will require proof of your financial standing, i.e. bank/ investment statements, wage slips, at least two years' completed tax returns. It's best to compile these documents before you even start looking so that you'll be ready to hand them over when you find the right property. Co-op boards can reject you without giving any reason, which can be very frustrating!
These restrictions needn't put you off — it's worth checking the guidelines of the co-op if you have your heart set on something, but there are also lots of condos and townhouses without restrictions out there that involve far less jumping through hoops to make a purchase.
New York's best neighbourhoods
Brooklyn Heights
Just off the Brooklyn Bridge, along the banks of New York's East River, is Brooklyn Heights — New York City's first suburb. The area's pre-civil war Brownstone houses, tree-lined streets and proximity to Manhattan make this is a popular spot for families. Prospect Heights is another well-liked, more centrally located Brooklyn neighbourhood, popular for its proximity to 582-acre Prospect Park, and the Brooklyn Public Library.
NoHo
If property prices of over $2million for two bedrooms don't put you off, and you're keen to rub shoulders with the who's who of New York society, NoHo is a great option. This upscale, primarily residential area is located north of Houston Street (hence the name: South of Houston is SoHo) between Greenwich Village and the East Village. It was once a business district, then artists like Andy Warhol and Robert Mapplethorpe moved in and prices shot up.
Kips Bay
Kips Bay is perfect for those seeking out a little more peace and quiet in bustling Manhattan. The area, located on the East River, just below Murray Hill – another thriving spot – is a favourite with young professionals, due to its central location, great shops and buzzing restaurants and nightlife.
Pelham Manor
For those who want to have an easy commute into the city, but prefer a more suburban feel, Pelham Manor is an excellent choice. This is a safe area, located on the water, with some excellent schools and lots of families. The average property price is $821,400 (£613,000) and you can be at Grand Central Station in 30 minutes.
Forest Hills, Queens
Forest Hills will appeal to those wanting to be close to Manhattan but also close to nature. The suburb is home to Forest Park, which has 500 acres of trees, hiking trails, bridle paths and one of NYCs best golf courses.
The expat community in New York City
Making friends shouldn't be an issue in New York City. For a start, you won't have to go far to find a British accent as so many of us have made the move to work for global corporations. An online search will bring up multiple British expat social groups operating in the city.
You shouldn't need to hunt out British friendships though — New Yorkers might not be the gentlest of people, but they generally like and welcome the British, who have excelled in New York-based newspapers, movies, television shows, on Broadway and on Wall Street.
Getting there
You can fly to New York all year round from London, and if you book in advance or get a deal, you can secure tickets for as little as £150 one-way. It takes around seven hours to fly direct, but you can secure cheaper flights through providers like Lufthansa, if you're okay with going via Frankfurt in around 10 hours. Norwegian Airlines offer excellent budget prices. Finn Air, British Airways, Virgin Atlantic and Austrian Airlines are some further options to consider.
When you get there
Anyone buying in New York City will have already ticked off the Statue of Liberty and Empire State Building, walked around Central Park and "done" the Guggenheim, the Museum of the City of New York and Museum of Modern Art (MOMA). After all those, take a stroll along the High Line, a raised train track that's been transformed into an inner-city park weaving through the high-rise buildings.
For a day at the beach, take the Long Island Railroad (and ferry) out to Fire Island, which has a great beach for the daytime and some pretty special clubs for when the sun goes down. It's very LGBT-friendly, especially at Cherry Grove Beach. Easier to reach is Long Beach, just an hour from Penn Station, which has had $42million spent just on rebuilding its boardwalk since being wrecked by Hurricane Sandy in 2012.
To enjoy New York state countryside and a bit of culture, drive an hour out of the city to Cornwall, NY, to see monumental sculptures amid rolling green hills at the Storm King Art Centre. You can hire a bike, walk or take a tram round the exhibits in this 500-acre park.
Big though the USA may be, there's a lot crammed into this small section of the country, and in a couple of hours by train from New York you can be in Philadelphia, Baltimore, Boston or Washington DC. All that history, culture and sport on your doorstep: The Smithsonian, The Air and Space Museum, Liberty Bell, Gettysburg, The Freedom Trail, Harvard…you won't be bored!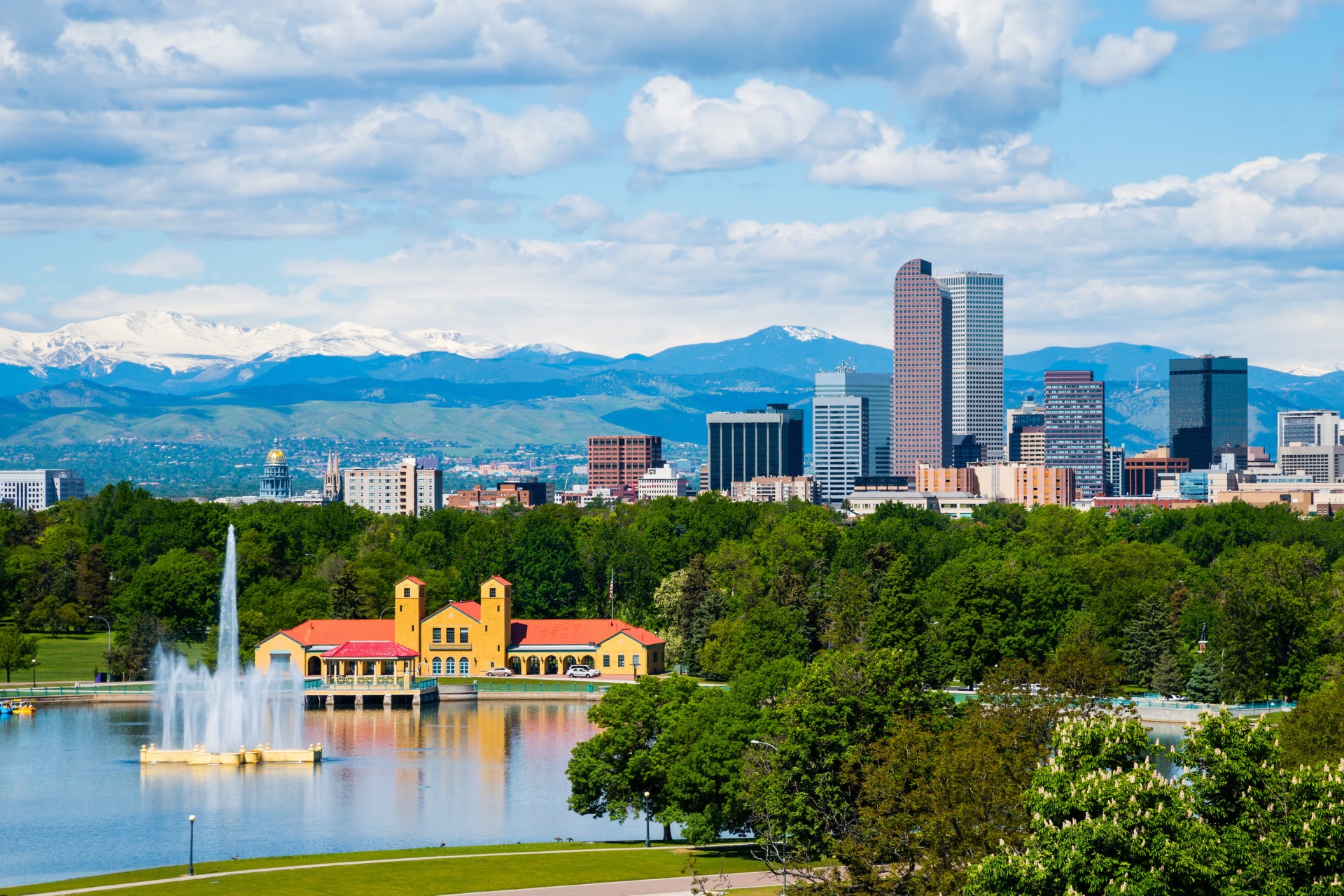 Denver, Colorado
Denver, capital of the state of Colorado, is pretty well slap bang in the centre of the USA but with a foot in the West. It is where the Great Plains reach the Rocky Mountains, in a stunning location at 5,280 feet above sea level that has earned it the name, 'The Mile-High City'.
Denver is an exciting spot, which close to three million people call home, and counting — it is the fastest growing city in the US. The city is famous for its Wild West past and its mining days, but far from being old-fashioned, there is a thriving music and arts scene. Lovers of the outdoors will enjoy being just 12 miles away from the outdoor opportunities provided by the Rocky Mountains.
The climate
If sunshine is number one on your wish list, you'll be delighted to hear that Denver enjoys 300 days of sun per year. Heavy snow does fall between October and April, which will thrill lovers of winter sports. Even during winter, however, Denver can sometimes be uncharacteristically warm due to 'Chinook' winds, which warm as they descend from the mountains. This means that during winter you should prepare for cold temperatures (4–9°C) but not be surprised if you end up in a t-shirt.
Denver enjoys four distinct seasons. Summer brings temperatures in the high 30s. You might not expect a location in the mountains to experience monsoon conditions, but Colorado does get heavy rains from mid-July to early September. Days may start sunny, gradually become more overcast over the course of the day, and then crash with thunderstorms when evening arrives. Autumn is a beautiful time in Colorado, however, as the chill sweeps in and leaves turn red and gold.
Denver's neighbourhoods
If you're looking for a city with a lot going on, Denver is an excellent option. Each of Denver's neighbourhoods has a character of its own, with cafes, bars and restaurants that reflect the distinct style of the suburb. Popular neighbourhoods include Capitol Hill, Washington, Highlands, Baker, Berkeley and Sloan's Lake.
The city boasts many green spaces, parks and gardens for you to explore, on foot or by bike. Denver's unique location means you're surrounded by incredible wildlife and a whole host of outdoor activities to tempt even the laziest folk to get outside and get active. The median home value is approximately $355,000.
For sports fans
Looking for a location where you can get involved in a sports scene? Denver is the smallest city in the US boasting five major professional sporting teams. They have the Denver Nuggets (basketball), Colorado Rockies (baseball), Denver Broncos (American Football), Colorado Rapids (Soccer), and Colorado Avalanche (hockey). There is the option to watch NASCAR racing and PGA tour golf, too.
Job opportunities
The major industries located in the city include telecommunications and broadcasting, bioscience, aerospace and aviation, energy, health care, information technology and financial services.
A touch of culture
Denver was a key location during the Pioneer period and was slap bang in the middle of the Wild West — leaving so much fascinating history to explore in the city. Museum lovers will delight in the options available. There's Denver's Golden Triangle Museum District, an area downtown where you'll find eight of Denver's best museums. We recommend the History Colorado Centre to brush up on the fascinating history of your new state. You can also take a deeper dive into local history at the Byers-Evans House Museum, as well as the Denver Firefighters Museum.
Elsewhere Denver offers the Denver Philharmonic Orchestra, Denver Public Library, Colorado Ballet, the Curious Theatre Company, and Red Rocks Park and Amphitheatre, an incredible natural amphitheatre and one of the best live music venues in the United States. In conclusion, if you enjoy the arts – Denver has everything you could wish for!
Outdoor activities
There is so much to see and do outdoors in Denver that you have no excuse to stay at home. Get outside into the fresh air of the Rocky Mountains to hike, bike, climb or just to enjoy spectacular views. If you enjoy mountain biking, there are 85 miles of bike trails in Denver.
Always fancied trying kayaking? Then head to Confluence Park, where you can ride the man-made kayak shoots. City Park is home to a scenic walking trail, and there are fantastic hiking trails just outside of town in Red Rocks Park and the Rocky Mountain National Park. The options that Denver presents for outdoor leisure activities are endless.
Northern California
Northern California encapsulates many overseas buyers' American Dream: high wages, a booming job market, bustling cities and stunning nature. What more could you want? This northern portion of the west coast state starts at the San Francisco Bay area (which includes the cities of San Francisco, Oakland and San Jose), and encompasses everything up to the Oregon border.
Residents enjoy magical redwood forests, the Sierra Nevada, Cascade Mountains, Yosemite National Park, Napa Valley, and beautiful Lake Tahoe. This really is an area where cutting edge technology and modernity of the city meets spectacular natural beauty.
Northern California's outdoor wonders
Let's start with the good stuff – the areas of outstanding natural beauty. If you've always wanted to live by the coast, this region has mile upon mile of incredible Pacific coastline, dotted with idyllic towns and exciting cities. Inland, you have the beauty of Yosemite National Park, Lake Tahoe and the Mendocino National Forest. We can't mention this region without talking about Redwood National Park. Here you'll find 45% of the world's remaining sequoia trees — the tallest species of tree, which can live for up to 3,000 years.
Just an hour out of San Francisco is Sonoma County, which might ring a bell with any wine lovers. As well as boasting 500 wineries, it's known for its sandy beaches, rivers, redwood forests, restaurants and Gold Rush history. Sonoma County is an excellent choice for lovers of the great outdoors. Enjoy your days biking, canoeing or hiking. Rounded off with a spot of live music and a table piled high with locally produced cheeses and wine.
Job opportunities
If you need to find employment, position yourself within easy distance of Northern California's larger metropolitan areas. The largest of these is San Francisco Bay, which is constantly growing and merging with surrounding suburbs and towns in Monterey Bay, the Central Valley and the Sierra Nevada foothills. Presently, there remains distinction between the Bay area and surrounding regions, but it's not uncommon for people to commute in for work from as far as Sacramento, Fresno, Modesto, Stockton and Turlock.
Northern California is at the forefront of the USA and the world's economic, scientific and cultural progress. The region is home to Silicon Valley, where you'll find the likes of Apple, Google, Yahoo, eBay and Facebook. If you work in technology, this is the place to come to work with the best tech minds and earn the best rates of pay. In fact, median tech wages are higher than the national median wage, with the leading sectors being software development and systems and cyber-security.
With more and more people flocking here, it's no real surprise that construction is big business, too. Outside of the Bay area there is a strong industrial presence, with farming and manufacturing job opportunities aplenty, particularly in Sacramento County, San Joaquin Valley, the Sierra region and in the north.
Due to the high number of tourists that visit the region each year (Yosemite alone is visited by four million every year), there are plenty of opportunities within tourism and hospitality, if that's your chosen field. When it comes to breaking into viticulture (winemaking), you'll be able to choose between Napa County and Sonoma County.
Climate
Northern California has a lovely climate, with extremes of temperature mostly mediated by its proximity to the Pacific Ocean. Mostly, summers are warm and dry, and winters are cool and wet, with both high and low temperatures occasionally occurring when you head into the mountains. Wildfires can be a problem in the region, so do bear that in mind when choosing a location. In Northern California's Central Valley, residents enjoy a more Mediterranean climate.
Best locations in Northern California
So, where are the best spots to live in Northern California? Here's our pick of the top five:
San Francisco
San Francisco is considered one of the greatest cities in the world for a reason. This attractive city is blessed with spectacular views from the top of every hill, and there are lots of hills! This is a highly cultural spot, with galleries, live music and food, music and literature festivals taking place through the year. It's consistently listed as one of the happiest and healthiest places to reside, and is called home by a population of forward-thinking, politically and environmentally engaged locals. Property is undeniably expensive — the median home value is approximately $1,300,000 within the city.
If you want to enjoy the benefits of San Francisco but are happy to live a little distance away from the centre, there are a range of more affordable options a short commute away on the BART (The Bay Area Rail Transit), including popular Walnut Creek, which is highly popular with young professionals. The median price here currently stands at $871,100. Another laid-back suburban area growing in popularity is Dublin, also located in the Bay Area's east hills. Dublin has highly ranked schools and wonderful hiking, biking and horse-riding trails in the Dublin Hills Regional Park.
Santa Cruz
For something a little more quintessentially Californian, you might like to set your sights on Santa Cruz. The town is located at the northern end of the beautiful Monterey Bay, just 32 miles from San Jose — Northern California's biggest city. Santa Cruz has world-famous sandy beaches that attract surfers from all around the world, redwood forests, and an enviable foodie scene springing from the area's organic farms. Santa Cruz is also a university town which means there is always plenty to see, do and be entertained with.
San Jose
If it's the job opportunities that are attracting you to Northern California, you'll need to head to San Jose — the heart of Silicon Valley. This is a vibrant spot with over 250 restaurants, nine theatres and art galleries and museums galore. With the kinds of wages found here, it's little surprise that the median property value is currently $1,039,700.
Sacramento County
If you're looking for a beautiful spot to raise your family, Sacramento County could be an excellent option for you – and the average house price is just $369,400. El Dorado Hills in particular is incredibly family friendly. You'll enjoy great schools, lakes, over 100 acres of parkland, and the chance to partake in recreational activities like golfing and sailing. Roseville is another lively spot with a chock-a-block events calendar, great shopping, live music and farmers markets.
Clovis
Another excellent location for families is Clovis, which is located in Fresno County in the San Joaquin Valley. Here you'll be able to enjoy affordable housing – the median house price currently stands at $342800. Clovis, and nearby Kingsberg, have often been rated as two of the best places for young families in Northern California. Both offer excellent schools and family friendly activities, including parkland and hiking trails.
Washington state
Think your weekends could be a little more rugged and outdoorsy? Then Washington would be an excellent choice. Firstly, a quick note: we aren't talking about the capital city on the East Coast, Washington D.C. — we mean Washington state, one of the wealthiest and most socially advanced states in the country.
The state home to some of the world's largest and most exciting corporations. It has an idyllic location with ocean, mountains, forests and the Canadian border. But what does Washington offer expats and property hunters and where should you start looking?
An overview
This is the 18th largest of all the US states and is home to around 7.5 million people. Most of the population is focused around the Seattle metropolitan area, which lies along Puget Sound. This includes an archipelago of multiple islands, bays and fjords that were carved out many moons ago by the region's glaciers.
In most of Washington's major cities you're never far from water. When you head inland, you're greeted by rainforests and mountain ranges. Mount Rainier is the state's highest peak. If you're lucky enough to move to the USA — or determined enough — you may be able to enjoy views of the mountain from your office or your new property in Washington.
This is an incredibly beautiful part of the world. It's also a very active state — expect to see your neighbours getting out and about, enjoying the hiking and biking trails that criss-cross each city.
Job opportunities
Washington enjoys a robust economy that only looks to be going from strength to strength. In fact, Washington is the 14th wealthiest state and, good news, this tends to be reflected in the wages! Even for roles paying minimum wage, Washington offers $11.50 (£8.60) per hour, which is the highest rate in the USA.
Those moving to the USA to search for their own big slice of the American Dream will do well to look to Seattle. The city is home to some of the largest corporations in the world, including several Fortune 500 companies. The Washington employment market is thriving, and this is attracting talent from across the country, as well as internationally.
The main industries in the region are:
Aerospace
Boeing is the largest employer in the Seattle area, with around 80,000 employees. It's also one of the longest-standing companies in the city, as, once upon a time, Seattle was almost entirely dependent on the aerospace industry. Times have changed but working at Boeing still guarantees excellent benefits and high salaries. Quite a bit of kudos too, to be fair.
Tech
While Microsoft was founded down in New Mexico, Bill Gates didn't waste any time relocating the company back to his hometown. His doing so launched the city's tech boom, which continues to this day. The company now employs around 43,000.
Hot on Bill Gates' heels is Jeff Bezos, owner of Amazon, which employs over 25,000 people in the state, either at its headquarters in Seattle, or at its shipping centres dotted around the state.
Education
The University of Washington employs more than 25,000 people at its different campuses in Seattle, Tacoma and Bothell. This is one of the best universities in the country, particularly for business, law and medicine.
Healthcare
For those seeking work within the healthcare industry, there are many notable hospitals located in the state. The largest employer in the region is Providence Health and Services. They are the third largest non-profit health system in the United States, but are only located in six states, including Washington.
Other industries
Furthermore, around the state you will be able to find work within agriculture and viticulture (winemaking) —Washington is second only to California in terms of its wine production. Manufacturing, I.T., communications, logging, lumber and life sciences are also popular industries.
Climate
We've all heard the rumours that in Seattle it rains more than it does in the UK — but is this actually true? Well, yes, but only just! And, it depends on where you're located in the state. Washington gets significantly less rainfall than New York and Boston, but the difference is that Washington has no pre-determined rainy season, so it can rain all year round. How much sunshine and rain you receive will depend on which side of the Cascade Mountains you decide to base yourself.
Western Washington
If you choose the west, which is home to the majority of the population, you'll enjoy rather mild weather most of the time. Summer temperatures peak at around 26⁰C and are unlikely to fall below 7⁰C unless it's night. That infamous rain is common in winter, but you'll rarely encounter any snow. In Seattle, rainfall averages around 37 inches per year. This is slightly higher than the UK average of 33.7 inches per year.
Eastern Washington
Head east and you can expect to enjoy lots of snowy days. As you would expect in the US, the state has taken full advantage and there are plenty of ski slopes. There are some super-sunny locations in the east too, particularly in Wenatchee and Chelan, which both lap up more than 300 days of sunshine each per year. During eastern summers, temperatures can reach the forties.
Best locations
Seattle
Seattle is one of the USA's most vibrant cities. As it's based on the water, you'll be able to enjoy walks around its many bays and lakes. You can kayak, paddle board or enjoy a scenic ride in a sea plane or one of the many ferries that service the city. You can support the Seattle Seahawks NFL team, The Mariners baseball team, or see what all the fuss is about when it comes to college sport by supporting the University of Washington. Seattle's booming economy and jobs market has driven new arrivals to its shores for the last couple of years. Therefore, it's one of the hottest property markets in the country.
If you were a fan of Sleepless in Seattle, perhaps you'll remember that Tom Hanks' character lived on a houseboat – now you can too! This two-storey boat is located on the banks of Lake Union right in the heart of the city. You'll instantly become part of a great community of fellow houseboat owners, plus you're located close to a park and a bike trail. What a spot for someone looking to enjoy nature while being close to the city!
Olympia
Olympia is Washington's state capital. Like Seattle, the city is located on Puget Sound, although it's far more affordable. The median property price in Olympia is $240,800, which is far lower than the state average. Its arty community, excellent seafood and diverse population has seen Olympia make many a list of the best places to live in the USA.
Enjoy views of the water from this beautiful home, located in the highly sought-after area of Boston Harbour. The property boasts high vaulted ceilings and lots of natural light across the property's multiple levels. You'll also enjoy a large garden and a spacious deck overlooking the water, perfect for entertaining new friends or work colleagues.
Spokane
If you plan on moving to the USA to be close to ski fields (as well as for those excellent job opportunities), eastern Washington might be right for you. In particular, Spokane, where you'll be able to hit the slopes all winter long. This is an incredibly popular spot which enjoys a strong and diverse economy, as well as warmer temperatures during summer! It is also serviced by Spokane International Airport.
Redmond
If it's tech jobs you're after, Redmond could be where you end up after moving to the USA. The high-tech city is home to Microsoft and Nintendo. Additionally, the city has been dubbed the 'Bicycle Capital of the Northwest' due to how many people make the most of the city's extensive network of bike trails and lanes. The median property price here is $462,200, which while relatively high is balanced by the fact salaries here tend to be higher than in other parts of the state. The median household income in Redmond is $99,586.
Best places to buy a holiday home in the USA
Should you plan to buy a holiday home in the USA that you'll rent out when not in town, it's worth knowing which hotspots can offer a healthy number of tourists for your property as well as being an enjoyable area for your own breaks.
If you want to buy an American holiday home but don't know where to start, we've got you covered with a rundown of the best places to buy a holiday home in the USA.
Napa, California
Napa Valley in Northern California is more than just one of the world's premium wine regions, it's a place to call your second home. Return year after year to rolling hills, marbled with plump vineyards and olde-worlde American towns like St Helena. Additionally, you'll be close enough to San Francisco to be able to really get to know it. Just across the border is Sedona County – a location famous for being a healing vortex. We're not sure what that means either, but it's safe to say you can expect lots of yoga retreats and other healthy activities.
Furthermore, Napa Valley is one of the country's very best foodie destinations. Yountville is known as the culinary capital of the area, mostly due to its high concentration of Michelin stars. Sample the efforts of students at the Culinary Institute of America or take a cooking class yourself. Whether you're holidaying to get out into the mountain air of Calistoga, to come wine tasting with friends, or for some peace and quiet away from city life, Napa has a lot to offer those wanting to buy a holiday home in the USA.
Sunshine hours: Napa averages around 260 sunny days each year, which is above the nation's average of 205. July is the hottest month, when temperatures average 28°C. January is the coldest month when the mercury sits around 3°C.
Holiday home prices: Three-bed rural properties available from $299,000 (£224,000).
Getting here: A two-hour drive from San Francisco International Airport.
Orlando, Florida
If you have children you desperately want to keep entertained, look no further than Orlando. Not only is the Florida climate akin to the Caribbean, but you'll have an unending amount of attractions nearby. Aside from theme parks, there are wonderful beach towns a short drive away, where you can build sandcastles on some of the world's premier beaches. There are golf courses, fantastic restaurants and a surprisingly excellent theatre scene when you're in need of a spot of culture.
If you want to buy a holiday home in the USA that will provide a little return on investment, make sure you buy within a rental zone. With 53,000 people flocking to Disney World every day, finding tourists to rent your holiday home shouldn't prove too taxing.
Sunshine hours: While summer months are hot and stormy, the rest of the year is idyllic. Expect to soak up 2,930 sunshine hours over the course of the year.
Holiday home prices: Prices start from $185,000 (£138,605) for a condo, or around $265,000 (£198,500) for a house.
Getting there: Fly directly from London to Orlando International Airport in nine hours and ten minutes.
Provincetown, Cape Cod, Massachusetts
If a little slice of New England charm is what you fancy, Provincetown is a superb choice. Located at the tip of Cape Cod, this is where the Mayflower arrived in the USA back in 1620. The peninsula is home to award-winning beaches, in particular Race Point Beach, where you'll often spot seals, dolphins and humpback whales doing their thing just off shore. Enjoy bike rides, exploring the sand dunes, or spotting local wildlife like coyotes, otters, racoons and turtles. You'll be able to shop until you drop and go for fantastic dinners in one of Commercial Streets many restaurants. This is a bustling place no matter the time of year, and the sunsets really are something else.
Sunshine hours: Provincetown enjoys 201 sunny days per year.
Holiday home prices: Condos start from $379,000 (£286,380) but go up into the several millions of dollars. For a house, prices start from $600,000 (£453,440).
Getting there: Fly from London to Provincetown in eight hours 45 minutes, and then drive for an hour.
Calabash, North Carolina
Calabash is a fishing village located in North Carolina which is very popular with those seeking beaches and boating. If you consider yourself a seafood aficionado, perhaps you've already heard of it? Calabash has, after all, been dubbed the "Seafood Capital of the World". Whether you're in the market for clams, oysters or prawns, expect it served in a light batter that dreams are made of.
This is a relaxed, sunny location that's incredibly popular with families. Wander around the docks, lounge on the beach, sample homemade ice cream or enjoy a round on one of the area's many world-class golf courses.
Sunshine hours: You can make the most of 212 sunshine days every year in Calabash.
Holiday home prices: Buy a two-bed, two-bathroom house for as little as $134,900 (£101,800).
Getting there: Fly from London to Myrtle Beach in 11 hours and ten minutes, then hop in a taxi to be in Calabash in 40 minutes.
Breckenridge, Colorado
If you want to buy a holiday home in the USA that affords you a summer and winter getaway, Breckenridge is a great choice. Located in the Rocky Mountains, this town is perfect for active getaways. Plus, its under two hours from Denver, so you can easily get a dose of city life as well.
During summer you can hike, kayak, bike, rock climb and more in this friendly town that's located within the Healthiest County in the Country 2017. Come winter, enjoy Breckenridge Ski Resort, which is home to four peaks and over 2,300 acres of ski fields. Whether you're in to downhill or cross country skiing, or you prefer a more relaxed spot of snow-shoeing, you'll find it here.
Sunshine hours: 300 days of sunshine per year and an annual snowfall of 366 inches of snow.
Holiday home prices: Condos are available from $229,000 (£172,000) and houses from $550,000 (£413,000).
Getting there: Fly from the UK to Colorado in nine hours and 50 minutes. From Denver International Airport the drive to Breckenridge takes one hour and 45 minutes.
Tybee Island, Georgia
Why you'll love it here: Arriving in Tybee Island year-on-year will be like stepping back in time. The seaside town enjoys a rich mariner history and is located on both the Atlantic Ocean and on Georgia's marshes. It's a naturally-beautiful, eco-friendly town which is called home by lots of welcoming locals. Moreover, you can sample the delights of the pier and the pavilion, or while away long summers days on golden beaches.
Should you tire of island life, you can head to Savannah, which is 20 miles away. Here you can dive into Southern heritage and hospitality with sensational dining, arts and entertainment. Explore the city's cobbled streets and have a rummage at the City Market, a hotbed of local art and shopping.
Sunshine hours: Tybee Island gets 212 sunny days per year. July is the hottest month, when the average temperature is 32 degrees.
Holiday home prices: Condos are available from $285,000 (£215,000) and houses from $400,000 (£302,000).
Getting there: Tybee Island is 22 miles away from Savannah Hilton-Head International Airport, which is an 11.5 hour flight from the UK.
Lake Arrowhead, California
Lake Arrowhead is located on the shore of one of California's most beautiful lakes. Additionally, you're also in the mountains in the San Bernadino National Forest – or as some like to call it, The Alps of Southern California. Visit in the summer to take a dip, try your hand at water sports, or enjoy hiking, biking, climbing and more. Come winter, snuggle up by the fire, or hit the slopes at Snow Valley Mountain Resort, Rim Nordic Ski Area or Bear Mountain Ski Resort.
Sunshine hours: Lake Arrowhead receives 310 sunny days per year.
Holiday home prices: Houses start from $259,000 (£195,270).
Getting there: Fly from the UK to LA in 11 hours and drive for an hour and a half.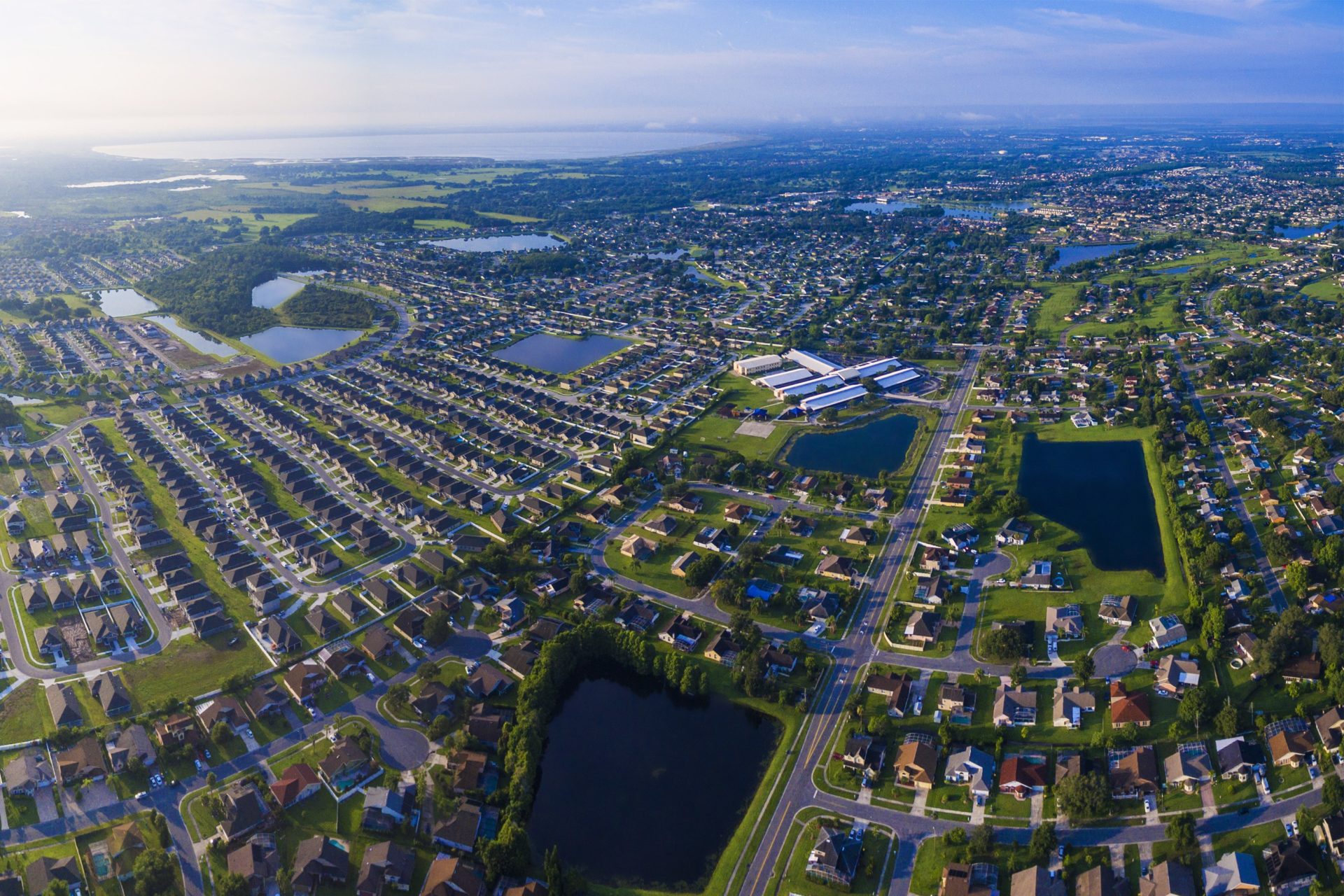 Kissimmee, Florida
Kissimmee in Florida is perfect for those who want to be close to Disney World but further from the crowds. Additionally, the area is popular with holiday home owners who want to rent out their properties for much of the year. As well as being down the road from Mickey, Daffy and the gang, Kissimmee Lakefront Park is a great place to enjoy a picnic or to try kayaking or canoeing.
Sunshine hours: Enjoy 232 days of sunshine each year.
Holiday home prices: Snap up a townhouse from $185,000 (£139,500) and a single family home from $205,000 (£154,500).
Getting there: The flight from Gatwick to Orlando International Airport takes 13 hours and 12 minutes. The drive to Kissimmee the other end is just 25 minutes.
Magic Mountain, Vermont
Magic Mountain is North America's premier snow resort, having won awards for its slopes. The laid-back resort is not just known for the quality of its snow, but it's also been called the 'best kept secret in the Northeast'. If that's not enough to lure you ski bunnies, the nightlife, restaurants and summer activities on offer in and around Chester and Londonderry should.
Sunshine hours: Magic Mountain is one of the USAs snowiest resorts, receiving 230 inches per year. Summer months are the perfect contrast, with temperatures from June-August averaging 28 degrees.
Getting there: Fly from London to Boston in seven hours and twenty minutes. The drive from Boston to Vermont will take you three hours.
Panama City Beach, Florida
This beach resort in northwest Florida is located on the warm, calm waters of the Gulf Coast. It's famous for its sandy beach that stretch 27-miles. The resort is popular with people of all ages, which means there are activities to suit all tastes. Shipwreck Island Water Park and Zoo World are popular choices with families. Outdoor types can get acquainted with the hiking trails of St Andrews State Park. Also, you can fish for your dinner or play at one of the many top golf courses dotted nearby.
Sunshine hours: Revel in 239 days of sunshine per year.
Holiday home prices: A one bed condo can be found for $85,000 (£64,110) and houses from $260,000 (£196,135).
Getting there: Panama City in Florida has its own airport, which you can fly to in 11 hours and 40 minutes with one stopover in Atlanta. A taxi from the airport to the beach takes 15 minutes.
Best places to retire in the USA
Retiring to the USA, either permanently or via buying USA property to spend the winter, is an incredibly popular choice with Brits. If you choose your state wisely, you're almost guaranteed perfect weather. Additionally, you'll be able to access some of the world's top attractions and enjoy getaways to exciting corners of the country. That includes buzzing, bustling cities, awe-inspiring national parks and peaceful rural communities.
Florida
Move to Florida and you'll enjoy mild winters and warm summers. You can buy affordable property in close proximity to either incredible beaches or attractions, such as Orlando's Disneyland and Universal Studios. That should guarantee regular visits from the grandchildren! Additionally, there is no state income tax, and any retirement income is exempt from state taxation. While the cost of living in Florida is around the US national average, you will pay below the odds for goods and services.
Buyers in Florida should be aware of one significant cost — homeowners insurance. How much you pay will depend on your location within the state, so definitely check this with your realtor pre-purchase. According to Insurance.com, the average annual rate of homeowner's insurance on a property worth $200,000 (£152,500) costs $3,575 (£2,725) per year in Florida.
Suggested spots
Punta Gorda
Punta Gorda is an idyllic waterfront spot on Florida's southwest coast. Around 40% of the population are retirees. They're drawn here by the entertainment options, beaches, and the nature trails of Ponce de Leon park. The median property price here is $154,400 (£118,000).
Naples
Naples is another excellent option for retirees. In fact, it's been voted the top retirement spot in all of the American south! Located on the Gulf of Mexico, 50% of Naples' population is over 65. Here you'll find lots of golf courses and opportunities for recreational activities. Furthermore, there are more than 28 medical centres per 1,000 residents and the tax burden is lower here than in most US states. The median property price in Naples is $307,100 (£234,000).
Sarasota
Sarasota, or Florida's 'cultural coast' as it's better known, has ample museums and gardens to explore. It also has the best beaches in all of Florida: Siesta Key and Lido Beach. The median home value here is $189,400 (£144,500).
Arizona
Arizona is another excellent choice for sun-lovers retiring to the USA. As well as warm weather all year round, Arizona boasts low tax burdens, plenty of healthcare centres, a high population of seniors, and a number of top-notch retirement communities. The state is close to Las Vegas and the Grand Canyon, but don't imagine it's all desert. There are national forests to explore and many a golf course to play a few rounds.
Suggested spots
Prescott
Prescott is a popular location close to the Grand Canyon, which attracts lovers of an outdoor lifestyle. The town, which has a population of 35% seniors, offers lots of outdoor activity opportunities, mostly in Prescott National Forest and the other national forests found close by. The average property price in Prescott is $364,200 (£277,600).
Golden Valley
Golden Valley is another popular choice with retirees, given its proximity to Las Vegas and its low tax burden, which is the lowest of all Arizona's cities. The average property price here is $135,700 (£103,450).
California
California is bigger richer and more interesting than many entire countries. Retiring here means enjoying gorgeous sunshine, time at the beach or in nature and great food and wine, all within a welcoming community. There are plenty of affordable direct flights back to the UK. You can also reach the Caribbean, Central and South America with ease if you fancy exploring that corner of the world. What a wonderful retirement!
Suggested spots
Thousand Oaks
Check out the city of Thousand Oaks when retiring to the USA. The relatively small city is a safe spot with a low crime rate offering lots of entertainment, activity and healthcare options. Of the 128,560 residents, almost 70% are seniors. Two-bedroom properties in Thousand Oaks start from around $189,000 (£143,840).
Roseville
Roseville in Northern California is another city with a smallish population of (126,300). Those who settle here can enjoy a more suburban vibe than in other Californian cities. Furthermore, Roseville has been voted the second-best place to retire in California due to its safety, healthcare services, entertainment options and its many lovely neighbourhoods. Popular choices include, Maidu, Cirby Ranch and Olympus Pointe. Two-bedroom properties in Roseville start from $189,000.
New England
If you want to retire to the USA but still enjoy glimpses of home, New England could be for you. This region is chock-full of charming olde-worlde towns to explore. With national parks, scenic coastlines, mountains and offshore islands, it is perfect for weekend (or mid-week!) getaways.
Let's not forget to mention the food. New England is known for its sensational lobster, seafood and chowder. Being located here means enjoying four seasons, close proximity to the UK – London is just a six-hour flight from Boston – and easy access to Canada and New York City.
Suggested spots
Lewiston
Lewiston is a safe and tranquil town in Maine, on the Androscoggin River and just 30 miles north of Portland. This gorgeous corner of the country is popular with retirees, artists and nature lovers. Here, you'll enjoy a low cost of living and affordable housing. If you've always wanted to take up art when you retire, there is cheap and cheerful studio space. The town boasts an art museum, arts centre, arts district and a public library that hosts concerts and events throughout the year. You can buy a three-bedroom house in Lewiston from $155,000 (£118,000).
Newport County
If you have your sights set on Rhode Island, Newport County is a popular areas for retirees who want to keep active. The area boasts more than 400 miles of coastline, bordered by sandy beaches perfect for sunbathing during summer. This is another popular spot with boat enthusiasts — set sail from Newport and you can visit a whole range of fantastic coastal New England towns. Three-bedroom houses start from $340,000 (£259,000).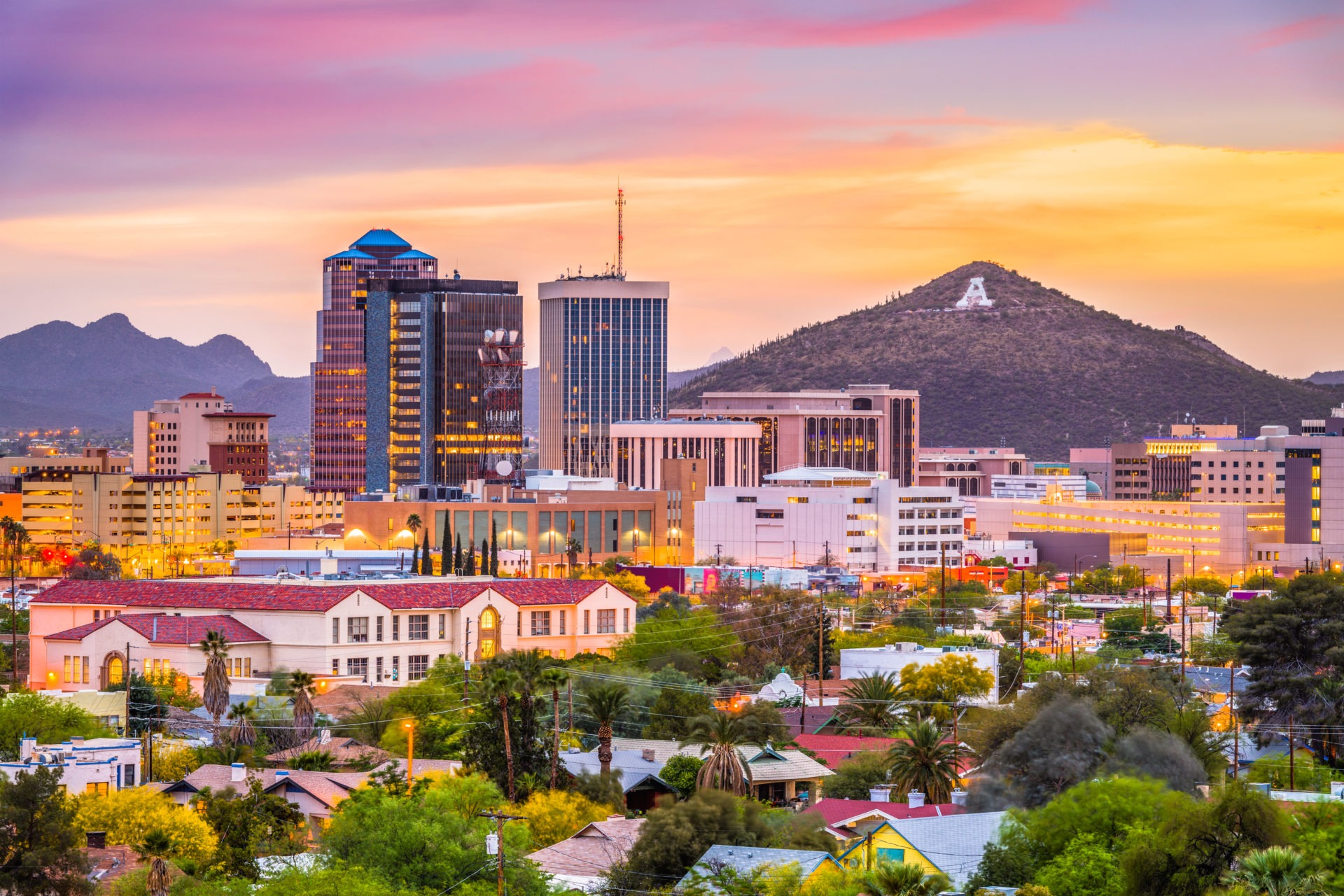 Best places to live in the USA for great weather
If one of the main reasons you're looking to buy in the USA is the great weather, then you'll be happy to discover the top five states for sunshine. Here, we've considered which States get the most sunshine hours, as well as their most desirable features for expats and what types of property you can snap up in the region.
Arizona
In Arizona, you can expect a wonderful 81% of all days to be sunny. Average daily temperatures across the State from April to October are well within the ideal range of between 17-30°C. If heat is your top priority when buying in the USA, the city of Yuma is the hottest spot and is sunny 90% of the time. In fact, Yuma holds the world record for the most recorded annual average sunshine. Plus, it has the highest annual total sunshine hours in the USA throughout every month, bar July, August and September. Other sunny locations within Arizona include, Flagstaff, Tucson and Phoenix.
What else does Arizona offer?
Firstly, while you may think you've heard little about the State — there is one element of it you'll be more than familiar with: The Grand Canyon. The mile-deep gorge, through which the Colorado River runs, cuts through 277 miles of incredible desert terrain. Arizona doesn't just offer desert, you can even ski in certain corners of the State where pine trees are far more common than cacti. And, there are world-class ski resorts to check out at Tucson, Alpine and Flagstaff.
Arizona has low unemployment rates and ample job opportunities, particularly within travel and tourism, finance, business and government. Also, if you've always quite fancied living in the Wild West, Arizona is your closest bet. It's an ideal spot for wine lovers and is arguably the second-best location for wineries in the entire USA. Sedona or the Verde Valley Wine Trail are perfect places to sample the Arizona's wares. Finally, you'll be able to enjoy an artsy, music-loving scene – after all, the State is the birthplace of musical legends like Stevie Nicks, Linda Ronstadt and Alice Cooper.
Florida
Many of our readers considering buying in the USA have Florida right at the top of their list. If you hadn't heard the rumours about Florida's idyllic year-round temperatures, the State's nickname, 'The Sunshine State' certainly gives the game away. Areas like Key West, Orlando, Gainesville, Miami and Fort Lauderdale continue to attract both expats and so-called winter 'snowbirds' with their balmy days and nights. Key West is one of the driest areas in the State with an annual rainfall of 39 inches teamed with a 76% sunshine rate. St Petersburg, a hugely popular location, once earned itself the world record for having 768 consecutive days of sunshine! While that was back in 1967, long sunny stretches certainly don't appear to be a thing of the past in Florida.
What does Florida offer?
In addition to glorious weather there are lots of pros to buying in Florida. Firstly, there is no state income tax. Housing costs remain well below the national average, particularly in areas like St Petersburg, Tarpon Springs, Bonita Springs, Fort Pierce and Live Oak. You'll be able to spend your days (or just your winters) relaxing on the world's best beaches. Additionally, you'll have the perk of accessing the discounts to local attractions that are offered to residents and will be most welcome every time your family comes to visit.
California
When you sit down to plan your journey towards buying in the USA, are you California Dreaming? We don't blame you! The state enjoys a mild climate all year round, which means that even when temperatures do drop, the sky remains a wonderful shade of blue. Areas like Fresno, Sacramento and Stockton all average 27°C clear sky days per month during summer, and furthermore, no matter the time of year popular spots like San Diego, Santa Barbara, Los Angeles and Santa Maria rarely experience temperatures below 18°C. Temperatures don't tend to rise above 30°C and rain is relatively uncommon.
What else does California offer?
What doesn't it offer should really be the question! We're talking beaches, national parks, lakes, ski resorts, deserts and wine region. California's top-notch weather allows you to get outside to enjoy hiking, cycling, surfing and some of the most spectacular coastal road trips you'll find anywhere in the world. Additionally, this is a location for foodies, music and art lovers, sports fans and the career-focused. California is a hub of the world's most exciting tech companies and the home of Hollywood!
Georgia
If you like things slightly cooler than what's on offer nearby in Florida, Georgia might be the US State for you. The average year-round temperature is 17°C. Macon is one of the sunniest and driest cities, boasting just 45 inches of rain per year and a 66 percent sunshine rate. Popular spots like Athens, Atlanta, Savannah, Augusta and Columbus stay just slightly cooler than Florida, making them far more bearable during the stinking hot months between May and September.
What else does Georgia offer?
The median property price in Georgia sits at $148,100 (£109,000), which is well below the national US average of $213,146 (£156,797). Additionally, property and gas taxes and rent are lower than the national average. While it's considered the 'Deep South', people's political persuasions are becoming more liberal and it's an incredibly friendly spot. The state has a reputation for its pristine beaches, marvellous national parks, fresh produce (especially peaches!), sports galore and as being home to 18 Fortune 500 companies, specialising in everything from mining to textiles.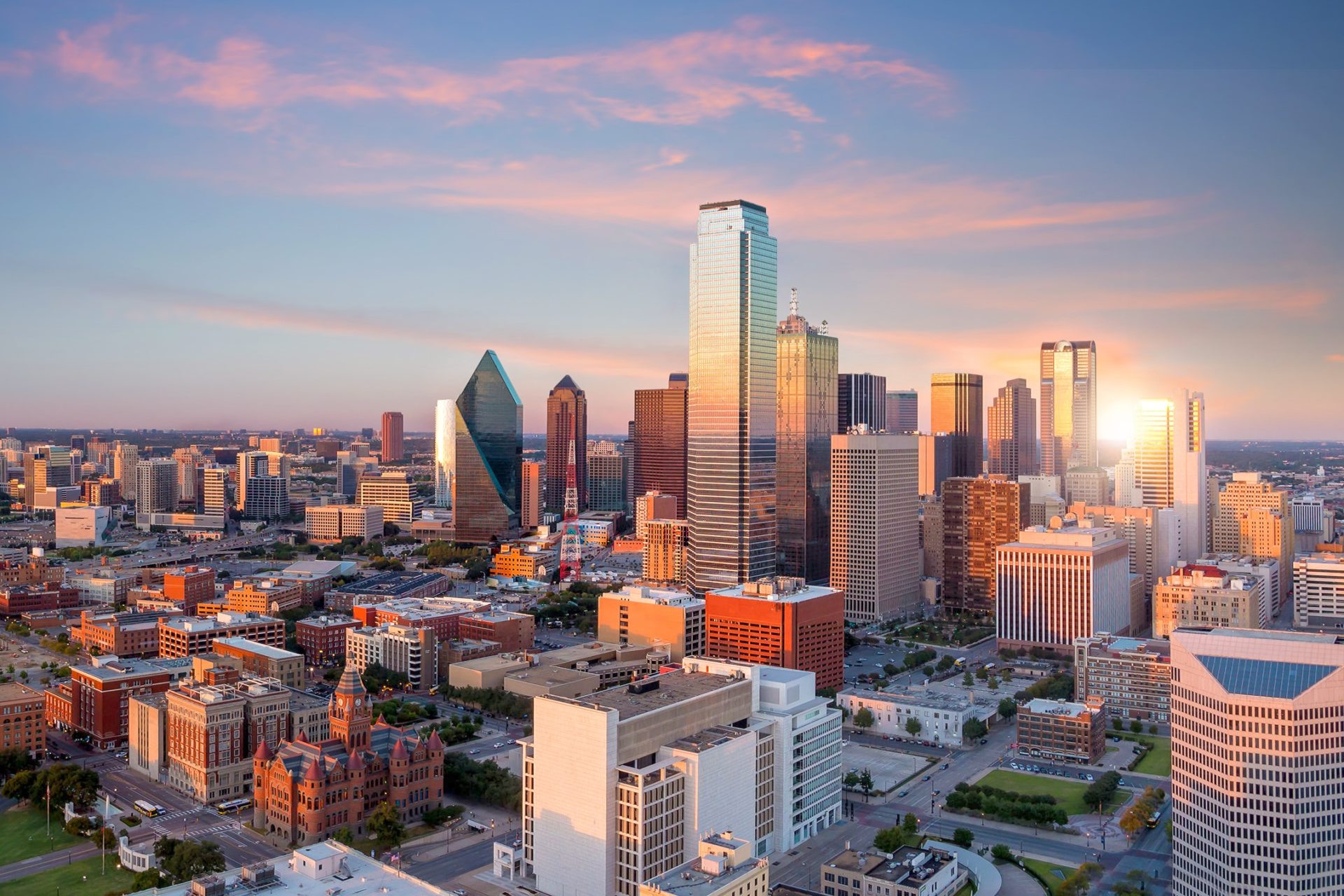 Texas
Even when winter comes, temperatures in Texas stay wonderfully pleasant. This is perhaps a state more suited to those of you who like things to err on the hot side, as during summer temperatures can reach highs of 35-36°C in popular spots like Del Rio, Victoria and Brownsville. Most places within the State average a sunshine rate of 60%. Doesn't sound too shabby to us!
What else does Texas offer?
Again, Texas is another spot with no personal or corporate income tax, which is particularly exciting if you're moving to the USA for employment. Its unemployment rate is well below the national average and a number of major industries are currently booming including business, education, health and professional services. Texas is another State that is remarkably beautiful and that enjoys beaches, desert and national parks galore. The food is fantastic – particularly if you're a fan of marinated meats and the educational system is excellent, with over 200 colleges and universities.
Best cities in the USA to live for British expats
Access to healthcare, jobs and education are three important factors when figuring out whether to move to the USA. Location, location, location are three more. You may also be looking for a place that feels like home with other Brits in the community. So, to help you narrow down your search, we're going to look at the five most popular spots with British expats.
Kissimmee, Florida
Given its enviable climate, affordable property, laidback lifestyle and being surrounded by warm tropical water – it's little wonder that so many expats want to make the Sunshine State their home. Florida has enjoyed popularity with British retirees, and 'snowbirds' (those seeking solace from icy winters back home) for decades. Another enormous draw to Florida is the fact that the state does not collect any income taxes!
Kissimmee is one spot with enduring popularity. Located just south of Orlando and on the shore of Lake Tohopekaliga, the city of Kissimmee (which has a population of 67,000), is one fantastic location to consider. The British tend to choose it for its proximity to Disney World and other theme parks, but Kissimmee is a lovely city in its own right and easy to reach from the UK all year. Plus, it's one of the best places to rent out a property in the US.
Why do Brits like Kissimmee?
Kissimmee's location is one of its major selling points. Not only is it located on the water, but it is close to all of Orlando's amusement parks and amenities. This is a perfect spot for those wanting a holiday home where the family can create precious moments together in the Florida sunshine, and if it's rental income you're after the tourist footfall in the area means you shouldn't struggle to find guests for your property, no matter the time of year.
In Kissimmee, you'll be close to the Everglades National Park for a healthy dose of natural beauty. You can also enjoy world-class dining and the golf courses are some of the best in the world. Plus, if you love shopping, the designer outlets and shopping malls here will be right up your street.
San Francisco, California
San Francisco in Northern California isn't just enormously popular with tourists; it's also a favourite choice with those wanting to settle long term in the USA. With a population of around 810,000, it's a manageable city in which to get to know people. Plus, the San Francisco Bay area boasts more Fortune 500 companies than any other region in the USA, bar the tri-state New York City region. British expats like Sir Jonathan Ive, former chief design officer for Apple, have made it big in Silicon Valley in the city's suburbs.
Why do Brits like San Francisco?
Besides from being a beautiful spot, San Francisco is a financially secure city, with many of those moving here doing so to take up positions in Silicon Valley. There is a lot of wealth in San Francisco. The average salary is $90,000 (£69,000), and unemployment just 7.8%. With 3,500 restaurants and 400 bars, this is a fabulous spot for those who are single and ready to mingle, or who just enjoy dining out and a nice glass of wine or a cocktail of an evening. San Francisco is a safe city with a population of intelligent, environmentally friendly, forward-thinking residents.
Sarasota, Florida
Sarasota is another popular choice with expats determined to settle in Florida. The city is located on Florida's Gulf Coast, just south of Tampa. The city has a population of around 60,000, and the major industries found here are tourism, agriculture, aerospace and aviation, education and financial services. Saratosa is known for its friendly and welcoming community and its wonderful arts scene.
Why do Brits like Sarasota?
Sarasota is perfect for those wishing to spend their retirement, or holidays, relaxing at the beach. It's the closest city to some of Florida's best beaches, including Lido Beach and Longboat Key. There are fantastic job opportunities to be found across a range of industries, and if you are unable to find something suitable in Sarasota, you can always set your sights on nearby Tampa, St Petersburg or Bradenton. The city's schools are excellent, there are fantastic amenities, and the city's location means it's rarely affected by Hurricane Season. If you're looking to enjoy a healthier way of life, Sarasota is known for being a sporty spot – watersports are popular, as are golf, tennis and fishing.
Los Angeles, California
We've all grown up watching the glitz and glam of Hollywood, so it's little surprise that many Brits dream of making the City of Angels their new home in the USA. Los Angeles is the cultural, financial and commercial centre of Southern California, and its climate, beaches and attractions are a huge draw to Brits yearning for an exciting life in the sunshine.
Why do Brits love LA?
Los Angeles is the number one choice for anyone who wants to be at the centre of the world's film and television industry. Other major industries include aerospace, tech and tourism. World-class attractions including Universal Studios, Disney Land, and The Wizarding World of Harry Potter (to name a few) are a huge draw to families and to those looking to invest in a holiday rental.
New York
The 'City that Never Sleeps' is a place where anything can happen and where there is untold amounts of choice when it comes to employment, education, leisure facilities and culture. New York has some of the country's most prestigious museums, around 22,000 restaurants, 1,200 bars, and Broadway. Whether you want to make it in advertising, TV, theatre, music, finance or business — if you can make it in New York you can make it anywhere!
Why Brits love New York?
Although undeniably pricey, New York attracts Brits who are enticed by the bright lights of arguably the most exciting city in the world, as well as leading educational institutions and some of the best job opportunities in the world. When compared to the West Coast, New York is a relatively short flight from the UK. This is a city where you can eat whatever you want (at whatever time of day), while experiencing some of the planet's finest cultural institutions.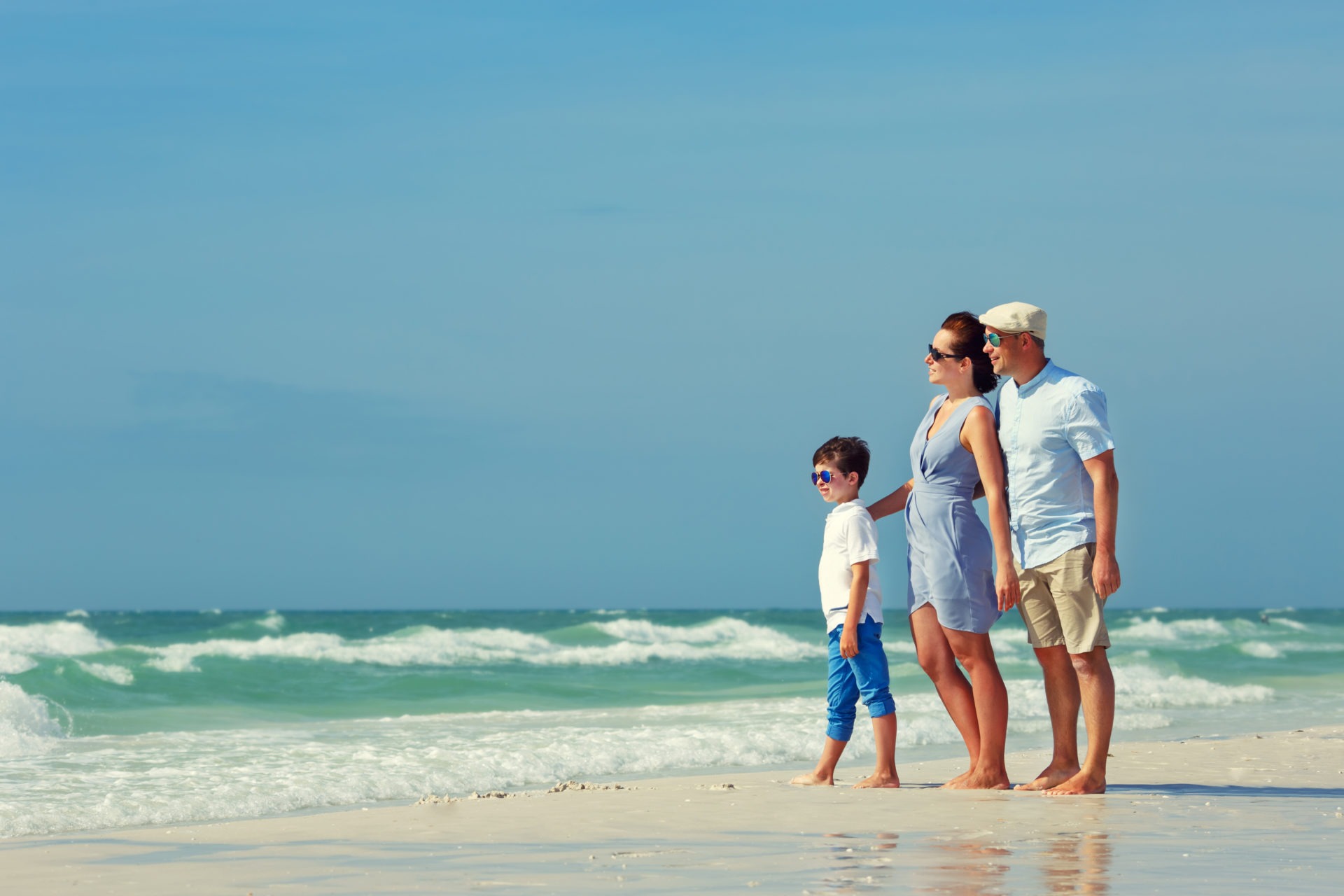 Best places to live for families in the USA
Getting the kids away from screens and enjoying the great outdoors can be never-ending battle for parents. Choose a home in any of these family-friendly US destinations, however, and a digital detox will be easy – for all the family!
Orlando, Florida
One of the world's busiest tourist destinations, Orlando overflows with attractions for both children and adults, with Disney World and the other theme parks spearheading its global appeal! In short, central Florida was created for entertaining, helped by its balmy year-round climate.
But the Orlando area isn't just about theme and adventure parks. Most Brits and other foreign homeowners head to communities or resorts in the famous 'Golden Triangle' area, which includes the metropolises of Kissimmee and Davenport. Here, there are countless championship golf courses, water parks, all types of sports and leisure facilities, not to mention world-class shopping. Many of the newer developments coming on stream today are in themselves mini resorts, with facilities to keep the family occupied for days, including their own water parks, cinemas, soccer academies and more. Plus, even in Orlando you have a choice of beaches within 75 minutes' drive east or west.
Getting there: Orlando International Airport, approx. 30-35 minutes from Disney and most of the Golden Triangle.
Property prices: Within a typical established community in the Golden Triangle — from $150,000 for a condo, from $200,000 for a townhouse and from $280,000-$300,000 for a single-storey home. Higher for new developments.
Sarasota, Florida
A coastal city on Florida's Gulf Coast, Sarasota blends a lively arts and culture scene with an outdoorsy beach lifestyle. A string of linked islands, joined to the mainland at various points, run the length of its coastline, include Siesta Key, more than once voted #1 beach in the USA!
Sarasota is a hub of year-round festivals and events, thanks to its rich history in the performing arts, film and famous Ringling circus. The choice of museums is endless, complemented by an aquarium, zoos, and adventure and nature parks. Chances are though, your kids will never want to wander far from one of the fine white beaches that Sarasota is known for, where they can swim, play in the sand or doing just about type of water based activity that exists.
Orlando is still just two-hours' drive away, so a day or overnight trip to Disney and the theme parks is always an option.
Getting there: Sarasota has an international airport but there are direct UK flights from Tampa International Airport one hour away, or Orlando International Airport approx two hours 45 mins.
Property prices: Standard detached homes in the Sarasota suburbs start at around $320,000, more for somewhere with a pool, either shared of private. The keys are notably pricier: frontline two-bed condos on Siesta Key start around $550,000, or from $350,000 within walking distance of the beach.
Cape Coral, Florida
Fans of being on the water, as well as in it, and those who enjoy getting close to nature will be in heaven in Cape Coral, located on Florida's Gulf Coast. Built around more than 400 miles of canals on the estuary of the Caloosahatchee river, you're never far from the water, so the activities on offer to children are boundless.
Occupying outdoorsy kids is a cinch in Cape Coral, where typical days are spent boating, kayaking, fishing, enjoying the beach, shelling (the beaches are famous for their stunning seashells) and water sports. Then there are the other on-shore leisure options, such as the large water park, family fun park, the golf courses, and tennis and other sports facilities.
The area is also known for its eco-tourism and is surrounded by protected natural areas, with networks of trails for exploring and enjoying the wildlife. There is also bicycle friendly, with 90 miles of designated bike routes, linking up around the community. Just off-shore are Sanibel and Captiva island, with their protected pristine beaches and unspoilt charm.
Getting there: Fly into Tampa a 2.5-hour transfer. Other options include flying into Miami for a 3-hour transfer across Alligator Alley, or fly into Atlanta and get a connecting flight to Fort Myers.
Property prices: Typical single family homes next to canal start from approx $250,000. For a waterfront condo, budget from approx $170,000.
Daytona Beach, Florida
The spiritual home of NASCAR racing, today Daytona Beach on Florida's Atlantic coast is about far more than just the thrill of the racetrack, offering the full entertainment package of an international beach resort. Central to Daytona's attraction is its 23-mile stretch of beach, separated from the mainland by the Halifax river and where the hardpacked sand makes it possible to drive and cycle along much of it.
At the heart of the resort is the famous boardwalk and pier, with plenty to entertain the kids. Other beachfront attractions include the lagoon with its waterpark, speedboat adventures and Screamer's amusement park.
Dubbed the Festival Capital of Florida, there is never a dull moment in Daytona, with festivals happening year-round. Themes are a mix of culture and motor-racing and biking, with many held in the famous Speedway stadium. Music concerts are also held on the beach.
Getting there: Fly into Orlando International Airport for a transfer of just over an hour.
Property prices: Typical single family homes in a community a short drive from the beach start from approx $250,000. For a beachfront condo, budget from approx $250,000.
Adirondacks, New York
Families that love getting close to nature and having fun in the great outdoors should feel right at home in the Adirondack Mountains, located in New York state.
Covering more than six million acres, the Adirondacks is the largest protected natural area in the lower 48 states of the US, comprising more than 10,000 lakes, 30,000 miles of rivers and streams, and a wide variety of habitats including wetlands and old-growth forests.
Days there can be spent swimming in the silky freshwater lakes, such as Placid and George, or sailing, kayaking, rafting, fishing, trekking cycling — it is a true paradise for outdoorsy types. And, when winter and the snow come, the Adirondacks has a choice of ski resorts to enjoy. Being on the eastern side of the US and near New York City, means travel from the UK shouldn't be overly stressful for little ones.
Getting there: Fly into New York's JFK airport for a transfer of approx. 4-5 hours, Boston's Logan airport for a similar transfer time.
Property prices: For a traditional family home in good condition in and around towns like Lake Placid and Lake George budget from $250,000, while small condos are available from less than $100,000.
Best countryside locations in the USA
America is a big country, forty times the size of the UK! That means there's plenty of space to get settled in a more rural environment. But, what will you pay? Where should you move? And what should you know before buying? We've put together a quick guide to help you choose.
The USA's population is five times bigger than the UK's, so not only is there plenty of space, but homes in rural areas are very cheap due to rules of supply and demand. Here are the average prices in a selection of rural US states:
West Virginia: $101,600 (£77,900)
Mississippi: $112,300 (£86,055)
Kansas: $124,600 (£95,481)
South Carolina: $144,600 (£110,807)
Texas: $163,500 (£125,290)
Maine: $183,000 (£140,233)
Montana: $200,000 (£153,260)
North Dakota: $202,000 (£154,793)
Vermont: $240,000 (£183,912)
Colorado: $327,300 (£250,810)
It's worth pointing out, though, that the USA is so big that every state has wonderful rural options and any city has wild countryside right on the doorstep.
Things to consider
For anyone looking for a more rural idyll in the US than your average Orlando gated community or New York loft offers, living in the country can give you wonderful views and peace and quiet, as well as the chance to raise some animals. But it also comes with its own set of issues, so it's essential you think carefully before splashing the cash. To avoid any unwelcome surprises, here are five things to consider when buying rurally in the USA.
Water and electricity
Some rural properties rely on wells rather than on municipal water, and treating this water to make it usable can end up being costly. Before you make any decisions, it's worth having the well water tested to ensure that there is no evidence of contaminants, dangerous chemicals or sediments. It's also likely that you will also have to rely on a septic tank. If this is the case, always ensure your tank is geared up to handle the number of people who will be living in the property.
In terms of electricity, if you're living rurally and the power cuts out, you're likely to be one of the last to have your power restored. You need to consider installing a backup generator, and making sure you have stacks of firewood ready to go.
Accessing your property
Do bear in mind that you'll be responsible for the cost of any repairs to the roads leading up to your property that are on your land. This will need to go into your budget, as will things like four-wheel drive vehicles, ploughing equipment and snow tyres, if you're in an area that gets icy weather.
Rubbish removal
When you're used to your rubbish being picked up like clockwork, it can come as a bit of a surprise when you have to deal with this yourself. If you're living rurally, you may have to take all of your rubbish and your recycling to a local dump. Always check with your property agent whether or not people will come to collect your rubbish.
Prospective neighbours
Agriculture is a serious business in the US, with massive livestock farms producing oceans of you-know-what. Consider who your neighbours are and what they use their land for. The last thing you want is to think you've secured the property of your dreams, only to find it stinks to high heaven. Be sure to check who's next door, and whether there are any easements in place in the contract of sale dictating how they are allowed to use your land, and you theirs.
Getting connected
Perhaps you want to locate yourself as far away from internet and mobile phone network as possible. Good for you! However, if you will need to get online and receive calls, you need to make sure that it's a possibility in the rural location you're looking at. Ask your agent, ask around town and test them out. Find out more in our getting connected guide.
Popular rural areas
Wine Country, California
Wouldn't it be lovely to live in wine country — where out of your kitchen window you see nothing but rolling hills, lined with the vines that supply your evening tipple? If this sounds like your very own slice of heaven, you might want to check out Amador County, in Northern California's Sierra Nevada mountains. Although not too far from the famous viticulture spots of Napa Valley and Sonoma Valley, Amador County is far less well known, despite the fact that it boasts over 40 wineries. It's a truly beautiful corner of the country, where their zinfandel "displays vibrant aromas of rich, spicy clove and big, generous fruit with hints of vanilla that entice the nose," apparently.
Alachua County, Florida
Now to Florida, and to Alachua County, a stunning region in central Florida, close to Gainsville, a popular student town. The county is famous for its culture, artisans, and music, and Disney World at Orlando is just a couple of hours away by car.
Eagle County, Colorado
Although a little pricier than some rural locations around the USA, Eagle County certainly has impressive credentials. For one, you're right in the middle of the White River National Forest, and for two you're only a short distance away from Vail, arguably the USA's best ski resort. Also, Glenwood Canyon is nearby, where there are opportunities for camping, angling, hiking and more skiing. In the town of Eagle, you can expect to meet friendly, outdoorsy folk.
Best places to live in the USA for the quiet life
If the usual property buying neighbourhoods in the USA are too pricey, too full of tourists or just too much of a cliché, where else can you lay your hat and call home? Below, we've provided quieter, and sometimes more affordable, alternatives to some of the most sought-after spots in the USA.
Texas Hill Country, Texas (instead of the Napa Valley)
The winelands of the Napa Valley in northern California took a terrible toll in recent forest fires and the property there was prohibitively expensive for most buyers even before.
So instead, head to Texas. Around Austin (a wonderful city in itself), the gently rolling farmland is home to 46 major wineries and plenty of small farms. Known as Texas Hill Country, you can buy a home with land for under $500,000.
Atlanta, Georgia (instead of Los Angeles)
Beverly Hills will always be Beverly Hills, but in recent years, Atlanta has earnt itself the nickname the "Hollywood of the South", due to the filming hit shows like the Walking Dead and Atlanta. While the city is home to the world's busiest airport, usually people are just passing through on their way to more popular US destinations.
It's a lovely place to live, though, and easier to reach from the UK than quiet areas of the West Coast. The city's art scene is flourishing, and there are cool local breweries and pubs popping up on every corner. The restaurants are also innovative and stylish. Unlike LA, Atlanta is a city you can enjoy on foot. It's a city of sports fanatics too, and the new Mercedes-Benz stadium, home to the Falcons and Atlanta United, is fast becoming one of the city's major sporting destinations.
Utah (instead of The Grand Canyon)
When it comes to canyons, Utah more than holds its own against neighbours Arizona and Nevada. Bryce Canyon is fab for photo opportunities because it has the highest number of hoodoos (columns of rock) of any canyon in the world. Nine Mile Canyon is actually 40 miles long and a natural museum — here you'll find thousands of Native American petroglyphs and pictographs.
Buckskin Gulch is arguably Utah's most spectacular spot — the gulch is the deepest slot canyon in the Southwest USA. You'll need to obtain a permit for day hikes, and if you want to stay overnight, be aware only 20 overnight permits are issued per day — meaning lots of competition but plenty of peace and quiet if you do get lucky.
South Carolina (instead of Florida's beaches)
While South Carolina is a popular choice with Americans, international holiday homebuyers are yet to catch on. The chances of finding an affordable seaside property are far higher than in Florida or California. Edisto Beach on the island of the same name, is one of four of South Carolina's coastal state parks. Huntington Beach State Park also offers beautiful beaches.
If you're more into water sports, you might opt for Goodale State Park. Beachwalker Park, on Kiawah Island is another spectacular sandy spot surrounded by beautiful clear waters.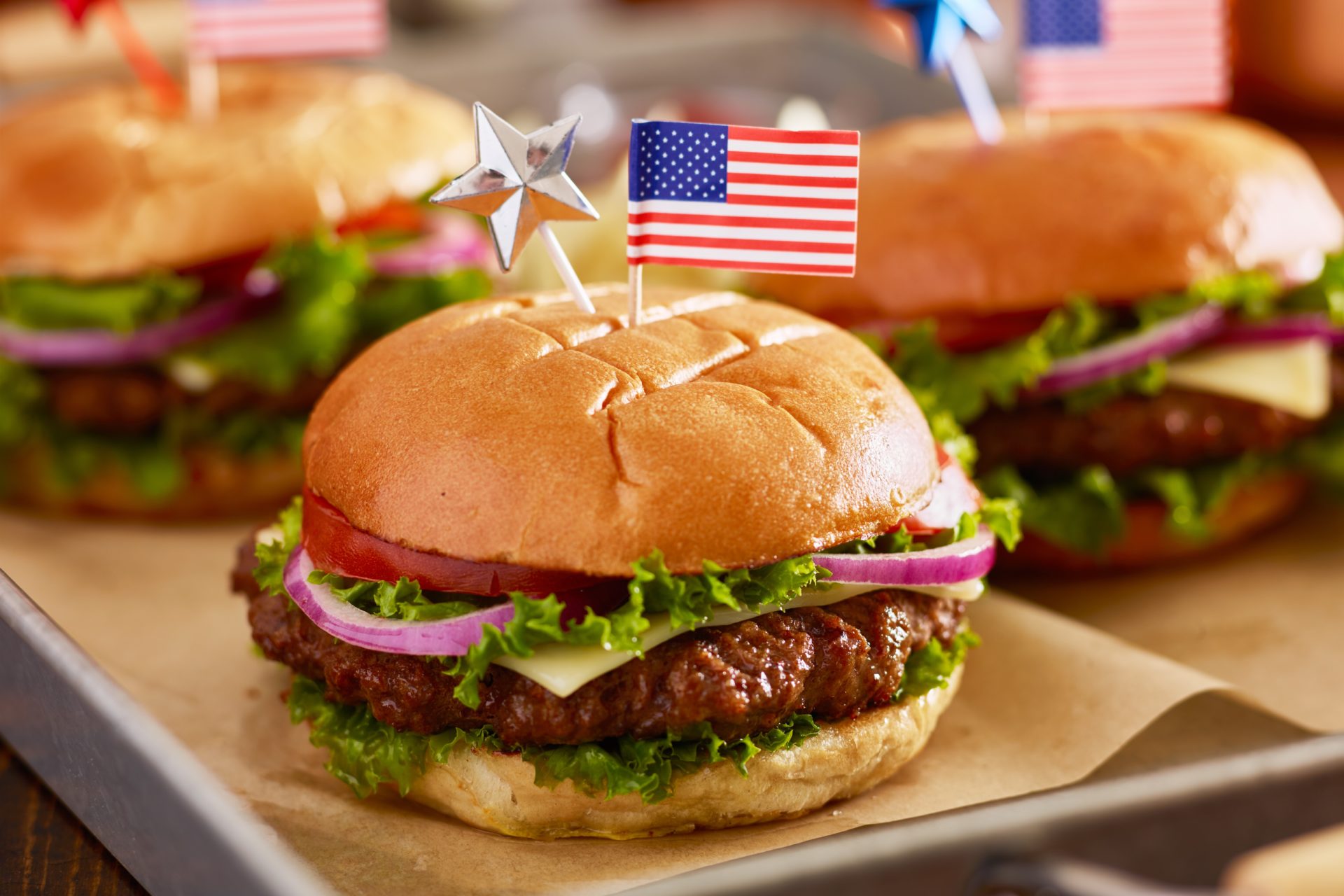 Best food cities in the USA
Adjusting to the cuisine of your new country, sampling local dishes and investigating the nearby restaurants are some of the joys of an international move or property purchase. And, thankfully, the USA is well-known for the huge variety (and deliciousness) of its food.
Of course, locations like LA and New York City will leave you spoilt for choice, here we're going to consider lesser known foodie locations, which also boast affordable housing.
Houston, Texas
Meat lovers rejoice! Houston is enjoying a barbeque renaissance, which means slow-cooked marinated local meat is the name of the game. In some places, you may even be treated to free beer to take your mind off the long queues that are inevitable at the weekend. Houston has often made "best foodie cities" lists, but it's only recently that the rest of the world has started taking notice.
The city's fare is influenced by its diverse population. Mexican food is top notch, with restaurants often specialising in a specific Mexican region. You'll also find excellent Tex-Mex, Vietnamese, Chinese and the city's signature dish, Asian-Cajun seafood boils, which features crawfish boiled up with an Asian-style garlic butter. Austin, Dallas and Fort Worth are also foodie destinations to visit.
Miami, Florida
Being an international city, Miami's menus are heavily influenced by an array of national cuisines. Cuban, Caribbean, Creole, Peruvian and Indian fare are found side-by-side with classic American comfort food. Being surrounded by water also ensures menus are heavily laden with fresh seafood.
The city has various different quarters where you're likely to find the best cuisine of its kind. For example, Haitian in Little Haiti and Little Havana for Cuban. A number of excellent restaurants have also fused Latin, European and Asian flavours to create a style of cuisine that's unique to the city.
New Orleans, Louisiana
Louisiana's port city of New Orleans is perfect for anyone who gave up caring about carbs and calories a long time ago — expect lashings of butter, cream or oil in most meals. Traditional Southern flavours tend to dominate but you can also fill your boots with Creole and Cajun dishes, which combine staples of Italian, African, Spanish and French grub.
Jambalaya, gumbo and red beans and rice are classics. As are po'boys — a bread roll full of meat or fried seafood. You'll find the best Creole joints in town nestled in the French Quarter, while the Warehouse District and Central Business District are good for trendy, good value eateries. The city also hosts a number of popular food festivals, including their restaurant month COOLinary New Orleans, New Orleans Wine and Food Experience and Louisiana Seafood Festival.
Portland, Maine
While it may not yet have quite the same hip reputation as its west coast namesake, Portland in Maine is hot on its heels. Formerly a relatively sleepy port town, the last few years have seen it become a foodie destination to rival the big hitters due to an influx of ambitious artisan chefs, bakers and brewers. The city has an abundance of restaurants — there are said to be more restaurants per capita than San Francisco, which means you'll find high quality establishments lining the pavements of Downtown and the waterfront. The seafood here is worth the stop over alone!
San Diego, California
In San Diego, it's practically impossible to eat unhealthy food. If you're vegetarian, vegan, gluten-intolerant and the like, you'll be delighted by the array of options available to cater to your specific requirements. Mexican cuisine is also big business and arguably some of the best in California, and Filipino fodder is also making waves. Popular foodie neighbourhoods of the city include La Mesa, Chula Vista and Barrio Logan. The coffee and farmers markets in San Diego will also blow your mind.
Orlando, Florida
Orlando in Florida may be best known for its chain restaurants, but venture a little outside the tourist mainstays and you can find some delicious options. Cuban, Turkish and Creole are popular, and if you really fancy a treat head to Winter Park just outside of Orlando — a town that has 57 restaurants, despite only having 10,000 residents. Winter Park chefs are known for their playful, original menus that mix up cuisines and experiment with locally sourced ingredients.
Atlanta, Georgia
Not content with taking the movie business by storm, the "Capital City of the South" is now taking on the culinary scene and racking up awards and accolades galore. The New York Times referred to a couple of Atlanta's best restaurants as reflecting, "a new kind of sophisticated Southern sensibility centred on the farm but experienced in the city".
Some of the USA's best chefs have holed up here, and the bigger cities have been sitting up, taking notice and picking the brains of the leading chefs by inviting them to events in New York and LA to host special dining experiences. Atlanta's Southern Wing Showdown event brings together chefs from all around the South to showcase the very best wings in the region. You'll find restaurants ranging from high-end joints owned by famous chefs to modest ethnic and southern eateries that'll ensure you leave full to the brim.
Charleston, South Carolina
Charleston has long had one of the hottest food scenes in the USA. You can expect to dine upon delights that utilise the high-quality natural ingredients found in South Carolina's Low Country. This is a great spot for pizza, Asian fare, artisan meat and barbeque joints, many of which uphold decades old family barbeque recipes and traditions. You'll also be able to sample Gullah cooking, which is of West African origin.
Food festivals are a regular occurrence in this corner of the country, with Charleston Wine and Food festival and Charleston Restaurant Week being highlights. There are so many excellent restaurants in this city, so you'll have to move here to really scratch the surface!
Providence, Rhode Island
While Providence's food scene is often over-shadowed by its more famous New England neighbour Boston, this is a city with an exciting emerging foodie scene that could be just what you fancy. Expect the whole shebang — excellent brunch spots to food trucks, ethnic cafes to high-end fare.
Healdsburg, California
If you want to set up shop in wine country, but don't fancy the madness of Napa Valley, perhaps set your sights on Sonoma County, and Healdsburg in particular — a place that has more wineries than its more well-known neighbour, plus its fair share of Michelin-star restaurants.
Given its beautiful rural location in Northern California, you can look forward to browsing farmers markets and tucking into farm-to-fork plates where the ingredients hail from just down the road. 33% of Healdsburg's eateries have five stars, so you're guaranteed a tasty tipple while you're there.
The cheapest places to live in the US
Though the days of four-bedroom properties being available for just a few thousand dollars may be behind us, it's still possible to find cheap American property if you know where to look. While it may prove trickier to find bargains close to America's popular coastal cities, it's certainly not impossible. Here, we're running through five locations offering some of the cheapest homes in the US.
Palm Bay, Florida
Palm Bay is located just 45-minutes from Orlando on Florida's Space Coast. This is a perfect spot for those with an interest in the outer limits — it's just down the road from the Kennedy Space Centre and Cape Canaveral. If you work in tech or engineering, there are some incredibly exciting job opportunities. What's more, you can snap up a single-family home in Palm Bay, close to the water, for $200,000. The Florida market is rising, however – so the sooner you purchase, the better.
Bakersfield, California
Living amongst California's redwood forests and wineries needn't cost you a small fortune if you set your sights on Bakersfield. The town is home to some of the cheapest homes in the US. Plus, it's only a couple of hours from Los Angeles. Buying property here means starting a life in the surrounds of the Sierra Nevada Mountain range. Within an hour, you can be hiking in impossibly scenic locations. You can also head to the coast at Morro Bay, an oceanfront town known for its coastal beauty and as a surfing hotspot. Additionally, Buena Vista Lake, with all of its water sports opportunities, is just a 30-minute drive out of town.
Property in Bakersfield is currently half the median price of the rest of California. The median home value is just $221,300. Act now – there is no way this low-price tag will stick around for long!
Cleveland, Ohio
Cleveland may not boast the same glitz and glam as some of the USA's more popular cities, but it's on the rise. Plus, it has some of the cheapest homes in the US! The cost of living in Cleveland is currently 30–60% lower than in Silicon Valley, Boston and New York City. Understandably, this has attracted start-ups in their droves. The city is now home to over 180 up-and-coming tech companies. With a current median home value of just $61,200 and a bright future ahead, Cleveland could be a sensible investment when you buy in the USA.
Myrtle Beach, South Carolina
If you want to set up shop in a beach town and potentially earn some cash from tourist rentals, Myrtle Beach is a great choice. Not only does it possess some of the cheapest homes in the USA, it's also a tourist mecca for families from the East Coast and Midwest.
The town regularly receives almost 20 million visitors each year, enticed by its 60 miles of beaches, golf courses and family activities. Having miles of beach also means you can snap up a property close to the shore for not too much. The median price of homes currently listed in the town is $179,900.
Pensacola, Florida
Pensacola is the westernmost city on the Florida panhandle and its sheltered beaches and fantastic climate have made it quite the hit with tourists. Its charming historic centre adds plenty of character to the city. In addition, its job market is booming. Pensacola boasts some of the cheapest properties in the US, with a current median home value of $135,300, putting it well below the national average.
The most affluent neighbourhoods to live in the USA
It's the American dream; a house that has it all. An estate on Florida's Gulf coast with space to park your yacht; a New York penthouse with a view over Central Park; a Montana ranch with stables, prairie and your own river. If you're lucky enough to have a big budget, America has the property. Here, we're listing the top ten most exclusive places to live in the USA.
The Hamptons, New York
The group of picture-perfect towns and villages in the Hamptons is a favourite summer destination for the who's who of New York society. It's in the 'East End' of Long Island, where the expansive beaches and rolling farmland are just 125 miles away from the bright lights of New York City. The list of A-listers who own properties here is long and includes Robert De Niro, Steven Spielberg, Jerry Seinfeld and Billy Joel to name a few.
Naples, Florida
On Florida's western Gulf Coast, Naples is famous for its luxury shopping and world-class golf courses. The city is just north of the Everglades National Park and has excellent weather, white sand beaches and warm waters, perfect for fishing, diving and many water sports. While it's known for its extravagant properties, this is actually one of the most affordable luxury communities in the US.
Bel Air, California
LA's prestigious Bel Air neighbourhood makes up one third of the city's "Platinum Triangle", joined by Beverly Hills and Holmby Hills as the most exclusive part of town. While the suburb is close to downtown LA, Bel Air offers relative peace and quiet and some of the most luxurious real estate in the world. Located in the foothills of the Santa Monica Mountains, this has always been a popular spot with the world's biggest stars, including Brits Elizabeth Taylor, Alfred Hitchcock and Rod Stewart. Elon Musk, CEO of Tesla and SpaceX, lives here too.
Manhattan, New York
Living on Manhattan island means you're on the doorstep of everything New York City has to offer: the best of the best, wonderful shopping, excellent restaurants and bars, gigs, exhibitions, gallery openings, cocktails, musicals, great cafes — the list goes on and on. If you want to be in the middle of where the magic happens, there's no American location quite like Manhattan.
Jupiter Island, Florida
Jupiter Island is a 17-mile tropical barrier island, surrounded by the Atlantic Ocean, located along Florida's Treasure Coast on its eastern Seaboard. It's in a naturally beautiful region characterised by upmarket beach houses, Mediterranean style homes and impressive estates. Famous Jupiter Island residents include Celine Dion, Tiger Woods and George H. W. Bush.
Carmel-by-the-Sea, California
Fancy the Big Little Lies lifestyle? Then welcome to Carmel, on Northern California's coast to the south of San Francisco. This is a friendly town known for its excellent schools and beautiful scenery. The community is very wellness-focused and there are many independent businesses, restaurants and boutiques to enjoy. Carmel-by-Sea also produces some of California's best wine, perfect for after your yoga class.
Bryn Mawr, Philadephia
But what about the inland areas? Over in the Rust Belt, drive just 10 miles out of Philadelphia and you'll find the glamorous town of Bryn Mawr in the state's Main Line region. This area has some of the best schools in the country, upmarket boutique shopping and many fine dining restaurants. The town's most famous exports include Katharine Hepburn and President Woodrow Wilson.
Aspen, Colorado
No US ski resort is more exclusive than Aspen in Colorado's spectacular Rocky Mountains. The delightful town is a year-round destination for lovers of outdoor activities and the finer things in life, due to its high-end restaurants and boutiques. Martina Navratilova is among the international homeowners who love the outdoor lifestyle and clear mountain air.
Cape Cod, Massachusetts
Cape Cod has been one of the USA's premium vacation spots for generations. The crescent-shaped peninsula, which juts out into the Atlantic, is home to sand dune-lined beaches, quaint New England towns, and seafood shacks galore. There are many exclusive areas on the Cape, including Hyannis, which is called home by the Kennedy Family, and Provincetown, known for its arts and culture, and Yarmouth and Harwich. Nantucket Island and Martha's Vineyard are short ferry rides away.
Paradise Valley, Arizona
The aptly named Paradise Valley is now Phoenix's most coveted suburb. Surrounded by mountains and just a 20-minute drive into the centre of the city, this desert oasis is home to sweeping estates and picturesque properties. Muhammad Ali once called the suburb home.
What type of property should you buy in the USA?
From Florida villa to New York City loft, antebellum mansion to shotgun shack, North America has a dizzying range of property options. So, what will it be? Here, we run through the terminology and pros and cons of US property from coast to coast and era to era.
Villas
Top of many expats' lists is a villa in a sunny location like Florida. These will normally be detached structures with a good size yard and a swimming pool. You'll find many in the "Spanish Mission" style, with whitewashed walls, red roofs and arched porticoes. Many of these properties would look right at home in the Mediterranean.
In many new developments, you'll also find very contemporary designs, with plenty of glass to let in light and all mod cons. Generally, no matter the style, the average American villa will be built for modern living with an open plan and a large family room space.
Apartments and condos
Apartment complexes and condos in the US vary hugely in size depending on the development. They're typically located close to city centres. Some offer lifestyle facilities, like communal swimming pools and gyms, BBQ areas and walking tracks. This makes them a great choice if you want a pool and so on but don't want to worry about the maintenance.
The difference between apartments and condos is ownership. Apartments are generally owned by a single entity, like a corporation — so residents will normally be renting. Condos will be made up of individual owners, who form an Association to take decisions on the building and complex.
Condos and apartments are often located either in city centres or by popular attractions in built-up areas like beaches or lakes.
Co-ops
Co-ops occupy an interesting legal position, whereby they're not considered "real estate". As such, you don't purchase the deeds, but rather a share in the co-op company itself. As a shareholder, you then get use of a housing unit in the property the co-op owns. They often have strict purchase requirements and it is generally extremely difficult for a foreign citizen to buy into them.
Townhouses
Townhouses are single-family properties that are attached to neighbouring properties, like terraces in the UK. This type of property will vary in size, but they often come with a private garden or courtyard. They're especially common in the densely populated northeast, with many built in red brick or sandstone (hence the nickname, brownstones). These kinds of houses are typically in a Victorian style. Expect high ceilings and relatively long and narrow rooms.
You may hear the term "duplex" bandied about — this is a specific type of townhouse, which is only attached to one other property, similar to a semi-detached property in the UK.
Cape Cod houses
The Cape Cod style is a traditional design from New England. Typically used for smaller cottages, they feature a clapboard or shingle exterior with dormer windows in the roof. They're often painted white, blue, grey or green. A white picket fence around the garden completes the traditional look.
There are four main variations on the style. The quarter cape is long and narrow, with one window and the main on the short end. The half Cape has two windows and the door on the short end, while the full cape has two windows, a central front door and then two windows again. The unusual three-quarter Cape has two windows, the main door and then one further window.
These are detached properties that come in all different shapes and sizes and with differing amounts of land attached.
Shotgun houses
Once the dominant type of housing in the South, these are long and narrow, single-storey homes. They follow what was once a less desirable layout, without corridors, but instead having each room leading into the next. Nowadays, this flow attracts buyers much more than separated out rooms.
Traditionally, they'd have matching ones built very close, but, if they've been demolished on either side, you can get yourself a long garden plot.
Log homes
A cabin might sound humble, but wooden "cabin-style" homes in reality might remind you more of a chalet. Their rustic design is popular in rural areas, where it fits the landscape better than some modern constructions without compromising on comfort. Around the Great Camps area of New York, you'll find many cabins in the Adirondack style. This means ample floorspace, intricate carved facades, balconies and overhanging roofs.
Many 19th-century versions in rural areas like National Parks are nicknamed "parkitechture". They generally reject the conformity associated with urban developments, with deliberately asymmetrical facades, steep roofs and the use of local woods without importing.
Ranches
Ranches are a traditional steading, normally in the southern US, used for raising livestock. Even today, many come with very large areas of land, which can be ideal for a rural business plan or can just mean extra maintenance, depending on your requirements.
More commonly bought is the so-called ranch style, or rambler. It's extremely popular throughout the Sun Belt regions of the South East and South West. Many have a large floorprint, with just a single storey and wide, overhanging eaves. Often, with many built in the 60s and 70s, you'll find features such as large windows and sliding doors opening from a living space onto a patio. Mixed material constructions generally make them easy to maintain.
This style was once so popular that it made up 90% of new houses. Today, they're less commonly built, but there are still plenty coming onto the market.
Common differences between UK and US properties
As soon as you start viewing properties in America, you'll notice a number of key differences. Firstly, the average home is much more spacious. New builds in the UK average around 818 square feet, while in the US, they average a whopping 2,165 square feet.
All that space means it's very common to have a separate family room, or "great room", and formal lounge. Many homes will come with a separate utility room, and built-in closets are the standard in bedrooms. Unlike in the UK, in the bathroom, regulations don't ban outlets from being within 3m of a tap. On the contrary, you'll find them within easy reach of a tap.
Again, air con is standard. Great news if you're living in the sun-drenched South! One thing you will not find, however, is an electric kettle. Americans tend to prefer using a stove-top version.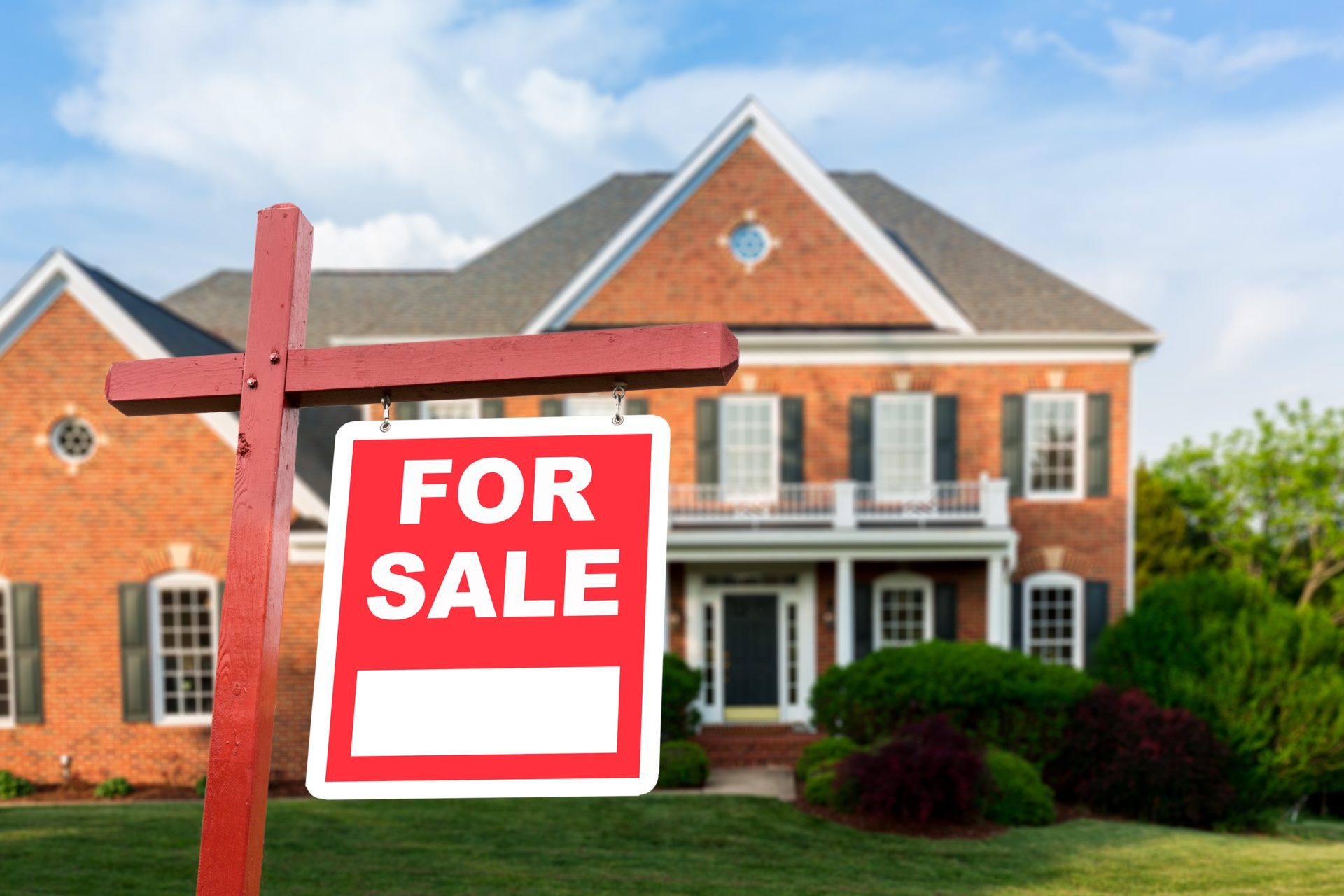 Hiring a professional team for your move to the USA
Purchasing property can be complicated enough when its on your own doorstep in the UK, but doing so halfway across the world can be even more complex. Not only are there different laws to contend with, but there are extra difficulties you may not have even considered, like converting currency or making the most of expensive viewing trips. This is why having the right property team behind you is absolutely vital before making an offer.
Take the time to hire a realtor (estate agent) to help you find the right property, a currency specialist to organise your transfer, an attorney to help you navigate local laws, and an independent financial adviser to help you choose the right way to finance your home.
Choosing a realtor (estate agent)
It's important that you identify the right estate agent (or realtor, as they are known in the USA) to help you, as making the right choice can be instrumental to the success of your purchase. You need to identify a realtor who is registered and reliable, and who understands your requirements.
Where possible, we recommend selecting a realtor prior to jetting into the US, so that you can kick off the search as soon as you land in town to view properties. If you have a little more time on your hands, perhaps create a shortlist of realtors, and go and visit them to see who you prefer.
Before you start selecting a relator, make sure that you have considered the following:
The suitability of your chosen area given the needs in your property outline
The exact specifications of properties that you will consider, i.e. the number of bedrooms and bathrooms, a garden, a swimming pool, etc.
The legalities associated with the purchase, and the regulations you will need to adhere to during the process
Identifying the realtor for your area
There are a few key considerations you need to make before hiring the services of a realtor in your desired region. These include:
Are they accredited?
You need to select a realtor that is legally allowed to sell you a property. The agent you choose must be a member of the National Association of Realtors (NAR), who are responsible for regulating realtor industry standards. You can use the NAR Find a Realtor tool to find registered members in your desired area of the USA.
Do they have local knowledge?
Your realtor should know the area, understand the market, and be able to explain all of the politics and intricacies involved in buying in the US. The majority of realtors concentrate on a specific patch, so will therefore possess excellent knowledge of that particular area. After all, aside from looking at property, your viewing trip is also key to figuring out whether a region is right for you.
Are they proactive?
When identifying which realtor to choose, your first step is to conduct some research into who's considered the best in the area. Next, you should try them out to determine what kind of service they offer their clients. After you've contacted them to introduce yourself, send them a brief outline of what you are looking for. See how long it takes them to get back to you, and what they come back to you with; gauge whether they've listened to your needs and delivered on that.
Ask for references and check how easy it is to get hold of them via email and on the telephone. It's also worth asking how they can help you with local matters, like how to connect to the utilities, what schools are the best in the area, and where the best medical services are, and so on.
Do they understand your needs?
A good realtor will listen carefully to everything that you are seeking in a property, and then they will only suggest properties that tick all boxes and meet your budget. They won't waste your time by showing you homes that don't fit.
The team at USA Property Guides has over a decade of experience working closely with American realtors. We've established relationships with the most reputable and professional agents to ensure we only recommend those who'll help our readers purchase successfully. Contact us on 020 7898 0549 (Monday–Friday, 8.30am–6pm) or email us at [email protected] to find out more.
Choosing a currency specialist
Your realtor will help you find your dream home, but it's your currency specialist that will help you purchase your home without losing out to currency market risk. This is why it's vital that you hire someone to make sure your money holds its worth.
When you save a large amount and plan to pay in another currency, the constantly shifting exchange rate poses a threat to its value — one day sterling could be worth less in dollars than you originally calculated, which can play havoc with your financial plans. A currency specialist will help to secure a forward contract, which fixes the exchange rate in place for 12 months, so you can budget without needing to adjust the amount paid in sterling.
At USA Property Guides, we have worked with Smart Currency Exchange for many years to help our readers to get maximum value for their cash through forward contracts. To find out more, you can read their Property Buyer's Guide to Currency.
Choosing an independent financial adviser
Before you go ahead and buy a house in the US, you will need to make sure that you have all your plans in place for how you will finance the purchase. As this is one of the most important decisions you're likely to make in your life, we recommend that you speak with a professional to ensure you are making the right choice.
An independent financial adviser will be able to help you choose the right method of finance, as well as keeping the costs of buying at a manageable level. If you plan on taking out a mortgage in the UK or in the USA, it may also be worth speaking to a mortgage adviser to ensure you find the product and insurance that's right for your circumstances.
At USA Property Guides, we work alongside a network of trusted partners, including independent financial advisers and mortgage advisers. If you'd like us to put you in touch with a professional to help with your move, simply contact us on 020 7898 0549 (Monday–Friday, 8.30am–6pm) or email us at [email protected].
Choosing an attorney
Purchasing property is a legal transaction. This means it's vital you enlist the services of a qualified US lawyer, or attorney, to help you to navigate the legalities involved in buying in the USA.
Your attorney will help with the following:
Guiding you through the purchase process, and ensuring your contract and property are exactly how you want them
Protecting you from any charges left over by the previous owner, i.e. mortgage costs, taxes, and any other claims
Visa matters
Inheritance issues – if you own property in the USA, you will need to make a will in the USA to clearly determine who your beneficiaries are
Can you legally buy in the USA?
You'll be pleased to hear that there are no restrictions on who can buy property in the USA. However, as rules and regulations differ from state to state, we recommend consulting both an experienced realtor, and a professional attorney located in the state that you wish to buy in.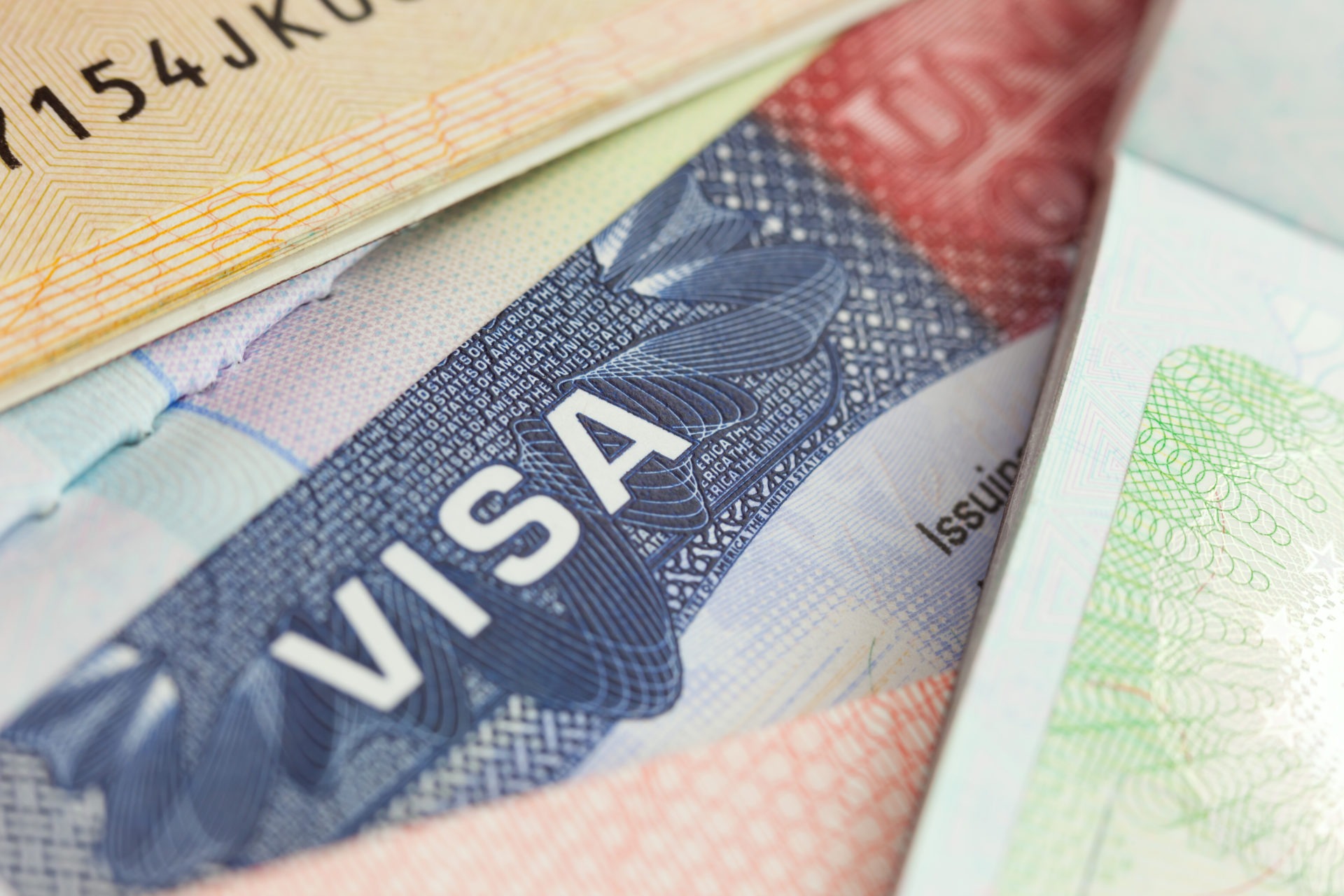 Will you need a visa to buy in the USA?
For many overseas buyers looking at homes in the US, their first question is "do you need a visa to buy property in America?" The answer is no — as long as you fulfil certain conditions. However, if you wish to spend longer than 90 days in the US, then you will need a visa.
Just like in the UK, you can buy a property in the USA without a visa or any special paperwork. Neither do you necessarily need a visa to travel to the US and look for/buy the property. British people can travel there under the Visa Waiver Programme, so long as you:
have an up-to-date e-passport,
have gone online to obtain your ESTA (Electronic System for Travel Authorisation),
have a return ticket,
can state where they will be staying while in the US.
The VWP allows you to make multiple entries to the US and stay for up to three months of the year. If you wish to stay longer than that, you will have to obtain an American visa.
Note. US immigration is a complicated area of law. You should always obtain specialist and personal advice before committing to any property purchase.
If I buy a property, will I be able to stay in the US?
No. Buying residential property does not in itself give you any rights to live in the US. If however, you open a business that could include accommodation you may be able to obtain an E5 investor visa.
What is the simplest option for buying a property?
Under the Visa Waiver Programme (VWP), most British people can visit the USA for up to 90 days for business or pleasure without an American visa. You will need an e-passport with an electronic chip and logo on the cover. The older style machine readable passports will not allow entry.
You will also have to obtain an ESTA (Electronic System for Travel Authorisation). Applying online is simple and will set you back just $14 (£11). You don't have to send off your passport, it is recorded electronically. The ESTA is valid for multiple trips to the US of up to 90 days each, over a period of two years or until your passport expires, whichever comes first.
The ESTA will be refused if you have a criminal conviction (or possibly if you have just been arrested, even if that didn't end in a conviction). The same goes for some medical conditions or if you have previously overstayed your visa or been deported. If the ESTA is refused you may still get in but will have to obtain a visa and attend an interview at the embassy.
What if I want to spend longer than 90 days there?
To stay more than 90 days, or if you wish to work or study, you will need to get a visa. American visas divide into Immigrant Visas and Non-Immigrant visas.
Non-immigrant visas
There are more than 20 non-immigrant visas, but the usual visa for British people buying property, not working but aiming to stay longer than 90 days, is the B-2 Visa. It is still a tourist visa and doesn't allow you to work at all, but it does allow you to stay in America for up to six months.
Application process
Complete the online application and upload your photo. You will need to print off your application form to bring with you.
There is an application fee of $160 for a B-2 visa, but no issuance fee.
Schedule the application interview, which will be held at the US Embassy in London or the Consulate in Belfast. It only applies for applicants between 14 and 79. The current wait time for the interview in London is 8 days.
Take all the required documents and passport for the interview. The process will take around two hours and your passport with the visa inside it will be returned around 5-7 days later.
How long can I stay per year on a B-2 visa?
Normally for up to six months of the year, though an extension may be possible.
How long is a non-immigrant visa valid for?
For British passport holders the visa will last up to ten years.
What do I need to work/study temporarily in the USA?
Other non-immigrant American visas apply for various types of working. Here are the most common for British people:
B-1 Visa: This is also a temporary visas but allows you to do some work, where you are not being paid by a US company. Examples include looking for business opportunities, being involved in sales or an exhibition, lecturing or training.
H-Visa: Temporary work or training in a specialist occupation (e.g. fashion model, specialist children's education training).
I-Visa: Media representatives and journalists.
J-Visa: Exchange students such as camp counsellors, teachers, au pairs and interns.
L-Visa: Intra-company transfers of staff.
O-Visa: Those with "extraordinary ability" in science, arts, business, athletics, etc.
How can I stay in the USA permanently?
The important thing to remember is that if you have either plenty of money, a lot of ambition or the right skills, you can normally get to live in the US, even without marrying an American, which is another option. Like most countries, the USA needs people skilled in certain occupations. For most employment visas you will need to apply for the job and be sponsored by the potential employer, but there is also the investor categories, where you need to be creating wealth and jobs in the US.
Immigrant visas
Like the non-immigrant visas, there are dozens of different immigrant visas. The most commonly used by British people wishing to live in the US is the E or EB employment visas. Fees are higher than for non-immigrant visas but still far lower than for many countries, usually between $200 and $400.
Here are the most common immigrant visas:
E-1 Visa: Priority workers, including those with extra-ordinary abilities, outstanding professors and researchers and the managers and executives of multinational companies. Applicants do not always need a job offer for this category.
E-2 Visa: People with advanced degrees and exceptional ability.
E-2 Treaty Investor Visa: A lower requirement for investment than the EB5 visa (below) with investments starting at $150,000. It has to be a "real business" that you are going to run personally, and will generate a significant level of income above what will be required by the applicant and his/her family to live on.
E-3 Visa: Skilled workers in certain occupations, sponsored by a prospective employer.
E-4 Visa: "Certain Special Immigrants". Includes broadcasters and those who have provided service to the US military.
EB-5 Visa: An investor visa. To get an EB-5 visa you must be starting a new business that will create jobs and bring money into the US. These visas make up around 7 percent of successful entrants, so they are an important category. One problem is that the processing time can run over a year, but it can lead to a green card, allowing permanent residence. The basic requirements are:

Minimum investment of $1 million anywhere in the US, or $500,000 in designated high unemployment or rural areas
It has to be your own money, not borrowed.
It must create at least 10 full-time jobs for US citizens within two years, not including the investor's own family.
You do not necessarily have to run the business yourself, or live in the same area.
I am in a same sex marriage; can I bring my spouse?
Yes. The US treats same sex marriages exactly the same as male-female marriages
Got questions about buying over here? Call your USA property specialists in the UK Resource Centre on +44(0)20 7898 0549 or send us an email at mailto:[email protected].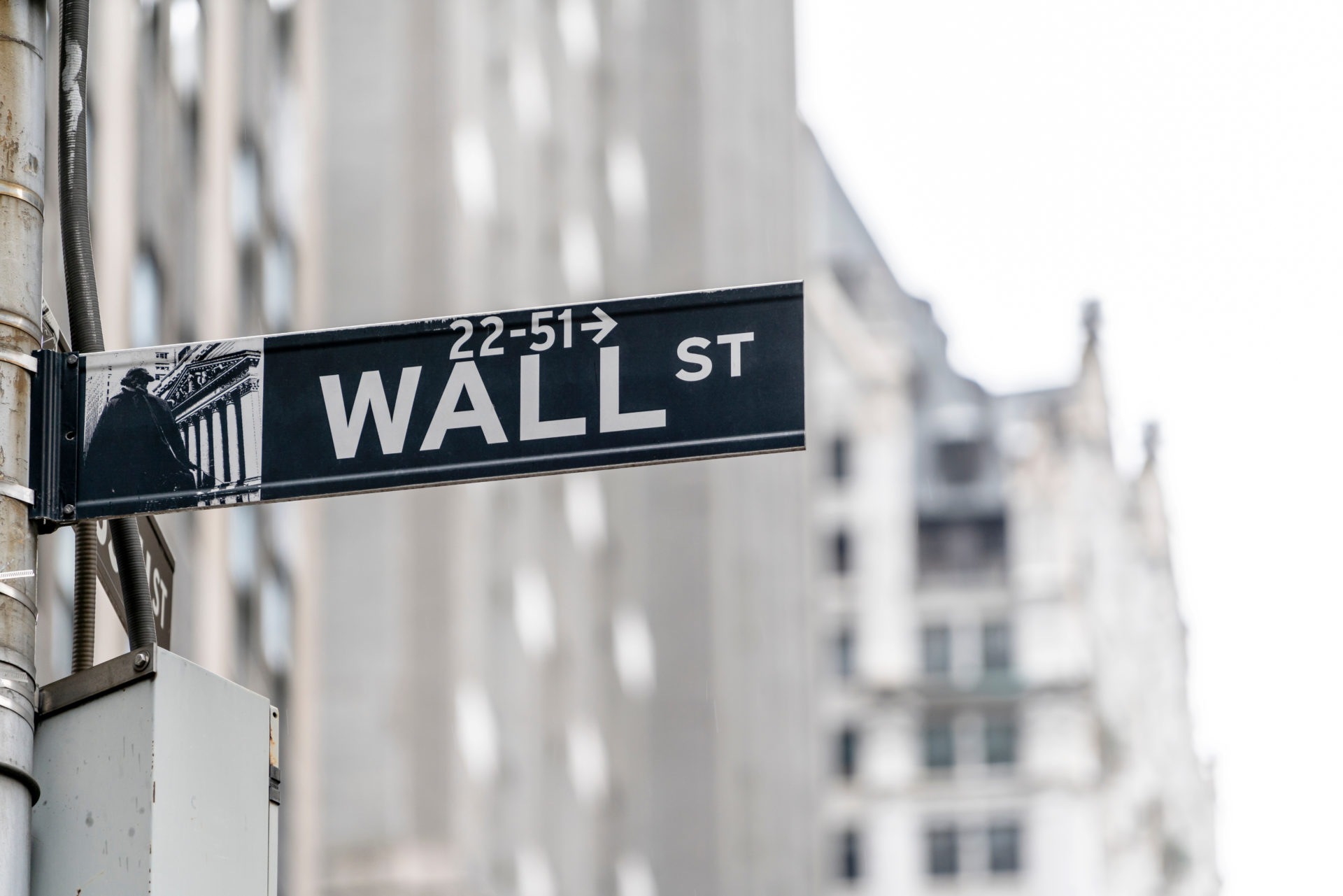 As spending tens or hundreds of thousands of pounds is a huge decision, it should not be taken lightly. You need to assess your financial situation carefully at the outset.
How much money can you comfortably use from your savings, the sale or re-mortgage of your UK property or other sources to finance your USA property? When doing these initial sums, investigate and factor in buying costs, maintenance and living costs and any other unexpected costs that could pop up along the way. Once you have established your financial situation, you will have firm facts available on which to base your property search.
Key financial points to consider are:
The total amount of money you have available to finance your USA property
If you will buy with a mortgage, how much deposit will you need – and how will you service the monthly repayments?
Whether to re-mortgage your UK home to release equity
The costs that come along with buying the property (taxes and fees)
Your maximum purchase price, including taxes and fees
The cost of maintaining the property and living or spending time there
What other costs are involved in buying in the USA?
The costs of buying in the USA will vary according to each individual purchase agreement, the type of loan agreed and different federal and state laws.
As a general rule of thumb, you should allow 3-6% of the purchase price for all fees applicable. In the US, this is called the "closing costs". If you are buying with cash, this figure will drop down to around 1.5% of the purchase price, as a large amount of the costs are associated with the mortgage.
These additional costs include:
A down payment
In Florida, it is possible in some cases to secure a property with a deposit of as little as $5000 (approx. £3,220). For this sum, the property will be removed from the market and the sale price will be locked in. Elsewhere in the States, it is normal to pay 10–30% of the property price to secure your new home. Make sure that you can keep up the mortgage payments to finance your USA property.
Loan fees
If you require a mortgage to finance your USA property, you should expect to pay between $300–$500 (approx. £193–£322) for the loan fees. This includes the cost of a credit report and appraisal of your finances.
Property survey
This can cost from $200–$800 (approx. £130–£515), depending on the size of the property.
Documentary stamp tax
A fixed amount of documentary stamp tax will be charged when transferring the property into your name. The amount is fixed by the county that you are buying in, but as an example, in Florida, you are likely to be charged $0.35 per $100 of the property price. This amount is limited to $2,450 (approx. £1,580) for USA residents, but there is no limit on this in place for non-resident buyers.
Title search and insurance
Again, this varies depending on the location of your USA property. This insurance can only be claimed after the sale has gone through. In order to secure title insurance, you will need to have a title report conducted that traces the deed history of the property and outlines any covenants or limitations on the property. The total cost of this will depend entirely on the size, value and location of the property, as well as the complexity of the search. As a general rule, it should be around 0.5% of the property price.
Legal fees
The seller and the buyer will be accountable for their own individual legal fees. These will vary based upon where you are buying and on how complex the transaction is. As a general rule of thumb, attorneys tend to charge a percentage of the selling cost, usually between 0.5–1%. Others may charge an hourly rate or a fixed fee.
Recording fees
These fees are charged by the government when the time comes to officially change the ownership of the property into your name. Although the seller pays in some instances, more often than not, the buyer covers it. These minimal fees are usually fixed amounts.
Real property transfer tax (RPTT)
How much transfer tax you pay will depend on the location of the property. It's an important thing to factor into your budget for how you'll finance your USA property. You will not be subjected to this tax if you are buying in Mississippi, Missouri, New Mexico, North Dakota or Wyoming. Your realtor will be able to advise on how much this tax is in the location that you plan on buying.
How can you finance your USA property?
There are a number of ways that you can pay for a property in the USA. Aside from paying cash, you can finance your USA property through a number of loan options. If this is the route that you're going to take, you should aim to have the mortgage approved before you commence your search. Otherwise, you run the risk of wasting your time, and that of your realtor.
You need to decide whether you would like a UK mortgage, or whether you would prefer to seek a mortgage from a US broker. If you are going to spend the majority of your time in the UK, it makes sense to use a UK mortgage provider so that you don't have to transfer funds abroad.
If you would prefer to seek a US mortgage provider, there are many options. Conditions have become more stringent since the credit crunch, but interest rates remain low. Loans of up to 70% are available for non-residents and they will be secured against the property. Fixed and variable rate mortgages are available and repayment terms can vary from 5–30 years. There are no age limits. As mortgage offers change on a daily basis, it's a good idea to contact an overseas mortgage broker to determine what the best offers are at the time you are looking to apply.
It's also important to get an idea of how much cash you will need as a deposit to finance your USA property, in relation to the mortgage amount. Most USA mortgage companies will ask for at least 20% from non-US nationals. However, this can sneak up to as much as 30%. You will need to provide proof of income and identity, and details of your bank account and credit cards.
When shopping around for a mortgage, you need to consider:
Interest rates
Loan terms
Lending criteria
Cost of monthly repayments
Choosing the wrong mortgage could lead to difficulties. Therefore, we recommend that you seek advice from an independent financial adviser. Remember that it's important not to stretch yourself financially, otherwise you could risk losing your home.
Tax planning
If you plan on moving to the USA on a permanent basis you will need to establish your tax liabilities before you go. It's important to determine exactly what you'll be liable to pay for budgeting purposes. For example, are you selling your UK property? If so, what tax will you incur on this? Is inheritance tax an issue?
Your liabilities will depend entirely on your personal circumstances. In order to gain a fuller picture, we recommend speaking to a financial adviser who will be able to get your tax affairs in order and explain everything clearly. You can also refer to our range of finance guides to find out more about what to expect and what you need to do before you buy a home.
Plan for costs after you buy a house in the USA
After you've planned the finances on buying your property, consider the post-purchase costs that you will need to pay to ensure you have long-term financial stability. There are a wide range of expenses to think about related to your move, like moving belongings to the US, getting your utilities connected, and travel once you've arrived. There are also money-related issues, such as drawing a pension or revising your will, you will need to account for. Finally, be sure to do some research into the costs of living in the USA to make sure you know how much to budget for your lifestyle.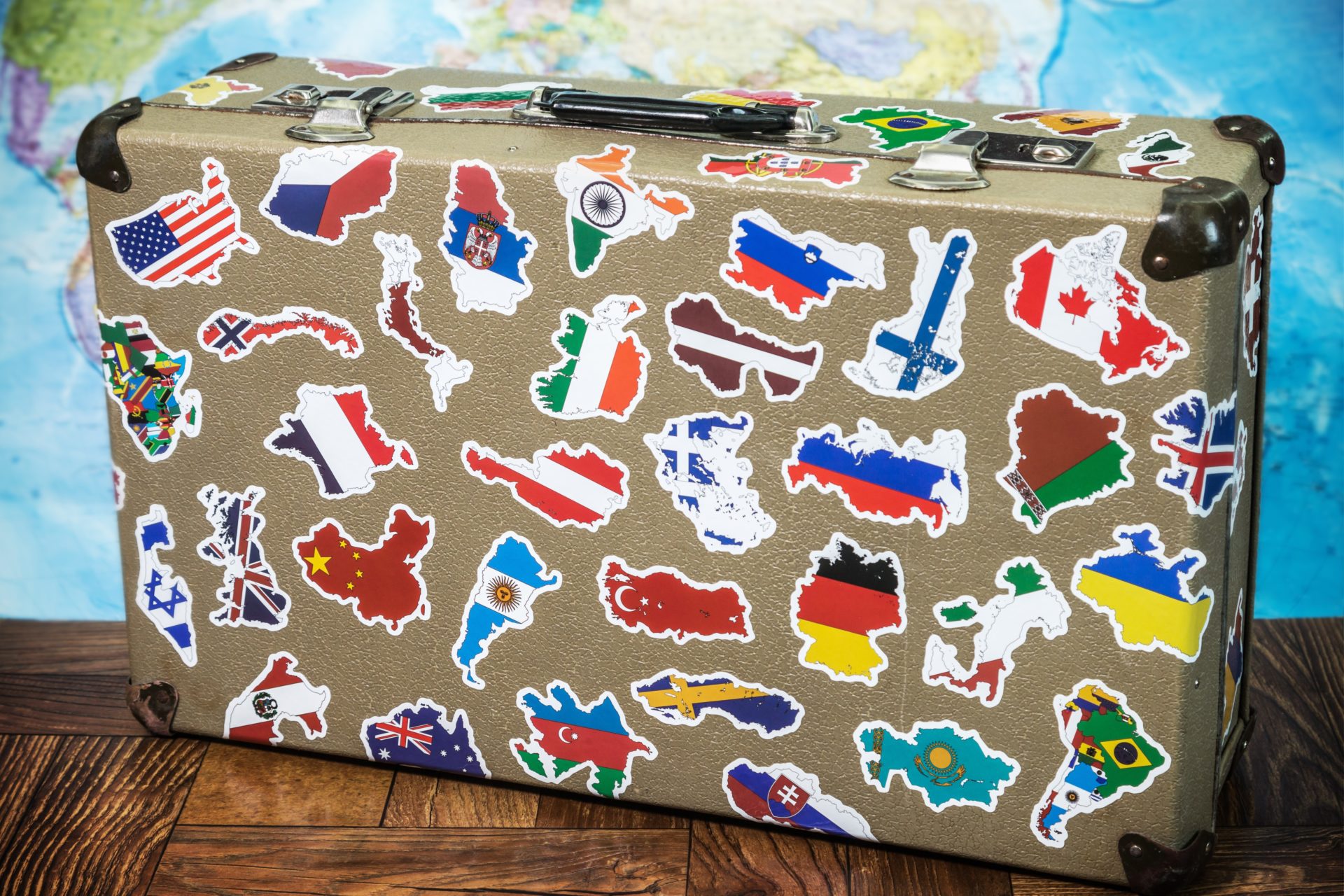 Planning a property viewing trip to the USA
Before you shell out a considerable sum to secure your USA property, you need to visit the country, and the property, to have a look around different areas to determine where you might want to buy.
Take the time to explore the local area, chat to the locals and those who might end up as your neighbours, eat at the local restaurants and cafes, visit the shops and attractions — try to establish what life there might be like, and whether it feels right for you.
How long should my viewing trip last?
When planning a viewing trip, you need to allow yourself enough time to establish that the area and property are for you. How much time you need will depend entirely on how many areas you're considering, how many properties you plan on looking at, and whether you want any days off in between to head to the beach or off the beaten track. As it's tricky to just 'pop' to the US, you might want to visit for a longer period but allocate specific days to your property search.
Buying-Viewing-tripMake sure you take down as many pictures and jot down as many notes as you can for any property that you like!
When should I go on my viewing trip?
It's important to establish what your new area will be like when it's off-season. There are advantages to visiting outside of peak season, namely that the market is always a little slower, which could see you secure a lower price than you would do when there are droves of potential buyers in town. It might also be easier to view properties out of season as they may well be let out to tourists during the summer months, especially in Florida.
However, if you also have the time and budget, it can be worth going during the peak season to see what life will be like when the local area is thriving and full of tourists. You may find that the quiet spot you had in mind during the off season turns into a loud, off-putting location when things get busier, so it might be better to choose a property a little bit away from all the action.
Where should I stay on my trip?
Although you could book into a hotel whilst you're in town, we recommend renting a property located within your chosen area. This will give you a valuable glimpse into what life will be like for you when you spend time there. It will also help you to identify any deal breakers — for example, if there's a noisy flight path directly overhead or a particularly noisy highway nearby.
How can I get the most out of a viewing trip?
The most vital ingredient to a successful viewing trip is employing an experienced realtor that knows the area and understands all of your needs. If they're good at their job, they should be able to go beyond simply informing you about the details of a property, painting a picture of what life will be like in the region, as well as being able to field your queries about the area.
Remember that the time spent in the car in between properties is perfect question time. With this in mind, note down all questions you have for your realtor and use this downtime to get your answers. We also recommend taking plenty of photographs and making detailed notes at every property. When you've had a long day of viewings, you'll be grateful for these pictures and notes, as they'll help you remember each property more clearly.
When it comes to note taking, we recommend jotting down points on the general appearance of the property, the location, what amenities are nearby, and any added touches that you particularly liked or disliked. The more detailed the notes, the easier it'll be to remember the facts that will contribute to your decision. Make sure you take pictures of the view as well!
There are no rules when it comes to viewing trips, you just need to have a strategy in place that works for you. Some may need repeated visits to find their dream property, others may chance upon it on Day One. For more information about viewing trips, download our free viewing trip guide.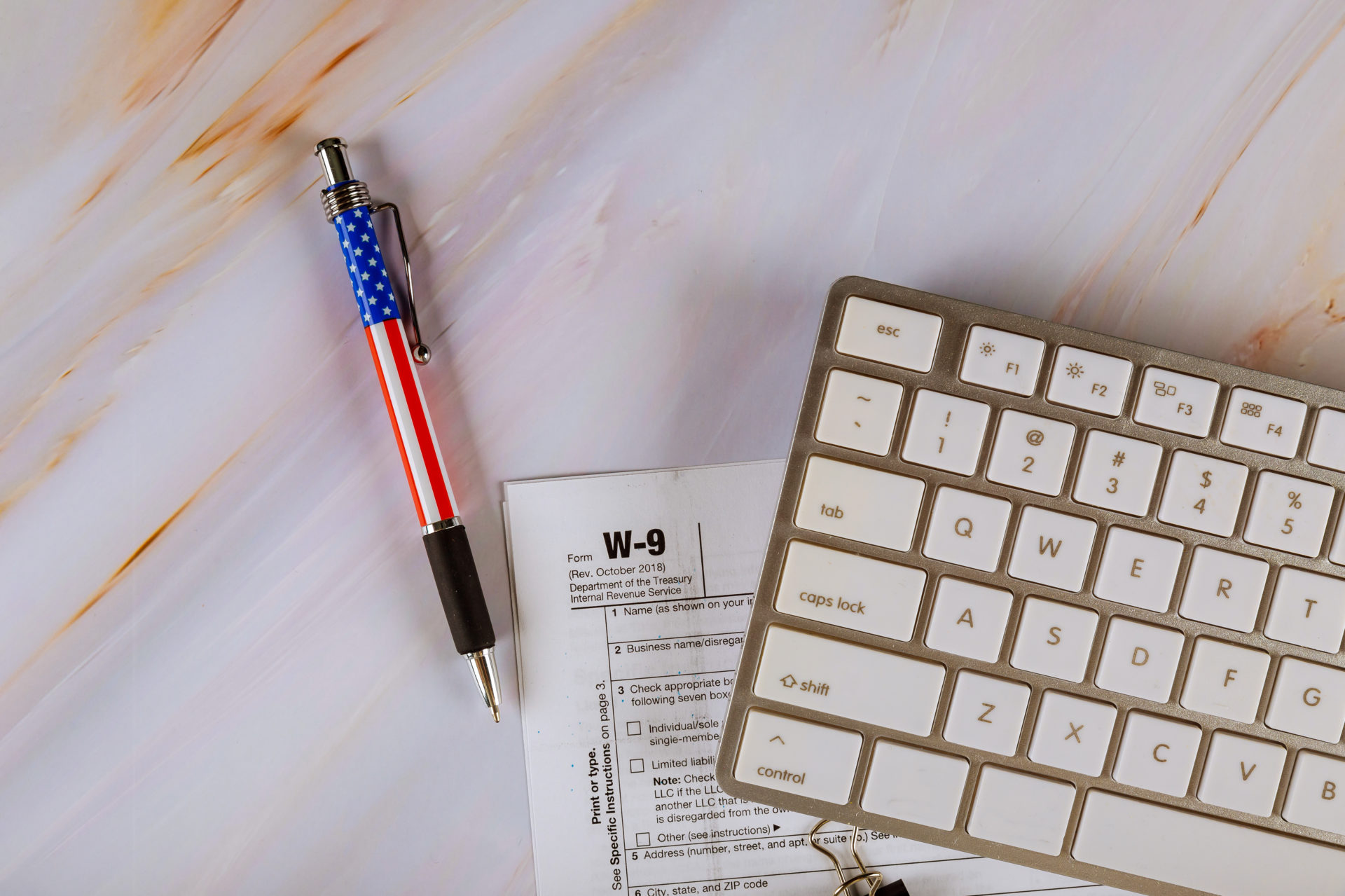 Making an offer
With a team of property professionals helping you, your finances all planned, and some viewing trips under your belt, you're ready to get serious when looking for houses for sale in the USA. When you fall in love with that special property, you'll need to be ready to make an offer and get the ball rolling on your purchase. Here are some tips for doing just that, as well as for getting through negotiations.
Do your own research on local prices
Before you start negotiating on price, it's best to do your own market research on how much similar homes in the area are worth. This should give you a good idea of whether the property you have your eye on is over- or under-priced.
Your realtor is another source for information on what to offer, but it's important to remember that they are, essentially, working for the seller and the more that you end up paying, the higher their fee. Do your own research and you will be able to negotiate the asking price with more confidence.
Stay up to date with the market
Similar to doing research on local prices, staying up to date with events in the American market can also be helpful as you enter negotiations. Take a moment to read our USA property news to ensure that you know exactly what's going on. For instance, you might find out that there has been a rise in house prices in the region you're looking in, which might drive you to lock in a bargain price before the sellers realise that they could charge more.
Go with a balanced approach
As with any negotiation, the best approach is a balanced one: you don't want to come off as too desperate, no matter how much you love the property, but you also shouldn't make the impression that you couldn't care less or are completely business-like. There's no harm in letting the seller know you are looking elsewhere, but you should still show a reasonable level of interest in their home.
Don't be too aggressive with your negotiations
When you begin negotiations, take care not to be overly aggressive in pushing the price down — you want to keep the seller on side as much as possible, since it's up to them to accept your offer. If you can maintain good relations with the seller, they'll be much more likely to sell you a home that they have most likely put many years' care and attention into.
Don't be afraid to walk away
Remember, when you're a buyer, you are not in a position of weakness. While the seller does own the property you want, in most cases they need your money to be able to buy and move into a new home. The truth of the matter is that you can walk away from the deal at any time.
So, if you find that a seller is being very stubborn over something like an inflated asking price, don't be afraid to say no thanks, even though you might love the property. You may even find that they change their mind once your offer is no longer on the table.
Be ready to make a counteroffer
When you are going back and forward over the asking price, try not to be too cautious when making your counteroffers, especially when there are other buyers on the scene. Any hesitation gives other parties room to steal in with their own offer. Aim to be quick and decisive when upping your offer, ensuring you seal the deal ahead of anyone else.
Organise your dollars before you make an offer
Ensure that you speak to your currency specialist before you make an offer on a property to get any required deposit secured in dollars via a forward contract. Doing so will make sure you are getting as much value as possible from the transaction, as well as confirming you have the funds ready to go in the local currency for swift payment to secure the house.
Should you get a building survey in the USA?
A building inspection is very similar to a building survey in the UK and vital to any successful house purchase in the USA. It's important that you have it written into the contract that the sale is subject to the results of your building inspection.
At this stage, a licensed home inspector will visit the property to identify any issues or repairs that are needed. Additionally, an appraiser will visit the property to provide a detailed report of the property's market value. A title search will also be conducted to ensure that the property is free from any charges.
Remember, when you put an offer in on a property you are doing so based on the condition it is in at the time. As you will not be able to bring up any defects after this point, you need to ensure you're completely aware of and happy with the condition of the property before you make an offer. Always have a survey or 'inspection report' carried out on the property before you make an offer. This will identify any defects with the property that could help you to negotiate a lower price.
What's escrow?
After you've made the offer, your closing costs will be paid into escrow. This means that a third party holds onto them until all the necessary checks are completed, the final contract is negotiated, and you close the deal. While these funds are in escrow you can't touch them, and neither can the seller. It's a system designed to protect the interests of both parties.
This escrow period is when you will have a building inspector come and look at the property. They will be able to determine whether the offer you made on the property is fair. The building inspector will establish if there are problems that might make you decide to withdraw from the deal. They will also identify matters that the seller needs to rectify, or fix, before the deal is finalised. If something significant should show up, you can renegotiate the sale price or pull out of the deal entirely.
Arranging your building inspection
Your realtor will help you to arrange this inspection, which should take place within a few days of the seller accepting the offer. When you make the purchase offer always ensure you clearly outline the timeframe for the buyer's inspection period and give yourself a little leeway where possible. The buyer's inspection period begins when the contract is accepted and will expire when stated in the purchase contract. Usually you get 14 days. The buyer is responsible for the cost of the inspection.
How to find a good home inspector
Your real estate agent will probably have some good recommendations, as might friends and colleagues who have bought recently. Listening to these suggestions is fine, but make sure you carry out your own research, too — this is too important of a transaction to take chances on.
We recommend checking that they are accredited, with the American Society of Home Inspectors (search their register here) or that they are a member of InterNACHI (search their register here). Members of these organisations have to pass an exam and adhere to professional standards.
You should also have a look at the reviews each candidate has online on sites like Yelp and Angie's List. Call to chat to them and drop them an email or two — how they respond will give you an idea of how fast and efficient their service will be.
Getting the most from your home inspection
To get the most from your home inspection, plan to be present the entire time. The inspection is likely to last between two and four hours, depending on the size of the home, its condition and how many questions you ask.
How much will a home inspection cost?
You should expect to pay something in the region of $300–600 (£230–450) but this will vary depending on the price, size and age of the house.
You may have to pay for specialist inspections. Depending on the US state that you're in, you might need to have a wood infestation (termite) inspection. If the property has recently been given the all-clear, the seller will be able to provide you with a certificate. If your property was built before 1978, you will need to have it checked to see if it was painted with lead-based paint. Your inspector will either be qualified to conduct these tests themselves, or they will be able to recommend someone.
Tips for your home inspection
1 – Ask to see a sample report
Reputable home inspectors will offer sample reports on their websites that are easy to understand and well formulated. A good report will not only identify the problem, it will explain why it is an issue and what should be done to fix it. You should expect a report to include photographs.
2 – Check timeframes
Ask how long after the inspection it will take to get the report through. Some inspectors will be able to provide you with the report then and there; others may take a day or two to write it up. If you are on a deadline you don't want a tardy building inspector holding you up.
3 – Be present
Choose an inspector who wants you to be there while they conduct the report. Take up that opportunity, as it's your chance to ask any questions, to ensure they're thorough and to see any problems for yourself.
4 – Get copies of their official documentation
In some states, home inspectors must have a license. Make sure that you get a copy of this and proof of their insurance documents. If something were to go wrong down the line, despite the home inspector carrying out their survey, these official documents will help you to make a successful claim.
What happens after making an offer?
So, you've made an offer on the US property of your dreams and the seller has accepted — what's next? Well, below we'll take you through the next few stages of your home purchase, which ends once you have closed the deal.
Contract of sale
Once the offer has been accepted, the seller's attorney will begin drafting a contract of sale. This document will contain a review of all of the documentation applying to the property, including:
the deed;
title insurance policy;
notes on the mortgage;
certificates of occupancy;
all tax and utility bills; and
any leases and permits relating to the property.
While this is happening, the buyer's attorney will be examining all of the financial records for the property. Once you receive the contract of sale back from the seller, your attorney will review and negotiate on the terms on your behalf.
Sign the contract
Once your attorney is satisfied that both the financials of the property and the contract of sale are satisfactory, you will sign the contract.
After the first contract is signed, a closing date will be decided. On this date, all obligations of the contract must be finalised. This will generally be 30 days from the signing of the first contract.
Pay the deposit
When the contract is signed by both parties, it becomes legally binding and it is time for the buyer to pay the deposit. This is usually paid into the escrow account of the attorney of the seller and will only be released once there has been a building inspection and everything is finalised.
Organise insurance
Between the signing of the first contract and the closing of the sale, insurance should be obtained to protect you, should any issues surrounding the title of the property arise. For example, if another person has an interest in the property that may not have been disclosed, such as a previous lender with a partial claim on the title. Title insurance protects you, the buyer, from any expenses or loss you may experience as a result of such a defect (sometimes known as a "cloud").
Close the sale
Again, the state that you are buying the property in will dictate the exact closing procedures that you will be subjected to. In general, all parties are present, all documents are finalised and then money, information and documentation are exchanged, and the property becomes yours.
Explore our range of free USA property guides
Speak to an expert
This guide should have given you a comprehensive overview of buying a house in the USA, but its likely there are still one or two things you still need to know. If you have any questions, call us on 020 7898 0549 Monday–Friday, 8:30am–6:00pm or email [email protected].
The team will also be able to help you find trusted property professionals from our network out in the USA, like realtors, currency specialists, attorneys, financial advisers, and building inspectors. Contact us via the details above or fill in an enquiry form below to get started.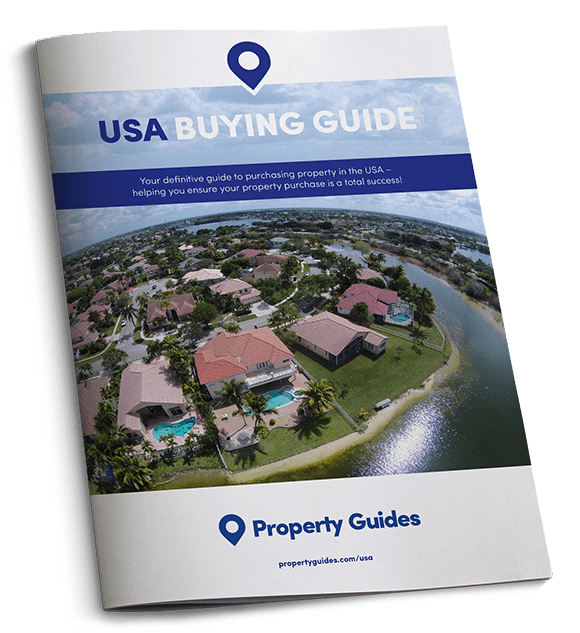 The USA Buying Guide takes you through each stage of the property buying process, with practical recommendations from our experts who have been through the process themselves. The guide will help you to:
✔

  Ask the right questions
✔

  Avoid the legal pitfalls
Download your USA Buying Guide