Taking your pet to the USA
If you have a beloved family pet, chances are you wouldn't dream of relocating to the USA without them. If this is the case, you will need to employ the services of a reputable pet transportation company to ensure your pet is in good hands for their journey.
Choosing the right company to transport your pet
If you know anyone who has made an international move with a pet before you, reach out to them to see if they can recommend the company they used. A flight to the USA is a considerable amount of time, so you want to know that your furry friend is comfortable, and being cared for. Should you not have anyone to ask, there is a wealth of information online. We recommend seeking at least three quotes to ensure you secure a competitive price. Ask each company for credentials and references from past customers. Some pet movers are associated with veterinarians, which it might pay to choose if you are very concerned about the health of your pet.
If you know anyone who has made an international move with a pet before you, reach out to them to see if they can recommend the company they used.
When the pet transportation company gives you a quote, they should provide you with a detailed description of the services offered, as well as an itemised estimate of theprice. Your pet will be given a custom made wooden crate, which will be made to ensure they have enough room to stand and move around. You will be allowed to pop a couple of their favourite items in there with them, such as their favourite toy or blanket.
Preparing your pet for travel
Before your pet can be transported, you will need to complete the following steps:
Vaccinate your pet against rabies in the month before travel
If they are not already, have them micro-chipped
Obtain a certificate of health from a registered veterinarian a couple of weeks before travel
Introduce your pet to the shipping container he or she will be transported in during the days before travel
Reduce the amount of food you give your pet a few days before travel to reduce the chance of stomach upset and to keep the container free of waste
Do not give your pet any medications before travel unless authorised by a vet
If you're hoping to transport a pet bird, you will find that restrictions are a little tighter. Birds need to be certified by a Government-employed veterinarian responsible for animal health in the UK before they can travel. This certificate must be issued within 30 days prior to departure, and will state that the bird is disease-free.
During the flight
Most airlines are excellent at checking in on your pet over the course of the flight, to ensure they are comfortable, fed, and hydrated. They will be kept in a pressurised, heated, ventilated area below deck. Should your flight involve a transfer, dedicated animal care professionals at the airport will handle your pet.
Upon arrival in the USA
Once your pet has arrived in the USA, it will be immediately inspected for infectious diseases. If they haven't been vaccinated, they will be detained, vaccinated within 4-10 days, and will then have to remain in confinement for 30 days. To avoid this happening to your furry friends, it's important to follow the exact guidelines outlined by the company you choose to transport your pet. This will also minimise any chance of your pet becoming stressed – as well as ensuring you do not get lumbered with the costs associated with them being quarantined.
Americans love pets – particularly cats and dogs
Once you've arrived
Americans love pets – particularly cats and dogs – so you can expect them to be well received once landed.
You'll need to find a vet after arrival. It's a good idea to ask around for recommendations of a good local spot. It's a good excuse to get chatting to fellow dog owners!
We also advise that you seek pet insurance to cover your pet in the event of illness. There are a number of pet insurance companies operating in the States; shop around for the best deal.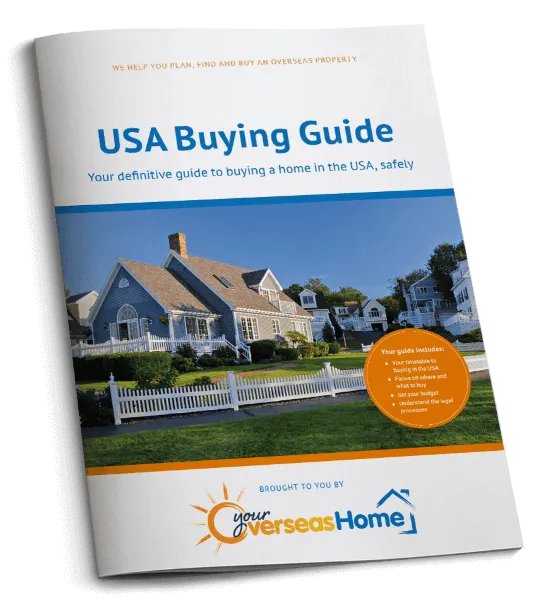 Download your free USA property guide
Our guide to buying a house in America is readily available online, but you can also a PDF version to view when you're offline or print. Simply fill in the form to the right and you'll be able to download your free copy.
Ask the right questions
Avoid the legal pitfalls
Find your property
Avoid losing money
Move in successfully
Download your free USA property guide