Opening a US bank account.
Before you can purchase property in the USA you need to open a bank account. Having a US account makes life much easier when it comes to dealing with the costs associated with home ownership, and helps you to avoid having to manage complicated international transfers every time you have a bill to pay. You can use this account for all of your monthly outgoings, and for your day-to-day livings costs whilst in the USA.
There are a number of reputable banks operating across the country. As you would in the UK, when choosing who to go for, make sure you seek a bank that offers all the services you require, who offers the best rates, and that has a branch near to where you'll be located.
Make sure you seek a bank that offers all the services you require.
Some of the most popular banks with expats include the following:
Chase
Santander
Capital One
Citigroup
Bank of America
Popular Community Bank
To open a bank account you will need to visit the bank in person and take:
Your passport
Visa
Proof of address – either in the US, or back home in the UK, i.e. utility bill, bank or credit card statement
Enough cash to make an initial deposit of at least $50
Opening hours
Banks in the USA tend to open at 8:30am and close at 4pm from Monday to Friday. Some banks do stay open until 5pm. On Saturdays you'll be able to visit your bank between 8:30am and Midday, but US banks are typically closed on Sundays.
Banking fees
Most bank accounts in the USA charge monthly maintenance fees. These fees can often be waivered if you meet certain criteria, or if you agree to bank in a particular way, i.e. you agree to maintain a certain balance at all times, or you have at least one incoming payment of $250 or more, and so on. To avoid any unexpected charges, make sure you get your bank to outline what you'll be charged per month, and on withdrawals and transfers, before you open the account.
Most bank accounts in the USA charge monthly maintenance fees.
Card payments in the USA
In the US, although chip and pin is common in most shops, you shouldn't be surprised if you are asked to sign when making a payment. Similarly, when paying by card in a restaurant, don't be alarmed when the waiter takes your card away with them to process the payment. This might not be how we operate in the UK any more, but it is still the norm in the USA.
Stolen and lost cards
Should you lose your bank card, you will need to contact your bank to cancel the card immediately. If it is stolen, again you will need to cancel it, but you will also need to contact the police, so that you are covered in the event of any unauthorised charges or withdrawals.
Download the USA Property Guide for more information on how to set up and manage a US bank account.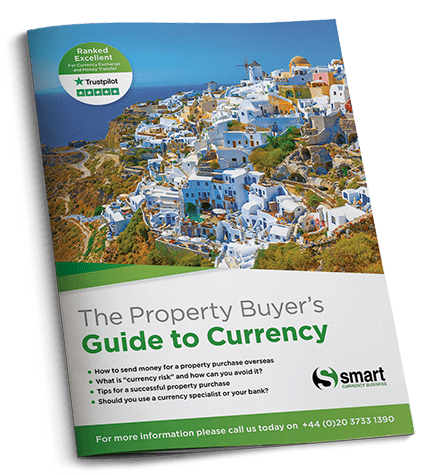 The Property Buyer's Guide to Currency will help you:
✔

  Understand the currency markets
✔

  Protect your property budget
✔

  Use a Currency Specialist
✔

  Learn from other overseas property buyers
Download the Property Buyer's Guide to Currency