When you think of American food, no doubt the first thing that comes to mind is fast food. Of course hamburgers, hotdogs, fried chicken, and ice cream sundaes spring to mind, but the cultural diversity of the USA also means that you'll find a range of other American delicacies out there that you'll have to try when you make the move.
In the major cities and larger towns you will usually be able to find every style of food that your heart desires.
Popular dishes
You can begin to understand American cuisine by looking at the country's history. When the colonists arrived they brought farm animals to breed for meat, which explains the nation's love of all things meaty. Whether it's steaks, burgers, pulled pork, or chicken, whack it on the BBQ and the majority of Americans will be happy. Similarly, seafood is incredibly popular. The northeast in particular is known for its crab, lobster, and mussels. Expect to see clam chowder and lobster bisque on menus from Boston to Maine.
You can begin to understand American cuisine by looking at the country's history.
America has a huge Italian population, with Italian communities found in most major cities in the east. This means that Italian restaurants are prolific. Popular dishes of course include pasta, pizza, and spaghetti and meatballs. Similarly, in the southwest of the country in California and New Mexico, you can expect to find some truly delicious Mexican food.
Probably the most popular dishes coming out of the southern states have Cajun or Creole roots, which include dishes like gumbo, jambalaya, and blackened seafood. Game is the most popular meat in this region. Further south in Florida, you'll find a lot of seafood on menus, as well as dishes that utilise the State's abundant supply of citrus fruits.
Typical breakfast, lunch and dinner
For a typical breakfast, American's enjoy cereal and toast, or fruit and yoghurt. Should you be heading out for breakfast you will see all varieties of eggs and bacon, pancakes, waffles, and omelettes on the menus. You may be surprised to learn that Americans love their healthy foods, especially in the major cities and on the west coast, so you can expect freshly squeezed juices, smoothies, protein bowls and so on. You'll find many restaurants offer bottomless black filter coffee, but you can also request lattes, cappuccinos and the like.
Come lunchtime, the majority will either eat leftovers from the previous night, or head out to local cafes and outlets to grab quick snacks like salads, sandwiches, bagels, or 'subs', which are large, baguette-style sandwiches. Soup and crackers is another popular choice.
A typical American dinner usually consists of meat or fish with some kind of vegetable or salad. Meat often gets grilled on the BBQ. Meatloaf, made from beef mince, is a popular, traditional family meal.
Coffee is incredibly popular, and you'll find cafes on every corner.
Drinks
Tap water is safe to drink in the US. Coffee is incredibly popular, and you'll find cafes on every corner – some of them offer drive-thru facilities so you won't even have to get out of your car to get your morning coffee fix. Filter coffee is the cheapest, but you will find all varieties of snazzy coffee if you go into a proper coffee shop. Soft drinks (or 'sodas' as they're more commonly known) are very popular.
Alcohol-wise, Americans do love a beer, but you can also find any spirit you want, and some fantastic wines.
Correct tipping etiquette
America is a nation of tippers, and it's therefore important that you learn the etiquette and do the right thing. Many waiting staff and bar staff are paid low wages, as it is assumed that they will make up their earnings from tips.
15-20% is average for waiters. Leaving 10% implies that you were unhappy with the service that you received
$1-2 per drink to the bartender
10-20% for delivery people who bring food to your house
$1-2 per bag to the bellboy when checking in to your hotel
$5 for room service (unless gratuity is included in the check)
$2-5 for the hotel maid
$2-5 for valet parking (once the car has been returned to you)
15% of the total fare to taxi driver
15-20% for hairdressers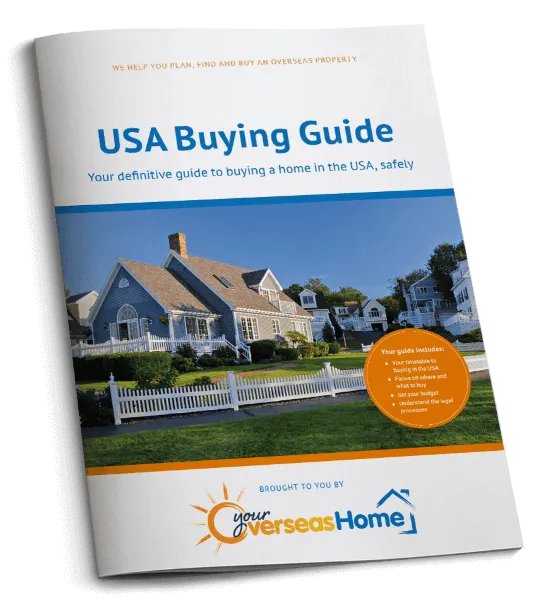 Download your free USA property guide
Our guide to buying a house in America is readily available online, but you can also a PDF version to view when you're offline or print. Simply fill in the form to the right and you'll be able to download your free copy.
Ask the right questions
Avoid the legal pitfalls
Find your property
Avoid losing money
Move in successfully
Download your free USA property guide