Buying property in Greece could change your life! If you're looking for a place in the sun to move to permanently or for a holiday home, then a relocation to this beautiful Mediterranean country could be just what you need. And, with a bit of planning and local know-how, what can seem a daunting project at first can quickly be turned into reality. We've put together this complete guide to buying a house in Greece that will take you through the whole process in a few simple, achievable steps.
Here at Greece Buying Guides, we've helped thousands of people in making a move to the wonderful country of Greece. We use a trusted network of relocation professionals to ensure our advice is up to date and trustworthy, helping you to avoid the pitfalls of your Greek move.
We'll start by discussing some of the reasons you might consider a move to Greece, then take you through each stage of the buying process, from initial enquiries right through to picking up the keys to your property. If you'd prefer to print or read this guide offline, you'll be pleased to know we offer a free downloadable Greece Property Guides booklet.
Do you have any questions before we begin? Contact our team of Greece property experts by calling our Resource Centre on 020 7898 0549 (Monday–Friday, 8.30am–6pm) or emailing them at [email protected].
Should you buy property in Greece?
For anyone seeking a new life abroad, Greece delivers on every front, including your money, health and lifestyle. With more than 6,000 sun-kissed islands, ancient architecture, and a culture ingrained with a long and fascinating history, it's no wonder why tourists flock to Greece each year. But visiting a country is one thing and living there is a very different story. To help you decide if Greece is as great a choice to reside in, we're exploring five compelling reasons for moving to Greece.
Irresistible culture and language
English speakers have little difficulty settling in, as English is widely spoken in Greece. However, as one long-time expat there says: "while many people, especially younger people speak English, it is important to learn the basic phrases and use them to open any conversation". Patricia Hajifotiou, moved here from America 18 years ago and is now owner of tourism business The Olive Odyssey.
The simplest of phrases, she says, such as: "hello, goodbye, please and thank you, can work magic in any language". To truly integrate into the culture and feel more at home, it's always beneficial to learn the local language. You won't need to be fluent right away, just pick up as many phrases as you can to help you communicate with the locals. Besides, the Greek language is simply beautiful and is an integral part of the country's literary culture.
Language, however, is only one aspect of Greek culture. Moving to Greece, you're sure to enjoy the rich, immersive culture that the country has to offer. Home to ancient architecture, religious festivals and cultural events, food, wine and music unique to the land, it's no wonder the Greek culture is so well-loved by locals, tourists and expats alike.
Greeks are known for their friendly and welcoming nature, so it shouldn't be too difficult to make friends. For Patricia, "Greeks are generally very friendly and outgoing". She notes that "it is especially important to have eye contact and say 'good morning' when passing someone when you have established yourself in a neighbourhood". You can even try it in the big cities!
Another thing to keep in mind is that: "people may sometimes ask you very pointed questions – 'are you married', 'how much does your job pay', etc. This is ordinary for Greeks, but sometimes intrusive for other cultures. Answer what you feel comfortable with," advises Patricia.
Affordable cost of living
The cost of living varies depending on where you choose to settle in Greece. However, even the country's major cities are quite affordable, especially when compared to other European cities. For example, the overall cost of living in Athens is considerably lower than in Rome or Paris, especially when it comes to rent. And when you come to buy a property, Greek homes prices are only starting to recover from a decade of falls, so you could easily see a significant profit over the next few years.
While the overall cost of living in Greece is much lower than other parts of Europe, note that average local salaries are also lower. The public healthcare system also suffers from a lack of funding and lengthy waiting times, which is why many expats and locals choose to use the country's private medical facilities instead.
That said, you'll still be able to achieve a high standard of living in Greece. The food, for example, is as affordable as it is fresh and delicious, especially in Rhodes, where there are no import duties.
Excellent cuisine
Rather than eating to live, Greeks tend to live to eat. As such, food is a large part of Greek culture. Every meal is seen as a social occasion, meaning lunch or dinner can last for hours, and the more people gathered at the table the better. Above all, authentic Greek cuisine is utterly delicious and traditionally consists of fresh local ingredients including Mediterranean vegetables, olive oil, lemon juice, fish, meat and grains.
It's never difficult to find fresh fruits and vegetables in local supermarkets for cheap, and eating out is just as delightful, with a variety of authentic local and international eateries on offer. In particular, major cities like Athens are home to a large array of international restaurants, where you'll find Thai, Vietnamese, Korean and Indian cuisine, among many others.
Moussaka, fasolatha, koulouri, loukoumades and souvlaki, to name a few, are some of the most popular Greek dishes, but it doesn't end there. Be sure to try local wines and cheeses which are particularly delectable.
Glorious Greek weather
To put it simply, the weather in Greece is glorious. With luxuriously long, stretched out days and warm evenings, there's no disputing the fact that Greece has a climate attractive to expats. While the weather can vary from place to plan, no matter where you choose to settle you'll always enjoy scorching summers and relatively warm winters. In fact, Athens is known as Europe's hottest city, with average high temperatures of 30°C.
| | | |
| --- | --- | --- |
| | UK | Greece |
| Average sunshine hours | 1,500 | 2,700 |
| Annual precipitation (mm) | 855 | 416 |
| Average winter sea temperature (ºC) | 6 | 15 |
| Average winter sea temperature (ºC) | 14 | 25 |
Laidback lifestyle
Greece is well known for its laidback lifestyle, which can be a blessing for those looking to enjoy a more relaxed approach to life. "Greeks are not all that rushed," says Patricia.
"You can still impromptu, call up a friend and meet. I have a group of friends that I usually meet for 'coffee' and it turns into a six-hour visit! When I lived in the US, you would have to make a date weeks in advance for a short coffee, because everyone is so busy", expresses Patricia.
As well as putting an emphasis on taking the time to enjoy life, Greeks value family above all else. So if you're moving to Greece with children in tow, you'll be delighted to know that family time is a core part of the Greek way of life.
With a laidback lifestyle, a low cost of living, and year-round glorious weather, it's easy to see why Greece is great for expats.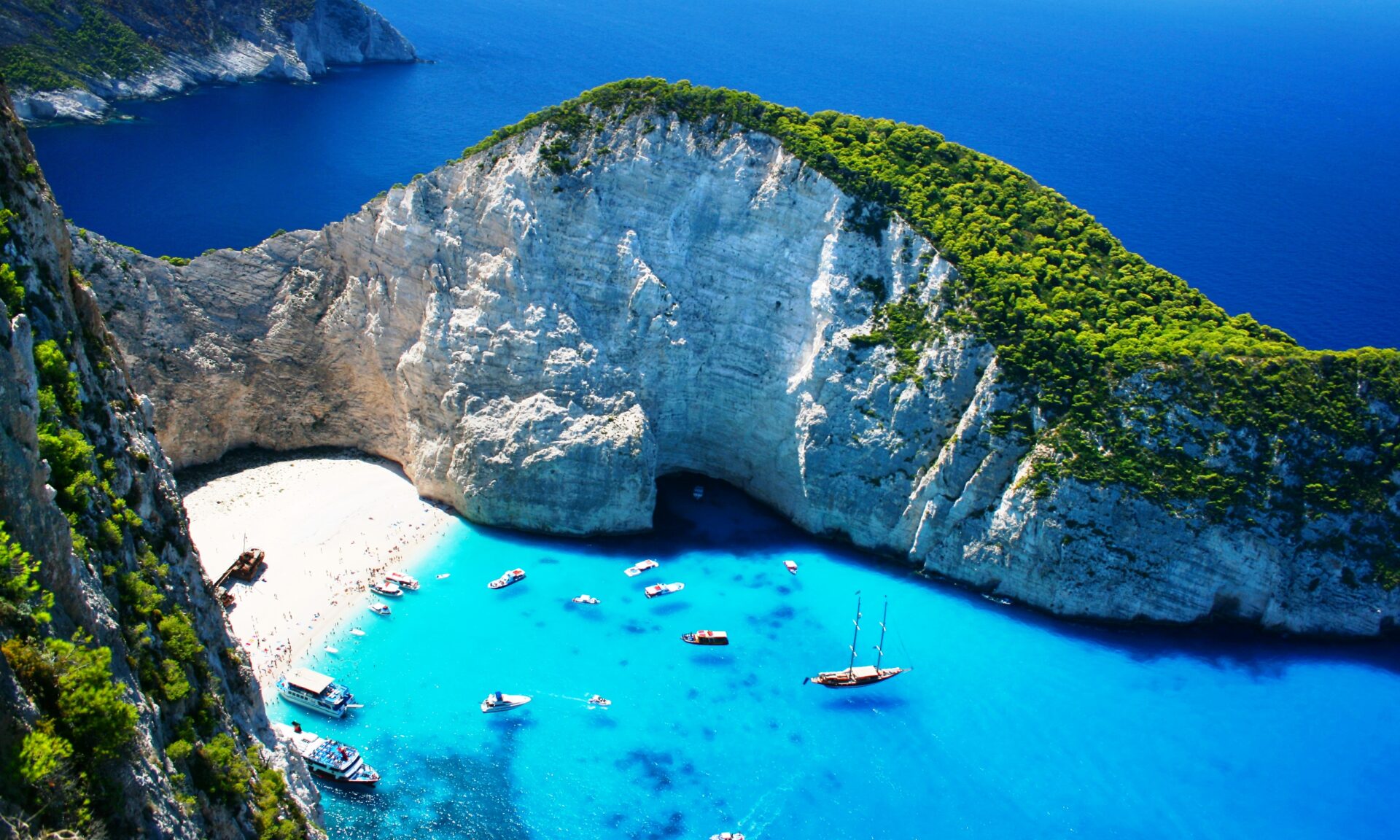 How to buy property in Greece: The process
Working out your timetable is a fantastic way to make sure everything stays on track when you're planning to buy a property in Greece. Once you've got that end date fixed in your mind, you can work backwards and set key markers in the process. Use the following as a checklist — simply tick off each point as you accomplish it as you progress.
Six months from buying in Greece…
Think about why you want to move, where you want to move, and what type of home you're looking to buy. Draw up that list of 'must-haves' and 'nice-to-haves'.
Begin assembling your team of Greek property specialists to make your move easier. You'll need an estate agent, lawyer, currency specialist, and a mortgage/financial adviser.
Review your finances and set your budget.
Five months from buying in Greece…
Start your detailed property search and communicate with your estate agent.
Think about how you are going to structure the finances for any purchase — speak to your lawyer and financial adviser, if necessary.
Four months from buying in Greece…
Run through your broad list of properties with your estate agent to find ones you realistically want to see on a viewing trip, and book that trip.
Have detailed discussions with your lawyer and currency specialist to set up a structure to finance your purchase. That way, you'll be in position to act immediately if needed.
Three months from buying in Greece…
Attend property exhibitions relevant to your area and continue going on any extra viewing trips, if necessary.
Meet with specialists to help you with the more complicated areas of your move, such as inheritance laws and property taxes, as well as removals.
Get your AFM number and begin the process of opening a Greek bank account.
Make your offer on your chosen property.
Protect your budget with the help of a currency specialist. Consider a forward contract.
It's a good idea now in your timescale for buying in Greece to book a survey.
Two months from buying in Greece…
Sign your reservation contract, if the seller requires it.
Sign your deposit contract (and pay the deposit).
Contract your notary and make final payment when needed.
Plan removals and decoration and make sure utilities are connected.
Get the keys, move in and start your new life in Greece!
What should you consider before buying property in Greece?
So, how do you get started planning your move to Greece? The first thing to do is to sit down with a pen and paper (or computer) and start working out what you're looking for, as well as where you want to buy and what type of property suits you best. This way, you'll be able to start your search in a much more targeted way.
Things to consider
To identify your needs, start by asking yourself these five key questions:
Why are you buying?
You know you want to live in Greece — it could even have been a long-held dream. But articulating and analysing why exactly this is the case can help direct you (and you could even find you end up understanding your own motivations better by doing this).
These reasons could be:
"Our pension will go further"
"We want a place to have great holidays with the family"
"Property investment could be a sound idea"
"We want more space, sunnier weather and warmer temperatures"
"I don't want to look back with regret in later life that I didn't make the move"
What will your property be for?
This is a key question to really drill down into what your dream home needs — so you're not distracted by nicely packaged and marketed properties that you later regret. If you want somewhere as a holiday home, for instance, you might want to be close to an airport. For a permanent home, however, you might want to take advantage of lower prices by being slightly further away.
How much can you afford?
You could buy with family to share costs, or use other ways to raise more money, but you still need to work out a realistic idea of your budget. Include around 10% for buying costs.
Above all, remember that the exchange rate is always moving, and the interbank rate shown on the news isn't available to the general public. You will get a rate that is likely to be at least a percentage point below, so this needs to be factored into your initial budget. It may also be possible to reduce a property price by knowing the local market — read our Greece finance guides and Smart's Property Buyer's Guide to Currency for more insight.
What are the "must-haves"?
Think about what is absolutely crucial in your Greece property. Do you want a pool you can enjoy every day? Or would a beach and a sea view be preferrable? Do you need easy access to amenities like shops and restaurants? How many bedrooms? Open-plan or separate rooms? It's also important to decide which of these criteria are "must-haves" and which are just "would-be-nices".
What are your "no-no's"?
You should also work out what you don't want in your property — this will help your estate agent to eliminate ones that will be unsuitable. Perhaps, after all, you don't want the maintenance of a pool, or you're not interested in a large home. Perhaps you don't want a turnkey property, but would rather have one to do up yourself?
The best places to live in Greece: Where will you buy?
Greece offers overseas buyers an amazing range of geographies, climates and lifestyles to choose from. For a start, it has well over 200 inhabited islands — and each is different. Even within the same island groups, the geography can be strikingly varied.
While it's a only a medium-sized country, three quarters of it is mountainous and barely inhabited. It has a total area just over half the size of the UK, yet with just a sixth of the population. And, all those islands provide a Mediterranean coastline five times longer than Spain's and twice as long as Italy's.
Greece is also relatively undeveloped. Although at the height of summer as many as 150,000 tourists can arrive each day, it still doesn't have the highly developed mass tourist facilities of Spain. You can still find your own unspoiled island paradise here!
A good start is to divide your options into mainland and island groups. Come with us as we take a tour of the country to find where to buy in Greece:
Mainland
Athens and Attica
Central Greece
Peloponnese
Islands
Ionian islands

Corfu
Kefalonia and Ithica

Cyclades

Mykonos
Santorini
Paros
Andros
Syros
Tinos
Naxos

Crete
Dodecanese
Sporades and Evia
Argo-Saronic islands
Round-up guides
The best places to buy a holiday home in Greece
The best places in Greece for families
Cheap places to buy in Greece
The best places to buy for nightlife in Greece
Athens and Attica
Athens, with an urban population of three million, is the oldest western capital city and one of the grandest. It was seriously spruced up for the 2004 Olympics and, until the financial crisis, was wealthy, impressive and confident. Over the past decade, the city has been hit by the financial crisis – and it shows. The amount of graffiti at street level can be off-putting, but will hopefully be removed when civic pride improves, along with the Greek economy and employment. Despite the graffiti and frequent strikes, the city functions well. There are still plenty of people with money to pack out the restaurants and keep the smart shops in business.
Athens offers the possibility of year round life and entertainment, with plenty to do in the winter months and frequent, inexpensive year-round flights from the UK. Most property is in the form of apartment blocks, normally of six storeys. As in any major city, you need to be careful about where you buy. Like any capital city, Athens has plenty of expensive properties in leafy neighbourhoods – consider Kolonaki and Plaka — or apartments in trendy central locations, such as Psiri or Exarchia.
The region surrounding Athens is called Attica, and has good coastal options for properties. However, you will be competing with wealthy Athenians, so they're not cheap. The Apollo Coast, also known as the Athenian Riviera, stretches for 50 kilometres from Piraeus in a series of resorts that are lively for most of the year.
Athens may be one of the greatest cities of the world, but living there can be a little frenetic! So where offers the best of both worlds — countryside, seaside, and a base near the city?
Lake Vouliagmenis
About 20 kilometres from central Athens is Lake Vouliagmenis. You can spend all day there, swimming or just relaxing and putting your feet in the healing water. You can order a snack or three-course meal by the lake, depending on how hungry you are.
It's pleasant to relax near the lake's waters, though beware getting lost in the labyrinthine cave systems. In 1978 three American divers never resurfaced from the subterranean cave system. Local people were fascinated, and various explanations were suggested, including alien abduction until their remains were discovered almost 30 years later.
Some of the mysteries surrounding the Lake have been solved. In 2015 divers mapped part of the cave system, and we now know the mineral composition of the waters. In the past they were thought to mainly consist of salty sea water. Locals speculated about how this might be, as the lake is approximately 50 metres above sea level, and various theories were touted at local and national levels. The Lake's warm waters are reputed to be therapeutic and attract many Greeks. Foreign tourists also visit, although they have been slow to realise that it exists.
Stay all day, or just drop by for an hour, the choice is yours. You could stop at the lake on your way to the Temple of Poseidon and return to Athens after seeing the sunset at Cape Sounion.
Properties: If you like the sound of living near the lake, you could look at property in Vouligmenis. Beware though, it's one of the most expensive areas for properties in Greece. To give you an idea of the prices, a one-bedroom apartment of 50 square metres can go for €290,000. Apartments in the centre of Vouliagmenis go for upwards of €200,000. If you have a few million euros to spare, look here for a villa.
Cape Sounion
Don't miss the temple at Cape Sounion, which marks the end of the Athenian Riviera, not least for the views at sunset. The road to Sounio from Lake Vouliagmenis is characterised by hair-raising bends, but you can return to Athens another way on the Athens-Lavrio road.
There's a large car park close to the temple site and on the way through the car park, look towards the sea. You may be lucky enough to see the bevy of partridges that have made burrows in the mound there. These are protected birds, so although they look plump and tasty, resist temptation. There's a cafe on the way up to the temple, but if you are hungry, there's a very good fish/seafood taverna on the beach below the temple.
There are two tavernas in fact, opposite each other, but the best is the one on your left, Akrogiali, on the beach. Although it is primarily a fish taverna, there is always meat and vegetarian options. The tsipouro is very good so if you are offered any, try it. Wine is sold by the carafe, although you might have to ask for this (it's much cheaper than a bottle).
At sunset the last rays of the sun stream through the temple's Doric columns, making for a spectacular sunset.
The climb to the temple is worth the effort for the view. Legend says that King Aegeus threw himself off the clifftop where he had been on the lookout for his son Theseus's ships. Theseus had gone to Crete to kill the minotaur, and if his mission was successful, he had arranged with his father that he would raise white sails. Unfortunately, he failed to do this, and on seeing black sails on his son's ship, the grief-stricken king plunged to his death as he believed his son had been killed. At sunset the last rays of the sun stream through the temple's Doric columns, making for a spectacular sunset.
Properties: If you would like to live near Sounion, you might want to consider a maisonette, which could be yours for €500,000 with an outdoor swimming pool, or a detached four-bedroom house with pool for €1,200,000.
Lavrio
Lavrio is a port not generally on a tourist's itinerary. The nearby ancient quarry of Agrilesa supplied the marble used for the construction of the Temple of Poseidon at Sounio, which is just four kilometres away. Marble from the quarry and silver from the mines near Lavrio were exported from its ancient harbour.
You might want to check ferry times from Lavrio to the small island of Kea and take a short break away from Athens. Ferries from Lavrio go to the Cycladic group of islands. In winter ferries are few and far between, but they do go to Kea twice a week.
While in Lavrio, visit the Archeological Museum where artefacts from the Temple of Poseidon are housed. If you are interested, there is also a 'mineralogical' museum. Modern Lavrio was mainly built in the 19th and 20th centuries, so, for me, it is simply a place to stop for a short break and enjoy an ice cream or a frappe.
Property: Property prices are cheaper in Lavrio. If you want a one-bedroom apartment on the ground floor which is in need of renovation, it will set you back €24,000, but renovations don't come cheaply. A new 81 square metre apartment on a first floor will set you back €125,000. Prices increase, but are usually around the €100,000 mark.
Corinth
The modern town of Corinth is the gateway to the Peloponnese. It is around an hour's drive from Athens, depending on the traffic. To get to the town you cross the Corinth Canal, and can stop to take photos from the bridge. Park in the carpark after crossing the bridge and have a coffee before you go on to explore Ancient Corinth. There's a folk museum in the town which houses traditional Greek costumes dating from the 18th and 19th centuries. Corinth also has a beach area.
Ancient Corinth is about 9 kilometres from the city centre, with ample parking. You can join a guided tour or stroll around the ruins on your own. Don't miss the onsite museum.
You may want to go up to Akrocorinth before you leave the area. It's worth going up to it for the views. There's also a taverna where you can usually get something to eat. The owners are friendly and welcoming, although they don't speak much English. This could be your chance to practise your Greek with strangers. The last stretch of the road to the fortress is bumpy, but it isn't far to the car park or the taverna.
It is usually very windy when you get to the car park and however hot it is in Corinth, take a jacket or wrap as it's cold when you get near the top of the hill. The climb from the ancient gates to the top of the city will warm you up, although you might be out of breath when you get there.
The fortress was added to by various civilisations who took advantage of its strategic position. You can see remains from the ancient Greeks, Byzantines, Italians and Ottomans, to name but a few of the peoples who once controlled the citadel.
You might want to return to this fortress, as it is impossible to see the whole site in one visit, unless you are very energetic. This is a memorable site which I have never seen crowded.
Property: Properties in the town of Corinth range in price and the cheaper ones are old. For example, a two-bedroom detached house can go for €40,000. The closer to the town the cheaper the property. Some small studio flats sell for €23,500. for example. There is a range of prices which go up to more than €1,000,000 for villas.
Loutraki
Loutraki, a pleasant seaside town with hot springs, is about 80 kilometres west of Athens. Since ancient times people have been visiting Loutraki because of its therapeutic mineral waters. Modern tourists also visit because of its casino.
Above the town are several tavernas with some amazing views of the town and the sea. If you wish to explore the Loutraki area further, you might want to visit another Lake Vouliagmenis, which is 16 kilometres northwest of Loutraki. This lake is bigger than the one near Athens but it's very beautiful and worth a visit in my opinion.
Another place worth visiting near Loutraki is Perachora, famous for its wine. There are several ancient sites in the area too, those of Peraea, Oenoe and the temple of Hera for example.
Property: Property prices in Loutraki range from €36,000 euros for a small, (59 square metre), two-bedroom detached house on the beach to over a €1,000,000 for villas. There are, of course, different types of property, in various states of repair, for prices in between these extremes.
Central Greece
It's never very hard to escape the tourist side of Greece, but the central mainland of Greece feels like little has changed for hundreds of years. It's rural, with the vast plain of Thessaly filled with wheat fields, cattle farms and orchards, surrounded by mountains, forests and the sea.
It's here that you see monasteries built on outrageously high cliffs. Houses are inexpensive, built from the local red stone, usually half timbered. You are in deepest Greece here, more like the rest of the Balkan region to which Greece belongs. The region can be cold and wet with heavy snowfall.
There are coastal resorts too. On the Aegean coast consider the Pelion peninsula. It's a little pricey, but relatively easy to each via the port and airport at Volos. On the Ionian coast, the resort of Parga is famous for its beauty.
Peloponnese
The Peloponnese is a large section of Greece, home to 10% of the population and dripping with history, including Ancient Olympia — site of the original Olympic Games — Mycenae and Corinth. It has snow-capped mountains, lush valleys, fertile plains, and a sensational coastline.
For foodies, the local produce is known to be exceptional, especially the locally grown Kalamata olives. Like the centre of Greece, the Peloponnese has undeveloped areas that rarely see tourists or international homebuyers. On the other hand, there are also über upmarket resorts like Costa Navarino and Amazanoe. The Beckham family has been known to vacation here.
Ionian islands
The seven main Ionian islands include the ever-popular Corfu and the increasingly popular Kefalonia. Being the closest part of Greece to the UK, the Ionian islands offer the option of travelling overland via France and Italy and then by ferry.
The property market in Kefalonia has been boosted by direct flights in summer. Property here is more likely to be modern and purpose built holiday villas and apartments. Zakynthos has been a tourist favourite for decades, offering both easy summertime access and a good chance of holiday rental income.
Corfu
Corfu has a long tradition of welcoming British expats — most famously the Durrell family in the 1930s — and the several thousand British residents even have their own cricket teams. The island also has a UNESCO heritage old town, and is also popular for its olive and pine groves and secluded sandy bays. Corfu Town has an attractive Italianate waterfront while the northwest corner of the island's nickname "Kensington On Sea" may give you an idea of the usual clientele and prices there.
Getting to Corfu
During the summer there are flights to Corfu galore, although in winter they are much more restricted and usually involve a flight via Athens or Thessaloniki. There are also ferry services from the Greek mainland and the Italian coast. Taking the train and ferry is also possible, usually via Paris and Milan, then ferry from Bari or Brindisi.
Where to live
Corfu isn't a big island, around 20 miles wide at its widest point and 40 miles long, north to south. The north of Corfu has traditionally been the place for holiday homes, especially the north-east coast around Kalami (where the Durrells lived) and the fishing village Agios Stephanos, which has been compared to Padstow for its combination of rustic seaside charm and upmarket dining.
Even here though, the island is unspoiled, with the pretty bay of Kassiopi overlooked by tavernas and restaurants, but not by high-rise apartment blocks. When you consider the rough time Greece has been through economically, the fact that it has refused to sell out to developers and trash its own environment is to be admired.
The north is more mountainous and as you head south the island both flattens and narrows. In the middle of the island is Corfu town, with beautiful Venetian style homes in warm stone. Architecture generally here is much more Italianate than the white boxes and blue roofs of Greece's more easterly islands. The café lifestyle is the same as for centuries, and in the winter when much of the warmth stays but most of the tourists go home, it offers that truly inspirational Mediterranean lifestyle, full of tradition and parties and joy.
A little below Corfu Town are resorts like Benitsis, all beach umbrellas and nightclubs, repeated at the very southern tip of the island at Kavos. But there are more traditional fishing villages dotted between, places like Petriti and Boukari.
Property prices
If you wanted to do like Louisa Durrell and acquire somewhere old and beautiful for a reasonable price, you might have to forego the sea views, but there are plenty of older properties awaiting renovation in the centre of the island. In places Corfu is only three or four miles wide, though, so you are never far from the sea.
Just because of the island's fame, don't assume it is unaffordable. A mid-range three-bedroom villa in Corfu goes for around €200,000, and although you might need to treble that around Kalami, where many properties are availale for under €100,000. Properties on the north-east coast of the island have been sold for as high as €5 million in the last few years, but near Kassiopi you can easily find a three-bedroom cottage or a renovated townhouse for around €200,000.
Kefalonia and Ithica
Kefalonia, famous for the story of Captain Corelli's Mandolin, is made for tourists who decide to stay, with purpose-built modern holiday villas and apartments. You can find apartments here for less than €100,000. The island of Zakynthos is another favourite with expats and tourists, thanks to its easy summertime access and the possibility of holiday rental income.
Kefalonia and its small sister island Ithaca sit in the Ionian Sea, just off the coast of Aetolia in Western Greece. They're known for their spectacular beaches — you've probably seen Myrtos in countless travel brochures. Expats looking to buy property in Kefalonia or over in Ithaca will find a laid-back lifestyle and fantastic weather. But, with so many pretty villages to choose from, where are the best places to purchase? Keep reading to find out in our area guide to Kefalonia and Ithaca.
What's it like living on Kefalonia?
This is above all a rural island, with a slow pace of life. While this might not appeal to city-lovers, you're in the right place if you want peace and quiet. The island's only around 300 square miles in total, with a low population density. Its main attractions are the countryside: the turquoise waters of Melissani Lake and Cave are a popular sight. All around the island, you'll find poppy fields, giving a red burst of colour to the landscape.
We can't mention Kefalonia without talking about the beaches. For a small island, there are plenty to choose from. One of the most famous is Myrtos, whose white sands and mountainous backdrop have featured in numerous adverts and brochures. You can access it by a steep road from the village of Divarata. A more unusual option is Xi, near Lixouri. Its bright orange-red sands make it particularly distinctive. It's a good place to go for a day out – there are plenty of tavernas and bars nearby.
And what about Ithaca?
Ithaca may be smaller than Kefalonia, but it occupies a big place in Greek mythology. It was supposedly once home to Odysseus, hero of the Odyssey. You can easily reach it within forty minutes by ferry from Sami in Kefalonia. The island's divided into two main areas, connected by a narrow isthmus. Vathi, in the south is the capital. In the north, the largest village is Stavros.
Vathi is a bit of a hotspot with local sailing enthusiasts, as it has one of the safest natural harbours in Greece. Perachori, the largest village on the island, isn't dissimilar to other typical villages. However, its upper reaches offer breath-taking views across Vathi, the Ionian Sea and right over to Patra. Most beaches are pebbly, but Loutsa Beach is sandy. You can access it via the coat road from Ithaca.
How is transport and access?
Public transport on the islands itself is virtually non-existent. As such, you really will need your own car to get around. There are buses around twice daily from Argostoli to beach areas like Skala. Generally, however, don't rely on the service.
To get to Ithaca, there's a ferry route from Sami in Kefalonia. It lands at Pisaetos, in the south of the island. It makes around four crossings a day in summer and two in winter. The journey takes between 25 and 40 minutes.
How are the essential services?
Schooling, as in much of Greece, is firmly of the local variety. There are no international schools in Kefalonia. For your weekly shop, the main large supermarkets are Lidl and AB, both just outside Argostoli. There's a branch of Spar in Argostoli itself, and (more expensive) minimarkets around the island. Rubbish collection takes place seven days a week from communal points in the streets.
What sort of property is available?
Kefalonia and Ithaca are, as mentioned above, part of the Ionian Islands. They've had a great deal of Italian influence. Of course, the most recent was the occupation, but the earlier almost 200 years of Venetian rule also had a great impact. The local architecture has fewer of the 'typical' whitewashed homes that you see if you're buying in the Cyclades. Instead, most homes have a more Italian feel, with pastel colours and terracotta tiles.
If you're going to buy in Kefalonia, do take into account the possibility of earthquakes. The last major one in the Ionian islands was in the 1950s, but it's good to be careful. Most local homes are built with a steel-reinforced concrete shell for extra safety. Do make sure that any property you're viewing or renovating has one. Summer here in the Ionian islands is glorious and winter is mild, but it can still get chilly and rainy. Some houses don't have damp-proofing, so, again, do double-check.
Most houses are detached here, so you'll always have a good level of privacy. There are plenty of modern villas as well, which generally feature a more modern open-plan layout. Many young people leave for the mainland for work and don't take on old family homes. As such, you can also find renovation projects if you want one.
Where are the best places to buy property in Kefalonia?
The island is small, so you're never really far from anything. That said, you will still find differences in price, property and lifestyle depending on where you are. On the island as a whole, the average price is around €950 per square metre. That average, however, is skewed by the relatively small number of properties and the wide range between luxury and basic.
Argostoli
Argostoli is the capital of the island and its busiest settlement. Lithostroto is the main pedestrianised throughfare, lined with shops and stalls. The Kefalonia Botanical Garden's a peaceful area to while away an afternoon. The area around the harbour's popular for a stroll, being largely pedestrianised and lined with palms. Nearby Markos Gialos Beach is great for watersports.
You can find apartments for around €120,000 and homes in good condition for a lot more – normally around €700,000 with a pool. A sea view will add a premium.
Leivatho Peninsula
If you're looking to buy property in Kefalonia for the beach, you're in the right place. There are plenty around here, including Louvrata.If you're looking to buy property in Kefalonia for the beach, you're in the right place. There are plenty around here, including Louvrata.
This is quite an affluent area of the island, but its relative remoteness keeps prices a little further down. Ainos Oros is located here, which is fantastic for walkers. There are a number of popular beaches in the vicinity, including the very long stretch of Lourdata. Some of the more favoured villages among expats include Spartia and Trepazaki.
Modern, 'architect-designed' villas can run into €2,000,000. Don't worry, however, as more traditional townhouses with plenty of space are usually around €250,000.
Fiskardo
Fiskardo is incredibly popular with both tourists and expats looking to buy property in Kefalonia. It's small but lively, with plenty to do. The island is incredibly popular with both tourists and expats looking to buy property in Kefalonia. It's small but lively, with plenty to do.
Head right up to the very tip of the island and you're in Fikardo. Houses here range between around €300,000-€600,000 for detached properties. If you're looking to buy property in Kefalonia for less, you can head further out of the village into the mountains. Here, you can find two-bedroom houses valued at around €250,000.
The town's nicknamed the 'St Tropez of Kefalonia' and has plenty to do. Its waterfront is lined with cafés and bars, many built in that Ionian mix of Greek and Italian architectural styles. The surrounding area is densely wooded; the government has declared it an area of natural beauty.
Where to buy in Ithaca?
This even smaller island only has a few small villages, but they do each have their own charm and character. Here's where you might want to consider buying.
Vathi
Vathi is, of course, the capital and has a stunning location by the water. You can easily find detached stone houses with sea views for prices around €120,000. For historic, Italian-style mansions or villas with pools, you're looking more at €300,000 and up.
As we mentioned above, the bay is especially sheltered, being an offshoot of the main bay. As such, this is a great place to live if you're into boating.
Kioni
Up in Kioni, also on the east coast, prices are higher. This is a popular resort, and the seafront has lots of tavernas, bars and restaurants. Like most villages on Ithaca, it's 'amphitheatrical' (a term you will see a lot from local estate agents!). This means that it's built around the bay like an amphitheatre, so most properties have some kind of sea view.
A detached house here will set you back around €450,000. You can find properties as low as €100,000, but they will generally be in poor condition. If you are looking for a renovation project, however, that can be great value.
Cyclades islands
In the centre Aegean sea, you find the 30 Cyclades islands, including Mykonos and Santorini. These are the islands where every tourist brochure features the traditional cuboid, whitewashed Greek homes and buildings with brightly coloured domes and terraces.
This group of islands in the central Aegean is easy to reach from Athens by ferry or plane, or direct flights run from the UK into Mykonos and Santorini. The traditional architecture is whitewashed cubes with small white windows and brightly coloured domes and terraces. However, you can just as easily find a modern villa.
The Cyclades offer a wide choice, from the wild summertime hedonism of Mykonos and Ios to the breath-taking beauty (and crowds) of Santorini or the quiet charm of Syros. The islands are mobbed in summer and quiet in winter, although not completely closed down. Santorini in particular is trying to improve year-round access. The busier islands have some of Greece's most expensive property, but they also offer the best holiday rental returns.
One problem with Greek islands in general – although you may see it as a plus – is that while busy in the summertime, they are generally very quiet in winter. In Santorini and Mykonos, however, the tourist authorities are beginning to open more hotels and attractions in winter too. Many are working to improve year-round access. Property prices on these islands are some of the most expensive, but this does mean that they have high holiday rental returns.
Mykonos
Mykonos is one of the most well-known islands in Greece, idealised for its white-washed houses with blue roofs, perfectly mirroring its white sandy beaches and azure seas. If you are looking for a classy seaside home but also great nightlife, look no further than Mykonos. Mykonos is easily accessible from mainland Greece, with a five-hour ferry trip or a 25 minute flight from Athens.
The island has a typical Mediterranean climate, with around 300 days of sunshine a year. Temperatures can rise as high as 40⁰C in the summer, with the hot, dry "meltemi" wind blowing off the sea. In the winter, the average high temperature is 15⁰C and frost very rare. Although mild, the weather will occasionally be wet.
The seven iconic white windmills that overlook the harbour at Mykonos Town hint at the fact that the island is rarely without a breeze — designer sarongs dry especially fast there. In total the island has 16 windmills, which used to grind the grain of passing ships and were important for the local economy. These days they serve either as a tourist attraction or, in some cases, a quirky home.
In Mykonos, the west coast is where all the action happens. Here you'll find the most desirable areas to own a home, including Mykonos Town, also known as Chora. It has an ancient harbour and the picturesque 'Little Venice' quarter. Other hot spots on this coastline include Agios Lazaros, Agia Sofia, Tourlos and Houlakia. Set back a bit from the jetsetters, gay-friendly Elia has the island's longest beach. Platis Gialos is one of the oldest resorts on the island and is a more laid-back option. Mykonos is not cheap. For a small, detached villa outside of the more fashionable areas and with no pool, don't expect a lot of choice for under €500,000.
Your options (for a villa) increase significantly with a budget of €1,000,000 and up. Mykonos achieves one of the highest yields from holiday lets of all the Cyclades islands, according to local agents. The most desirable multi-million-euro villas can be let for as much as €10,000 or €20,000 in high season. On many islands, you could buy a whole home for that! Paros and Santorini are the next best earners. Mykonos and Ios offer the hedonistic lifestyle, while Santorini is known for its beauty.
Mykonos achieves one of the highest yields from holiday lets of all the Cyclades islands, according to local agents. The most desirable multi-million-euro villas can achieve between €10,000 and €30,000 a week in high season. Paros and Santorini are the next best earners.
Santorini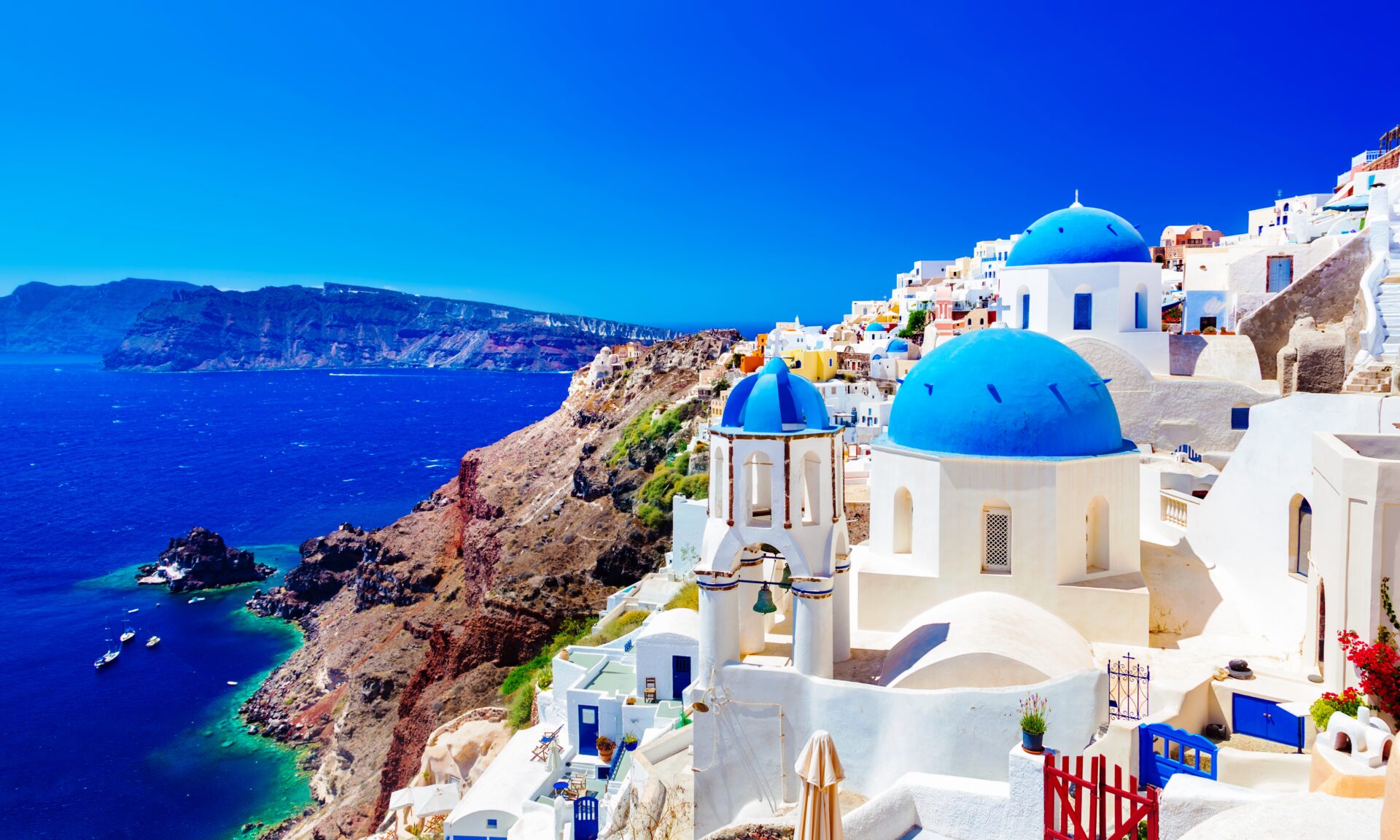 Santorini, formed after an enormous volcanic eruption, is known as one of the most romantic islands of Greece, and is popular for destination weddings and for having one of the best sunsets in the world in Oia. Where could be more perfect to start your new life abroad with your loved ones?
The island is one of the most beautiful in Greece, if not the world, with white-washed houses, centuries of historical architecture and its unique beaches – its volcanic landscape means you can often find black pebbled beaches, and its famous Red Beach.
Its popularity and beauty means that Santorini is one of the more expensive parts of Greece to buy property. In Pyrgos, one of the larger villages on the island, for example, generally a three- to four-bedroom property will set you back around €400,000. This also means that if you decide to rent out your property in the summer months, you can expect to receive a premium.
Like Mykonos, Santorini is also easily accessible from mainland Greece in summer, with a choice of at least 20 flights per day from Athens. You can also take a boat, all year, in around five to seven hours.
Paros
Paros sits at the opposite end of the scale to Mykonos when it comes to tourist crowds and hype. This sedate atmosphere has helped the island to preserve its traditional spirit in a way others have not. While the landscape isn't as dramatic as somewhere like Naxos, it certainly doesn't come up short in terms of whitewashed villages, blue-domed churches, golden sand beaches and fishing harbours. Head to villages like Naoussa and Lefkes and the beaches on the south-eastern side of the island to find out for yourself. Parikia is the capital and main port of Paros, with its pretty old town, ferry port and convenient access to some of the island's best beaches.
The unrivalled Byzantine footpaths connecting traditional villages and the breath-taking landscape they cross, make walking a popular mode of transport around here. If you fancy trying something that will get your heart pumping a little faster, there are plenty of opportunities to go windsurfing, kite-surfing and diving.
Andros
The second-largest island of the Cyclades and the northernmost of the group, Andros has a rugged landscape, with wild mountains, rushing rivers, waterfalls, untouched beaches and ancient stone mills. Its close proximity to Athens – it's just a two hour ferry ride from Rafina – makes it a popular choice with property buyers who need convenient access to the mainland.
The island's capital Hora owes its grand mansions, neoclassical houses and squares to Venetian settlement and its rich seafaring history. Built on a narrow peninsular stretching out from the shore that is tipped by the remains of a Venetian fortress, the town has an impressive artistic pedigree. Its Museum of Contemporary Art, combined with an array of artists' studios and small galleries, ensure it's bursting with culture. Other popular villages to consider on your viewing trip include Batsi, Gaviro, Menites, Ormos, Stenies and Mesathouri.
Beach lovers should take their towel and parasol and head to the western side of the island, where they can spend lazy days on beaches such as Agios Petros, Batsi and Golden Sand (Chrissi Ammos). If you fancy something a bit more energetic, Ormos on the eastern side is popular with windsurfers and other water sports enthusiasts.
Syros
Syros is popular with those looking for a more quiet life. Despite being one of the smallest islands of the Cyclades, its status as the legal and administrative centre of the entire archipelago means Syros has a surprisingly large population. It serves as a transportation hub for the northern islands via the ferry port in the capital Ermoupoli. This gem of a Cycladic town owes its name to Hermes, the god of trade. Its illustrious past – it was Greece's main port once upon a time – is perfectly demonstrated by its historic mansions, marble paved streets and squares, imposing churches, monuments, statues and well preserved neoclassical buildings.
While Ermoupoli is a hive of energy without being overrun by tourists, the rural villages dotted throughout the rest of the island are small and quaint. A fine example is Ano Syros with its distinctive mix of Venetian and the Cycladic architecture.
Improvements to the British diet in recent decades can be traced back to Syros. A young woman from deepest Sussex who came to live here in in the 1940s was Elizabeth David. She is credited with bringing the tastes of the Mediterranean to the British palate.
Tinos
Tinos is an island of great religious significance. Twice a year — on 25 March and 15 August — Greek pilgrims visit the church of Panagia Megalochari (the Blessed Virgin Mary) in Tinos Town, in the belief that it protects the entire country. Overseas travellers make a pilgrimage of their own to sample the beautiful beaches, crystal-clear seas and traditional mountain villages. Pyrgos, Kardiani and Isternia are among the most beautiful on the island. Tinos Town itself is home to the island's main harbour and has welcomed in the tourists — and pilgrims — providing visitors with everything they need.
The southern shores of the island are where you'll find the best beaches with the best facilities, including Agios Ioannis Porto, Agios Sostis, Agios Romanos and Kionia. Tinos is among the few Greek islands where you can go surfing. Head to Kolymbithra beach if you want to "hang 10".
Naxos
Naxos is the largest of the Cyclades, and with its highest point of 3,284 feet also the loftiest in the archipelago. The rain clouds that form around the mountain peaks ensure the island is more fertile and verdant than its neighbours. This is great news for lovers of fresh Mediterranean produce, particularly olives, grapes, figs, citrus fruit, corn and potatoes. Explore the island's rugged interior and you will pass through scenic mountain villages like Apiranthos, Sangri, Halki and Koronos.
Its main town Hora (known also as Naxos) is comprised of steep cobbled lanes that form an old quarter known as the Kástro and a lovely waterfront. The island has a low-key vibe away from Hora. Here you'll find isolated beaches and a scattering of towers, monasteries and mansions left by the Venetians and their descendants. The ace up the island's sleeve is its south-west-facing coast, which forms one long sweeping beach from the resort of Ágios Prokópios to Agiassós on the south cape.
Crete
Crete has traditionally been one of the most popular parts of Greece with overseas buyers, thanks to its climate, cultural heritage and beautiful landscapes. It is the southernmost part of the country and the biggest island in Greece. It is beloved by both tourists and expats alike, no matter their interests and passions. Whether they spend their days by the beach or exploring the various sights and places from the island's rich history, from the Minoan civilisation to the foundations of Ancient Greece.
The climate here is one of the mildest and healthiest in Europe. With a short and mild winter and a temperature that rarely drops below 13°C. There is a large and vibrant expat community across the island. Particularly in the northern parts, and for this reason it was largely insulated from the worst effects of the economic downturn that Greece experienced in recent times.
Crete is divided into four regions: Heraklion, Chania, Rethymno and Lassiti. Properties across the island can be found nestled by ancient ruins and untouched nature, fauna and flora. They are no more expensive than you can find on mainland Greece.
Heraklion
This is the largest region of Crete and the island's administrative centre. It is home to several popular tourist destinations, such as Khersonissos, Malia, Stalida and Agia Pelayga. Many people choose to buy property here, particularly those who wish to enter the rental market. In addition to the beaches, coves and bays, there is the large Heraklion International airport. As well as numerous churches from various different ages and the world famous Knossos palace. Here you can find two-bedroom villas for around €300,000. Although luxurious properties are also available for over €1,000,000 if that's your budget!
Chania
Chania is home to the cities of Georgiupolis, Kurnas, Chania and Agi Marina. It is the greenest part of the island as it rains here more than anwhere else. Here you can find the White Mountains, covered with cypress forests and luxurious Crete vegetation. It is also famous for the Samaria canyon, one of the largest in Europe, with a trekking route for 18km — a six or seven hour walk. Inside the canyon you can find ancient churches and renovated traditional Crete houses. You can find beautiful property here for around €200,000 or even less.
Rethymno
The region of Rethymno consists of the city of Rethymno, Panormo, Plakyas, Agia Galini and Bali. It is the main exporter of famous sweet wine Malvasia, made in the next door Malevisiu Valley. It is also popular for its breath-taking views, mountains, beaches and traditional Greek villages. There is a stunning 16km sandy beach across the northern part of the region. Local property and architecture has a clear Venetian influence. The city has a celebration of history with the Rimondi fountain and numerous famous fortresses and monasteries. Property prices here are cheaper, and a two-bedroom house can easily be found for less than €100,000.
Lassiti
Lassiti is home to the cities of Agios Nikolaos, Elunda, Istron, Ieroperta and Sitya, on the east of the island. The location is most popular due to its fertile valleys and spacious beaches, including the renowned Finikodassos beach and Mirabello Bay — the largest in Crete. The administrative centre of Lassiti is Agios Nikolaos, whose symbol is the Voulismeni Lake, where the goddess Athena is said to have bathed. Here you can find a townhouse or apartment for around €200,000. The popular location of Elunda is in this region, with Spinalonga island and its Venetian fortress in the mouth of Mirabella bay. This area is popular with royals and celebrities, and property here is some of the most exclusive and luxurious on the island. Surrounded by expensive hotels, gold courses, yacht clubs and boutiques. Property here starts from around €320,000 but can also reach considerably higher prices.
Dodecanese islands
The most south easterly and sunniest islands in Greece include the tourist favourite Rhodes, which has a good choice of tourist style apartments in hedonistic spots like Faliraki, but also attractive village properties. World famous designer Terence Conran, creator of Habitat, chose Rhodes for a holiday home. Other islands in the group include Kos, increasingly popular among buyers for its year round warmth and sunshine. Kalymnos is easy to reach by boat from Kos and has an attractive port, while Karpathos is famous for its beaches and has an airport.
Kos
Being just a mile or two from the Turkish coast, Kos was the crossing point for thousands of migrants between 2015 and 2016. The traffic has slowed to a trickle from that direction again, and the tourists and British residents have returned. Most of all though, it's a very traditional Greek island. Around 30,000 people live permanently on Kos, so there is enough to do all year and properties can be rented out for a fortune in summer, if you want to go down that route. Do beware the Greek taxman, however, who is hot on the heels of foreign residents with tourist rentals, so all income must be declared.
Kos has mountains along its southern coast, but the north is flatter. That makes it a popular option for cycling, and retirement! The beaches are gloriously sandy and if all that cycling and swimming don't keep you healthy, you're in the right place — Kos was the birthplace of Hippocrates, "father of medicine". Like most Greek islands, the main town has the same name. There are also some attractive villages, including Kefalos at the far end of the island from Kos town (along a single road everyone knows everyone on Kos) and Mastichari on the northern coast.
As usual in Mediterranean tourist areas, there is cheap property to be had (under €50,000) but it will be a little insalubrious. For anything "nice", you should budget for in excess of €100,000 for an apartment and double that for a villa. Do make sure that earthquake-proofing and insurance is in place — the island has been subject to some severe shakes in recent years.
Lesbos
Lesbos has three times more coastline than Kos (and three times more people, around 100,000). It's been too large an island for any nearby adventurer or invader to ignore throughout history, so it has prehistoric, Neolithic, Roman and ancient Greek ruins. You won't want to miss the World of Ouzo Museum or the petrified forest.
The capital and largest city is Mytilene, on the south-east coast. You could start your property search there, in Eresos, which generally has plenty of attractive properties for sale at around €200,000. Kalloni and Mithymna are also good possibilities. Don't ignore the interior either. It's a mountainous island, with attractive country areas and lovely villages. The island isn't huge (around 70km wide) and there is a huge bay in the middle, so even if you buy inland you're never too far from a gorgeous sea view.
If you're thinking that Lesbos will offer a wild LGBT party scene, like Mykonos, you might be disappointed. It tends to attract a more mature and quieter sort of tourist and overseas resident.
Property in Lesbos is not generally expensive. You can buy renovation projects from little over €20,000, and nice village houses for under €100,000.
Rhodes
Rhodes is a similar size to Lesbos, with a similar population, and the most far-flung of the Greek islands. It is also the sunniest spot in Greece, with well over 3,000 hours of sunshine per year (twice as much as most places in the UK). The centre of the island is mountainous, with Mount Attavyros stretching to over 1,200 metres. Below it are forests of pine and cypress, plus vineyards, orchards and olive groves. There is no shortage of bucolic beauty in its inland villages.
If you are ready to buy a home in Greece, you'll have a few financial matters to sort out, the biggest of which is likely to be currency. For step-by-step guidance on changing your money and paying for your property, download the Property Buyer's Guide to Currency.
Resorts and coastal villages include Faliraki, Lindos and Kiotari, where beachfront apartments go from €150,000. More expensive is Lindos, on the eastern coast, where you can watch the sun rise over the Mediterranean from your million-euro villa, like British designer Jasper Conran.
Properties start at between €50,000 and €100,000 in Rhodes, with two-bedroom beachfront apartments or small villas away from the front from €207,000. In Lindos, you could pay considerably more, in excess of €500,000 for a top-quality villa, although some are available for under €300,000.
Sporades islands and Evia
The Sporades featured in that wonderful evocation of the expat lifestyle in Greece, Mamma Mia! In the movie, the heroes had met in a wild and hedonistic atmosphere of the Sporades in the 1970s. However, that has largely been replaced in Skiathos by family oriented package holidays and foreign residents.
Skopelos, where it was filmed, is one of the larger islands, but relatively unspoiled. It is known for its traditional stone farmhouses called kalyvia. They are often only occupied at harvest time, when extended families come from all over Greece to bring in the crop. Skiathos is more famous as a holiday resort, one of Greece's most beautiful islands, even with the fierce competition. It is easy to access in the summertime.
There's no airport on Skopelos, which is in the Sporades islands in the Western Aegean. But it's quite easy to reach via the airport on the nearby island of Skiathos and then water taxi, which takes around 15 minutes. It feels that little bit extra special when you arrive in Skopelos by water taxi. A year-round option is to fly into either Athens or Thessaloniki and get the ferry from Agios Konstantinos or Volos, of which there are several each day.
You can just about walk across Skopelos in a day, being around 25 kilometres long. And what a beautiful walk it would be, through the green hills, among goats and sheep used to make local feta cheese, through plum orchards and almond, oak and pine trees. The Mediterranean always shimmering in the distance. Eagles, owls and great cormorants float on the thermals and strong sea breezes.
The large island of Evia can be reached by car from Athens in under two hours and its quiet seaside resorts such as Limni and Loutra Aidipsou and attractive inland villages are more popular with weekending Athenians than international buyers. The north is more attractive than the dryer south.
Argo-Saronic islands
The islands closest to Athens are busy all year and have relatively expensive property. But their convenience for Athenians is just as useful for the rest of us off-season, when flights and ferries to further-flung islands are limited. Aegina is the most convenient from Athens at around an hour by sea, depending on your choice of vessel. The interior is green and mountainous, and the beaches are especially nice. Property is expensive, though. The islands of Hydra and Spetses are car free and among the most expensive in Greece.
The best places to buy a holiday home in Greece
Before you begin your very own Greek Odyssey you must decide where to buy a holiday home here. Somewhere you can visit whenever you choose to enjoy the delicious food, fascinating history, rich culture and stunning weather! Will it be on one of the 227 islands, or the diverse mainland?
From Crete standing sentry to the Aegean in the south, to Thessaloniki — Greece's second largest city — in the north, there's appealing destinations aplenty. Here are some of our favourites to help you make up your mind.
Crete
Crete, the largest and most populated of the Greek islands, is practically a country in its own right. Its diverse landscape extends from the tips of the snow-capped White Mountains to the shores of its sun-drenched beaches. In-between you'll discover rugged canyons, villages nestled in picturesque valleys, vast gorges and rolling hills. You might even stumble across the cave Zeus is said to have been born in.
Having landed or docked in the island's capital, Heraklion, you have several choices. Head west and you'll reach the Venetian influenced towns of Rethymnon and Chania. Venture east and you'll reach one of the island's main resorts, Agios ikolaos. Known to Brits as Ag Nik, it has managed to retain much of its traditional charm, unlike some of its contemporaries elsewhere in the Aegean. Wherever you decide to purchase your pad you won't have any trouble settling in. Crete is home to a year-round British and northern European expat crowd.
Zakynthos (Zante)
Zakynthos — Zante in Italian — is located in the Ionian Sea off the country's west coast. Package tourism convenience can be found along its eastern shoreline in resorts like Laganas and Tsilivi. Aesthetic appeal courtesy of mother nature comes in the form of forested mountains in the central regions that slope down to white sand beaches on the western shore. The iconic Navagio beach, (aka "shipwreck beach") is a perfect example. The limestone cliffs and turquoise water that laps them will leave you with no doubt as to why it's considered one of the most picturesque in Europe. Getting here from the UK is a breeze thanks to direct flights from 13 airports.
Mykonos
When it comes to trendy sun-kissed hedonism in Europe, Ibiza doesn't have the monopoly. With the jet set elite stepping off super yachts into its beachfront bars and boutique shops, Mykonos provides its own party lifestyle in glamourous surroundings.
The west coast is where it's at if you want a good time. It's also home to the most desirable places to own a holiday home. Mykonos Town, with its ancient harbour and picturesque 'Little Venice' quarter, is the island's liveliest spot. Agios Lazaros, Agia Sofia, Tourlos and Houlakia are worth checking out on a viewing trip. Platis Gialos is a more laid-back option in a more traditional setting.
Athens
Known as the cradle of western civilisation, Athens is home to 2,500 years of history. Buy here and you'll have the most famous ancient site in the Western world — the Acropolis — on your doorstep.
Life in contemporary Athens is equally interesting. For a start, the vibrant nightlife in its hip bars and cafes gives the city an infectious energy. Check out the picturesque Palaka neighbourhood to enjoy cobbled streets, boutiques, period architecture and sunny piazzas. Located near the Acropolis is the sleepy hillside village of Anafiotika — an urban slice of Cycladic island life, with its labyrinth of alleyways connecting whitewashed houses. Metaxourgiou is fast gaining a reputation for offering a hip alternative to more traditional areas, with its art galleries and trendy food joints.
The best bit is property in Athens — typically apartments — is often cheaper than other European capital cities like Lisbon, Madrid, Berlin, Vienna and Paris.
Peloponnese
The Peloponnese region in southern mainland Greece has an impressive historic pedigree, both mythological and sporting. Not only are Hercules, Paris of Troy and the Argonauts are all linked to the peninsula, it's the birthplace of the Olympic Games.
Mythological charms aside, the Peloponnese has a diverse landscape where snow-capped mountains and vast gorges sweep down to sandy beaches lapped by crystal clear waters. Deciding where to head on your viewing trip to the region can be a tricky task given the plethora of attractive towns and villages. Navplio is a charming Venetian town and Pylos has a splendid natural harbour. Astros, Sofiko, Nea Epidarios, Nea Kios and Nafplio should also be included on your list.
Thessaloniki
Greece's second largest city sits on the banks of the Thermaic Gulf, in the northwest corner of the Aegean Sea. The symmetry of the buildings — constructed following a huge fire in the 20th century — makes Thessaloniki easy on the eye. As does the Parisian inspired tree-lined boulevards, spacious squares and pedestrianised walkways. Down on the waterfront you find an intriguing combination of historic and contemporary. The old port and its shiny new sibling both offer spectacular views, magical sunsets and a vibrant café culture – it's the home of the frappe.
Evia
Evia offers the best of both worlds. On the one hand, you can enjoy typical Greek island life, with easy access to the coast and inland mountains, numerous excellent beaches and just a general lack of bustle and rush. On the other hand, since the bridge opened, Evia is accessible by train from Athens, meaning you can easily visit the island even in the winter months. Perfect for anyone looking to spend winter in the sun!
The southern and northern tips of Evia are generally the most picturesque, with the centre a bit more developed. In the north, Edipsos is famous for its 80 hot springs and its historic architecture. Head south to Karystos and you'll find some of the island's best beaches, as well as excellent restaurants around the beautiful harbour. If you are looking more centrally for property in Greece, try the village of Amarynthos, also known as Vathia. Located by the sea, it also has easy access to the Skotini plain, with its mountain biking trails and many Byzantine churches and monasteries.
A detached house costs around €250,000-€400,000, although prices can run lower in the centre.
Pelion
The unspoilt Pelion peninsula, named for its central mountain, is authentic Greece at its finest. While within easy driving distance of Athens, its mountainous terrain has protected it from overdevelopment and the largest settlements you'll find here are small fishing villages or mountain towns clustered around historic monasteries.
Agios Ioannis, on the Aegean coast, is a fantastic little village to buy a holiday home. It has a large sandy beach and a number of traditional tavernas serving delicious local cuisine. This is a local area, so you can trust the food to be authentic! Just outside the village, you'll find another sandy beach, called Plaka. The village backs onto the forested slopes of the Agios Dimitrios hills.
On the other side of the peninsula, overlooking the Pagasetic Gulf, is the small beach village of Chorto. It may only have a population of a few hundred, but it has its own theatre and several restaurants. Ten minutes' drive up into the hills takes you to Argalasti, with a popular weekly food market, a farm shop, further restaurants, banks and key services.
There's a big price range, with detached houses selling for anything from €130,000 in places like Argalasti to €600,000 in the regional capital of Volos.
Argolic Gulf
The beautiful Argolic Gulf enjoys a warm climate year-round, and is protected by the "meltemi" wind much of the wider region experiences by the surrounding mountains. Its relatively calm waters are a popular spot for yachting fans. If Euboea attracts families looking for beach holiday homes and Pelion holidaymakers seeking to get away from it, the villages of the Argolic Gulf are perfect for a more active lifestyle.
The headline location is, of course, Porto Heli, the home of Greece's jet set. Its small harbour is lined with upmarket boutiques, restaurants and, of course, has one of the country's best yachting marinas. Two luxury resorts, Amanzoe and Nikki Beach, have been built in recent years. Sean Connery is said to have purchased a home here, while Greece's former King Constantine has also made it his permanent residence.
Property prices in Nafplion are more accessible, and the town gives you easy access to a number of great beaches, including Kantia. Nafplion itself has a fantastically preserved historic centre, leading up to its fortified acropolis. Most houses are in an Italianate style, the legacy of the town's long period of Venetian rule.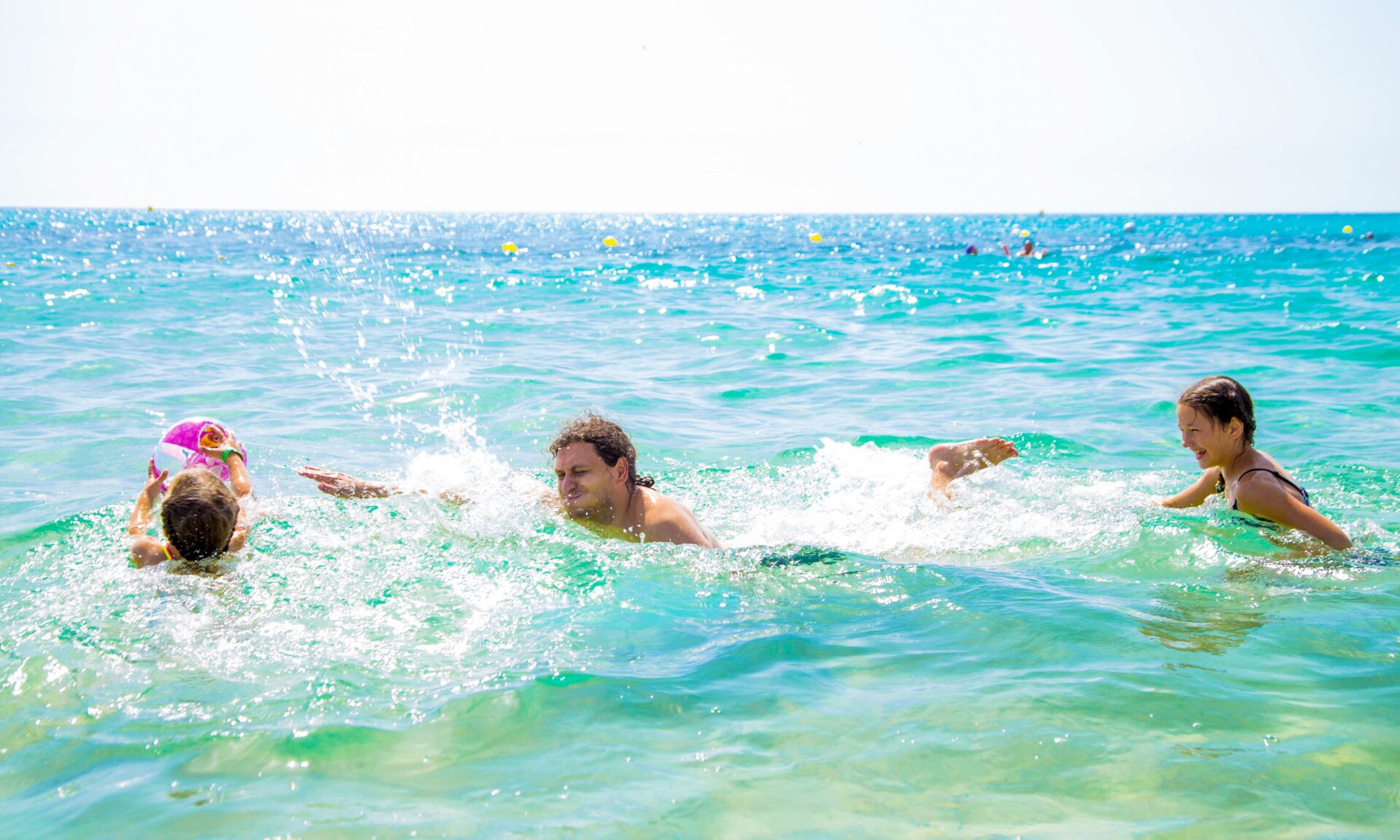 The best places in Greece for families
If your kids are only used to swimming in their local pool or, heaven help them, the North Sea, they won't believe the crystal clear waters around Greece's islands. But where parents want to be (smart restaurants, posh shops, peace and quiet!) might not be where your kids want to be (waterparks, fast food, pedalos!). So here we bring you five family-friendly Greek islands that offer something for everyone — but especially the kids.
Naxos, Cyclades
It takes five hours by ferry from Athens to Naxos, but once there it's perfect for island hopping. Santorini is just two hours away and when they're a little older the kids can go clubbing in Mykonos in less than an hour. While they're young though, Naxos is wonderful for just spending long days enjoying the sandy beaches and making friends. The waters are shallow and warm, and the local cafes and restaurants are a bit more authentically Greek (and reasonably priced).
There's a British-owned riding school that offers canters along the beach. And, if you can drag the kids away from the coast with the bribe of an ice cream there are exciting hikes in the green interior, which peaks at over 1,000 metres.
Transfer from port: The island's roads are windy and hilly, so the 20 mile-or-so drive to the other, eastern side of the island can easily take an hour. Fortunately, most people buy on the western side.
Property prices: Modern apartments go from little over €50,000, but for sea views and access to a pool or nearby beach around €120,000 would offer a good choice. Houses start at around €150,000, but for a good villa with private pool you will need around €400,000-plus.
Hydra
Hydra has two great qualities for kids — it's easy to reach and there are no cars. Those two factors alone may be enough, but the island is also beautiful, with attractive bays and little harbours. The fact that it's named after a many-headed water monster can only add to its appeal for imaginative children. The island is compact — barely more than 20 kilometres long — and it's easy enough to walk around the inhabited parts. There are also water taxis, or horses and mules to ride.
The island attracts weekending Athenians, so the restaurants and cocktail bars tend towards the sophisticated. It also has a good yacht club, which sailing a popular activity, as are scuba diving. While the parents are doing that, most kids will be enthralled with a snorkel and face mask.
Transfer from airport: From Athens Airport to the port at Piraeus takes just over an hour and then the hydrofoil to Hydra takes another hour.
Property prices: With a population of less than 2,000, there isn't a huge amount of property to go round. Moreover the island is renowned for its beautiful architecture, so what there tends to be expensive. For a two-bedroom apartment you will need a budget of around €200,000. For a village house (they all tend to be village houses, rather than resorts) you will need anywhere above €300,000 to many millions. With the sea so close, you can normally do without a pool.
Corfu
Corfu has several child-friendly factors. It's the closest island to the UK, which the whole plane will appreciate if you have a crying baby on board (it won't be the Greeks tutting, they love children). There are direct flights in summer, so no need for a transfer by ferry.
Buy a holiday home in Corfu and the island will keep your children entertained as they grow up, with the upmarket pleasures of Corfu Town to the waterpark and beaches. Let's not forget the investment potential either. The island is a perennial favourite, unlikely to go out of fashion as a tourist destination any time soon, and offering excellent rental potential. Your friends, family and anyone you chat to at the school gate will be thrilled to pop over to your Corfu property!
Transfer from airport: Nowhere in Corfu is more than an hour from the airport and there is a good local bus service.
Property prices: Corfu isn't as expensive as you might think for a relatively high-end destination. €100,000 should get you a reasonable two-bedroom apartment with access to a shared pool. If you can double that budget you'll have a good choice of family villas with private pool.
Zakynthos
Kids have a habit of growing up, and when they're old enough to make friends for themselves they will appreciate the sociability of Zakynthos (Zante). They'll love posting Instagram pics of themselves on Navagio beach, and, for partying, it's a lot cheaper than an island like Mykonos.
For the more bookish kind of teen, or their parents, there are museums and other cultural sites, such as the Byzantine Museum of Zakynthos.
Transfer from airport: Zante receives direct flights from the UK in summer, including from EasyJet, Jet2 and Thomas Cook. Being only 40km long, transfer time to most resorts is less than 45 minutes.
Property prices: Being more of a pure destination than, say, Corfu, and with half the population, there's less option to buy within the local community. For resort property, budget for at least €150,000 plus for an apartment with communal pool and €275,000 for a villa.
Rhodes
The plan to build a new Colossus of Rhodes seems to have gone by the wayside, sadly, but Rhodes still offers a very impressive citadel that dominates the town. The island also has plenty of child-friendly activities, such as waterparks, petting zoos, kayaking trips and other water sports. The delights of Faliraki are waiting for the kids when they get older!
Rhodes does get super-busy in the height of the season — nearly two million people come each year. On the other hand, it has 300 days of sunshine and doesn't close down entirely in winter like some Mediterranean locations, so you enjoy a visit out of season too.
Getting there: Being way out east in the Dodecanese, the flight to Rhodes is a little longer from the UK than most Greek islands, at four hours. However, it has its own international airport, so you're saved the hassle of a transfer and ferry ride from Athens every time.
Property prices: Holiday apartments with communal pools start under €100,000 and you can pick up a perfectly good villa for €150,000.
Cheap places to buy in Greece
A home away from home in Greece is an achievable goal. There are plenty of areas where you can find high-quality yet affordable property, no matter whether you prefer the sea, the mountains or the city. Here, we're looking at the cheapest homes in Greece for your lifestyle — so you can get what you want for a very good price.
Seaside living in Pachi
Pachi lies on the shores of the Saronic Gulf, in the western region of Attica. Sitting on the site of the ancient city of Niseia, it is a peaceful, completely un-touristy fishing village of around 300 inhabitants where you can really enjoy the Greek way of life. Here, you'll find some of the cheapest homes in Greece for a seaside location. The average house is priced at just €620 per square metre.
There are a number of small tavernas, many specialising in fish, as well as over six cafés along the harbourside. And, if you ever need a few more shops, the town of Megara is a short drive away.
Being located in the Attica region, the nearest airport is Athens Eleftherios Venizelos, with plenty of connections to major cities around the world.
Country town lifestyle in Sparta
Who knows what the ancient inhabitants of Sparta would have thought of their city's obscurity today, but the good news is that its remote location has helped keep prices down. The median home here costs €680 per square metre. You can even find ones around the €510 per square metre range. This makes them some of the cheapest homes in Greece, and certainly in the Peloponnese.
Sparta's surrounded by farmland, making it more about the country lifestyle, but the central location means you can easily make driving day trips to the seaside. It's slightly larger than Pachi, at 16,000 people. There's naturally plenty of history to enjoy round here, from the Archaeological Museum to the Sanctuary of Artemis Orthia.
As mentioned, it is more difficult to access. The closest airport is Kalamata, which has summer charter flights. Year-round flights mean a longer drive up to Athens. The plus is that it's not overwhelmed with people, no matter the weather. And, speaking of weather, it's one of the hottest places in Greece, with July and August average highs of 36°C.
Unspoilt Halkidiki in Poligiros
Poligiros (or Polygyros) is a fantastic place to find the cheapest homes in Greece. It's in the centre of the popular Halkidiki region, but houses cost just €600 per square metre. The town's located on a plateau just next to Mount Cholomon, which is part of the Natura 2000 protected area. It's also famous for its carnival, which lasts for 12 days in August and attracts visitors from all over Greece.
Thessaloniki, the second-largest city in Greece, is just an hour's drive away. This makes Poligiros easily accessible — Thessaloniki Airport has flights to Luton, Stansted, Gatwick, Birmingham, Manchester, Leeds, Newcastle, Glasgow and Edinburgh.
Urban bustle in Agrinio
More into the buzz of city living? This could be the place for you. Agrinio is the largest city in Western Greece, with a population of almost 110,000. There's a busy centre focused on the Dimokratias Square, with more boutiques and cafés to be found on Republic Square.
The surrounding area is unspoilt. Although Arginio is inland, you're not far from water, with Lakes Trichonida and Lysimachia nearby.
You'd pay €640 per square metre for the average house in this city, making it on average almost €900 per square metre cheaper than Athens or Thessaloniki.
Up in the mountains in Ampelakia
Located in mountainous Thessaly, Ampelakia is a small town with plenty of charm — and some of the cheapest houses in Greece. The median house price is €530 per square metre. It's a village of cobbled streets and stone houses, typical of Greece's mountainous regions. For outdoor enthusiasts, Mount Oros is a short drive away. Mount Olympus is also, technically, close, but winding roads makes the drive longer at 3 hours.
The local airport in Larissa closed in the 90s, but there is one in Volos, 1 hour 20 mins away. There are twice-weekly flights to Gatwick. Volos' proximity is also good news for another reason: it has some of the most popular beaches among Greek domestic tourists, including Agios Dimitrios, Anchialos and Alykes.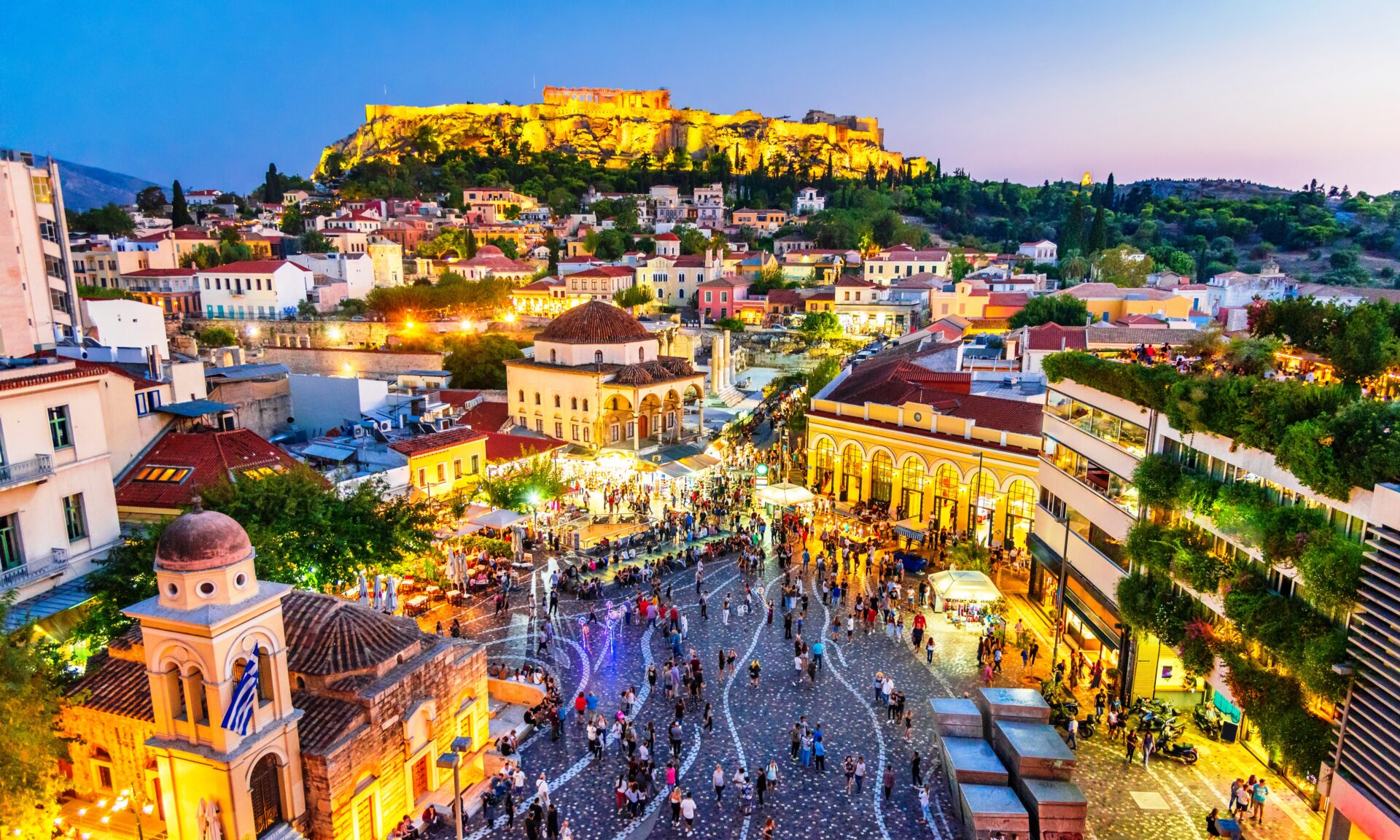 The best places to buy for nightlife in Greece
Whether you've been inspired by the singing and dancing on Skopelos in Mamma Mia!, are tempted by the hedonism of Mykonos, or want a holiday home that combines affordability with banging nightlife, Greece offers the ultimate summer dance party. The rental returns can be pretty spectacular too. But where should you buy? With over 200 inhabited islands plus the mainland cities to choose from, each with a lively summer tourist trade, you have a lot of choice.
Mykonos
The original party island has to top any list of summer destinations in Greece. It's been party central here since the 1950s, but while it may once have enjoyed a bohemian and alternative vibe, Mykonos is all very glitzy these days. That means it offers more for older, wealthier homeowners too. (Some islands, it has to be admitted, tend to have more of an 18 to 30 market). Where there's money there's a merchant, so you get excellent shops here too. For the early hours or late afternoon hangover cure, the beaches are, of course, sensational. In addition, you can visit numerous areas of historical importance such as Mykonos Town's Archaeological Museum. Although the main nightclubs may close at the end of the summer, Mykonos is one of the few Greek islands that offers tourist-type entertainment in the winter too.
Crete
One of the most popular destinations in Greece with other Europeans, Crete is in many ways seen as the most spectacular of the Greek islands. In addition to the natural beauty of the island, those visiting or living here can enjoy the historical ruins of Knossos as well as interesting cities like Heraklion and Chania. Towards the south of the island there is a more authentically Greek feel, meaning you can experience very different outlooks in one small island. Malia is one of the most well-known resorts for its nightlife across Europe, if not the world. You can also enjoy yourself long into the evening in Chania Town with its waterfront bars and clubs. In Rethymno, further along the coast, the bars and taverns are slightly less geared towards the European tourists.
Thessaloniki
Greece's second city, Thessaloniki, is also by the sea has a wealth of history running through it. While the nightlife here may not be as well-known as its island counterparts, there are certainly many bars, clubs and much, much more to suit all tastes. Ladadika is particularly popular with those of all ages, local and foreigner alike. Club Vogue is a particularly attractive place to visit thanks to its live music and understated luxury decor. Another benefit of buying in Thessaloniki is the availability of year round flights. It does get cold here in winter, but you're sure to find a warm and convivial club to dance the night away.
Corfu
Corfu is another island in Greece well known for both its popularity with tourists and its rich history and geography. The island is very green, with a picturesque old town that has been very attractive to locals and foreigners alike — and even TV producers in movies such as For Your Eyes Only and TV programme The Durrells.
Another area particularly popular with British tourists, and home to a large student population, Corfu Town — or Kerkyra Town as it is known to the Greeks — is lively all year round. There are both dance clubs and more sedentary bars, with the latter particularly found in the old town. Some of the best places to visit of a summer evening include Lucciola Garden, known for its 'Med-fusion-cuisine' restaurant as well as the two-to-three monthly live music sessions in the garden, and Cafe Bristol, home to Art Nouveau tiles, good jazz or funk, and reasonably priced drinks!
Athens and around
Athens has become one of the most popular destinations for city breaks and has a terrific nightlife all year. Enjoy the historic Brettos, going since 1909 and home to over 30 flavours of its own liqueur, to Galaxy Bar on the top floor of the Hilton Hotel where you can view the Acropolis across the city. Because Athenians like to get out of the city at the weekend if they can, there are some great options for property on nearby islands. Aegina and Agistri are both just a short, one-hour ferry hop from the port of Piraeus. They're a little more Greek, middle-aged and (dare we say?) classy than the more well-known islands, but you'll have no trouble finding summer nightlife until the early hours.
Avoiding even the need for a ferry, the "Athens Riviera" starts just a 30 minute drive from the city. As well as marinas, sandy beaches and excellent restaurants, the nightlife is terrific too. Check out Glyfada and Voula.
Think you're too old to party? Enjoying Greece's summer nightlife isn't like going to your local British disco with the 18-year olds. Well okay, it might be in Paros and Ios. in general though, you'll find clubs that cater for all ages. Moreover, invigorated by the healthy Mediterranean lifestyle you'll probably want to party all night!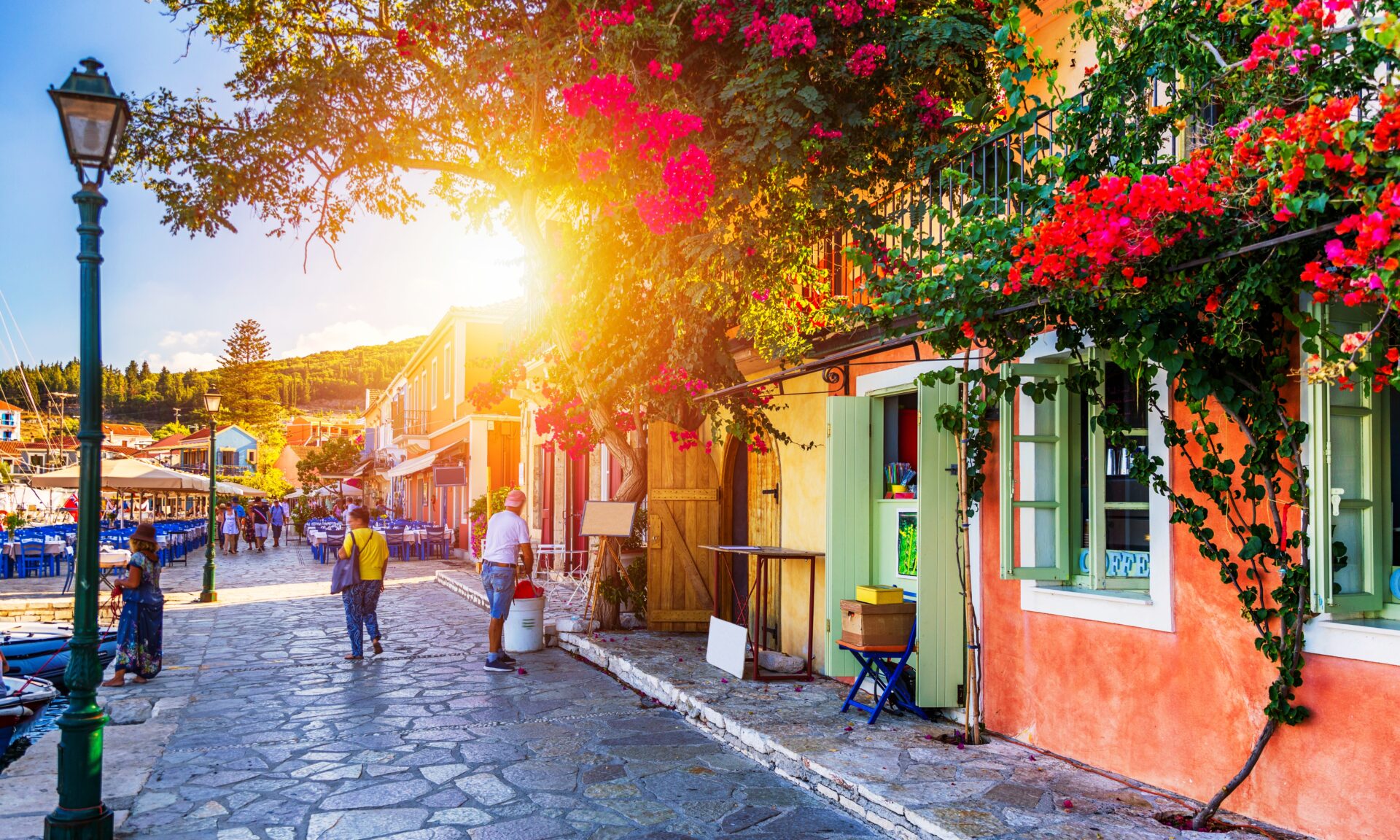 What type of property should you buy?
Greece has always been a popular holiday home destination with the British, thanks to the unspoilt islands, the rustic villas, the sandy beaches, weather and the gorgeous views around much of the country. It's true that the bureaucracy in the country can be a minefield, making things take longer than perhaps necessary, but at least lower prices than many other Mediterranean hotspots means that you can employ professionals to speed up the process.
When you begin seriously to think about buying property in Greece, one of the first matters you need to nail down is the kind of property to buy, the locations that you will find each type in, and the key features of each type of home. Of course, what you are looking for will very much depend on the life you want in Greece. Are you looking for a busy and active life in Athens? A relaxing beach life in Sporades? An ancient tower converted into a modern manor house in the Peloponnese? Here we explore these options and many more besides.
City flat in Athens
Life in Athens is life in the centre of Greece. While you can purchase a luxury penthouse for millions, you can also find an apartment barely into five figures. You do get what you pay for in terms of location, neighbours and property maintenance, however, but you can also find nice and central apartments for less than €100,000. Generally these properties will have a balcony for outdoor space. You may prefer to purchase a top floor apartment as these will usually be quieter than other properties in the building (which usually means they come with the highest price tag as well).
There are so many benefits to living in Athens itself, from its position as a safe city to its great nightlife, shopping and dining, yet still with a peaceful lifestyle possible in quiet neighbourhoods. You can get there so easily all year too.
Townhouses
Popular across the country in both towns and villages, townhouses come in different forms — for example, as a terraced house or as part of large property development. These may well come with some form of small garden, and if part of a housing development, there will usually be communal gardens and/or a swimming pool. Look out in particular for the beautiful Italianate/Venetian-style homes around harbours such as Chania in Crete and Kerkyra in Corfu.
Beach properties
Many people who move to Greece do so to experience that Mediterranean lifestyle — chilling on the beach in the hot sun on a summer's day, relaxing into the night over the scrumptious Greek food, and living that traditional Greek life. Greece has so much beachfront among its 200-plus inhabited islands that you are spoiled for choice. You have to be aware of how you will get there in the off-season (if you wish to), but even in the most popular islands like Santorini, which you can reach all year, there are amazing beachfront houses for under £100,000.
Beachfront properties can come in many different shapes and sizes. Many property buyers from the UK look for a holiday home in an apartment complex a stone's throw from the beach or a villa complete with its own pool. Apartments are popular as they are easy to look after and easy to rent out in the summer. The less positive side of apartments is that they don't usually come with a garden, and many will come next to tens of identikit others — but given the affordability and the proximity to the beach, does any of this matter?
Country cottages
For many, moving to a remote part of Europe to renovate and resuscitate an old country house is the dream, and Greece is one of the most popular places to do this. Across the country you will find many different properties needing varying degrees of work — from those which just need a little bit of redecorating to those that need a new roof and structural repair to the walls. The islands of the country are particularly good for renovation projects, such as Crete, Corfu and Kalymnos.
Why not embrace your fantasy side and live out your Grecian dream in a converted castle, tower or manor house? These will need a lot more work than your average renovation project, but this could be worth it to live out your dream!
What is important to remember though is that no matter the size of your renovation project, you must consult the right experts to help you through this project. Make sure you know exactly how much your tradespeople will charge before you sign the agreement. Do be aware too, of requirements for earthquake proofing in vulnerable areas. True, if it's old and still standing that bodes well, but don't take anything for granted!
A benefit of renovating these old country properties is their appeal as a holiday home for tourists. While it may take a bit of work, you can reap the rewards by renting the property out. A location in the countryside can offer more scope for year-round rental than beachfront properties that are generally only popular in the summer months, but do check conditions in the winter — Greece can get very cold. Should you decide that once you have finished renovating your property you are ready to sell and move on to your next project, you may well achieve a premium price.
Whitewashed village homes
In the Cyclades and Dodecanese islands, closer to the old Asia Minor, properties have more of a Middle Eastern look. Think of whitewashed houses with brightly coloured domes, doors and balconies. We're all familiar with the images of Santorini's bright white villages with their blue roofs.
Many were built before air con, so they have great natural cooling, with smaller windows for plenty of shade. You'll find in the towns that they rarely have gardens — but that's a small price to pay for stunning sea views!
Villas
Villas are particularly popular with families moving to Greece. In addition to the beach houses previously mentioned, you can find villas in most other places across the country — in towns, in housing developments and even out in the country. As a bigger property than a townhouse or an apartment, they are of course more expensive. But you will usually get a lot more for your money – such as larger gardens, a pool, storage, space for an office or studio (or shed!).
Italianate villas
The Ionian Islands are a former territory of Venice. These islands in the west, such as Corfu, are noted for their stylish Italianate villas and waterfronts. Indeed, most islands' harbour fronts are that style, reflecting the influence of the Venetian and Genoese sailors and merchants. These have become especially popular types of property in Greece among expats for conversion to small hotels and B&Bs. Likewise, you'll also find a few buildings of this style in Crete, one of the southernmost former Venetian possessions. They're especially common in Chania and Rethymnon.
Buy-to-let properties
It is becoming increasingly popular to buy properties to rent out in the urban areas where young people are starting their adult lives, such as Athens and Thessaloniki. However, it is important to remember that there are more laws in place when buying a property specifically to rent out — the Greeks are determined to stamp out tax avoidance, especially where it takes away from the existing hotel industry, such as Airbnb.
You must have an EOT (Elinko Organismo Tourismo – the Greek National Tourist Organisation) licence and there are conditions attached to this. If you wish to let a flat, for example, then all properties in the building must apply for the licence; to rent out a house, this must have its own private access. There are a number of different categories under this licence, so it's a good idea to look into this in as much detail as you can before you go ahead. It's also important to remember that there are large fines levied if any of the conditions of the EOT licence are not adhered to.
Hiring a professional team for your move to Greece
The buying process for purchasing property in your home country can be a challenge, but it can be extra stressful when you're trying to do the same in a foreign country. A team of professionals who are local and have the right knowledge can help you navigate the market and avoid pitfalls.
With this in mind, you should think about assembling your team, including an estate agent, lawyer, currency specialist, and possibly a financial adviser.
Hiring an estate agent in Greece
Greece has far less nationwide data on its property market. You won't find property websites, brimming with the data and features that we use in most of Europe and the US. The Bank of Greece's regional price data is only top-level and usual only available in Greek.
This means that you really will need to go to Greece and find your property in person, but that isn't exactly a chore! Make the most of your viewing trips to Greece and get to know the areas and the estate agents operating there. A good estate agent will play a pivotal role in your move.
Greece licenses and regulates its estate agents, who must all be qualified. Check out the site of the Hellenic Association of Realtors for a suitably qualified agent. There is additionally a branch of FIABCI, the International Real Estate Federation in Greece. Any member of the London-based Association of International Property Professionals should be of the highest quality.
Agents normally charge between 2–5% of the property price, which is split between buyer and seller. You will also find some property search companies, offering to do your search for you. They'll either ask in return for a commission when you buy, or for a fee up-front. Online expat forums are an excellent way of finding a good agent, or indeed bypassing the agent entirely and buying direct from a seller. Agents will normally accompany you on viewing trips, as in the UK. If buying a brand-new home, check whether the price includes VAT.
Greece has a lot of public holidays and celebrates Easter according to the Greek Orthodox Church, which is a month separate from when we celebrate it in the UK, so it is wise to check your agent will be working before booking any flights.
Hiring a lawyer in Greece
You will need to find an English-speaking lawyer to help you with your property purchase in Greece (it is a legal requirement). They will be able to help you navigate the intricacies of Greek law, as well as playing an essential role in the buying process (they may even be able to save you money).
It's wise to choose an independent, English-speaking Greek lawyer, who specialises in property law. They'll not only oversee and organise the whole purchase process, but will often advise you on tax and inheritance issues too. This is even more important if you aren't a fluent Greek speaker, as they will be able to guide you through the details of the transaction. That way, you'll fully understand the contract and supporting documentation. Among other issues, it's important to establish in whose names the property will be put and who will inherit it (especially for unmarried couples with children from previous relationships).
Any lawyer you hire should be a member of the local bar association to ensure they're properly qualified — you can find a list of English-speaking lawyers in Greece on the GOV.UK website. You can also contact our Resource Centre, who can introduce you to trusted law professionals we have worked with for many years and about whom out readers have left glowing reviews – simply give us a quick ring on +44(0)20 7898 0549 or email [email protected].
Hiring a currency specialist
A currency specialist can also play a key role as part of your professional team. They will help to ensure any money you need to pay is not exposed to currency risk when it is converted to euros as part of your property purchase. A good expert can save you a lot of wasted funds.
Currency risk happens when you need to pay a large amount of money in another currency (i.e. euros), where you will be exchanging using a fluctuating rate. As the rate is always moving, your money may be at risk of depreciating in value, which could end up with you having to pay more to secure your Greek home. A drop of just 1% in British pounds could inflate the price of a €150,000 property by £1,000 — so if the rate moves a lot, it can really add up.
A currency specialist will use something called a forward contract to protect your money. This is an agreement that fixes an exchange rate for a set period of time to ensure you can continue to get a lot of value for your cash. We've worked with our trusted partner Smart Currency Exchange to provide forward contracts for buyers for many years — take a look at their Property Buyer's Guide to Currency to find out more about protecting your funds.
Planning your finances to buy property in Greece
To be able to buy your dream property in Greece, you need to have a financial plan in place so that you can act quickly when the time comes. To do this, you will need to make the key financial considerations, plan for the hidden costs for buying, and decide how to pay for your property.
You should also read our guide to financial planning before buying in Greece to get all the advice and essential information you need.
What are the key financial points to consider?
To begin, you need to consider what the main sources of finance will be for your Greek property purchase. Think about:
Funds available: Work out what funds you'll have available to buy the home. Take into account different aspects open to you, from cash, savings, saleable items, investments you could cash in or pensions you could drawdown.
Additional finance: If you're not a cash buyer, could you buy with a mortgage? Speak to an estate agent, IFA or lender like a bank to assess your options. Don't forget to also take into consideration how to pay if you are ill or lose your jobs.
Ongoing finance: Remember the costs that will come after you purchase, from local property taxes to maintenance and even the travelling expenses to get to your new home. Decide how you'll cover these, including the risk of changing currency exchange rates.
Investments: If you're moving to Greece for good, it could be beneficial to take your pension with you, so to speak. You could move it into a QROPS (Qualifying Recognised Overseas Pension Scheme) or a SIPP (Self-Invested Personal Pension). Bearing in mind any conditions that apply, you could gain greater control over your pension and cut down your tax bill.
What are the buying costs in Greece?
In addition to the actual cost of the property, there are a number of other costs that you will need to factor in on top of this. There are a number of factors that will affect how much these costs total, such as whether the property is new-build or resale property and how you are paying for the property — cash or mortgage. We recommend budgeting around 10-15% of the purchase price to ensure all taxes are fees are covered.
Most of the fees payable will be based on the 'assessed tax value' of the property, which will usually be lower than the actual price you are paying. This has been previously calculated by local tax authorities using government criteria and you will usually find this is fixed. These fees will usually include:
Purchase tax: This is around 7% of the first €15,000 of the assessed tax value of the property, and 9% on the remainder. For example if you are buying a property valued at €120,000, you will need to pay €10,095 in purchase tax. This must be paid before the final purchase contract is signed.
Value added tax (new build only): New build properties with a licence issued from January 2005 are subject to VAT at a rate of 18%.
Land registry fees: These will be from 0.3-0.5% of the assessed tax value of the property.
Notary fees: The fees charged by the notary for drawing up the final purchase contract will usually cost up to 2% of the property's assessed tax value.
Legal fees: The conveyancing of the property will usually cost up to 1% of the assessed tax value, but this will need to be agreed in writing beforehand. You do not have to engage the services of a lawyer for your purchase, but this is highly recommended.
Community fee: Paid at the same time as purchase tax, you will need to pay a community tax of 3% for general public services such as road maintenance.
Agent's fees: These are split between the buyer and the seller and will usually be between two and five per cent of the purchase price. The seller's part may well be included in the purchase price of the property, meaning that in effect the buyer pays all fees.
How to pay for your property in Greece
If you already have the cash set aside to purchase your Greek property, then this stage will be pretty straightforward. However, if you need to raise the cash or borrow, things are a little more complex.
Many of us would love to buy a home in Greece but don't have the cash to buy. Or rather, we think we don't. The truth, however, is that for many buyers in Greece there are all sorts of ways to raise the money, some involving little sacrifice and some by simply using your assets better. Here are some of the ways you can find the money for your dream home.
Raising money from your UK home
Your main asset can work for you in all sorts of ways, and you won't even have to sell it. That means you retain any capital growth in the UK market while you're sunning yourself on a Greek beach!
Equity release
Equity release takes many forms, which is why it is essential to get good independent advice before doing anything. However, for homeowners aged over 55 with a property worth at least £70,000, it's a real opportunity to enjoy life more without paying for it — at least not in your lifetime — by using the equity you have built up in your UK home. It's also a terrific way for retirees to buy a holiday home in Greece that their whole extended family can enjoy too, without losing the family home. It only really applies to holiday homes, however, as you have to remain living in the UK property for at least six months of the year.
You can get this tax-free, as cash, without selling up or downsizing. Then you can use it as you wish, to buy a property, boat, investment or anything else. You do need to be a little careful in who you use for this – we would suggest you only use a provider governed by regulatory body the Equity Release Council. The benefit is that you should be able to continue owning your own homes, with the deeds in your own name and with the right to be there for life.
Renting out your UK home
There are two options here. If you need plenty of money to buy a home in Greece, but don't wish to sell the family home, you could raise money on it via a buy-to-let mortgage. The fees are higher, and there will be restrictions, but you could potentially raise enough to buy in Greece. Then you have the option of moving back – albeit with a different mortgage, as you get older.
The second option is simply to take advantage of the huge differential in rental prices between the UK and Greece. Rents in the UK are higher than in Greece. So, if you can rent out your home in the UK for more than you'd pay for one in Greece, you'll have a tidy sum to live on. One serious cost to take out of that is a tax on renting out your UK home, however.
Downsizing
If you have a UK home but the kids have left, this is the most flexible way of raising money. You simply sell your home for the best price, move somewhere smaller, and buy a property in Greece using the cash. This way saves any borrowing costs and may be able to live comfortably on the proceeds of any invested surplus, since the Greek cost of living is appreciably lower than British. You also avoid the risk of stepping out of the UK property market should you ever wish to come back.
The downsides are that you lose the family home, and have to pay the costs of selling, such as agent's fees. If you downsize but stay owning a home in the UK and abroad, there will also be tax implications as the owner of a second home. You can be stung for high taxes on second homes and rental income, should you rent it out.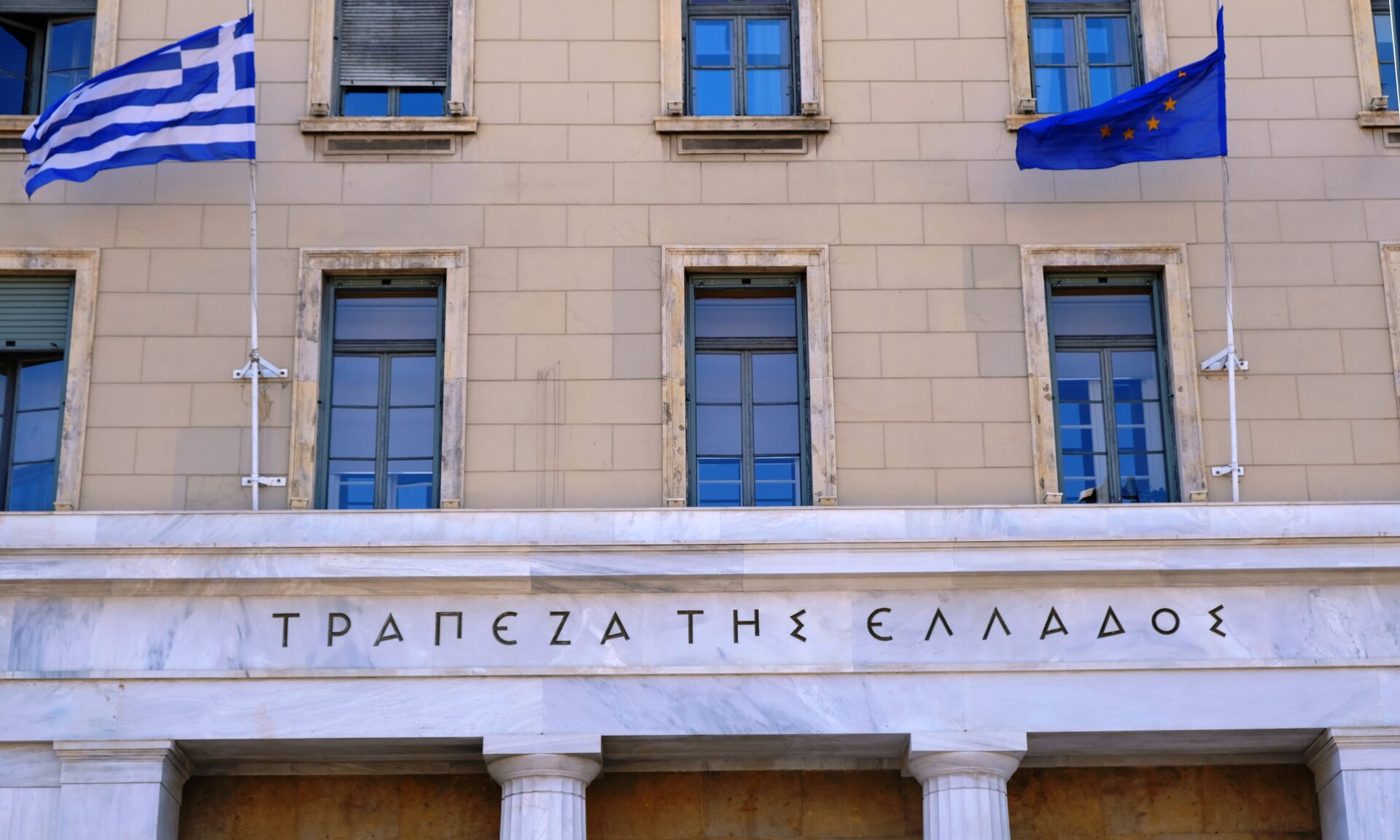 Other ways of raising money
Taking out a Greek Mortgage
Greece did get burned in the financial crisis, but it was the government that overspent, not the banks in particular, as in the USA and Spain. So it is possible to get a Greek mortgage. Typical loan-to-values are 70%, with a maximum term on 25 years. Your total liabilities will need to be less than 30% of your monthly net income.
You'll need the following things when you apply:
Past two years' income tax declaration
Past year's bank statements
Past six months' proof of income
List of mortgage loans already held
Statement of your assets and liabilities, confirmed by an accountant
Copy of your passport
Your pension
Holders of defined contribution pensions (although not holders of final salary schemes) can now use their pension "pot" as they like. They can withdraw 25% of the pot tax-free and leave the rest invested. Of course, you do need to be aware of scammers and always consult the Pensions Advisory Service before parting with any money.
Buying with family or friends
This is a great way to spread the wealth of a family — for example allowing the grandparents to leave a living legacy — as well as the burden of owning a property in Greece.
The simplest option is to each pay a share. With a few siblings, aunts and cousins involved you could potentially own together for just a few thousand pounds each. And, they might pay that amount for a couple of week's holiday. Although the more people involved, the less you need to pay, the downside is that it could make for more complicated legal processes and ownership structures.
Planning a property viewing trip to Greece
A viewing trip to Greece will be vital to the success of your move. Here we discuss all you need to know to help you plan accordingly.
Define your criteria:
How important is access out of season?
In winter, ferry services to outlying islands offer a much reduced timetable. They are also sometimes subject to cancellation due to bad weather. Consequently, if you might need to get to the UK in a hurry, that can be an issue.
If your budget stretches to it though, daily flights to Athens are available from many islands. Additionally, Greece is in the process of upgrading many of its regional airports. Rurally, the Peloponnese or the Argo-Saronic and Cyclades islands are the easiest to get to and from in winter.
If you're looking for a permanent home — or somewhere to winter over in — this is a key consideration for your viewing trip to Greece.
What is the maximum time travelling time in summer and winter?
Even the closer islands, such as the Ionians, can be tricky to reach in winter. Greece has been gradually extending its tourist season earlier and later into the "shoulder months" of April and October, as tourists switch from North African countries hit by political unrest. Some, such as Santorini and Mykonos, are making a serious effort to open all year.
Are guaranteed warm winters a must?
On some islands you get frost and even the most southerly islands, such as Crete, can get a blanket of snow in winter in higher areas. As such, take a close look at the climate on your chosen island. Beware also the strong winds when choosing where on an island you wish to buy. You'll often find one side of an island is much less windy than the other, since many are hilly or mountainous.
Is rental income essential?
Many buyers plan on financing their purchase via rentals or accommodation sharing websites such as Airbnb. It's certainly an option, but beware tough tourism and tax laws in certain areas. The Greeks certainly take tourism seriously. Above all, they won't let you get away with offering substandard accommodation on their best islands.
Will you live like an expat or as a local?
Many of us imagine that we want to embed ourselves completely in the local community. however, many then find that without a fellow Brit to compare notes with they soon feel lonely and isolated. That certainly won't be the fault of the Greeks, who are an exceptionally kind, welcoming and sociable people. The language barrier is a problem in rural areas and Greek culture and customs can seem very unfamiliar. If you have any doubts, learn some Greek before you go.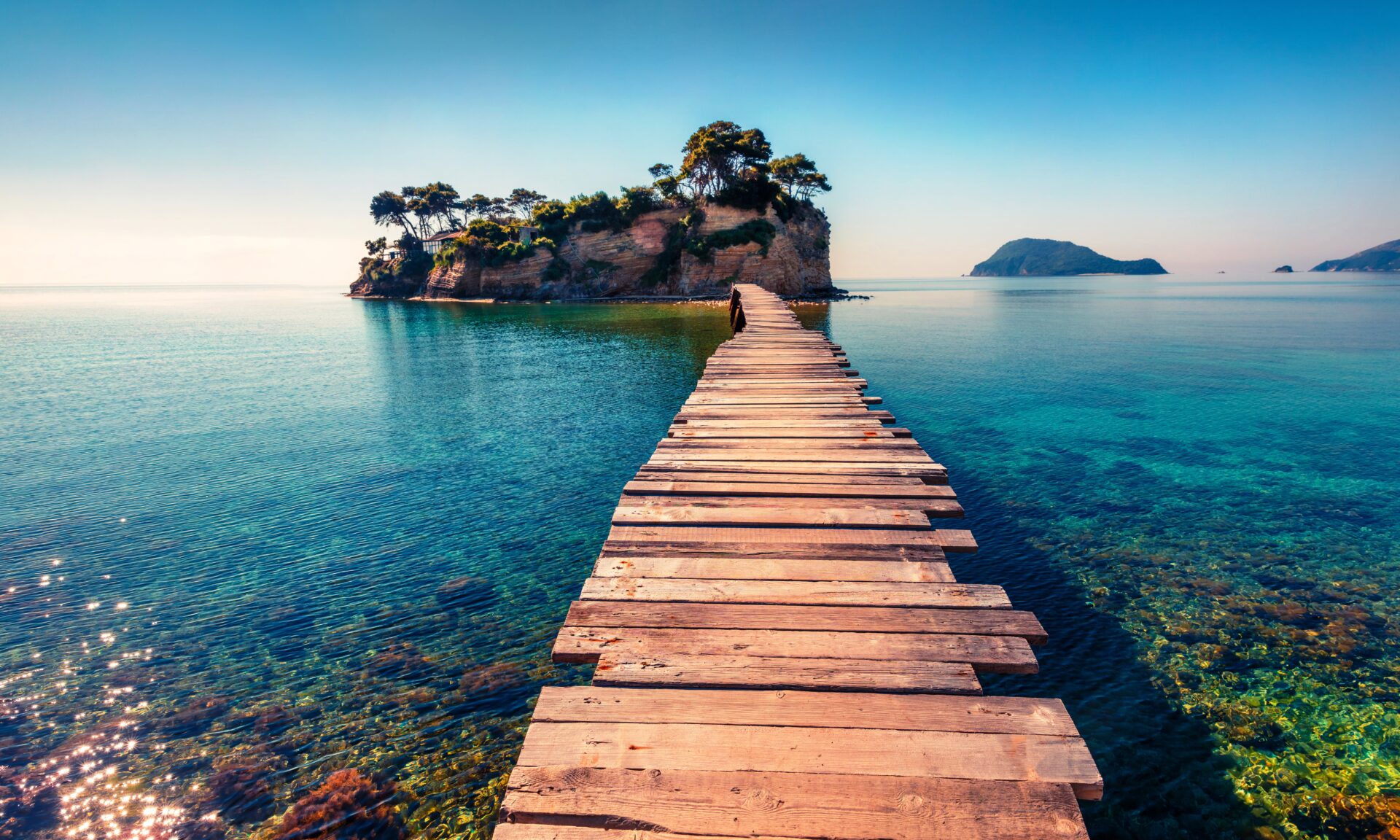 Take full advantage of your viewing trip
Stick to your budget
Don't let an agent show you something outside your budget. You probably don't have long on your trip, so why waste time on unattainable properties? If anything, underplay your budget.
Get your team in place
So you're on your viewing trip, in a hotel with dodgy Wifi and with no access to your normal documents, spending lots of money. You are way out of your comfort zone! Get in control by having your team in place before you go, and on speed dial in your phone. Your team includes your estate agent, a good lawyer and a currency company that you trust.
Know how much you have to spend
Exchange rates change by the minute, while the process of buying a house takes months. So how do you know how much you have to spend? You need to speak to a currency company before you go looking, not after! Additionally, you need to have given a lot of thought into planning your property purchase ahead of time in case you need to react.
Imagination, imagination, imagination
With many overseas homes you'll need to engage the imagination and not just the eyes. Even the most sparkling pool resembles a swamp after a week or two's neglect. So consider that ugly duckling property, which might be tens of thousands cheaper but cost just hundreds to turn into a stunner.
Be bold
Ah, the paradox of choice! When Greece has 220 islands, how do you settle on one? Maybe there's a cheaper house with a better view just around the next headland. Well, there will always be somewhere else, but if you love it and you can afford it, just do it.
Be ready to put down a deposit
This is prime property buying season, so if the agent says they have another buyer waiting, you never know, they could be telling the truth! Don't be railroaded into signing anything, but do be ready with a currency account open to pay a reservation deposit.
Making an offer
So, you've taken a viewing trip, found your perfect Greek property and you've read up on how to buy. Now, it's onto the next step: actually making an offer on a home. It's important now that you understand how to judge whether you're making a fair offer and how to keep the upper hand in the negotiations. Follow these seven key points to stay in control of negotiations.
Get your poker face on
The key to negotiations is to not give too much away, while also not seeming too disinterested. Let the selling team know that you're up on the market, whether it's because you've viewed a lot of properties or you've done a lot of reading up. You want to be friendly and polite, but serious. This is a business transaction, after all.
Know what you're talking about
If you're going to get your game face on, then, you need to know your stuff inside out. Have a read of our news and market updates to make sure you know what condition the property sector is in. Your estate agent will be an excellent guide to whether the figure you choose when making an offer on a home in Greece. However, do remember their commercial interests: they're there to represent the seller, ultimately. So, do use your outside knowledge as well to help make your judgement. Plus, being able to ask well informed questions will demonstrate you need business.
Win over the seller
Charm is the name of the game when making an offer on a home in Greece! After all, you're buying something that the seller loves. Don't be too aggressive in your attitude or pricing — it can cause the process to stall by putting them off. All negotiations should go via the agent, but you could still write a letter to the seller. This could be a good way for you to introduce yourself and explain how interested you are in buying their beautiful home!
Own the negotiations
A lot of people can be nervous going into negotiations, so remember this: you're the one with the position of strength. You could, theoretically, walk away at any moment. The seller, on the other hand, needs you to complete the sale. As such, don't be scared of pushing back on anything you're not happy with.
Don't leave counter-offers too late
Make sure you're prepared and know what counter-offers you'd be willing to make before you even make an offer on a home in Greece. This will let you respond rapidly to anything from the seller, rather than delaying and giving time for someone else to make an offer.
Speak to your currency broker in advance
Again, time is of the essence when making an offer on a home in Greece. Speaking to your currency specialist before making the offer is ideal. That way, you'll have locked your exchange rate for your budget and you know exactly how much you can offer. Remember, the offer is made in euros, but you're paying in pounds — so the value of even €100,000 is always changing.
Relax if it falls through
It can be difficult, but try not to stress too much if a deal falls through. Many buyers actually look back with relief, rather than regret, having found somewhere even better later on down the line!
What happens after making an offer?
Once you've made an offer on your property and it's accepted, you're on your way to completing the purchase of your Greek property. However, the buying system in Greece is different to the UK, so your lawyer should be able to help you navigate these crucial steps. That being said, make sure you follow our outline to keep everything on track.
1. Getting your AFM number and bank account
You'll need to secure a tax registry number (AFM) from the Internal Revenue Service. It's important to note that anyone involved in making the purchase must obtain one of these (for example, if you are purchasing jointly as a married couple).
You also need a Greek bank account, and this can take a while to organise. You can do this yourself or, if you give a Power of Attorney to your lawyer, they can open on your behalf.
In order to open the account, the bank requires:
Recent mobile and land line phone bill.
Recent utility bills for electricity or water.
Last Tax Return or P60 or P45 – or certified accounts if you are self-employed.
Any document that has the NI number, if it is not shown on your Tax Return.
Latest monthly salary receipt (or any other document that proves your occupation).
Bank statements going back at least 12 months.
Copies of Birth Certificates for all persons who will be named on the property purchase contract.
Copies of all passports.
Marriage certificate (only if property will be purchase jointly between spouses).
Tax Residency Certificate from HM Inland Revenue Office.
2. Offer and reservation
When you have found the property you wish to buy and have agreed a price, the agent will usually ask you to sign a reservation agreement to take the property off the market at the agreed price. Usually, this will be for 10-15 days. You'll normally pay at least €3,000, but it could be as high as €10,000 or more, depending on the price of the property.
Sometimes, the deposit will be returnable if you change your mind at this early stage, sometimes it won't — it depends on the terms. By making the agreement subject to preliminary legal checks, mortgage loan availability on the property and a building survey, the deposit should be returned if there are problems.
3. Preliminary contract
The legal process will usually start with a preliminary contract — a private contract of sale between the buyer and seller agreeing the price, the payment method and any other conditions. When this contract is signed, it is binding and a deposit of around 10% of the agreed purchase price must be paid by the buyer. This kind of contract can take various forms, so it's important to go through all details with your lawyer to be sure you understand all of your obligations and responsibilities.
Greece has strict planning laws, thankfully, which have protected it from over-development. This does mean, however, that an important part of the buying system in Greece is for your lawyer to ensure your property complies. For example, they'll make sure the swimming pool and any extensions — including covered balconies — are legal. Closing of the sale from the preliminary contract to the sales contract will usually take around four to six weeks.
4. Getting a survey
Greece is an earthquake zone, so your lawyer should check that the property complies with Greece's Seismic Code, as laid down by the Earthquake Planning and Protection Organisation (EPPO). All the same, for this and other matters, it can make sense to get a survey done. UK-based organisation the Royal Institution of Chartered Surveyors (RICS) has members in Greece, and you can find registered members using their RICS Firms search for Greece.
5. Sales contract
A Greek simvoliographo (notary) must also be a party to the sale contract. As a buyer, you will have the responsibility of hiring the notary, who will prepare the sales contract and make sure all details are right. The sale contract legally transfers ownership between the seller and buyer. You sign it before the notary, who ensures this process is legal. Your lawyer must also be present, as they'll sign the document when the contract's signed.
The notary's main function is to certify Greek documents and agreements to ensure that they meet all legal criteria. They work on behalf of the government and cannot advise or protect the interests of either the buyer or the seller. It is their responsibility to collate all the information on the property and the area in order to calculate the tax value of the property. However, this value is not the same as the actual market price of the property, and should not be used for comparison purposes. It is purely a value calculated by the tax office based on a large number of computations such as location/distance to the sea/distance to amenities etc.
At this signing, the notary will read out all contents of the sale contract, and will sign and complete this, providing they are satisfied that both parties understand this. The seller will need to pay the property transfer tax before the contract is signed, but, once these documents have been completed, the balance of the purchase price will be paid. The notary then registers the property with the National Cadastre (Land Registry).
Speak to an expert
Over the last ten years, we have built up a network of trusted specialists to provide independent, factual guidance on all aspects of buying property in and moving to Greece. Our experts have been talking to homebuyers in Greece and helping them to buy their property in Greece safely for a number of years. Get in touch with our Greece property experts on +44 (0)20 7898 0549 from Monday–Friday, 8:30am–6:00pm or email [email protected].
Our team will be able to assist you with all the aspects of your move, like talking you through the buying process or planning a productive viewing trip.
They can also help you connect with our network of trusted professionals, including estate agents, currency specialists, and lawyers. Contact us via the details above or fill in an enquiry form below to get started.
Download your free copy of the Greece Buying Guide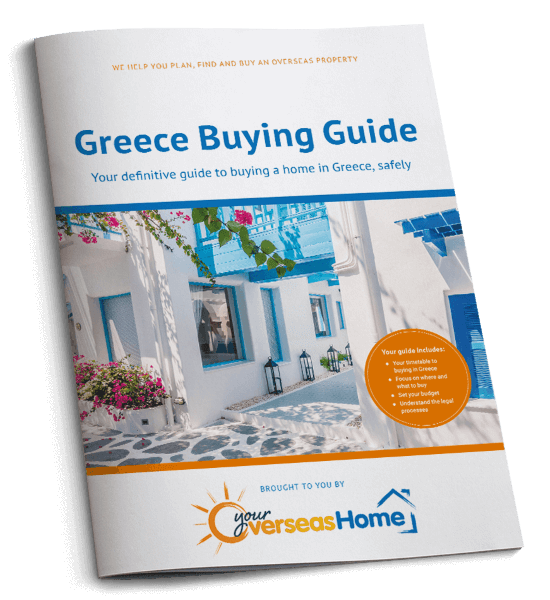 The Greece Property Guide covers every stage of the property buying process, sharing our experience and knowledge to ensure a safe and successful property purchase. The guide will help you to:
✔

Ask the right questions
✔

Avoid the legal pitfalls
Download your free guide to buying in Greece