There's no denying that Greece is a beautiful country with a relaxed pace of living — no wonder it's such a popular place for UK citizens to move to. Whether you have your sights set on the mainland or are longing to live on one of Greece's many islands, by moving to Greece you can enjoy a more Mediterranean life full of sun, friendly neighbours, and delicious food.
Moving is always complicated, but upping sticks and heading off to a new country may seem even more daunting if you're not fully prepared. If it's always been your dream to move to Greece, you're transferring there for work, or another circumstance has led you there, the tips in this guide can help work out what you need to organise and when. We'll cover:
Moving to Greece checklist
With so much to think about and organise before you move, it can be challenging to work out where to start. Here is a brief run-down of everything you need to consider so that the transition goes as smoothly as possible.
Buying property
Greece is a wonderful country with many beautiful areas to move to. If you're still in the process of finding your dream home in Greece, our comprehensive buying guide can help you find the right property and help you narrow down your search if you're still weighing up your options. Don't forget to download our viewing trip guides too — you can even print off some viewing trip worksheets, which will help you keep track of your options and progress.
Organising your finances
As well as putting money aside to purchase property, you'll need to carefully consider your finances before you move to Greece and make sure you've thought thoroughly about taxes. This step includes tax planning for the UK and Greece, understanding inheritance law, and opening a Greek bank account. You can find more information on these topics below, but bear in mind that the sooner you prepare, the more equipped you will be to handle Greek's often intense bureaucracy.
Applying for residency
Before the move, you can visit and stay in Greece temporarily without documents for up to 90 days. This is ideal for viewing properties, visiting potential locations, and generally getting a feel for living in Greece.
Once you are planning on staying in Greece for more than three months, you need to apply for a visa — you can find out more about this process, including the different visa types, further down in this guide. Then, you should obtain a residence certificate from the police or "aliens' bureau", which may well require you to travel to a regional capital. There, you must prove evidence of identity, where you will be living, that you have sufficient income to live on without being a burden to the Greek state, and that you have a health insurance or social insurance number.
Certain occupations, especially involving childcare or catering, require a medical certificate, while self-employed people will need to have this confirmed by the tax authorities.
Organising healthcare
Greeks are among the healthiest people in the world and enjoy a long life expectancy. In fact, data compiled by the OECD reveals that Greek people have a higher life expectancy than us British. A healthy Mediterranean diet, warm climate, and a positive attitude toward health combine to create a healthy population. After all, they did invent the art of medicine and give us the Hippocratic Oath!
A large number of pharmacies (identified by the illuminated green crosses) can be found in Greek towns and cities. Greece also has one of the highest densities of doctors per head of the population – more than twice as many as Britain. When it comes to accessing healthcare, you can find out about the Greek health system, including how to get it and what you're entitled to as a resident, further below in this guide.
Finding work
If you're moving to Greece for work, your employer can help you organise the necessary paperwork for this including a working visa. On the other hand, you may want to go down the self-employment route, as many people moving to Greece from the UK do. Opportunities for self-employment include:
Property
Many expats have used their homes to make money. Possibilities include buying in a tourist hotspot, enjoying the quiet Greek lifestyle in the off season, and renting it out for maximum profit in the heat of summer. Accommodation sharing sites such as Airbnb and its many imitators have made informal property rental much easier, so you could try letting out a room in your home, or the whole property. Another traditional money-spinner for expats has been looking after each other's homes and holiday rentals, including key holding, cleaning between arrivals, and welcoming guests.
English teaching
Many younger Greeks see their future outside the country and learning high-quality conversational or business English is vital, so teaching English is another career option for entrepreneurial Brits. What's more, the government recently imposed VAT on language schools, raising the opportunity to teach English privately.
Hospitality
Another option for those in the early stages of learning the Greek language is to find work in the food and hospitality industry. If you fancy starting up your own business, there's no shortage of hotels up for sale, even though tourism has been increasing. The British have traditionally been the biggest tourist market in Greece and being a fellow countryman can have certain advantages when you're trying to attract and welcome guests.
Although Greece has generally stayed free of the "full English breakfast served here" type of establishments that you see in Spain, there will always be a market for that in some areas.
Getting around
Greece has a good, inexpensive bus service compared to the UK, which is ideal for property viewings and other visits to Greece before you move. You can expect a one-way ticket within most cities and between towns to cost little more than €1. The railway system, on the other hand, is limited to the mainland and has been severely hit by austerity cuts.
In villages and islands, the taxi is the most common form of transport — simply ask at the local cafeneon. You can expect to pay €3 as a starting tariff, which is a little cheaper than the UK. New taxi services such as Uber have arrived in major cities and are sure to reach the islands eventually.
Ferries
Greece has the greatest ferry fleet in the world; with hundreds of vessels travelling to hundreds of islands every day of the year. The catamarans and hydrofoil services are faster than ferries but more subject to disruption from the weather. Travelling by boat can seem positively archaic for many British visitors, used to getting everywhere by jet, but part of the appeal of the Greek lifestyle is in taking things a little slower, adopting a more relaxed attitude to life, and enjoying the sensations and scenery of sea travel.
For an idea of prices and times, a ferry from Athens (Rafina) to Mykonos takes around five hours and costs €30, while a hydrofoil or catamaran takes just over two hours and costs €50.
Flights
Flights to Greece are plentiful in summer but can be sparse in winter. Outside of high summer you may struggle to reach anywhere in Greece directly, except Athens and Thessaloniki. The airlines have expressed frustration with the situation but say that unless hotel owners are willing to open longer in the season there is little point in them flying tourists in, which is a shame if you wish to enjoy a warm February weekend in your Corfu home.
However, that situation may soon be changing. Ryanair has opened a new base in Corfu and says that Greece is a big growth area for it. There is also a new programme of investment in regional airports led by the EU Commission which, along with new German management of 14 regional airports, will see hundreds of millions of euros going on upgraded airports, including in Milos, Syros, Naxos, Paros, Mykonos, Samos, Santorini, Kos, Chios, Corfu, Kephalonia, Zakynthos, and Chania.
Moving your possessions
Another key step towards moving to Greece is working out how to get all your possessions, including your pets, out of the UK and into Greece. There are a few different ways you can ship your belongings, including by land, air, and sea — you can find out more about these options below.
Learning the language
Greek is significantly different to English compared to most European languages, with its own alphabet being the first barrier. According to one US government estimate, it takes native English speakers an average of 44 weeks or 1,110 class hours to learn Greek proficiently, a fair bit longer than Spanish, French or German (25 weeks and 600 class hours).
By learning Greek before you move, you will undoubtedly make more and better friends in Greece, it will make visiting doctors and hairdressers less stressful – probably saving money – and will enable you to deal with the authorities much more easily. Some of the easiest ways to learn Greek are:
Online learning: There are both free services via YouTube and various smartphone apps, or you can buy tuition via services such as Skype.
Multimedia: There's no shortage of CD/book/online combination systems to learn Greek. The most well-known are Rosetta Stone and Michel Thomas, which are comprehensive and proven to work but cost £100. BBC Languages also have fun ways of learning Greek.
Books: Don't forget the old-style textbooks which we all struggled through at school. You get to see the gradual build-up of vocabulary, verb endings, and tenses and they are available for almost nothing via Amazon.
Language holidays: Learning in situ has many advantages, not least of which is being able to do some house-hunting while you're there. Various private companies and educational organisations, such as Cactus Languages and the Alexandria Institute, offer courses in Greece throughout the year.
Financial planning
Financial planning before you move to Greece is absolutely key to a successful move. It'll save you time, money, and stress having everything sorted in advance. The Greece Property Guides team is on hand to offer invaluable advice about how to get your finances in order and ensure you can afford the move you dream of. Here are the key points to take into account.
Tax planning before you move
Before buying a property, consider how you will structure the purchase. This is especially crucial if buying with a partner or with inheritance complicated by extended families. Tax is constantly under review in Greece, but not all taxes are rising. In many cases, the government is offering major incentives for early and honest payment of tax in an effort to discourage people from the national sport of tax evasion.
For example, if you are self-employed and accept card payments instead of cash, you could be entitled to a tax discount of €2,000. All businesses in the hospitality industry have to accept card payments.
For your everyday tax affairs, especially concerning income from the UK and if your situation is at all complicated, it is wise to speak to a financial planning and tax adviser as soon as you decide to move to Greece. Remember, such advisers are there to save you money in the long run, so it can be worth paying for their long years of experience and expertise.
There are a number of tax-efficient schemes even for those moving abroad. These include the choices of Self-Invested Personal Pension (SIPP) or Qualifying Recognised Overseas Pension Scheme (QROPS) – both of which could save you money.
UK financial planning before you move
Before you move to Greece, you will need to:
Tell HMRC you're leaving the UK permanently or for at least one tax year. You will need to fill in a P85 formor self-assessment tax return. The good news is you might get a tax refund.
Calculate whether you'll be resident or not. You will be a UK resident if you stay in Britain for 183 days or more of the year. Likewise, you'll be resident if your only home is in the UK and you live there for at least 30 days of the year.
Work out what is the best way to receive income from abroad, such as pensions, investment income, and rental income.
Inheritance
Before signing any paperwork, such as on a property purchase or residency form, speak to a lawyer. How you structure the agreement and whose name is on the document can have long-term consequences — for example, like in many parts of the world, Greece has a system of enforced heirship. This means your heirs automatically have a right to inherit your property, even if you would rather write them out of your will. This applies to property in Greece even if you are not Greek. However, in practice, if there is no dispute then the authorities are highly unlikely to intervene.
It's important to note when doing your financial planning that Greece does have inheritance tax. Like all taxes in Greece, they continue to be subject to frequent changes and increases. However, for once, they've actually generally been getting lower since 2010.
How to open a Greek bank account
To move to Greece, you will need to open a Greek bank account. But how easy is that, and what services do Greek banks offer? You might have heard it can be tricky, but it just takes a little patience.
Opening a bank account in Greece needn't be intimidating, and once opened it is very easy to operate as the major banks all have online banking in English, plus the ATM machines also have 'menus' in English.
The major banks geared to international clients are Piraeus Bank, Alpha Bank, and Eurobank. They all have branches in the major towns as well as ATM machines in many villages and resorts. Most staff in branches speak excellent English and there are usually members of staff designated to assist international clients.
Banks have opening hours of 8.30am to 2.00pm from Monday to Friday, plus 24-hour service phone lines with English speaking members of staff available to assist with phone banking.
Opening your account
If you have left a Power of Attorney with your lawyer, he/she may be able to open the account on your behalf before you move, although the bank will always want to meet new customers at least once. Below is a list of documents required from your home country to open an account with a Greek bank:
A recent mobile and landline phone bill
A recent utility bill, such as electricity or water
Your last Tax Return, P60, or P45
Any document that has your NI number if it is not shown on your tax return
Your latest monthly salary slip, or any other document that proves occupation
A bank statement going back at least 12 months
A copy of your birth certificate
Copies of your passport
Your marriage certificate if you're buying property in both names of a married couple
A Tax Residency Certificate from the HM Inland Revenue Office
Services offered
Most accounts are deposit accounts, with a debit card attached – current accounts with chequebooks are rare. Internet banking, standing orders, and direct debits can be established from the deposit account in order to pay utility bills, taxes etc.
Until recently Greece was subject to capital controls, which have now been relaxed, and therefore ATM withdrawals and transfers are not subject to restrictions.
As well as the usual banking services your bank can also offer insurance for your property, contents, vehicles, and belongings. If your property is going to be a holiday let, they can also provide the obligatory third-party liability.
Something not currently available from your Greek bank are mortgages. This may change in the future, but currently none of the banks offer property loans. Instead, the majority of Greek property purchases are made with cash.
As elsewhere in the world, Greek banks are extremely security conscious. When carrying out online transactions there is always an SMS code issued for security purposes, or an automatic pin dongle can be requested from the branch.
Two golden rules for visiting your bank:
Always take your passport – without this proof of ID you won't be able to do anything.
Have patience – many Greeks still conduct their transactions by physically visiting the bank, so banks are usually pretty crowded.
Greece citizenship, visas, and residency
There are many reasons why you might want to move to Greece. Not least, it's one of the easiest countries to apply for residency through investment, so it's a great option to consider if you're looking to purchase property and move somewhere sunny. However, there are systems and processes in place that you will have to navigate, and Greece has earned its reputation for being rigidly bureaucratic for a reason. So, it's important you work out exactly what visas and permits you need in order to move to Greece, whether short or long term.
Do I need a visa for Greece?
A lot has changed since Brexit, but the good news is that buying property abroad has been largely unaffected. So, you don't need to apply for any visas or permits to purchase a home in Greece if you're a UK citizen.
You also don't need a visa to visit Greece if you are from the UK, and like most of the EU, you can stay in Greece for up to 90 days in a 180-day period visa-free. This is because, although the UK isn't a Schengen country, we are covered by a visa waiver after Brexit. So, we don't need a visa for a short-term stay.
90 days is plenty of time to visit different locations and view properties when you're narrowing down your search for your dream home! However, be careful of stopping off in other countries in the EU during your trip, as visits to other members of the Schengen area such as France, Spain, and Italy will count towards your 90 days.
If you're buying a holiday home, note that you don't need a Greek visa to stay in it providing you only spend 90 days in a 180-day period there. Any longer and you'll have to apply for a visa. To move to Greece permanently, consider residency and citizenship, as well as any work permits you may require.
Types of Greek visa
If you are travelling, visiting family, or have a holiday home in Greece, you can stay for 90 days in any 180-day period without a visa. So, you can easily spend half a year in Greece without worry.
If you're looking to stay longer or move to Greece permanently, there are a number of long-stay Greek visa options available to you. For example, the Greek golden visa scheme has one of the lowest thresholds of any other EU state, so it's a popular option among many UK expats. And, if you want to travel around Europe at your leisure with an EU passport one day, it's the perfect choice.
You can apply for the following visas through the London Visa Application Centre for Greece, a branch of the Global Visa Centre World (GVCW).
Working visa
Before Brexit, UK nationals did not need permission to work in Greece as long as they registered on arrival (and received a residence permit if staying for longer than three months). They would then automatically receive the same rights and benefits as Greek nationals in terms of pay. However, now that the UK has officially exited the EU, the process is different for anyone planning to work or move permanently to Greece. So, you will need a work permit (as well as a residency permit) to work in Greece after Brexit.
Before you can apply for a work permit, you need to find a job or establish a transfer so that your employer can be contacted. Then, you'll have to visit the local aliens and immigration department. A working visa can be converted to a work permit and a residence certificate at the same time once you actually arrive in Greece. In normal circumstances, both documents are valid for five years.
Greece digital nomad visa
A new type of visa (and one that's bound to be popular) is the Greece digital nomad visa, or DNV. This visa allows non-EU citizens to live in Greece and work remotely, under the following conditions:
You must earn a minimum of €3,500 per month (plus 20% if you have a partner coming with you and an additional 15% for any dependants)
You must be able to do your job via the internet on a laptop, computer, or similar device
The company you work for must be based outside of Greece
If self-employed, your business cannot be registered in Greece
So, for example, if the company you work for here in the UK has a permanent work-from-home policy, you could move to Greece and live there while working remotely. This type of visa costs around €75, is valid for one year, and can be renewed for another year.
Residency by investment
Another popular option for staying in Greece long-term is the so-called 'golden visa', or residency by investment, which provides a residency permit that's renewable for up to five years in return for purchase of real estate at €250,000 or more. With this option, you don't need to find employment or anything of the like, and you can be accompanied by your spouse and close family, who may also qualify for residency through you.
Greece's golden visa scheme is very flexible and has a particularly low threshold compared to similar schemes in other Schengen states. It also includes the right to reside for children of up to 21, not just 18 like most such resident permits. You can also bring your parents and parents-in-law.
This has proven very attractive to foreigners, and we have a lot of British people interested in buying in Greece for the visa. You can do all this from the UK before you move with power of attorney.
Greek residency
Applying for Greek residency without going the work permit or golden visa route — perhaps if you're retiring — is still relatively straightforward, and the process generally takes less than six to eight weeks.
Once in Greece, you can ask your nearest KEP office where exactly you should go to apply for a residence certificate or permanent residence permit. These offices are basically Citizen's Advice Bureaus, and they can help with numerous queries relating to residency permits, renewal of documents, and so on. The staff are usually helpful and knowledgeable at these offices.
If you have bought a Greek home, you will already have a Greek tax code, a Greek bank account, health insurance, proof of income, and your National Insurance (AMKA) number. When you apply for a residency permit, you should take as many documents with you as you can. You should also include bank statements so that you can prove that you are financially secure if you need to. If you're retired, you'll need to prove an income of at least €2,000.
If you don't want to eventually apply for full citizenship, note that you don't have to reside in Greece even if you have residency. Your residency rights won't be revoked if you choose to spend most of the year in the UK.
How to get Greek citizenship
To become a citizen of any country rather than a resident, you are expected to live there, pay taxes, and generally contribute to the economy. In Greece, you have to be a resident for seven years before you can apply for Greek citizenship (and obtain an EU passport in the process). During this time, you must spend the majority of the year residing in Greece — at least 180 days.
Applying for visas, residency, and citizenship
As you're probably already aware, Greek bureaucracy is very intense. So, be prepared for long waits and plenty of visits to government offices when moving to Greece. However, if you can do the bulk of preparatory work before you leave the UK, you may not have so many bureaucratic headaches when you get to Greece.
If you get as much paperwork and photocopying done as you can before leaving the UK, it may help speed up processes such as applying for residency.
All documents in English, including birth and marriage certificates, should be translated into Greek and notarised. Having plenty of photocopies to hand is also recommended so that you don't have to hand over any original documents unnecessarily or have to wait for them to be returned.
Put together a legal team
Moving to Greece isn't difficult, despite having one of the world's trickier bureaucracies to steer your way through. However, before you move, you should find a good lawyer. Legally, you have to employ a lawyer when buying a Greek property worth more than around €30,000 (less in rural areas). But even if you're buying below this threshold, why take the risk?
Your lawyer prepares the preliminary sales agreement. This covers the price, what's included, how you are paying, the completion date, and any other essentials.
You will also need a notary. They will make sure everything is carried out as the State expects, and that everything is witnessed and certified. Although it's another service to pay for, the notary ensures all your documents are in order and facilitates the process, so they are essential.
Ensure your lawyer completes all the legal checks — you can find a comprehensive list of legal checks when buying property in Greece in our buying guide. And remember, if you think the Greek government is slow, just wait until you get enmeshed in the judicial system! So, it's important to get it right the first time.
Healthcare and health insurance in Greece
When moving to Greece, you'll no doubt be wondering how to access health and medical care while you're there. What you may or may not already be aware of is that Greek health services are among the best in the world, which is just one of the many reasons why so many Brits choose to move to this beautiful country.
But how do you register with a doctor, do you need health insurance, and what sort of care will you receive? You may also be wondering what has changed since Brexit regarding healthcare in Greece. We'll take you through the workings of the Greek healthcare system, so you can be prepared and stay confident if the worst should happen.
What is Greek healthcare like?
The Greeks are known for caring about their health. After all, the father of medicine, Hippocrates, was Greek. Even today, one of the first things you'll notice is the huge number of high street chemists. Despite a cut in public spending on health (down to around 8% of GDP annually), this remains an important area for Greek citizens.
Historically, the Greek population has been one of the healthiest in Europe. The average life expectancy for men in Greece is 78.7, and for women it is 83.7 — this puts the country at 25th for world life expectancy. On top of this, Greece's state healthcare is rated as excellent.
You will find, just as in the UK, that there are waiting lists and some services may be rationed. However, the evidence is that you will get good basic treatment from the Greek state healthcare system.
How does the Greece healthcare system work?
Anyone requiring medical help in Greece should receive basic care free of charge, albeit with a €1 charge for prescriptions. However, you really ought to have medical insurance in order to receive medical treatment, particularly if you are a resident in Greece.
Greeks have IKA, which is the state-funded insurance. If you are working in Greece, your employer should sort out this insurance for you and both you and your employer will pay monthly contributions. You can also choose to take out private insurance in Greece, or you can use a UK insurer.
Healthcare in Greece for tourists
If you're staying in Greece for less than 90 days at a time, perhaps for property viewings, then it's as easy as it ever was to receive healthcare in Greece. Post-Brexit, the European Health Insurance Card (EHIC) has been replaced with a Global Health Insurance Card (GHIC). This works in the same way as the old EHIC card did — it will ensure that you receive free medical treatment, or at least discounted medical treatment, in the EU.
You can continue to use your EHIC card until it expires, after which you will need to apply for a free GHIC card.
However, if you plan on staying in Greece for longer than 90 days, you will need to apply for residency. Then, if you're working and making social insurance contributions (known as AMKA in Greece), you will be entitled to state-run healthcare on the same basis as a Greek citizen.
If you are retired and receiving a UK state pension, you may also be able to access state-run healthcare by filling in a S1 form. If you are not working and are not retired with a registered S1 form, you must take out private healthcare.
How to receive Greek state healthcare as a resident
Under Greek state healthcare you will receive basic care free of charge, with only a €1 cost for each prescription you receive. If you are of pensionable age, you will need to apply to the UK Pension Service for your S1 form. You must then register with the relevant authority in Greece before you can access health services in the country.
If you are not of pensionable age, you will need to register with the Greek authorities for a Social Insurance Number from the National Organisation for Healthcare (EOPPY in Greek).
If you're paying for healthcare in euros but receiving an income in pounds, speak to a currency and payments specialist about how to get money sent to you in Greece efficiently and regularly. We recommend Smart Currency, ranked as "excellent" on Trustpilot for money transfer and currency exchange.
Once you are making National Insurance contributions, either through employment or self-employment, you will be entitled to state healthcare on the same basis as a Greek national. Get in touch with your local EOPPY office to find out about registering for your nearest doctor, and where your local facilities are.
Private health insurance in Greece
You also have the option to receive private healthcare. When it comes to paying for private coverage, the price will depend on pre-existing conditions as well as your family history, lifestyle, and age. You can also specify which private treatments you would like to be covered for and which you will pay as you go. Nevertheless, as a very rough ballpark figure, a budget of around €500 for a family of four per month, or €800 for a retired couple, would give you a good choice of providers.
Bear in mind that if you are living on an island, you will probably be treated by the local state doctor anyway. And while Greece's state healthcare services are generally excellent, you may find it difficult to access certain services if you are living on an island as opposed to the mainland. Private hospitals will usually only be found in the larger cities as well, and you will certainly pay extra for the right to be collected by helicopter in an emergency.
Bear all this in mind when you negotiate over a health insurance policy. You need to ensure that you are covered for everything you may require. Remember that private companies will not treat you as generously as the NHS if you have omitted to pay for coverage for the health problem you end up suffering with. Even if your employer pays for your policy, you may need to purchase additional coverage in some areas to ensure you do not end up with a hefty bill.
If you're budgeting for health insurance, make sure you take into account the constantly moving exchange markets. Get a quote today from our trusted partner, Smart Currency Exchange, to get a better picture of what you can afford.
How to access healthcare in Greece
Whether you have a GHIC or EHIC card, are entitled to state healthcare, or have chosen to go the private insurance route, there are a few different ways you can access health services in Greece in order to receive the care than you need.
Finding a GP
If you are relocating to Greece, you will need to find a doctor (γιατρός). In Greece, there are GPs (παθολόγος – pathologos) and the best way of finding one is to ask your local pharmacist. The pharmacy logo is a green snake entwined around a rod – the symbol of Asclepius, the god of medicine – on a white background. You will easily recognise them. There are many pharmacies in Greece and pharmacists tend to speak English, so you shouldn't have any problems communicating.
You could also tour your neighbourhood and look for a sign (it might be attached to a window outside a block of flats, so look up) which gives a doctor's name and specialism.
You will need an initial appointment to see a doctor, and if you don't have the EHIC/GHIC or state-funded healthcare, you will have to pay for the examination, treatment, and medication. So, remember to take cash and a card with you.
Although doctors are busy people, they will usually see you the same day if you are prepared to visit their surgeries and wait. Often people just go to their doctor's office and sit and wait to be seen. Actually, this is a good way to meet people. Greeks are a friendly bunch on the whole and really enjoy talking to 'new' people. Be prepared to answer a lot of personal questions though, as their curiosity is boundless.
Finding a specialist
Doctors in Greece specialise in different ailments, so your GP will direct you to a specialist in your local area who will then refer you to a doctor in a hospital if necessary. Alternatively, your GP may arrange a hospital appointment with an appropriate specialist for you.
Again, you can also tour your neighbourhood and look for a sign which gives the doctor's name and specialism.
Preventive treatment
Your GP will arrange for any tests you would like to have — cancer screening, for example. Sometimes there are initiatives for people to have free whole-body examinations, paid for by IKA. Be advised by your GP and ask what free tests are available.
Homeopathic doctors
If you prefer to be treated by a qualified homeopath, you will probably have to pay privately. Greeks are very tolerant of practitioners of alternative medicine of all kinds, however employers will not accept doctor's notes from these medical practitioners as they are not recognised by IKA. Homeopathic doctors tend to be based in Athens and Thessaloniki.
Moving with your family to Greece
Moving to another country can be more than a little daunting. But moving with a young family has even more considerations – schools, paediatric healthcare, and generally how your family is going to fit into a new environment. Here are some practicalities of moving with your family to Greece, plus tips for making the move with your family as painless as can be.
Is Greece safe for children?
Absolutely! There are around 20,000 British citizens living in Greece — many of whom have been there for a number of years. As a culture, it's immensely welcoming to children. Not only that, but children quickly pick up other languages and adapt. In fact, you'll probably find they settle in even faster than you.
However, it is a good idea to make sure that they feel on-board with the process right from the start. Involving them in deciding on an area and, where possible, taking them with you on final viewings of properties can help them feel like they're really part of the decision. The first couple of weeks can be tough as they miss their friends and take their steps in the language. However, this soon passes, and they come out the other end confident and independent!
What child would turn down instant access to the beach, fantastic weather and probably a larger house, given cheap property prices? Without constant grey skies and rain, your child will have a healthy childhood like many people remember their own — outdoors and away from electronic screens.
In many of the small towns and villages popular with expats, everyone knows everyone. That means you'll find plenty of support and it's perfectly safe for your children to play out.
Moving with children to Greece can be a fantastic chance for a change for the whole family. It can be a daunting prospect, but, with the right organisation, it can all go smoothly. Before you know it, your children will have settled in with local friends — and be offering to teach you Greek!
Education in Greece
Administered by the Ministry of National Education and Religious Affairs (MNERA), the Greek education system requires all children aged between six and 15 to attend school. The system is divided into primary education (Demotiko) for six years, junior high school (Gymnasio) for three years, and senior high school (Lykeion) for another three years.
Having attended the primary level, children can then opt to attend a more practically focused Vocational Training Institute (IEK). During their final year of senior high school, students take the Pan-Hellenic National Exams which determine their eligibility for tertiary studies.
The academic year in Greece follows a similar pattern to the one back in Britain, starting in early September but ending slightly earlier in mid-June, with three terms. In most schools, classes start at 8.15am and continue until 1.30pm–2pm.
State schools
The MNERA oversees the funding that public (as in state) schools in Greece receive, the curriculum they teach, and the staff they appoint.
Austerity measures imposed as part of the EU bailout programme had an impact on the Greek public education system. Most notably, many qualified teachers left the profession. But, even with all its problems, the state system is probably the best way for children to integrate into Greek society and learn the language, without having to pay tuition fees. More pertinent is whether it will give them the best education.
Be prepared to fork out for a private tutor for your children if they attend a state school — as many locals do — to improve their chances of passing the Pan-Hellenic National Exams. The rather inflexible system relies on a rote memory — a memorisation technique based on repetition — style of teaching, which doesn't suit every student.
Private schools
There are many private schools in Greece. In fact, it has one of the highest percentages of private pupils in Europe, with 7% of students attending an independent school. Greeks generally consider them superior to state schools, and fees are usually between €7,000 and €13,000.
While private schools enjoy greater autonomy, the Ministry of National Education and Religious Affairs still has involvement in their operation. Because they follow the state curriculum, lessons are typically taught in Greek, making them a good option if you want your child to receive an integrative schooling experience that's of a high standard. Another thing you can guarantee is the provision of top-notch facilities.
International schools
International schools are often the ideal option for expat children in Greece because they are surrounded by fellow English speakers, making the settling in process a lot easier. What's more, class sizes are likely to be smaller, and they will be taught the English national curriculum which can help with smoothing any transition back home in the future.
The only issue you may have will be finding an international school in your local area. Most are situated in Athens, Thessaloniki, and Larissa. Aside from Crete, you may struggle to find a Greek island that's home to one. Here are some of the main international schools in Greece:
Home-schooling
Home-schooling is technically illegal in Greece, as it is in many European countries. Under Greek law, children must attend one of the schooling options detailed above. If you can demonstrate that your child is learning to a proper curriculum and cared for properly, however, you are unlikely to get into trouble.
Will lessons be taught in English?
Your children will most likely be educated entirely in Greek. Some international schools conduct lessons in English, but only really in the main cities, especially Athens. On most islands, even in Crete, lessons are taught in Greek. However, most schools do have additional teaching for those whose first language is not Greek, and there are also private teachers available who can help children with their Greek language.
Starting at a new school in an entirely foreign language with a different curriculum may well be daunting for children, but they generally adapt quickly to new situations — often more so than adults.
Paediatric healthcare
Family healthcare is another issue you'll have to consider when moving to Greece. Most areas now have local doctors with whom you can register for paediatric care, including even the smallest islands. In larger Greek villages and islands, you'll find a state-run health centre. Larger towns have hospitals, many with accident and emergency departments and a wide range of private physicians of all specialities, including paediatricians. There are also private hospitals with health insurance schemes available.
State or private?
You will need to decide whether to rely on Greece's state healthcare or go private. Medical facilities in tourist areas will have English speaking staff available, but inevitably out on the islands you'll have less choice.
Daily routines
Daily routines may well be different, particularly as schools run from 08.30am until 2.00pm, with larger schools offering an 'after school' facility until 4.00pm or 5.00pm, so this needs to be taken into consideration when planning a working day.
The siesta is still a major part of Greek life, especially in summer. Once school is over (Greece has longer summer holidays from early June to early September), don't expect much to happen between 3.00pm and 6.00pm. This is the 'quiet time' when many Greek children rest in the heat of the day. That's why you'll see them up and about until mid to late evening.
Changing environments and routines always presents challenges, and you'll need to approach family life logically and for the long term. As Louisa Durrell is apt to say: "We live here. We're not here on holiday". By enlisting the help of local people and other foreign residents, the whole family should be able to settle in. You'll soon appreciate the relaxed and slower paced atmosphere of life in Greece.
Moving your possessions to Greece
You've successfully negotiated the overseas buying process, have organised your paperwork and administrative considerations, and are finally moving into your dream home. Time to relax? Not quite. Now, you've got to think about moving your stuff in and getting the sofa up the stairs.
Don't be daunted, however. If you can buy a property in another country, then arranging to send a few things overseas should be a breeze. Let's look at your options for making this happen as smoothly as possible.
Removals to Greece
Going by sea, to take the contents of a small apartment door to door from the UK to Greece, including packing and unpacking, costs around £1,500 to £2,500 and usually takes around eight weeks. Moving a similar volume of stuff by air costs two to three times more, but gets there in a day or two. By road from central Britain to central Greece is 3,300 kilometres, with around 30 hours driving time. Shorter routes are available via Italy if you include a sea crossing, but they are no quicker or cheaper.
Hiring a 'man with a van' is a simple and controllable option and you may even take up a place in the van too, but remember that you will normally be paying him or her to take his van back empty. Large removal companies taking yours as a part-load will take longer and need booking earlier as they pick up several peoples' stuff along the way, but they subsidise the trip by sharing driver, ferry, and fuel costs and by bringing someone else's possessions back from Greece. The more flexible you are the cheaper your quote will be, and you should get at least three quotes in writing.
The British Association of Removers (BAR), International Association of Movers (IAM), and Overseas Moving Network International (OMNI) are good places to find a reliable and insured removals company, although it is usually advisable to insure your possessions yourself, which will be one or two per cent of the value of the goods. You should aim to book several months in advance in order to get the best deal.
Shipping options to Greece
Whether you are moving to Crete, Athens, Rhodes, or somewhere more remote, you can arrange for your possessions to be packed, shipped, and delivered to your new pad before being unloaded inside. So how do you go about getting them from A to B? If you're moving to one of Greece's 227 inhabited islands, you will have to move your possessions to your new home by land, sea, or air.
Land
It's a 3,000-kilometre drive from Calais to Athens, which Google calculates you can do in about 30 hours. The route takes you through France, Germany, Austria, and various Balkan countries, but what an adventure! Another option is to drive as far as Italy and then get a ferry across to Greece from Bari or another of the Adriatic ports. This is around a thousand kilometres less driving but does involve a ferry cost from around £250-–300 for a medium-sized van.
The downside is that you then have a car or van in Greece that you might not want. There is always the option of buying a left-hand-drive car in France and continuing to use it in Greece.
Air
If speed is of the essence, air freight is your best option, taking one to three days. The convenience comes at a cost, however, particularly if you are shipping a large amount. This might be more affordable if you're buying a holiday home and don't need to move all of your worldly possessions out to Greece. If you're on a smaller island, you will then have to arrange further transport out by ferry, but these are relatively well-trodden paths so hiring a removals person and a van from Athens should not be problematic.
Sea
If there is one thing the Greeks know about it is shipping, so this is usually the easiest option, especially if you are on an island. Transporting your belongings by sea will take at least four to seven days from the UK, but this is certainly the most cost-effective option if you are taking bulky items like furniture. We've calculated the estimated shipping costs to Greece that you'll need to budget for, by obtaining quotes for shipping the contents of properties of different sizes:
Contents of a small flat by sea: £850 – £1,000
Three-bedroom house by sea: £1,500 – £1,500 (20-foot shipping container)
Five-bedroom house by sea: £2,000 – £2,500 (40-foot shipping container)
Why bother?
If you don't fancy getting involved in any of that, one good thing about your new life in Greece is that the Mediterranean lifestyle is more about experiences than belongings. Greek people tend to have far fewer possessions and keep their properties less cluttered. Greek furniture bought locally will tend to suit the climate better than the soft furnishings that suit you so well in the UK, but if all else fails, you can always find an Ikea — there are at least five shops and/or pick-up points.
Moving your pets to Greece
If you are moving to Greece, obviously you'll want to take your dog with you. It will certainly help you settle in better, and it's amazing how your faithful companion will encourage conversation and interaction with your new neighbours.
However, Greeks in general have a less relaxed attitude to animals than the British. Greece has a problem with stray dogs, especially since in the financial crisis many Greeks were left virtually destitute and many pets were put out onto the street (so if you don't have a dog to take with you, you'll have no problem finding one there).
Travelling in Greece with an animal, therefore, unless in your own vehicle, may present problems. You cannot usually take a dog on a bus or train unless it is in a cage. Many beaches may be no-go areas for dogs, as will most shops and restaurants. Whatever you do, don't allow your pet to roam freely or it may be mistaken for a stray and put down.
Before you go
If that hasn't put you off — and responsible pet owners really need have no fear — the standard requirements for bringing a pet into Greece are that your pet must be microchipped and registered, blood tested, and must have had a rabies vaccination within the last 12 months and more than 30 days prior to travel.
Cats and dogs travelling to Greece will need to comply with the Pet Passport Scheme. Throughout the EU there are standard rules for the issuing of a Pet Passport and animals travelling within the EU are required to have one. The rules are changing all the time so check out the DEFRA website where you will have updated information to hand.
When you get to Greece
It would be wise to find out the location of your local vet (ktiniatros) and obtain an emergency telephone number as soon as you arrive in Greece with your pet, just in case of problems. Greece has one of the lowest rates of dog ownership in the EU, with around 660,000 compared to 8.5 million in the UK. So, finding a vet isn't quite as easy, especially outside of the cities. Your easiest option is to ask your nearest dog walker.
Coming back
If you plan on flying your pet back to the UK, check Defra listings online for an authorised carrier and an approved route. At the time of writing, low-cost carriers including easyJet and Ryanair do not allow animals on their aircraft, although certain exceptions are made for guide dogs.
Airlines will also require a "fit to fly" statement to be completed prior to export. This can also be completed on the "clinical examination" page of the Pet Passport. The statement will need to be done by a local Veterinary Inspector — most veterinary practices have one. It is recommended that this is done within five days of travel.
If you are driving from one country to another with pets, check the regulations of the countries you are passing through or you could face a heart-rending decision at a Balkan border crossing.
Utilities and bills
Moving to Greece also means transferring all your bills and utilities over to your new home. The simplest way to get connected in Greece is to get your lawyer to do it all for you. He or she will send someone from their office to change the name on your electricity bill, water bill, and phone bill. However, they will charge you for this, so unless you are really short of time you could consider doing it yourself.
When setting up payments, ask your bank to issue you with information so that you can register for online banking, which is available in English. They also have customer service advisors who are fluent in English. If your income is in pounds but your expenditure is in euros, speak to Smart Currency Exchange about how to pay your regular bills reliably and cost-effectively.
Taxes
The first bills you have to organise are your annual tax return and property tax. You will need an accountant for this. You must do an income tax return every year when you own a property, however it's nothing complicated if it is purely your own holiday home — just a standard procedure. Your accountant will work it out and tell you what (if anything) you owe, as well as when to pay.
The property tax (ENFIA) is calculated by the tax office, and your accountant will also advise you regarding payment of this. It is calculated on between €3 and €6 per square metre of build, plus a tiny amount for the land. Taxes can either be paid in one full payment, or in regular payments over five months.
You will need to change the electricity, water, and phone/Wi-Fi bills into your name, and this does involve a bit of legwork. Before you go to any utility company offices, make numerous copies of your passport — you will invariably be asked for at least one.
Electricity
You will need to go to your local DEH (electricity company) office. Take with you your passport, a copy of your property purchase contract, an electrical plan of the property (any local electrician will organise this for you for approx. €150–€200), and a copy of the last electricity bill from the previous owner.
You need to go to the DEH office early in the morning (take your coffee with you!), take a coupon from the machine, and wait your turn. It can take some time, but it can be done. Once the bill is in your name, you can arrange to pay by direct debit from your bank, via online payments, or through the DEH website with a credit card.
The electricity bill contains a percentage which is for local community charges — the lower your electricity bill, the lower this charge will be. The bills come bi-monthly and are calculated over a four-month period. The first bill will be enanti (estimate) and the second will be a katharistiko (accurate) bill. The power company come and read meters, but you can also supply your meter reading via phone or internet.
Water
To transfer the water bill to your name is less complicated. You visit the local DEYAK office with a copy of your passport, sale contract, and water bill from the previous owner. Bills are issued every three months, but meters are only read periodically, so several bills might have just the standing charge, and then there will be an actual bill. Again, you can arrange a direct debit from your bank for payment once the account is in your name
Landline and WiFi
The main landline supplier is COSMOTE, who supply both land and mobile phones and internet. Various packages are available, from basic phone and internet to complete packages including satellite TV. Bills are every two months and you can register on the COSMOTE website so that you can check and pay online. One registration account can cover landline, mobile, and COSMOTE TV if you decide to take this.
Wi-Fi is available virtually everywhere and speeds vary according to location. You can order all services by phone, but you will need to visit the COSMOTE store to sign agreements. 
Mobile phone
There are several suppliers, including Vodafone, COSMOTE, and Wind. You just need to provide proof of ID in order to purchase a 'pay as you go' package. A range of packages is available for phone and Wi-Fi. Top ups are available at many stores, but can also be purchased online on the relevant websites.
Television
There is a choice of Greek terrestrial channels, showing many films in English. There are two satellite suppliers – Nova and COSMOTE TV which are the equivalent of UK Sky TV. Both are subscription channels with a range of packages. Many people now watch UK and international channels via the internet as an alternative to subscribing to a satellite channel. You can read more about watching British TV abroad here.
It is worth noting that all these companies do have English speaking staff available, and frequently if you call the customer service numbers you can choose the option for an English-speaking advisor. Similarly, DEH, Nova and COSMOTE websites have an English option.
When you're moving to Greece from the UK, there's a lot to consider. But it's doable and perhaps a lot easier than you think to start your new life abroad! At Greece Property Guides, we can provide you with advice and guidance on everything from buying property to living in Greece, plus we have a wealth of property market news articles which can help make moving a breeze. Start your Greek journey today.
Speak to an expert
Over the last ten years, we have built up a network of trusted specialists to provide independent, factual guidance on all aspects of buying property in and moving to Greece. Our experts have been talking to homebuyers in Greece and helping them to buy their property in Greece safely for a number of years. Get in touch with our Greece property experts on +44 (0)20 7898 0549 from Monday–Friday, 8:30am–6:00pm or email [email protected].
Our team will be able to assist you with all the aspects of your move, like talking you through the buying process or planning a productive viewing trip.
They can also help you connect with our network of trusted professionals, including estate agents, currency specialists, and lawyers. Contact us via the details above or fill in an enquiry form below to get started.
Download your free copy of the Greece Buying Guide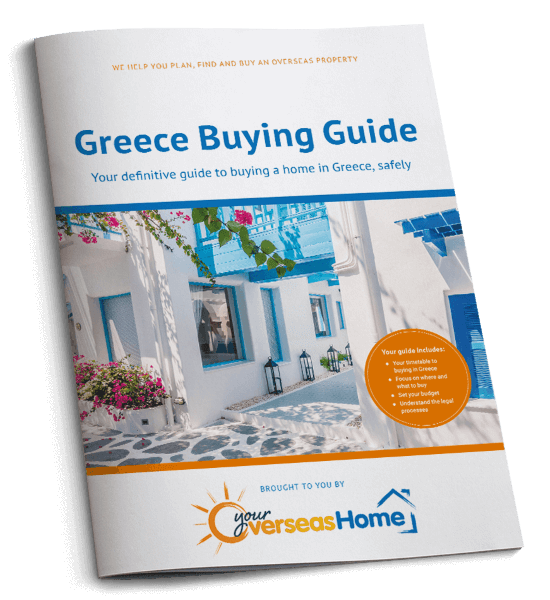 The Greece Property Guide covers every stage of the property buying process, sharing our experience and knowledge to ensure a safe and successful property purchase. The guide will help you to:
✔

Ask the right questions
✔

Avoid the legal pitfalls
Download your free guide to buying in Greece