Greece offers overseas buyers an amazing range of geographies, climates and lifestyles to choose from. For a start, it has well over 200 inhabited islands – and each is different. Even within the same island groups, the geography can be strikingly varied. How easy they are to reach from the UK can vary too. Come with us as we take a tour of the country to find where to buy in Greece.
Greece is a large country, but three quarters of it is mountainous and barely inhabited. It has a total area just over half the size of the UK, yet with just a sixth of the population. All those islands provide a Mediterranean coastline five times longer than Spain's and twice as long as Italy's.
Greece is also relatively undeveloped. Although at the height of summer as many as 150,000 tourists can arrive each day, it still doesn't have the highly developed mass tourist facilities of Spain. You can still find your own unspoiled island paradise here!
A good start is to divide your options into mainland and island groups.
Mainland:
Attica and Athens
Athens, with an urban population of three million, is the oldest western capital city and one of the grandest. It was seriously spruced up for the 2004 Olympics and, until the financial crisis, was wealthy, impressive and confident. Over the past decade, the city has been hit by the financial crisis – and it shows. The amount of graffiti at street level can be off-putting, but will hopefully be removed when civic pride improves, along with the Greek economy and employment. Despite the graffiti and frequent strikes, the city functions well. There are still plenty of people with money to pack out the restaurants and keep the smart shops in business. The kindness and friendliness of Athenians is exceptional and many people speak English. There are also good expat networks.
Athens offers the possibility of year round life and entertainment, with plenty to do in the winter months and frequent, inexpensive year-round flights from the UK. Most property is in the form of apartment blocks, normally of six storeys. As in any major city, you need to be careful about where you buy. Like any capital city, Athens has plenty of expensive properties in leafy neighbourhoods – consider Kolonaki and Plaka – or apartments in trendy city centre locations, such as Psiri or Exarchia.
The region surrounding Athens is called Attica, and has good coastal options for properties. However, you will be competing with wealthy Athenians, so they're not cheap. The Apollo Coast, also known as the Athenian Riviera, stretches for 50 kilometres from Piraeus in a series of resorts that are lively for most of the year.
Central Greece
It's never very hard to escape the tourist side of Greece, but the central mainland of Greece feels like little has changed for hundreds of years. It's rural, with the vast plain of Thessaly filled with wheat fields, cattle farms and orchards, surrounded by mountains, forests and the sea. It is here that you see monasteries built on outrageously high cliffs. Houses are inexpensive, built from the local red stone, usually half timbered. You really are in deepest Greece here, more like the rest of the Balkan region to which Greece officially belongs. The region can be cold and wet with heavy snowfall.
There are coastal resorts too. On the Aegean coast consider the Pelion peninsula. It's a little pricey, but relatively easy to each via the port and airport at Volos. On the Ionian coast, the resort of Parga is famous for its beauty.
Peloponnese
The Peloponnese is a large section of Greece, home to 10% of the population and dripping with history, including Ancient Olympia – site of the original Games – Mycenae and Corinth. It has snowcapped mountains, lush valleys, fertile plains where the famous Kalamata olives come from, and a sensational coastline. It is relatively undeveloped for tourists, although the upmarket Costa Navarino and Amanzoe resorts are making a name for themselves and EasyJet has direct flights into Kalamata in the south west.
Islands:
Ionian Islands
The seven main Ionian islands include the ever-popular Corfu and the increasingly popular Kefalonia. Corfu has a long tradition of welcoming British expats – most famously the Durrell family in the 1930s – and the several thousand British residents even have their own cricket teams. Corfu Town has an attractive Italianate waterfront while the northwest corner of the island's nickname "Kensington On Sea" may give you an idea of the usual clientele and the prices there. The property market in Kefalonia has been boosted by direct flights in summer. Property here is more likely to be modern and purpose built holiday villas and apartments. Zakynthos has been a tourist favourite for decades, offering both easy summertime access and a good chance of holiday rental income.
Being the closest part of Greece to the UK, the Ionian islands offer the option of travelling overland via France and Italy and then by ferry.
Cyclades
This group of around 30 inhabited islands in the central Aegean is easy to reach from Athens by ferry or plane, or direct flights run from the UK into Mykonos and Santorini. The traditional architecture is whitewashed cubes with small white windows and brightly coloured domes and terraces. However, you can just as easily find a modern villa.
The Cyclades offer a wide choice, from the wild summertime hedonism of Mykonos and Ios to the breathtaking beauty (and crowds) of Santorini or the quiet charm of Syros. The islands are mobbed in summer and quiet in winter, although not completely closed down. Santorini in particular is trying to improve year-round access. The busier islands have some of Greece's most expensive property, but they also offer the best holiday rental returns.
World-famous designer Terence Conran, creator of Habitat, chose Rhodes for a holiday home
Crete
Greece's largest island has a big and vibrant community of northern European expatriates, mainly along the north western coast around Chania, around Rethymno in the middle and Lasithi in the east. The Italianate harbours are a particular attraction but many buyers opt for the inland villages in the foothills of the southern mountain ranges. Islands such as Crete that are popular with tourists have been insulated from the worst effects of Greece's economic downturn (tourist numbers have been breaking records during the last two years). Nonetheless, you can still pick up renovation projects barely into five figures.
Dodecanese
The most south easterly and sunniest islands in Greece include the tourist favourite Rhodes, which has a good choice of tourist style apartments in hedonistic fleshpots like Faliraki, but also attractive village properties. World famous designer Terence Conran, creator of Habitat, chose Rhodes for a holiday home. Other islands in the group include Kos, increasingly popular among buyers for its year round warmth and sunshine. Kalymnos is easy to reach by boat from Kos and has an attractive port, while Karpathos is famous for its beaches and has an airport.
Sporades and Evia
The Sporades featured in that wonderful evocation of the expat lifestyle in Greece, Mamma Mia! In the movie, the heroes had met in a wild and hedonistic atmosphere of the Sporades in the 1970s. However, that has largely been replaced in Skiathos by family oriented package holidays and foreign residents.
Skopelos, where it was filmed, is one of the larger islands, but relatively unspoiled. It is known for its traditional stone farmhouses called kalyvia. They are often only occupied at harvest time, when extended families come from all over Greece to bring in the crop. Skiathos is more famous as a holiday resort, one of Greece's most beautiful islands, even with the fierce competition. It is easy to access in the summertime.
The large island of Evia can be reached by car from Athens in under two hours and its quiet seaside resorts such as Limni and Loutra Aidipsou and attractive inland villages are more popular with weekending Athenians than international buyers. The north is more attractive than the dryer south.
Northeast Aegean
They are in places just a mile or two from Turkey yet even at the height of the migrant arrivals relatively few beaches were affected. Its islands include tourist and expat favourite Lesbos, green and mountainous Chios, and the tourist-developed Samos.
If you're looking where to buy in Greece for winter living, these may not be the islands to choose due to the distance from Athens. However, in summer there are direct flights into Samos and Lesbos. They have quite large populations – 110,000 in Lesbos, 50,000 in Chios. As such, their property markets are well developed and it is easy to find pleasant and affordable homes.
Aegina is the most convenient island from Athens, at around an hour by sea.
Argo-Saronic
The islands closest to Athens are busy all year and have relatively expensive property. But their convenience for Athenians is just as useful for the rest of us off-season, when flights and ferries to further-flung islands are limited. Aegina is the most convenient from Athens at around an hour by sea, depending on your choice of vessel. The interior is green and mountainous and the beaches are especially nice. Property is expensive, though. The islands of Hydra and Spetses are car free and among the most expensive in Greece.
Find this information helpful? Share with your friends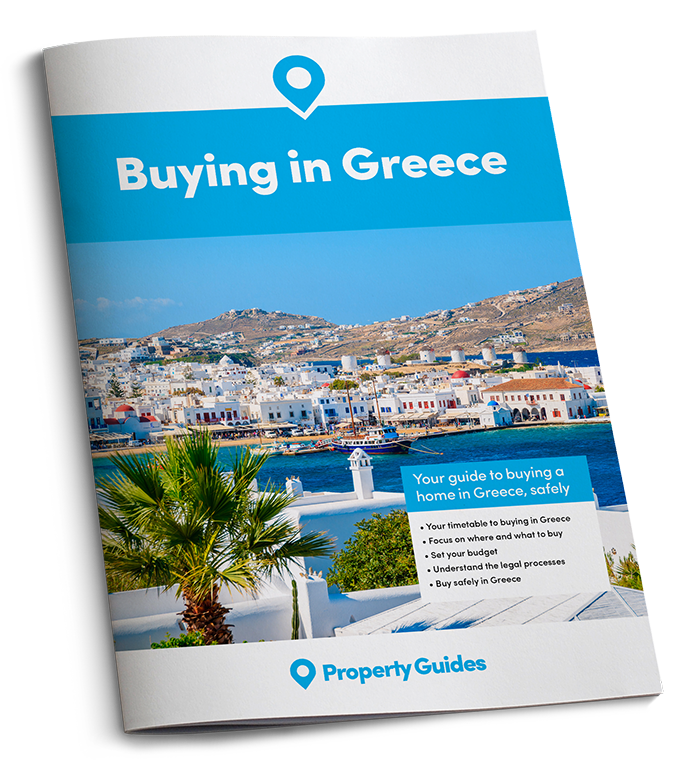 The Greece Buying Guide takes you through each stage of the property buying process.The guide will help you to:
✔

  Ask the right questions
✔

  Avoid the legal pitfalls