How do you find your perfect overseas location? If you've returned from your summer holidays feeling inspired to buy a home abroad, here's where you start planning! At the Overseas Guides Company, we believe in doing things methodically. It's the only way when you've got a project as big as buying a home abroad. Just break it down into convenient steps and you'll soon be there.
You should already have read your free Buying Guide and got an overview of the key steps involved in a successful overseas purchase. Being methodical includes finding the right location. After all, the world might be a big place but there'll be things you like and don't like, there will be transport issues and other limiting factors.
Plot your way through those to find the perfect property, just for you!
Step one: Where is convenient?
A key consideration for picking a second or permanent home is how easy it is to reach from the UK. Whether it's you travelling out once, twice or more times a year, or friends and relatives coming to visit you as a resident expat, check you are satisfied with the travel time and overall accessibility of your overseas property.
Think about proximity to airports and transfer journeys at both ends. Ideally you'll have more than one airline option for each, as routes change every year. Chuck a few potential dates into the airline website and get an idea of flight costs throughout the year.
Winter timetables will mean fewer direct flights, or maybe none at all. You can get there off season, but work out exactly how, and if you can afford the time and expense.
Don't forget that winter timetables will mean fewer direct flights, or maybe none at all. That even includes such big Mediterranean islands as Crete or Menorca. Of course you can get there, but work out exactly how, and whether you can afford the time and extra expense.
Continental Europe comes with the option of driving from the UK too. Take a look at a website like Seat61.com or Loco2 to see the likely expense. Remember with trains that you can't normally book way in advance like you can with airlines. While this might not be your first choice of travel, preferring to fly, it can be useful to fall back on.
Okay, worked out which overseas airports are within a doable range? Now it's time to consider life when you're there.
Step two: Calculate transfer time
Getting there and spending hours in the car or queuing up for car hire might be a drag for you. On the other hand, if you're only going once a year it might not be an issue. In which case you can save money by buying far from the airport.
Either way, look closely at your transfer options from the airport to your overseas home. Are there enough car hire firms? How easy is it to get a car in peak season? What about public transport – are there regular buses or a good train line? Is there a good supply of taxis, or does Uber operate here? And how much is the typical fare to your resort? Maybe you're intending to keep a car at your overseas home, in which case you may need somewhere to leave it near the airport when you're not there.
It's easy to download a local bus time or train timetable from the internet, using Google translate if necessary! Ask your agent to help if you can't find it yourself
If you plan to rent out your property to holidaymakers, lots of flights and short transfer times are especially important. Being near an airport that receives flights from a range of countries and is served by a variety of carriers broadens your target rental market and should help you achieve high occupancy levels.
Don't be scared to dismiss a destination if you have concerns about getting to it – there are plenty of other very accessible options.
Step three: Click your way around the neighbourhood
We'd like to introduce you to our little friend! He or she (we're not entirely sure which, although he's called Pegman, which is a clue) is a little yellow chap in the bottom right of every Google map. You just focus in on an area you like, slide the yellow figure in and the map opens with the Google Earth view of the street. From there you can go for a little wander.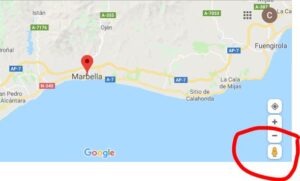 Thanks to the internet, these days a significant amount of research can be done from the comfort of your sofa in the UK. This means that when you are ready to fly off on a viewing trip, you're fairly confident you're heading to a destination you're going to like.
Such tools as Google Maps can be used hand in hand with guides and reviews. After all, they can't capture the warmth of the Spanish sun or the welcome in a Greek taverna. But they will help you get a detailed look at a resort or area. Get a bird's eye view of the area. Check for things like a promenade, beaches, harbour/ marina, proximity to main roads and see how built up areas are.
Of course, there is no substitute to actually visiting somewhere in person. But do use the internet in the early stages of your property search, if only to short-list some potential destinations.
If you would love to buy in the sun but don't have quite enough money, check out some innovative financing options, including equity release and mortgages, in

Spain

,

France

,

Portugal,

Italy,

USA, Canada and other countries, in our new guides, How to Pay for a Property Abroad. 
Step four: Compare the market
You will probably have a vision of your ideal overseas home. Being able to find it and pay for it is another matter! Once again, the internet is a great tool for researching this. Use the Property Guides and Rightmove Overseas property portals to get an idea of property availability and typical prices in each.
Don't forget to set the filters to your budget and preferences. To double-check what your budget is in the local currency, e.g. euros or dollars, speak to Smart Currency Exchange. You will be able to get a quote over the telephone. Don't forget that you won't quite get the rate that you see on the news, but you can certainly do better than your bank's rate.
Even more importantly, Smart will talk you through options for planning currency transfers and avoiding currency risk.
Don't lose your rental profits to suddenly changing exchange rates. Find out how to lock in one rate in 

the free Property Buyer's Guide to Currency

.
If you do a more general internet search, be wary of unfamiliar property sites and the information on them. Not all are run to the same standards you'd expect from professional, established organisations. On some, you may find seemingly cheap properties that turn out not to be available. They may be listed as 'teasers', to hook potential buyers and then tempt them with another, usually more expensive, property.
Note too that often the listings for properties are vague about the exact locations. This is not necessarily a bad thing and there are reasons for this. Not least it's security for the vendors, or to trigger people into enquiring about it.
Step five: Speak to the experts
Property listings will only tell you so much. When you think you've found a suitable destination with properties matching your wish list, speak to us at Property Guides. We can direct you to a suitable agent based locally abroad, as well as a good local lawyer.
A local agent will be able to reveal those things that you won't pick up from an on-line property listing. For example, they can advise on whether a property is in a community or neighbourhood suited to year-round living or holiday homeowners or rentals. They'll be honest about which areas are more local, or more popular with British or other international owners. They will have first-hand information on local areas and the proximity of properties to amenities and the beach. Of course, few agents will say bad things about a property, but they only make money if they sell the property so they won't want to waste your time.
Buying together with family is a great way to double, triple or quadruple your budget, and to have somewhere everyone can enjoy. Find out how joint ownership works in our free

Guide to Buying Abroad with Family

.
The agent may mention noise and traffic levels, whether an area is well maintained, and whether likely to be affected by a future infrastructure development, either positively or negatively. If an area or community has lots of properties for sale, pick their brains about why this might be so.
Usually an agent will suggest alternative properties to ones you select on the internet. Don't dismiss their ideas! After all, a good agent has sold lots of homes and will know their listed properties better than you. They'll know pretty quickly if something isn't suitable for you, despite the impression its web listing gives. You can still insist on visiting any property, but do listen to your agent – time is valuable on a viewing trip, so try not to waste it!