With any move to another country, preparation and research go a long way in helping you to get settled as soon as possible. To help you on your way, we've prepared our guide to living in Italy, which includes everything you need to know to help you get used to your new lifestyle, including:
Settling into Italian life
Cost of living in Italy
Legal considerations when living in Italy
Learning Italian
Getting connected in Italy
Travelling around Italy
Finding a job in Italy
Schools in Italy
Finding an Italian tradesperson
Shopping in Italy
Italian culture and customs
Italian sports
Italy through the seasons
Settling into Italian life
Although we're sure that excitement is the main emotion you'll be experiencing in the run up to your move, we understand there's likely to be a little nervousness mixed in there. A move of this nature is a big change, which means you need to give yourself time to adjust. Below are a few tips for how to settle into life in Italy and deal with any potential homesickness.
Research like mad
Whilst still in the UK, get stuck into your Italian research. Absorb everything you can get your hands on — read up on the local area, on the country's history, culture and customs, and the types of activities you can enjoy once you're living in Italy permanently. If you're moving with children, get them involved in the research stage, that way they can get excited about their new school, the foods they can sample, and the new sports and leisure activities they can try on weekends. Speak to people you know who've made the move, get active on forums, and try and connect with groups in the area.
Accept unfamiliarity
You're moving to a new country, therefore it goes without saying that there are going to be a lot of things that feel completely alien. Embrace it, enjoy it, and learn as you go along. This excitement is part of the reason you decided to live in Italy, to experience a new way of life. You're here — give yourself a break and have fun getting to know your new home.
Most of our readers move to Italy in pursuit of a more relaxed way of life, so be sure to take the time to enjoy it when you arrive. Although the slower pace can prove a little frustrating when you're used to the lightning speeds of the UK, try to relax and accept that this is just how things work here. Sit back, take a deep breath, and soak up the sun — you'll soon get used to it.
Join local clubs/societies
One of the best ways of making yourself feel at home is to find the activities that you loved doing back home and enjoy them in Italy. Identify the activities that made you feel good at home — yoga, golf, hiking, painting, etc. Find a club, class, or group that you can join where you can combine doing your favourite things with meeting new friends. Doing this will mean you're more likely to meet people with similar interests to you, and before you know it, you'll be sharing a beer or two and a good chinwag.
Get to know your neighbours
Look at your new neighbours as your first chance to make friends in the area. Chances are that they will be excited to get to know you too and will be more than happy to offer advice on how things work in the local area. Why not invite a few of them round for drinks or dinner to say hello and get to know them?
Settling into Italian life is a lot easier if you make friends with people who can help out when you need it. Read our guide on the 10 best contacts for a successful move to Italy to find out more.
Speak to fellow British expats
Seek out fellow expats who've made the move and compare notes. Most places are home to a small expat community. Go along to an event and get chatting to people like you, who've taken the leap to pursue a life in Italy. Not only will they sympathise with how you're feeling, but they'll also be able to let you in on a few tips and impart some local area knowledge that could stop things from feeling so alien.
They will be more than happy to chat about their experiences and to help answer any questions you may have about life in Italy. They've been there and know what it's like to live in Italy as an expat — the advice they'll have for you will be invaluable. Plus, just being from the same country will probably mean you have at least a few things in common.
Plan your move around school terms
If you're moving with children, you need to assess what time of year works best for your kids academically. Ideally, you want your children to start school at the beginning of a year so that they don't miss anything, and so that they can integrate easier. It's likely that your children will settle in, make friends, and learn the language faster than you will. Make sure you speak to other parents when you pick up your children, and attend any events held by the school — these are both excellent opportunities for you to make friends.
Keep in touch with your friends and family back home
Make sure that you do all you can to stay connected to the people that you miss in the UK. Fortunately, we live in an era where there is an abundance of technology available to help you with this, i.e. Skype, FaceTime, WhatsApp, etc., so make sure that you get your phone and internet up and running so that you can chat to anyone you want to, whenever you need to. Keeping up to date with what's happening in the lives of those you love will help you feel less alone. Plus, you can have a lot of fun discussing what you'll do together when they come to stay!
Accept that homesickness is normal
Don't beat yourself up if you're feeling homesick. It's perfectly natural to feel a little out of your depth and to be missing familiarity. Give yourself a break and a bit of time to get into the swing of things. There will of course be things that you miss about your home country: family, friends, TV, your favourite café; but remember to focus on why you moved, embrace the differences, throw yourself into your new life, and gradually you will start to feel more and more at home.
Cost of living in Italy
The cost of living in Italy might surprise you — pleasantly! Living here is about the quality of life, sunshine, culture, great food and great people. And if you can get some of that a little cheaper, that's just a bonus. So how do living costs in Italy compare to the UK?
Towards the end of every year, we conduct the Cost of Living Index across 12 countries. It compares the prices of a basic supermarket shop and other everyday living costs, especially geared to expatriates. You might think that la dolce vita comes at a steep price but, as our findings show, living in Italy is almost 20% cheaper than back in the UK!
In general, you'll find the cost of living cheaper in Italy's southern regions and in rural areas. There is also a huge saving in living here full time, as there is no council tax on your main home and electric is cheaper when you become a resident.
Food shopping
Italians like to buy fresh local produce and to support local farmers. Weekly fruit and vegetable markets are common and are well priced for seasonal produce. Often these markets will also have stalls selling fish, meat, cheese, nuts, olives, and eggs.
Even small-town supermarkets tend to have a counter selling good quality cheeses and cold meats. They aren't cheap but offer good value and are always busy with Italian customers.
There will often also be an in-store butcher and fishmonger. In general, at a supermarket, the fresh meat and produce is of excellent quality — Italians are discerning customers and expect the best.
Italians rarely buy sliced bread. They prefer to buy delicious fresh bread daily from the local baker as rolls, round loaves, or focaccia, which you can tear pieces from.
This nation of coffee drinkers doesn't buy big boxes of teabags. You'll be lucky to find a small box of Twinings breakfast tea in the fruit and herbal tea section. The best option is to bring tea bags with you, then get friends and family to bring some over every time they come to visit. If you run out, online shops like British Corner Shop and Richmond's are an alternative, but expensive. Alternatively, embrace the local cultura del caffè! Bear in mind that supermarkets stock more UHT milk than fresh, as it keeps longer in our sunny climate.
As for ice-cream, you are spoilt for choice, with superb Italian gelato freshly made at a gelateria for low prices. As summer outdoor events are generally free, you can enjoy an inexpensive evening out in your town or village with pizza from €4.50 and gelato from €1.50.
Transportation costs in Italy
Once you've made the move, you'll probably want to start exploring your new home. The good news is that transport in Italy is generally much cheaper than in the UK.
Many people use Italy's fantastic train network, which is around two-thirds cheaper than in the UK. You might be surprised to know that Italy's network is actually denser and longer than the UK's, and is nearly 100% electrified, compared to 33% back home.
Flixbus coaches are also becoming popular as a cheap means of transport between cities, particularly with regular commuters and students. In the home
Here's the point where you might find living expenses in Italy are a little more than in the UK! While a domestic cleaner costs, on average, half the price per hour than in the UK, actually furnishing your home can cost a bit more if you go to the big-box stores. It's worth taking some things down from Britain when you move and spending a few pleasurable afternoons browsing local second-hand shops and markets for some bargains. Internet, however, is a little cheaper, and tech like televisions are, likewise, not as pricey as back home.
It's also worth noting that the Italian government abolished council tax (Tasi) for all those who have a property used as a principal residence (except for those that fall into the category of luxury villas, mansions and castles).
Leisure
Not only does Italy have the sunny, warm weather to enjoy life, but it's also generally cheaper to do so! From your morning cappuccino in a local café to a three-course meal, you can expect to pay a good bit less than in the UK.
While a bottle of wine in a restaurant is much cheaper than in the UK, you will also find drinks are cheaper still in bars and cafés. If you're looking for the best prices for food and drink, I've learnt to head away from the main streets and piazzas and look for the restaurants that are full of locals — it is here that you'll find the best food, without tourist prices. Look out for a trattoria or osteria for a simple, reasonably priced meal.
Healthcare
I've always had positive experiences with healthcare in Italy and, once you are registered with the SSN, you will get the same treatment as an Italian citizen. Generally speaking, most services are free, with some, like ultrasounds, being charged for. Prescriptions are, like in Scotland, completely free! Dentistry is run on a private basis and costs around €50 for a check-up.
It's hard to find Calpol or a similar syrup in Italy — parents tend to give their children Tachipirina Bambini. Paracetamol tablets are much more expensive, but only because Italians tend to go for the liquid form, given in small droplets.
Children
Italians have a very child-oriented culture and you won't often find 'children's menus' or the like when eating out. The sunshine and lack of rain encourage a healthy, outdoor lifestyle. A swim might be a few pennies dearer than back home but the beach is free!
Other costs
In general, Italy is less a country of big chains and big-box stores. Shopping, especially in small towns, is more about small, family-run businesses and boutiques. This does mean some items are more costly, but it feels worth it to support smaller businesses.
Clothes in general are a bit more than in the UK, including in chain stores like Zara. Shoes in particular are much cheaper in Italy, however, and are generally better quality. In many ways, the thing to remember in Italy is that you get what you pay for.
Shop around
An Italian friend is worth their weight in gold, especially when it comes to looking for the best places to buy goods or find trades people. By taking an Italian friend with us to buy large items we have saved hundreds.
Places like builders' yards and plumbing shops don't put price labels on things, they tend to look you up and down and say what they think they can get away with asking. You have to make it clear from the start that you are not made of money, that you will shop around, and will walk away if they don't give you the same price as other locals. For example, a wood burning stove we were told was €650, became €500 after our Italian friend gave them a call.
Legal considerations when living in Italy
We recommend that you employ an experienced, independent solicitor to help you navigate the legalities of your new life in Italy. Not only will they be able to help you with the purchase of your home when you move, but they will also be able to ensure you proceed legally with any building work (which is a tricky business), will help you to secure residency, and can help you draw up a will to protect the best interests of your loved ones in case of your death.
Identification
Italian residents are legally obliged to carry photographic identification around with them at all times, and the majority opt to carry their residency card. You can find out how to obtain a residency card in our moving to Italy guide. Drivers will need to have this, along with their license, registration, and proof of insurance, inside their vehicle.
Planning permissions
If you are planning on renovating your property, you will need to make sure that you secure the right permissions and notify the right governing bodies. For any kind of legal proceedings, your first port of call should be your local comune. You will need to notify them in writing of your intentions. What steps you're required to take will depend upon the type of renovations you wish to undertake:
Repairs
If you're repairing something that already exists, with the original materials, and aren't planning on constructing anything new, or changing the layout, you will need to write to the council to request "Manutenzione ordinaria".
Removals, replacements, and installations
If you are removing things, or installing new bathrooms, stairways etc, or replacing a roof, there are a number of documents you will need to submit to the local council. These include details of the construction company completing the work, photographs, and the full project plan from your architect or surveyor (geometra). Once this is submitted, you will have to wait up to 20 days for the council to confirm that you have the right to proceed with a 'Manutenzione extraordinaria'. If you ignore this process, you could be hit with a severe fine, and work will be stopped immediately no matter what stage you're at.
Extensions
If you plan to extend an existing property, or install doors or windows in new locations, things get a little tricky. You will need to employ a geometra to draw up plans, which you will then submit to the planning board of the council (commissione edilizia). If they approve your plans, it will then be sent on to the regional government for them to approve.
Renovations involving water
Should you wish to install a swimming pool, put in a bridge, or divert a waterway on your land, you will need to include a geologist's report in your application to the provincial government. Should your property be located in a protected area, the application will be sent on to the national Sovraintendenza, who will assess the aesthetic implications of your plans.
As you can see, establishing how to proceed legally is a complete minefield. For this reason, we always recommend consulting a solicitor to ensure you're operating within the law.
The police
After living in Italy for a little while, you'll soon notice that there are a variety of Italian police (polizia) forces, most of which are armed.
1.       Local Police
These are local police (vigili urbani) who deal mainly with municipal administration and traffic control. You can identify them by their white helmets. They drive motorcycles, bikes, or black and white cars. Due to the nature of their tasks, they aren't a hugely popular bunch.
2.       State Police
The polizia di stato are responsible for the main roads, the train network, and the airports. They wear light blue trousers with purple and blue striped jackets, and can be found in their offices located in all main towns, or driving around in their light blue cars with 'Polizia' written on the side. You will need to go to the state police when obtaining your residence permit.
3.       Carabinieri
The carabinieri are a special branch of the army and are considered the most elite branch of the Italian police force. They deal with more serious crime, including organised crime. They wear dark blue uniforms and their trousers have a red stripe down the side. They drive navy blue cars and are stationed in barracks in all major towns and cities.
4.       Guardia di Finanza
The guardia di finanza (finance police in English) are in charge of regulating national and international financial dealings and combating fraud, counterfeiting, tax evasion, and smuggling. You're most likely to encounter them at borders, airports, and ports, wearing green uniforms.
Learning Italian
The best way to feel at home while living in Italy is to gain confidence in communicating with Italians. Not understanding what people are saying, what's on a menu, what signs say, and so on, can leave you feeling isolated. We recommend trying to learn a few key phrases prior to leaving, and making sure that you practice when you arrive, no matter how shy you feel at first. Be brave! Italians love hearing people try to speak Italian, and the fact you are trying will earn you brownie points, especially around your local area.
The more you practice, the less embarrassing you'll find it, and sooner or later you'll be chatting away, or at least be able to roll out a few key phrases with complete confidence. If you're moving with children, you'll likely find that they'll get to grips with things easier. Try learning to speak Italian alongside them and encourage them to speak the language by doing so yourself.
There are a few ways you can learn to speak Italian:
Language courses in the UK
Where possible, we recommend learning a little Italian before you move. A good place to start looking for an Italian language course in the UK is at your local County Council Adult Education Centre. These may take the form of evening classes or intensive week courses. As an example, Buckinghamshire County council just did a four-day course (10am -1pm) for £66.
Books and CDs
Just as a child learns their mother tongue, it can be very useful to start with some basic Italian vocabulary. Using a child's picture dictionary and labelling things around the house can be a very great starting point.
When buying a beginner's language book, it is worth paying a little extra for one with a CD, as it is important to get the Italian pronunciation right from the start. Listening and repeating short sentences will help you understand the way Italian sentences are structured.
The Teach Yourself range is very good. There are plenty of exercises that allow you to practise the language as it is introduced with tips throughout to help with pronunciation and grammar. By speaking out loud it will build up your confidence to speak while you are living in Italy. Don't worry about making mistakes even if they can get you into some amusing situations. Like when my husband said to the plumber that he wanted a solar panel on his "tetta", meaning "tit", instead of "tetto" meaning roof. Once the plumber had stopped laughing he managed to use hand gestures to explain the difference.
Online resources and apps
There are loads of free online resources for beginners learning Italian, such as Busuu and Babbel, as well as websites where you can find free flash cards of some of the basic word groups, such as Quizlet. I have also heard of expats using courses such as Rocket Languages.
To improve on your ability to understand Italian, try singing along to Italian songs on Lyrics Training which also translates the words for you. Or watch video clips of people speaking Italian on websites like Yabla.
To practice reading Italian just look up some of the Italian news websites online. Mobile phone apps can also be useful particularly when you are in Italy, and you just want to find the translation of a word while you're out shopping. Things like names of herbs can be confusing and most apps will speak the pronunciation for you.
Language courses in Italy
If you have the free time you could enrol on a short course at a language school once you're living in Italy. Apart from it being an excellent way of learning the language, it can be a great way to meet people and immerse yourself in the language and culture.
The school will often help you find accommodation with a local family, your own apartment, or somewhere to share with other students if you're still in the process of buying a property. Some schools also offer excursions so you can learn about the local area.
If you're really serious about learning Italian in Italy, you should pick a school with ASILS accreditation. ASILS stands for Associazione delle scuole di italiano come lingua seconda (Association of Schools of Italian as a Second Language). It's a governing body that effectively ensures you're getting the best Italian education possible.
Private Tuition
To learn Italian quickly, hiring a private tutor for one-to-one lessons can be very beneficial. Personal Italian lessons mean that you can tailor learning to your particular needs and ensure that you will learn at your own pace. Private tutors can be found at language schools and colleges but may be very expensive. If you do a bit of research, you might find an Italian living in your area who tutors at home. This way you can save a lot of money and still get the same high-quality teaching. You may even find a local Italian who will do Italian conversation practice with you in exchange for some help with their English.
Keep practicing
Once you actually make the move, opportunities to improve your Italian are absolutely everywhere. Seize these chances with both hands and chat to anyone and everyone. Of course, you will make mistakes, but there's no point being embarrassed. Trying is better than not being able to communicate with people who could help you learn, and potentially become your friends.
Try reading, listening, and speaking Italian as often as you can, using a combination of methods to keep it interesting. For most of us, learning Italian is a long journey, but once you are in Italy and you are surrounded by people speaking Italian, shop signs, TV and radio, you will gradually pick up enough to get by. "Piano, piano" (Slowly, slowly).
Getting connected in Italy
There's little chance of feeling truly settled into your new life in Italy until you have all of your home comforts. We're talking about connecting your home to all of the utilities necessary to be fully up and running.
Before you purchase or rent any Italian property, you will need to ask the agent or current owner which utilities are already in place. They should also be able to give you an idea of how much you're likely to spend on monthly running costs. You'll find that a good estate agent will offer to help you set up all of your utilities or will at least be able to offer exhaustive guidance on how to do so correctly.
Before you can connect
Whether you're renting or you own, before you can have the utilities signed over to you, you will need a valid tax number (codice fiscale), which you can get from the tax office in your province (Ufficio delle Entrate).
If you are renting, and the utilities are included in the rental contract, you can request that the letting agent or landlord itemise each of the amounts at the end of each year, so you know what sums are going where.
It's worth bearing in mind that there can be waiting times for getting connected. In order to ensure you aren't without the essentials for too long, it's worth contacting all suppliers as early as possible upon arrival.
If your property is located in a city, town, or any built up area, chances are high that the property will already be connected to the mains services, which means it could make more sense to transfer facilities, like landlines, into your name rather than have them disconnected and connected again.
Electricity
ENEL are the major electricity supplier in Italy. You can contact them on 800 900 800 (free from a landline), 199 50 50 55 (from a mobile), or +39 023 017 2011 from abroad. As their telephone operators are unlikely to speak English, you might need an Italian speaker on hand to help you, or you could visit the nearest ENEL Electric Service Office to get set up in person.
You'll find that the basic contract is set up to provide 3–3.2 kilowatts of power. If you think you're likely to exceed this, you can request up to 6 kilowatts at an additional cost.
Gas
Mains gas is generally available in most large towns and cities in the north of the country. To the south things might prove a little trickier, so do check with your estate agent when viewing potential properties.
You'll need mains gas for heating and appliances, and your gas water heater will need to be serviced and descaled annually. You'll be charged by megacalories and will receive a bi-monthly invoice. Most opt to make this payment by direct debit, but you can also do so at your local Post Office.
When you first move into a property, as an owner or tenant, you should immediately contact Italgas to have your meter read and the gas turned on. Before it can be turned on, the supplier will need:
Registration number of the meter
Name of previous tenant/owner (if possible)
Name and account details of new tenant/owner
If you're purchasing a rural property, it's likely that you will use a gas tank (bombolone), which will be located outside of the property and will store around 1,000 litres of liquid gas. This gas will be used for heating your property and water. Usually, the gas company installs these tanks, which remain the property of that company. You will only be charged for the gas used.
Water
Each administrative division (comune) of Italy has its own water company, and they will regulate the price according to the size of the reserves and rainfall received. To get connected contact the comune offices (Ufficio Acquedotto). Before you are connected, you will need to supply your local water company with your tax code and personal identification documents.
You'll find that mains water is limited to a fixed, metered amount for each household per year. If you require additional water for watering your garden, or for a swimming pool, you will need to seek an additional 'outdoor' water contract (uso vario), which is metered separately from mains water.
For those purchasing rural property, getting water connected could be trickier as it's unlikely you'll be connected to mains water. If not already in place, you may need have a large holding tank installed in the grounds, or have a well drilled on to the property, which could set you back up to €5,000. If you have a water holding tank, you will have to arrange to have this filled by a water company.
Landline
Italy's version of BT is Telecom Italia. You can call them on 187 to apply for a new connection, or apply online here. Other popular service providers include:
BT Italy – https://www.globalservices.bt.com/pmi/it/home
Tel: 800 920 928 / +30 0919885788 (From abroad)
DigiTel Italia – www.digitelitalia.com
Tel: 800 901 669
Noitel – http://www.noitel.it
Tel: 800 035 137
Olimon Tel Italia – https://www.olimontel.it
Tel: +39 02 8936 7072
To get connected you will need to once again supply your tax code, as well as your address, alternate contact numbers, the type of service you require from them, number of lines you'd like installed, and which model of handset you'd like. You can specify upon application whether or not you'd like to be included in the local telephone directory.
It can take anywhere from a few days to a couple of weeks to get your landline connected.
TV
If you speak fluent Italian, you'll be spoilt for choice with television in Italy — there are over 360 different stations available. However, if you want to be able to watch English-language programmes, you will need to have a satellite dish or cable installed. Sky Europe is the usual provider of choice.
There is a TV tax charged in Italy, which is mandatory for all TV owners, and will cost you €110 per year. You will have to pay this tax even if you don't watch the channels. You can make your payment at the local Post Office and will need to give over your tax code when doing so.
Internet
If you're moving to a larger town or city, you're likely to be able to get connected to broadband and Wi-Fi internet services relatively easily. If you are moving to a rural area, your only options might be an ISDN connection or dial-up.
There are a range of suppliers to choose from, so we recommend you chat to your agent about which providers work well in the area, and then shop around the options for the best deals. You will need to provide them with your address and tax code. The installation timeframe will entirely depend on your service provider — it can be anywhere from a few days to a month.
Italy's most popular internet providers include:
Telecom Italia – http://www.telecomitalia.it
Tel: 800 447 788 / 800 187 800
UNO – https://www.uno.it
Tel: +39 02 897481
Ariatel – http://www.ariatel.it
Tel: +39 0187 1852991
Wind – https://www.wind.it
Tel: 155
Other options include, Libero, Tiscali, Vodafone, Fastweb and Poste Mobile.
Mobile Phone
Much like the UK, there are a range of service providers to choose from for your mobile phone service. For this reason, we recommend shopping around to find the best deal for you.
Italy's main service providers are:
Telecom Italia Mobile – https://www.tim.it/
Vodafone (Omnitel) – https://www.vodafone.it/portal/Privati
Wind Telecommunication Spa – https://www.wind.it
H3G – https://www.tre.it
As a number of mobile phone service providers offer high-speed internet throughout the country, it can prove quicker to browse the internet using your smart phone. For this reason, make sure you factor in your likely data usage when choosing a mobile package. Remember though, using the internet like this can be expensive!
If you are located in a rural area, poor service can be a problem. Make sure you sign up with the network that offers the best coverage for your specific location.
To sign a contract, you will need to produce proof of identity, proof of address, and your tax number.
Travelling around Italy
No matter the time of year, you'll have no trouble either getting to Italy or traveling around the country once you're here. Forget the cliché about only Mussolini managing to get the trains to run on time — the truth is that Italy has a splendid and well-run public transport system! So, whether you're taking planes, trains, automobiles, or a Vespa, you'll enjoy your travel options in Italy.
Driving in Italy
Italians drive on the right-hand side of the road (unless something is in their way). You are legally allowed to drive a vehicle from the age of 18, must wear a seatbelt if you're travelling in the front, and headlights should be on at all times whenever you're travelling on a motorway.
Outside of the major cities, you'll find that Italian roads are relatively congestion free. Driving in cities at rush hour can prove problematic, so where possible, avoid doing so. The speed limit differs depending on the type of road that you are on, but there are plenty of signs everywhere, allowing you to keep track of what speed you can travel at. Italian roads are generally of an excellent standard — it is really only country areas where you'll encounter narrow windy, or gravelly roads, which require extra caution.
You are legally required to keep all of your car's documentation in your vehicle at all times, as well as the following:
Reflective vest
Spare tyre and tool kit
Red warning triangle
As a driver, you're also legally obliged to stop and help if you see an accident. Read our in-depth guide to owning a car and driving in Italy for more information.
Parking
Parking regulations in Italy vary from region to region, and each town and city has different rules about the times of day that cars are permitted. This means it's always advisable to check restrictions before parking up.
In general, parking in Italy is organised based on a disc system. You purchase these blue discs at banks, post offices, petrol stations and the like, and then you pay money into a meter and display the time that you arrived in the spot in the windscreen. In most areas where this system is in place, you can park your car for two hours free of charge.
Elsewhere, parking spaces are colour coded:
White lines: These spaces mark where you are able to park your car for free, but you'll often find that the time you can stay is limited.
Blue lines: Where you see these lines, you will have to pay and display, much like in the UK. You can pay with card or cash at a meter and define how many hours you require. In some locations, there are attendants that monitor these spots, and issue the tickets directly to you.
Yellow lines: These spots are reserved for disabled drivers and are completely free as long as you have a disabled permit. Holders of these permits can park in any of the lined areas free of charge. If you are disabled but don't yet have your permit, you can obtain one from your local town hall.
Pink lines: Although rare, these spots are reserved for pregnant ladies, or for mothers with small children.
Obtaining an Italian driving licence
If you have a British driving licence, you have 12 months from the date you become a resident to apply for your Italian licence. If you fail to do so and the traffic authorities stop you, your car and licence could be legally impounded. Fortunately, applying for your Italian licence is a simple process, and the British and Italian authorities have come to an agreement so you won't have to take an Italian test. It is possible that you might also be asked to provide a medical certificate of health from your local doctor, especially if you're of retirement age.
Re-registering your vehicle
To buy a car in Italy, you need to be an Italian resident. If you are planning to bring your British vehicle to Italy, you have six months before you have to re-register and insure it in Italy. Technically, you can leave the country just before the six months is up, re-enter, and get another six months, but if you're pulled over you will be at the mercy of the traffic authorities and whether they are in good spirits that day or not.
Trains and buses
Public transport in Italy is efficient and relatively well-connected. For traveling to Italy by train, which can be an utter joy via the Bernina Express, for example, visit the most authoritative website seat61.com. It is perfectly feasible to reach the northern cities in a day from London. And if you are traveling further south, the occasional trip on a sleeper service can be exciting using the Thello service from Paris.
Once in Italy, travelling by train is one of the simplest ways to get around, whether that is between major cities, or from region to region. The major train companies are Nuovo Trasporto Viaggiatori (NTV) and Trenitalia. Italian transport seems to be more geared up for long-distance travel and trains tend to have plentiful space for baggage. If you're traveling from Lake Como to Milan on a Sunday evening though, expect to stand!
Italy boasts a great network of buses too. Although there is no national bus network, there are a number of respected companies that can transport you from A to B. Each of the major cities boasts extensive public transport systems that include buses, trams, and even water buses in Venice. More often than not, you'll find Italian train stations located within walking distance of bus terminals or underground stations, and tickets are very reasonably priced.
Air travel
Almost all major cities in Italy have airports, in fact, there are over 130 airports dotted across the country. Although easy to catch a flight almost anywhere, this is the most expensive form of transport. Popular domestic carriers include Merdiana, Air One, Alitalia, and Air Italy, but budget airlines like easyJet, also operate regular flights to domestic destinations.
Finding a job in Italy
Job hunting can be difficult enough in the UK, but in Italy you will have the added challenge of needing to speak Italian and competing against local applicants. There is high unemployment in Italy, especially among the young, so there will be a lot of competition for any job you apply for. But, if you have the necessary skills and qualifications and can speak Italian, give it a go.
Where are Italian jobs advertised?
In this modern day and age many city jobs are advertised on internet sites such as LinkedIn. Other names you will recognise from the UK are Indeed and Monster. You may find that your English skills are very useful for tech jobs and positions with young start-up businesses. These jobs can be found on websites such as AngelList and there are various jobs that require English advertised on Glassdoor. The more globalised the company, the more likely they are to consider employing an English speaker and it may be worth seeking them out and approaching them directly.
When applying for a job in Italy, address your letter to the personnel director (capo del personale). Include your CV in Italian and copies of references and qualifications. Letters should be tailored to individual companies and professionally translated if your Italian isn't perfect. Some Italian companies also require hand-written letters from job applicants. For some occupations, employers may also ask for a UK criminal record check.
Around small towns, the local newspaper might advertise jobs and have a website, and you can look for cards in windows and ask the locals. Just putting the word around that you are available for work and showing off the work you have done can lead to opportunities. This is particularly true when it comes to work done on your own house and land or arts and crafts. Some expat forums and Facebook pages may also allow you to show off your work. In Italy it's still who you know, more than what you know, that gets you the job.
The biggest benefit of being your own boss in Italy is having the freedom to work when you want to and being able to set aside time to spend with family and enjoy a more laid-back lifestyle. When it comes to work culture in Italy, people tend to put family, food, and friends above work, and often even their businesses are family run. When they see someone working hard to start up their own business, they can be very supportive.
Popular expat occupations
There are several options that you can consider when looking to find work to fund your new life in Italy. Many expats make a living in Italy by setting up their own business or being self-employed. I've come across British expats that have set up estate agencies, holiday rentals, B&Bs, English-speaking tours, cooking schools, or English lessons. In the cities such as Milan and Rome, some individuals have been able to transfer through their current employer. Below are some of the most popular work options among British expats in Italy.
Holiday accommodation
Probably the most popular way for expats to make an income is by providing some form of holiday accommodation. This can vary in size from renting out your spare room, annex, or outhouse on Airbnb to opening a hotel or B&B. There are plenty of large farmhouses and town palazzi that lend themselves well for conversion to holiday accommodation. An option popular with foreign tourists is self-catering accommodation and those that offer an authentic Italian experience.
Tourism
International tourist arrivals to Italy are more than 52 million annually, placing Italy among the world's top destinations and a great place to invest in a tourist-related business. Saying that, work in the tourism industry can be very seasonal. Being an English speaker can be a bonus on your CV when applying for jobs in hotels, ski resorts and with tour operators in locations that attract a lot of foreign tourists. However, a good level of Italian will also be required for the best paid positions. Companies like Club Med and Alpitour Italia employ people as holiday representatives and hotels can be contacted directly for all kinds of jobs. But you may also have your own ideas for services you could provide to tourists, such as tours, airport transfers, or cooking classes which you could run from your own home.
Property management
With many people buying second homes in Italy there is a big demand for people to look after these properties in the absence of their owner. This might include general maintenance, decorating, and gardening. If the owner lets the property to tourists, the property management duties may also include meeting and greeting guests, dealing with any problems that may come up, checking that cleaning and bed changes are done to standard, and overseeing deliveries, such as pool water top-ups. Just put the word around the local expat community. British holiday homeowners particularly tend to prefer to have an English-speaking person they can easily communicate with.
Setting up a business
Another option is to set up your own business. The Italian Trade and Investment Agency has a dedicated unit to attract foreign investors wanting to establish or develop foreign companies in Italy. They promote business opportunities, help investors establish or expand their operations, and offer support and tutoring services. Italy is one of the three key economies within the Eurozone with a GDP worth 1.72 billion euros (EU, 2017), accounting for 16% of the Eurozone market. It is also in a great location for easy access to consumers across the European Union and beyond. If you want to do business in Italy, you can also get information from Impresa in un Giorno, by the government.
If this is your plan, remember that this will take a lot of hard work, especially as there will be lots of economic differences between Italy and the UK. If you do decide to go along this route, make sure you consider all tax and employment regulations, and that you conduct considerable market research beforehand to ensure your business idea is viable. Ask yourself how seasonal the work is likely to be, how many hours you'd realistically like to work, whether you'd be happy working weekends, and how you'd manage staffing and suppliers. You need to establish whether setting up a business in Italy is the right thing to do, if not, it could end up turning into a nightmare.
Many expats who have skills that they can offer on a freelance basis set themselves up as an online business. For example, if you are a writer, editor, graphic designer, project manager, accountant or can do something else that allows you to work remotely, this is an excellent way of financing your life. Plus, this affords you the luxury of only taking on projects that suit you, so you can pick and choose according to your needs.
What's even better is that the Italian government is investing billions of euros on updating the country's internet, making online working more viable across Italy.
Estate agency
They might not all realise it yet, but it can be very beneficial for an Italian estate agent to have an English-speaking employee who can answer enquiries that arrive in English. As well as potential British, American, and Australian buyers, clients from Holland, Belgium, Germany, China, and Russia may also find it easier to correspond in English, rather than Italian.
The websites of many an Italian agent could do with its English translations sorting out and there are quite a few that would really benefit from some better photography or short films. Strangely photos of laundry, stairways, and close ups of furniture don't sell houses. So, you could try doing the rounds of the local agents and suggesting they give you a job. If you have previous experience of selling property you may decide to start up your own estate agency business. I have met a few British expats that have done just that and due to their professional approach, have been very successful.
Sports-related jobs
Sport is very popular in Italy, from football to tennis. If you have the qualifications and experience in a particular sport you may be able to either find related employment or start up your own business in this field. Sports that appeal to tourists, such as skiing, horse riding, cycling, hiking, and water sports can also tie in well with a holiday accommodation business. You could offer private coaching, cycling tours, or supply a related service, such as bicycle hire and repairs.
Teaching English
"English mother tongue" teachers are well sought after in Italy, so if your English is good this is a great way to earn some money. You will be in even greater demand if you go to live in a town that currently has few British residents. Although English is taught in schools, the teachers are often Italian, so parents become concerned that their child's spoken English isn't with the correct pronunciation. You could approach local schools, language schools, clubs etc. but if the idea of teaching a big group seems daunting, don't worry, many Italians prefer one-to-one tutoring in their own home.
Parents that have been to university themselves and whose professions bring them into contact with English, such as pharmacists, doctors, lawyers, and police, understand the importance of acquiring a good level in the language, so mentioning your availability to these people may lead to a chain reaction of enquiries. The great thing about close Italian communities is that word spreads fast. You may begin tutoring one child, and then get phone calls from the parents of his cousins and school friends. Some may need help with homework or preparing for exams, others you will be free to do your own lesson plans focusing mostly on their spoken English.
Farming
Whether you want to just grow a few veg and keep chickens or run a large vineyard or olive grove, Italy has plenty of land to go around, and land prices compare well with the UK. A small farm isn't going to make you a fortune, but it is very satisfying to have produce you have grown and picked yourself. When combined with cooking and holiday accommodation, it adds to the overall package you can offer your guests.
Working for a UK employer
A new option is in the works that will allow people to live in Italy and work for their current UK employer under a digital nomad visa. While limited information is currently available, it is expected that the digital nomad visa will allow holders to live in Italy and work online for a foreign company for up to a year, which should be plenty of time to get your bearings and settle into Italian life.
Do your research
Whichever way you choose to fund your life in Italy, make sure you conduct the necessary research early on in the buying journey. If you're looking to find employment within an Italian company, chances are that you'll need an international company, in which case you're likely to be limited to basing yourself in one of the bigger cities. Italy has higher unemployment rates than the UK, so that needs to be taken into consideration too.
It's important that you have an income strategy in place before you leave the UK. You need to ensure you can afford your new life in Italy, and that all tax affairs are tied up before you leave. Let us put you in touch with our recommended financial advisory firm who can help you organise your finances before starting your new life in Italy.
Will my qualifications be recognised in Italy?
Professional or trade qualifications are necessary to work in many fields in Italy. When you come from another EU country, in general, qualifications that have an Italian equivalent will be recognised. You can obtain information about comparing qualifications and which are recognised in Italy from the Italian branch of the National Academic Recognition Information Centre (NARIC) or from the CIMEA. You can also contact the British Embassy in Rome or the British Consulate General in Milan if you have any concerns.
Income tax in Italy
If you become an Italian resident and live here for at least 183 consecutive days over a 12-month period, you must pay tax on your worldwide income in Italy. To support the economic, scientific, and cultural development of Italy, the Italian tax system provides numerous benefits for people who move their residence to Italy to work or live.
For example, the Italian tax system grants tax incentives for the income generated in Italy by professors and researchers who move to the country. They may be entitled to tax exemption on 90% of their income generated in Italy for a period of four years.
A tax incentive is also in place for so-called 'impatriate' workers. University graduates, managers or workers with high qualifications and specializations could find themselves paying tax on only 50% of their Italian income for five years. High earners who move their residence to Italy can apply for a 15-year substitute tax of €100,000 per year on their worldwide income (€25,000 for each family member).
That said, starting from 2020, an individual such as an employee, a self-employed professional, or an individual entrepreneur is subject to Italian personal income tax (IRPEF) only on 30% of their income (getting a 70% exemption) from their activity performed in Italy. This will last five years and is subject to them
a) becoming an Italian tax resident,
b) having not been tax resident in Italy for the previous two years before transferring their tax residence to Italy,
c) endeavouring to remain in Italy as a tax resident for the following two years, and
d) mainly working or performing their activity in Italy.
Incentives increase to a 90% tax exemption for those living in southern regions, families with children, and sports people transferring to Italian clubs. I'd recommend seeking good tax advice in Italy to make sure you get the most up-to-date information that best suits your position.
Schools in Italy
If your whole family is moving to Italy, you'll be pleased to know that the Italian education system is excellent. If you have young children, you'll find that it doesn't take them long to integrate and learn the language. Although it may be hard for them at first, enrolling them in an Italian school will ensure complete integration.
You can find out what schools are in the area you plan to live in by visiting the Comune website. There, you can click on the province your home is in, then click "Scuole Provincia di…". You will then find a list of schools in the province and in each town within it.
The Italian education system is split up into the following phases:
Kindergarten
Children can attend infant school from the ages of three to five, although it is not obligatory. These schools are open to all children, Italian or foreign. The number of hours spent there ranges from 25 hours, up to 50 hours per week.
State-run pre-schools are free, but you do pay about €50 per month for the cooked school lunch. There are privately run pre-schools charging around €150 per month. These prices may be more in affluent city areas.
There are also nurseries for under 3s, run both by the state and privately. Parents usually pay between €300 and €500 per month for these.
Primary school
Primary school is compulsory for all children that have turned six, and it lasts five years. Hours range from 24 to 30 hours a week, and children will start being taught English at this stage. The educational curriculum also covers Italian, mathematics, natural sciences, history, geography, social studies, physical education, music, and art.
Secondary school
The first stage of Italian secondary school lasts for three years and ends with a national exam at 14 that your child will need to pass in order to progress to the second stage. Secondary school involves 30–36 hours per week. Once your child has passed the national exam, they will progress to the second stage.
School hours in an Italian secondary school are the same as for primary schools, and on occasion your children may be asked to go into school in the afternoon for extra lessons when working on a project or towards a test.
You'll find that there are many high schools and they vary considerably in curriculum. This means that it's worth weighing up the options to ensure that the school you choose for your child caters to their interests and future plans. The following are examples of the typical types of high school you will encounter:
Liceo (lyceum): As well as core subjects like history, Italian literature and maths, they will also specialise in a particular field. In Liceo Classico, for example, they will also do ancient Greek.
Liceo scientifico: This is very similar to the above, but rather than teaching History of Art, they add design to the curriculum.
Liceo linguistico: As the name suggests, this type of high school focuses on languages.
Liceo artistico: Here, your children will focus on art, architecture and design.
Istituto tecnico: Offering both a theoretical education and a specialization in a particular field of studies (for example economy, humanities, administration, law, technology, tourism.)
Istituto professionale: This refers to vocational schools preparing people for specific trades, crafts and careers. Some schools offer a diploma after three years instead of five.
International schools
If you are only planning on living in Italy for a short period of time or have teenage children, it may make more sense to enrol them in an international school, where classes are taught in English and the curriculum is in line with that of the UK. These schools can be rather expensive, however, and it will take longer for children to integrate into their Italian community. You can find a list of international schools on the Foreign and Commonwealth Office website.
Universita (University)
Italy has some very good state and private universities, particularly in in the major cities like Rome, Milan, Turin, Florence, and Bologna. Some courses can be taken in English, and others may have sections that are in English. When Italian students apply to university the fees are based on the economic position of the family (the parents and grandparents). The average-income family will pay in the region of €2,000 per year for a state university, while a higher income family might pay €3,500. Private universities charge more, in the region of €7,000–10,000 per year. Applicants are required to sit entrance exams for Italian universities.
Home schooling in Italy
Home schooling is a possibility for some families, but parents must annually notify the appropriate school authorities of their intent to home school. In addition, parents or guardians must demonstrate that they have the "technical" or "economic" capacity to teach their children at home. "Technical capacity" meaning that the parent must have completed two full academic years of schooling beyond the level of the children they are currently teaching.
Italian school terms and hours
The biggest difference you will find in Italian schools is the long summer holidays. They start around the 9th of June and end in the second week of September. Yes, three months of fun down on the beach or in the countryside with their friends. There has been talk of reducing it to fit in with the rest of Europe, but when you see how hot it gets in southern schools in the summer, you'll understand how difficult it would be for children to work in that heat.
To make up for the long summer holiday, Italian schools don't have half-term holidays and many older children go to school on a Saturday morning. The school year is divided into two terms (quadrimestri). These are autumn and spring with a break at Christmas and Easter. At the end of each term, students receive a 'pagella', a report card with their grades. Six is a pass and ten is the highest mark. Parents also get the opportunity to meet the teachers to discuss their child's progress.
The school day usually starts at 8.00 or 8.30am and finishes at 1:10pm. Mid-morning they will have a 20-minute break to have a drink and a snack. However, more and more schools are switching to an 8am – 4pm school day, particularly in the cities and in the north, where it fits in better with parents' working hours.
After school, children go home to have lunch with their family, then do their homework. This can be as much as two hours a day for 11-year-olds rising to five hours for older teens. But they still find time in the evening to do various sports, dancing lessons etc. and these offer a great opportunity for children to make friends and practice their Italian in a relaxed atmosphere.
Finding an Italian tradesperson
Unless you possess all of the skills necessary to renovate your Italian property, at some stage you will need to enlist the services of professionals who can help you. Here are a few useful pointers for finding tradespeople in Italy.
Are they operating legally?
This is the first thing you need to check when employing someone to work on your property, especially if the work being undertaken requires permission from a local council or official body.
If it is building work that you're having done, you must ensure the company you employ has a partita IVA, and that they have supporting documentation that shows they are IVA/VAT compliant within the European Union. Bear in mind that plumbers, electricians, and gas installers will need to provide certificates of compliance with all local regulations before they can connect you to mains supplies of electricity and gas.
You must check that any tradesperson working on your property has their own insurance policy, otherwise you might be hit with a nasty surprise if they injure themselves on the job.
Why it's best to use local tradespeople
Where possible, it's best to employ local tradespeople rather than to bring in people from outside Italy. This is because they will have far better knowledge of all national and regional regulations, and will know which materials are most suitable to the conditions of the area, i.e. how low do temperatures drop in winter? Is the area damp? Is it susceptible to earthquakes? They should also have relationships with local material suppliers and will know where to secure the best price without compromising on quality.
Yes, hiring local people does mean that there will be a language barrier to contend with, but it is important to be seen to be supporting local businesses. Plus, it's a good way of getting to know local people in the process of your renovations. It also shows that you're willing to integrate with your community, rather than giving off the impression that you don't trust the integrity of the area's workers.
How do you know who to choose?
To ensure you secure a tradesperson with a good reputation, your first port of call should be your estate agent, who should be able to make a few recommendations. Other possible ways to check you're employing someone good are to ask around locally, or to check out online forums. When narrowing down your choices, ask them to show you examples of past work and to put you in touch with previous clients.
Just like in the UK, you could find the reliability of those you employ to be an issue of contention. However, all those who've undergone serious renovation or building work understand that delays often come hand-in-hand with the business. It's hard to predict exact dates for work to be finished on big jobs.
Shopping in Italy
Italy is a nation of fashion lovers and is known for the huge range of designers hailing from its shores, including Versace, Gucci, Armani, and Dolce & Gabbana. For this reason, Italy has become a mecca for fashion lovers from all over the world, who visit the country with the sole aim of splashing some serious cash, especially in Milan, the fashion capital. Italians take great pride in their appearance and look the epitome of style whether they're just popping to the shops or are out for a special occasion.
When it comes to Italy's big cities, as well as designer threads, you will also find the same range of shops you'd expect to see on any major high street in Western Europe, as well as modern shopping malls selling everything you need. As is to be expected, the smaller the town or city, the smaller the choice. This means that if you're looking for something special, you may just have to venture to the nearest major centre, but that's certainly not the end of the world. Designer outlets, usually located just outside of the cities are also great options if you want to snap up designer clothes at discounted prices.
IVA (VAT)
Be aware that you will be taxed 22% on goods purchased. If you're just visiting Italy, you can get the tax back, but to do so, your purchase must be over €165 and you will need to ask for a tax refund form at the time of purchase. If you pay on credit card, you can often recoup the tax at point of sale, otherwise the customs desk at the airport can help — although expect long queues.
Online Shopping in Italy
Those living rurally will be happy to know that many of the major stores offer online shopping facilities. You can obviously order goods from elsewhere in the world, but should bear in mind that this is considered importation, and therefore you may be charged duties and VAT. As some items aren't allowed into Italy, it pays to check prior to making any purchase. You can do so by visiting the Royal Mail's Italy sending guide.
Opening hours in Italy
Shops in Italy tend to be open six days a week. Larger stores in busier cities will often open on Sundays too. From Monday to Saturday shops tend to open around 8am. They will close for lunch at 1pm, reopen again at 3pm, and stay open until 7pm. Bigger shops tend to stay open all day until 7:30pm.
Italian culture and customs
Learning the culture and customs of Italy is one of the best ways to gain a full understanding of the Italian way of life and to feel truly at home.
Once you've spent a bit of time living in Italy, you'll learn that there are different customs and traditions observed in different corners of the country. Researching and observing these traditions is incredibly rewarding, plus it will give you an affinity for your new home. We outline some of the nation's main traditions and customs below:
Italian greetings
When you're introduced to a new acquaintance for the first time, you should say "buongiorno" or "buonasera", depending on whether it is morning or afternoon, and shake their hand briefly. "Ciao" is used amongst younger people and friends. If you are in a formal scenario, it's best to say "molto lieto", which means "pleased to meet you".
You should offer "buonasera" when entering a small shop, lift, or a waiting room, basically any place where there are a small number of people to greet. It's advisable to use titles when addressing anyone older than you.
You'll notice that both sexes will kiss each other in greeting if they are friends or family. Between members of the opposite sex, it's best to aim your kiss for the top of the cheek, and rather than plant a smacker, its best to brush cheeks and make a kissing noise. Two kisses are the norm.
Italy's family culture
Family is incredibly important within Italian culture, and this includes extended family, as well as just the immediate family of Mum, Dad, and children as we see in the UK. Family gatherings are frequent and a lot of spare time is spent in the family unit. Unlike the UK, adults tend to remain close to their family in terms of location as they grow up, gradually incorporating more and more family as they get married and have children of their own. In most places, the mother remains the matriarch and is responsible for cooking, cleaning, and rearing the children, where as the father is the primary breadwinner.
Religion in Italy
As you're no doubt aware, given that Vatican City, the home of the Pope, is located in the heart of Rome, Roman Catholicism is the predominant religion in Italy. While 90% of the population claims to be Roman Catholic, only one third of those are practising. Other religions found in Italy include Protestant, Jewish, and there is a growing Muslim immigrant community.
Italian holidays
Italians celebrate the majority of the major Christian holidays, including Easter and Christmas. Easter is followed by Pasquetta, which takes place on the Monday after Easter, and is usually celebrated with family picnics to honour the arrival of springtime.
Liberation Day, which marks the end of World War II, is celebrated on 25th April.
Throughout the year, you'll find that many Italian towns and villages celebrate the feast day of their Patron Saint, among many other traditional summer events. An example of this is the Feast of San Gennaro, on 19th September in Napoli.
The religious holiday of Saints Day falls on 1st November and involves Italians visiting the graves of deceased family members to decorate their graves with elaborate floral arrangements.
Epiphany is celebrated on 6th January and is very similar in format to Christmas, in that an old lady, Belfana, flies in on a broomstick and delivers presents and sweet treats to children.
Italy's dress culture
You'll soon notice that Italians take great pride in how they dress, and therefore tend to be more formal in their attire than British and American citizens. Beachwear should be kept to the beach, and jeans aren't considered appropriate for church, or for some more upmarket restaurants.
As well as caring about how they look, Italians care about how they come across. It's important to remember not to disrespect or ridicule an Italian. This isn't seen as humorous as it sometimes is in the UK.
Italian food culture
Food is a big part of Italian culture and it's no surprise. You don't need us to tell you that Italian cuisine is amongst some of the very best in the whole world. In fact, we wouldn't be surprised if it was half the reason you wanted to make the move in the first place!
For those of you who are less clued up on the deliciousness of all Italian food, here's a rundown of all you need to know.
Popular dishes
In terms of traditional Italian food, the country is of course famous for its pasta, which is a huge part of the Italian diet, wherever you're located. If you're used to dishes like spaghetti bolognese, you may be surprised to find you can't find this outside of the major tourist hotspots. Italians are very particular about their pasta dishes — some sauces just aren't meant to be paired with certain pastas! Fear not, you can learn this as you go along. The pizza in Italy is also beyond incredible and very affordable. You may find you struggle not to want to order it for every meal!
Less carbohydrate-heavy options that you'll find on menus across the country include all types of fish and seafood, game, and fresh vegetables — although these are often cooked within dishes rather than being served on the side as us Brits are more accustomed to. You'll also find that offal is a popular choice, too.
Typical breakfast, lunch, and dinner
Breakfast isn't considered a particularly important meal in Italy. In fact, Italians tend to just graze on some bread and jam, brioche, or a couple of biscuits (fette biscottate) served with a cup of coffee to keep that hunger at bay. Cappuccino is a breakfast coffee and it's rare to find an Italian that drinks it after 11am.
Lunch, the main meal of the day, is usually eaten between midday and 2pm in the north, and between 1.30pm and 2.30pm in the south. Lunch traditionally consists of antipasti for starter (salami and ham), followed by a pasta or risotto dish. Then, there is a second course consisting of meat or fish served with salad or a few vegetables. It's not uncommon to follow the second course with a dessert of cake or ice cream, before finishing off with the customary espresso. Obviously, this is a huge meal, so you'll find that during the week most Italians usually only have a first course, or a second course rather than both. If in a rush, paninis filled with things like mozzarella, prosciutto, and tomatoes are common.
Dinner consists of a lighter meal, usually a salad or a typical first or second course, rather than both. Heading out for a pizza is obviously a popular choice too!
Drinks
Tap water is generally safe to drink in Italy, although you may find that it takes a little while to get used to the taste!
Coffee is a staple of any self-respecting Italian's life! The usual brew of choice is espresso, which you'll find is far superior to the same product in the UK. It's not uncommon for Italians to drink several in one day, usually after breakfast, lunch, and dinner. Caffe corretto, a typical coffee laced with booze, usually grappa, cognac, or Sambuca, is popular so don't be shocked if you see Italians indulging in this in the morning!
Italians like to enjoy an aperitif in the early evening, prior to dinner. Usually this is wine, a beer, a liqueur, or a cocktail, like a Campari or Negroni. These aperitifs are real social occasions that can stretch from one or two drinks into a big session, accompanied by lots of different snacks ranging from nuts, pickles, and bread, to cold meats and even risottos.
As you know, Italian wines are some of the best in the world, and they vary from region to region — what a wonderful thing to have to familiarise yourself with!
After dinner, Italians often enjoy a liqueur to aid their digestion. Without a doubt the most popular drink in the south is limoncello, while nocino is more popular in the north.
Should you tip?
Service in Italy usually ranges from between one to three euros depending on the restaurant you're in. This should be automatically added to the bill and clearly outlined on the menu. It's usual practice to round up the bill by a few euros.
Italian sports
Italy isn't just about sitting outside in the sunshine and dining on exquisite, rich foods. In fact, the country's wonderful weather and varied terrain lend themselves to a veritable array of outdoor pursuits.
Football
Football is the most popular sport in Italy and is played across the country from the minute that children can walk. You'll find that if you're not watching some local kids having a kickabout in the street or one of the piazzas, then you're hearing people cheering as they crowd around television sets or stream towards local stadiums.
Cycling
Italy's undulating countryside is a cyclist's dream, so you can expect to be regularly greeted with the sight of lycra-clad cyclists lining the sides of the roads, or refuelling in countryside cafes and restaurants. You'll see small cycling groups out together, with amateur and professional cycling competitions organised throughout the year.
Running and other sports
You'll find your local town is likely to have a half marathon to join in with and your local city a marathon. Triathlons and Ironman competitions take place throughout the year too, and you won't need to suffer the miseries of a British winter training session!
Other activities
To the north, you'll find multiple ski resorts to visit, as well as all of the activities that you can enjoy in mountain locations. Hiking, biking, and climbing are popular in these locations during summer and the scenery is quite something. As there are so many lakes and beaches in Italy, it's not hard to find some variety of watersport or other — sailing, jet skiing, wake boarding… the list goes on. Italians also enjoy tennis and have some world-class golf courses.
Italy through the seasons
While a life in Italy is one of blue skies and sunshine, there's plenty to do once the summer ends. Here, our writer Julia shares what she loves about living in Italy in the spring and winter too.
Living in Italy in the spring
I love living in Italy in the springtime, it is by far my favourite time of year. In the first week of April temperatures are already reaching 18°C in Puglia and everyone is starting jobs around their houses and land.
It's time to plough the land in the olive grove and prune some trees. We already have logs drying in the sun. The pool has been cleaned and refilled with fresh water from our artesian well. While the plants that we have in pots under the veranda are being pulled forward into the sun. The midsummer sun is so intense you have to think carefully about what furniture and plants will be able to take the heat, and provide shaded areas to put them in during the day. Sun umbrellas and gazebos don't tend to last long in the summer, as some afternoons you can get sudden winds. A permanent veranda is a must have.
Wildflowers
Every morning I wake up to the sound of birds singing in the orange bush as they busy themselves building their nests. I always know that spring has arrived when I no longer see the robin, but instead hear the hoopoe bird in the morning and the frogs calling at night. Our lemon tree is covered in lemons, so I can just pick one to have a slice in my morning tea. Drinking tea on the terrace, looking across a sea of yellow flowers in the meadow, is a great way to start the day.
Walking down the land I can see more closely the many different wildflowers that make up that beautiful sight. In a few weeks, the red and white of poppies and camomile will appear. If I am lucky, I may spot one of the few hoopoe birds who arrive in the spring. It flies in swooping dip movements and has a beautiful crest that opens up across its head. Tiny green figs and almonds are appearing on the trees now. Soon tiny pears will appear in the place of the falling blossom.
Spring produce
Our home is in an old stone Masseria in the countryside, but our local town is only a five minutes' drive away. The perfect distance to enjoy the best of both countryside and town life. We feel fortunate to have eight acres of land around us, something we couldn't have afforded back in the UK.
Being so near to town we can get to the weekly market nice and early. We always buy a tray of eggs and check out what fruit and vegetables are in season. This week we saw strawberries, aubergines, bunches of artichokes, and plaits of garlic.
It has become a weekly custom for us to have a cappuccino and a freshly made chocolate cornetto (croissant) sat outside the café. These are filled with so much Nutella, I always get it all round my face or on my trousers. Gradually over the spring, the glass cabinets in the café will display less cakes and biscuits and more delicious gelato.
Cheap flights, see the sights
Flights are generally cheaper at this time of year. Some airlines begin to put on extra services in April, and new routes. There are also good internal flights. So, if you are flying from the UK it is possible to visit Rome, Pisa, or Venice, for example, before continuing to other parts of Italy. Living in Puglia, I have even visited Rome for the day by flying from Brindisi, and I have also travelled there by train. Temperatures are perfect for sightseeing or house viewing in spring. Tourist areas will be less crowded, and accommodation is cheaper than July and August. Plus, you are very likely to find a whole stretch of beach to yourself.
Living in Italy in the winter
Every season brings something new and in winter you will discover how Italians keep cheerful through those few colder months. We shouldn't complain anyway, because the changing weather is what helps Italy produce such quality crops of grapes, olives, fruit, vegetables, and grain. An Italian winter offers many delights you may not have experienced on summer visits.
The weather
After the heat of the summer, you'll be glad of the cooler winter weather. It's a time when you can get out and about during the day, then cosy up in front of the log fire in the evenings. The weather can be changeable, so you'll need to wear layers of clothes that are easy to take off, as it can be raining one minute, then the sun will come out and you'll wish you hadn't worn that thick jumper.
If you are looking for short mild winters, then southern Italy is the place to go. It can still be humid and wet at times, but you will see blue skies and daytime temperatures that rarely go below 10°C. You will also get half the number of rainy days compared to London. In a sheltered spot in the sun, it can actually get quite hot. In January I have sat on the sunny side of my courtyard in a T-shirt. It's worth bearing in mind that Italian properties were not designed for cold weather and you will need heating for winter evenings, even in the south. Log burning stoves are great for throwing out the heat.
If you're feeling sun-deprived, and this is known to induce depression in many people, Italy enjoys at least double the January sunshine of the UK. In part that is down to being more southerly, but we get an hour less daylight in the summer.
| | |
| --- | --- |
| City | Average total sunshine hours in January |
| Birmingham UK | 48 |
| Eastbourne UK | 71 |
| London UK | 50 |
| Manchester UK | 53 |
| Glasgow UK | 38 |
| | |
| Genoa | 118 |
| Ancona | 90 |
| Pisa | 105 |
| Naples | 115 |
| Cagliari, Sardinia | 136 |
| Messina, Sicily | 115 |
Source: Currentresults.com
Italian winter food
Whether dining out or cooking at home, an Italian winter kitchen can create some delicious warming meals, with each region having traditional dishes using the best local ingredients.
In the Bergamo Alps you can warm up after a morning out in the snow, with a dish of Polenta Taragna with added cheese, milk, and butter. In Tuscany, finish off a country walk with gnocchi in wild boar sauce.
Visiting the local fruit and vegetable market becomes an enjoyable weekly event in the winter. There are loads of fresh vegetables such as artichokes, cabbage, cauliflower, celeriac and leek, and everything you need for a good minestrone soup. You can also help ward off colds by stocking up on winter fruits. In January you will find stalls piled high with clementines, oranges, apples and pears. You can buy a big bag of clementines for just €2.
After you have weighed yourself down with bags of fresh fruit and vegetables, make sure you take a break in the café and enjoy the delights of a "cioccolata calda" — that rich hot chocolate drink that is so thick and smooth you need a spoon to eat it. It's what dreams of an Italian winter are made of. Glass cabinets which displayed Gelato in summer are now full of delicious pastries, cakes, and biscuits.
See the sights
Anyone who loves snowy mountains should head to the Alps or Apennine mountains to enjoy the winter scenery. If you live near the coast, you can enjoy long walks along deserted beaches, coastal paths, and nature reserves.
It's also a good time of year to visit one of Italy's great cities such as Rome, Florence, and Milan. There are many fine art galleries, museums, and palaces to explore, and in winter there will be less queueing, especially on weekdays. Those who love shopping can also go bargain hunting at the January sales. You may even find furniture for the home at reduced prices.
Health and fitness
Italy boasts the largest number of thermal spa centres in the world, with a tradition of body and soul treatments that date back to the Romans. There are ancient baths that have remained intact for centuries that will take you back in time, with their natural saunas, hidden caves, and thermal springs. Many hill towns in Tuscany have harnessed the mineral-rich waters for use as municipal terme (pronounced terMAY), or spas. Some are now privately-owned resorts, such as Adler Thermae.
Most Italians are keen on keeping fit and healthy, so there are many facilities for various sports, from swimming to ice skating. Dance is also popular with all ages and you will find social groups and dance classes you can join.
You won't need to live near the Alps to go skiing. Italy has good quality resorts all the way down to Sicily, so if you buy in Tuscany, Rome, Naples, Abruzzo, Le Marche, Calabria, or north-east Sicily you can still be within an hour or two of the ski slopes.
Visit the Theatre
During the winter months the theatres of Italy come alive with opera singers, musicians, dancers, and actors. Some of the most famous venues include Teatro Alla Scala, the famous opera house in Milan, La Fenice (the Phoenix) in Venice, Teatro Comunale in Bologna, Teatro Verdi in Pisa, and The Teatro di San Carlo in Naples, which is the oldest opera house in Italy, founded in 1737.
Carnival
February may be one of the coldest months of the year, but across Italy it is filled with the colour and fun of Carnival. The origins of Carnival date back to the Roman Saturnalia festival, but the term "carnevale" derives from the Latin "carnem levare" (take away the meat) referring to the banquet held the last day before the period of abstinence from meat, i.e. the Christian Lent.
It's a time when people can come together to create costumes, floats, and masks and local dancers will be practicing for their part in the procession. Those with an artistic flare create the most amazing characters out of papier-mâché, some as tall as four-story buildings.
Whether you attend the carnival or just take a leisurely stroll round your local market, winter in Italy is full of colour and great sights, tastes, and sounds.
Once you've made the move, you'll find that life in Italy is everything you dreamed of and more. By following the advice above, you'll settle into the Italian lifestyle in no time. If you're still in the decision stage and our guide has convinced you that a life in Italy is for you, be sure to take a look at our guides to buying property and moving there, along with our Italian property news, which can help you plan your next steps. All of our tips have been compiled by our network of experts and expats who know a thing or two about living in Italy, so you can trust that you're only getting the very best advice.
Explore our range of free Italy property guides
Make your dream move — download our free expert guides
Speak to an expert
Our guide should give you a detailed overview of the property buying process in Italy, but you've still probably got a few things you'd like to ask. Get in touch with our Italian property experts on +44 (0)20 7898 0549 from Monday–Friday, 8:30am–6:00pm or email [email protected].
The team will be able to assist you with a wide range of things to do with your move, like talking you through the next stage of the buying process or how to plan a productive viewing trip.
They can also help you connect with our network of trusted professionals, including estate agents, currency specialists, solicitors, financial advisers, and property surveyors. Contact us via the details above or fill in an enquiry form below to get started.
Download your free copy of the Italy Buying Guide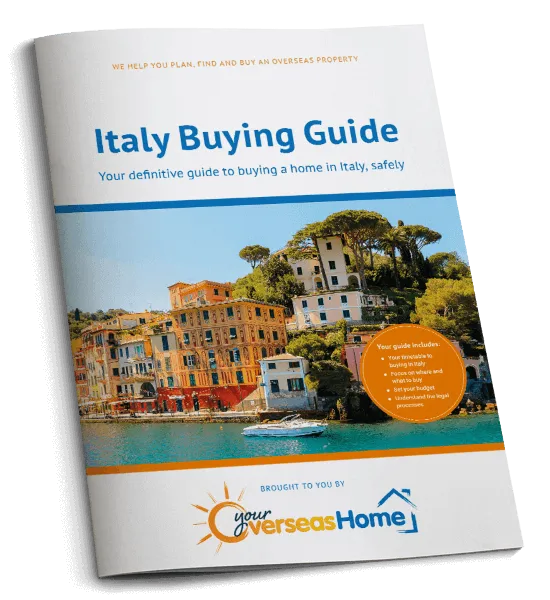 The Italy Buying Guide covers every stage of the property buying process in Italy, sharing our experience and knowledge to ensure a safe and successful property purchase. The guide will help you to:
✔

  Ask the right questions
✔

  Avoid the legal pitfalls
Download your free guide to buying in Italy