Financing your Italian property
Buying property anywhere is a big decision financially, and there are a number of important aspects to consider. When you move this purchase to another country, careful planning becomes even more vital.
First steps
The minute you have the idea to buy in Italy you will need to sit down to look at your finances, and to establish whether or not it is a realistic possibility. You need to establish exactly how much you have to spend, and how you will fund your purchase, and life, in Italy. The first things to consider are as follows:
How you will fund the property purchase
Your maximum buying price
Which pension and tax liabilities will be affected by your purchase
How you will make your payments to Italy
The cost of on-going maintenance for your property
The cost of living in Italy
Financing your property purchase in Italy
There are a number of ways to finance your Italian property purchase, each of which needs to be carefully considered to determine which is most suitable for your budget and circumstances. Assess what you can afford from your savings, through the sale or re-mortgage of your UK property, or via funding, either from the UK, or in Italy. To ensure you determine the best option for you, we recommend consulting an Independent Financial Advisor (IFA)
Budget for all foreseeable costs
On top of the purchase price, you need to factor in all additional costs associated with buying in Italy, as there are likely to be a number of hidden costs you might not have been expecting.
Opening a bank account in Italy
We advise you to open a bank account in Italy as early as possible. It's often best to keep your English account open as well, as chances are you will still need to be able to access funds in the UK. When opening an Italian bank account, try and choose one with a branch located nearby. Find out more about opening an Italian bank account here.
Transferring money to Italy
It's important to consider how you will transfer your money across to Italy, if you don't already have sufficient funds in the country. When you transfer sterling into euros, you will be affected by currency fluctuations. These rates can change by the second and have a serious impact on the price of your property. It's therefore vital to manage these transfers effectively to ensure you secure the best fit for your circumstances.
In order to maximise your budget when making these transfers to Italy, we recommend consulting Smart Currency Exchange, our recommended currency exchange specialists. They can keep you up-to-date on currency market movements, and recommend the right strategies to help you avoid losing money on your currency transfers to and from Italy.
Tax liabilities
If you are already receiving pension payments in the UK, you should be aware that these will be affected by your move. It's important that you establish the best way to maximise these payments once you've relocated to Italy.
If you're working, you must take the necessary steps to ensure you won't be taxed in both countries. We recommend consulting a qualified tax advisor, who will be able to look at your individual circumstances and discuss the best options for you.
Financial matters after your purchase
Once you've made your purchase, you will need to establish the best way of making your mortgage repayments, and of taking care of the on-going costs associated with your property, and your life in Italy. It's important to factor in the cost of living in Italy into your budget.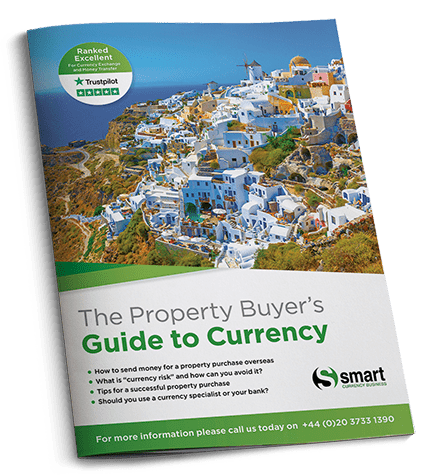 The Property Buyer's Guide to Currency will help you:
✔

  Understand the currency markets
✔

  Protect your property budget
✔

  Use a Currency Specialist
✔

  Learn from other overseas property buyers
Download the Property Buyer's Guide to Currency