Italy is a land of history, culture, art and good food. In December they all play their part in the traditional Italian Christmas.
In Italy, the build up to Christmas doesn't really begin until 8th December. This is a public holiday, to mark the Day of the Immaculate Conception of Mary and is traditionally the date when homes are decorated and nativity scenes are put on display. Some shops do put up decorations earlier and Babbo Natale (Father Christmas) spreads holiday cheer at Christmas markets. Italians love the old traditions, but are also embracing newer ones.
In the Dolomite Mountains you will see people skiing down the slopes with torches to welcome Christmas
Christmas lights
Christmas trees can be found in main piazzas, like in Milan's Piazza Duomo and in front of St. Peter's Basilica. Elegant displays of Luminarie (lights) go up in all Italian towns, but some are particularly renowned for their Christmas lights and it has now become traditional for many families to visit them every year. The spectacular displays in Salerno and Turin are stunning works of art, called "Luci d'artista", and are actually designed by artists. In Salerno, this year they have cascading lights, lamps and globes and an enchanted garden dedicated to fairy tales, as well as giant figures and a 50 metre big wheel.
To see the largest Christmas tree in the world, listed in the Guinness Book of World Records in 1991, head to the small town of Gubbio, in the region of Umbria. It isn't actually a real tree, but 3,000 lights in the shape of a tree, placed on the slopes of Mount Ingino. The tree of lights is 650 metres tall and 350m wide at its base.
In 2011, Pope Benedict turned on the lights remotely using a tablet computer, watched by thousands of Italians on TV. Now the honour goes to Pope Francis who will turn on the lights to display a tree that can be seen up to 50 kilometres away.
Presepe
The oldest and most well-loved Christmas tradition is making a Presepe (cribs or nativity scenes). Saint Francis is recorded as making one back in the year 1223. Every family makes a Presepe and they often add extra figures to it each year. Jesus isn't put in the crib until Christmas Eve night, for the obvious reason, as one Italian child explained to me: "Before that, he wasn't born yet".
These scenes usually include a whole village of figures, doing ancient crafts and going about their daily routines, such as blacksmiths, basket makers, shepherds and fruit sellers. You will see many Presepe displayed in churches and other town buildings. They are often made by local craftspeople using various materials such as wood, clay, papier-mâché, metal etc. and incorporate scenery and buildings with amazing detail. These Presepe are real works of art and a must see during the Christmas period. In the Basilica of Santa Maria del Popolo in Rome, they display around 200 cribs from across Italy and abroad.
Presepe are real works of art, and a must see during the Christmas period
If you want inspiration for your own Presepe head to Naples. This southern Italian city is world famous for its hand made figures. Via San Gregorio Armeno, in the historic district of Spaccanapoli, is a whole street of workshops devoted to the craft. They make all kinds of figures from villagers to caricatures of politicians and celebrities.
Just as a family bonds when building their Presepe, some communities also come together to create living nativity scenes. These can take place in various locations from farms to caves, but are always very atmospheric to visit. You are transported back in time, to an age of village crafts such as pottery making, weaving, knife grinding and shoe making. All ages dress up as villagers, and it is lovely to see the older generation passing on their knowledge to the young.
Bag pipers
The Zampognari (pipers) continue a Christmas tradition said to date back to Roman times. Just as the shepherds visited the baby Jesus, today the pipers come down from the mountains to play at nativity scenes and piazzas, dressed in sheepskin vests, leggings criss-crossed with leather and knee length trousers. Although seen less frequently these days, the most likely regions you may spot them are Abruzzo, Lazio, Campania, Molise, Calabria, Puglia and Basilicata.
Christmas Eve
On Christmas Eve Italians avoid meat, often intending to eat a light evening meal (La Vigilia), in preparation for Christmas day. But, if Nonna is cooking (Grandma) then the meal can run into many fish courses. Baccalà (salted cod), octopus, eel or shellfish are all popular. After dinner, many Italians walk to midnight Mass at their local church. In Cortina d'Ampezzo in the Dolomite Mountains, you will see people skiing down the slopes with torches at midnight to welcome Christmas and in some regions they also put a Yule Log on the fire.
Christmas day
On Christmas day, everyone is ready to start eating again, after such a "light" meal the night before. This is traditionally a family gathering, often involving, grandparents, uncles, aunties and cousins all gathering at the home of the family member with the largest room to accommodate them all. All the spare chairs will come out for Christmas lunch, which is often many courses spread over the whole afternoon.
The traditional dishes served vary across the country, but often there will be cheese and cold meats as an appetizer with Russian salad, which is similar to coleslaw. There is always room for a pasta course, with pasta in broth or lasagne commonly eaten as a starter. The main course usually involves roasted meat, with vegetables and salad (on separate plates). The two most popular traditional desserts are Panettone and Pandoro. As families are usually split over which they prefer, often both will be served. There are also many other local speciality biscuits and cakes.
Gift opening
Italians generally open gifts after lunch on Christmas Day, but this varies depending on which region you are in and what stories have been passed down. In some northern Italian towns, they believe that Saint Lucia brings gifts for children on the 13th December, others believe Jesus brings them on Christmas Day, and on the 6th January children also receive a stocking of sweets from Befana, so some families give gifts then too.
Befana
Befana is a good witch, who tried to follow the Three Wise Men to Bethlehem to give a gift to the baby Jesus. But she lost her way, and so instead she gives sweets to good children in their stockings and coal to the naughty ones (it's actually a black sweet). Of course, Italian children don't mind if Father Christmas wants to put something in their stockings on Christmas morning too. They have all seen enough American Santa Claus movies now to understand the benefits of believing in that story also. Babbo Natali often now makes an appearance at Christmas events with Befana.
Wherever you spend Christmas in Italy you are sure to see many of these beautiful Christmas Traditions. So, I raise a glass of Prosecco and wish you "Buone Natale!".
If you have any further questions about what life is like in Italy, or any questions at all about the logistics of making the move, give our Resource Team a call today on 020 7898 0549.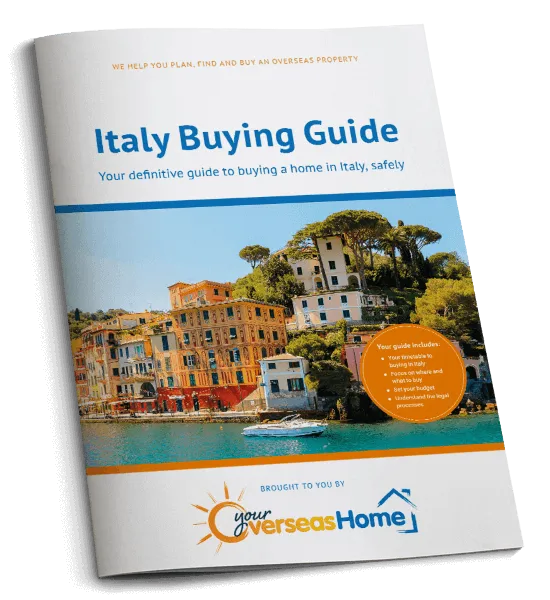 The process of buying property in Italy is significantly different from here in the UK. This is why we've created our completely free Italy Buying Guide, to provide those dreaming of a new life in Italy with all of the practical, legal, and financial information needed to help them realise that dream.
✔

  Ask the right questions
✔

  Avoid the legal pitfalls
Download your free guide to buying in Italy