An Italian summer is full of local events, usually involving great food and free concerts in the town piazzas. But what is a festa, sagra, notte bianca, carnivale, palio and corteo storico?
Summer events (eventi estate) in Italy are mostly traditional celebrations organised for the locals. Advertising tends to be little more than some posters put up around the town a few days before, so you have to keep your eyes open for them. In towns with tourist offices you might also find leaflets and regional websites listing some of the biggest crowd pullers. In my local town an old chap drives around with two speakers on the roof of his car, announcing what's on the next day.
Local Italians welcome visitors and newcomers who show an interest, and are keen to keep their local traditions alive for future generations.
Events usually take place after sunset, when it's a bit cooler. If you don't want to miss out on the fun you need to do as the locals do; have a siesta in the afternoon and stay up late. Most of the events have developed from many years of tradition, only to be discovered relatively recently by tourists. I have found that local Italians welcome visitors and newcomers who show an interest, and are keen to keep their local traditions alive for future generations. When you are new to living in an area the best way to fit in is to be seen attending cultural events. Here are some traditional events to look out for:
La Festa
La Festa (plural le feste) has a variety of meanings including festival, feast day, or just a general celebration. Most of the ones you see advertised on posters celebrate the feast day of either the patron saint of the town or a church. My local town has 18 churches, so that's a lot of feste. On posters they will list the religious services and the date and time of the procession, which involves the saint being carried around the town by the faithful, followed by a marching band. The poster may also have a section headed "Programma Civile" announcing the public celebrations, which often include spectacular street illuminations, concerts by the town's brass band on the bandstand, market stalls and fireworks.
Sagra
The word "sagra" usually denotes a festival celebrating a particular produce of the season such as "Sagra del Melone" (melon festival) or a local ingredient such fish or pasta prepared in a traditional way like "sagra di pesce"(fish). When it celebrates many of these in one fair it is called a "Sagra Gastronomica". Attending a sagra in a village piazza is a great way to get a taste of Italian country life and food culture. You'll taste food prepared by Italians with a passion for their local cuisine in a relaxed atmosphere, standing in the street or at communal tables. The prices are usually very low too.
An example of one such event taking place in Puglia on the 8th/9th August is the "Sagra del Panino della Nonna", which in English is the "sagra of grandma's sandwiches". It takes place in the market place of Giovinazzo in the province of Bari and has become so popular that each year they have to bake enough bread rolls to feed some 25,000 visitors. You'll find other sagre listed on Sagre in Italia and Folclore.
La Notte Bianca
La Notte Bianca, the white night in English, is a town event usually organised by the council. For one night museums, restaurants and shops stay open late and the streets are often filled with stalls, musicians and street entertainers, along with art and photography exhibitions. Free live concerts are usually set up at various locations, as well as stands selling street food.
Carnivale
In Italy carnivals are traditionally held in the winter, around January/February time. A few are beginning to see the benefits of getting the floats out again for the summer visitors to admire. One of these is the Putignano Carnival in Puglia, which on 29th and 30th July 2017 will display the monster floats made from papier-mâché. These artistic creations tower as high as the buildings and will be surrounded by fun and music.
In Italy carnivals are traditionally held in the winter, around January/February time.
Ferragosto
Ferragosto is on the 15th August, and is an Italian National Holiday. This year it is on a Tuesday, so many Italians will shut up shop for the whole last two weeks of the month. You will see signs on family run shops saying "chiuso per ferie" (closed for holiday), and even post offices and public transport stop work for the day. In the Catholic calendar, it is the day that the Virgin Mary rose into heaven, but it was a time to holiday in Italy right back in 18BC when Emperor Augustus introduced "Feriae Augusti" (Augustus holidays). Just as the Ancient Romans did, people today leave the heat of the city to spend a relaxing holiday with family and friends at the coast, in the mountains or by the lakes. In the tourist areas around this time you will however find some people still working to serve and entertain the visitors, with music and fireworks.
Palio
The Palio is commonly referred to as a competition between the districts of a city to win the palio cloth banner. Usually it's a race with horses or donkeys, such as the famous Palio di Siena which is a horse race that is held twice each year, on 2nd July and 16th August, in Siena, Italy. You may have seen it in the James Bond film, Quantum of Solace. A jockey from each of 10 of the city districts ride horses bareback in a race around the central Piazza del Campo in Siena. It is a fast race and is over in a matter of seconds, but it is the atmosphere, pageantry and strong rivalry between supporters that make the day so exciting. Other towns that hold a Palio include Asti, Ferrara, Legnano, Fucecchio Figline Valdarno and Fermo. A Palio is usually linked with a Corteo Storico, and there is an excellent one before the Palio in Siena.
The famous Palio di Siena is a horse race that is held twice each year in Siena, Italy. You may have seen it in the James Bond film, Quantum of Solace.
Corteo Storico
The Corteo Storico is a historic pageant that walks in a procession around the town, with groups representing the different districts of the town. You will see male flag wavers (Sbandieratori) in colourful costumes throwing their flags in the air. These are followed by trumpeters and drummers and people dressed as noblemen and ladies. At the Corteo Storico in Oria, Puglia, I have even seen camels, dancers and knights on horseback.
The Oria procession precedes a "Torneo", which is a medieval tournament between the four districts of the town. Picture men in tights, racing against each other, climbing ropes and jumping in and out of barrels, cheered on enthusiastically by the spectators from each district.
Italians are very proud of their history, traditions and food and certainly know how to celebrate them in style. Thanks to warm summer evenings locals and tourists, old and young can enjoy beautiful summer evenings together.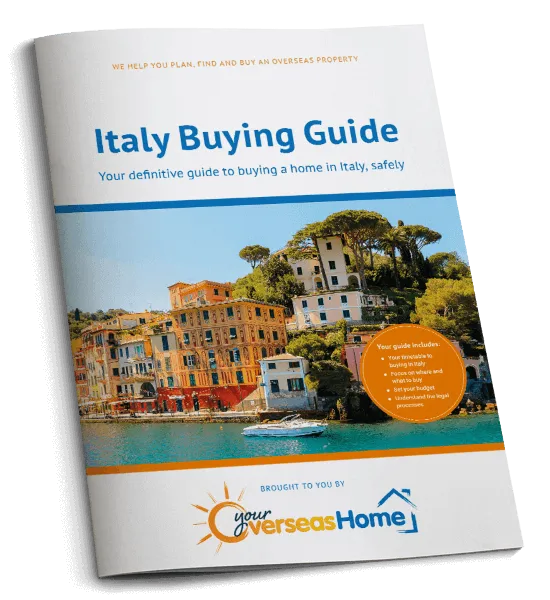 The process of buying property in Italy is significantly different from here in the UK. This is why we've created our completely free Italy Buying Guide, to provide those dreaming of a new life in Italy with all of the practical, legal, and financial information needed to help them realise that dream.
✔

  Ask the right questions
✔

  Avoid the legal pitfalls
Download your free guide to buying in Italy