My husband and I moved to France 9 years ago, thereby joining the 290,000 or so British people who have already established their permanent homes in France. Of the 1.3 million Brits who live outside of Britain in Europe, France is the third most popular country in which to choose to live. France's lure is pretty obvious: a big, beautiful country with generally a laid back lifestyle, glorious space, rich history, wonderful food and wine, culture, fabulous coastlines and a good climate. So, what does one need to make a success of moving as an expat to France and how does one go about it?
Moving as an expat to France
Firstly, from the very start, it is important to plan carefully and research the area you are moving to in depth. The most popular areas for British people moving to France are the Dordogne, the Charente, the Languedoc-Roussillon, now named Occitanie, the Côte d'Azur and Brittany.
Secondly, do you want to be in an area where you will meet other expats or one with fewer or no expats? This needs careful thought in our view. Much though many of us love France and are keen to embrace and integrate into the French lifestyle, it is nevertheless sometimes heartwarming to know that there are other British people who have chosen to do as we have, ie move to France. I suppose the ideal way is to have both. We have many French and British friends and indeed friends from other countries such as Holland, Germany and Belgium in our corner of Occitanie and everyone rubs along just fine!
What kind of property do you want?
Thirdly, get your location right. A beautiful rural property with land and views may be terribly tempting but do you really want to be isolated? Most of us really want to buy a property within just a few minutes' drive of a bakery, café or bar. After all, stopping for a coffee after you have bought your morning baguette or visited the local market and watching the world go by is a super way to relax and soak up that French atmosphere, not to mention the strong possibility you will get chatting to someone, possibly make some new friends and at the very least enjoy a pleasant few moments getting to know your new French locality.
Your new life in France
At first, moving as an expat to France may take a little getting used to. Why wouldn't it? Every country has its own personality! Many things are done differently and the key to success is to go with the flow and do as the French do. For example, many shops and businesses still close for a couple of hours at lunchtime and there are not many shops open on Sunday afternoons. If this seems unfamiliar at the start, it will soon become something you will get used to. Sundays have a real feel of rest to them and many of our friends take advantage of the fantastic landscapes, hills and rivers where we live to go walking or cycling on Sunday afternoons. What may at first seem to be a disadvantage will at some point change into a real advantage.
Sundays have a real feel of rest to them and many of our friends take advantage of the fantastic landscapes, hills and rivers where we live to go walking or cycling on Sunday afternoons.
As an expat, you will be welcomed by the French. Don't allow anyone to tell you that France is wonderful apart from the French! They are well used to British people coming to live in their country and in fact love it. To the French the "style anglais" is something to aspire to. You only have to look in a few home magazines to see countless articles on how the English take their tea, how they decorate their homes and the sort of furniture they choose. They also love the fact that it is the British who are keen on renovating property, something the French are not historically too keen on. In short, they admire us!
Getting to know the neighbours
So how is it best to establish yourself as an expat in your new French home? You can start by simply  being curious and open minded: talk to your neighbours, invite those you get to know first to your home for a drink and best of all, ask questions. People love to give advice! Fear not if your French is not fluent. It is just important to try to speak it. Listen to what people say and don't worry about making mistakes as no-one minds. Dust off your brain by listening to French radio or watching the news on French TV. Promise yourself you will speak at least a little bit of French every single day. You will soon find your language skills improving.
Are you ready for a trip out to have a look at properties? Make sure you know how to make a success of it with the tips and tricks from our Viewing Trip guide.
If you are planning to retire to France you will be interested to know that around 15% of expats are at least 65 years old, so you will not be alone. There are plenty of clubs, musical groups, art groups, cycling, swimming and walking clubs in France. Whatever your passion was in the UK, you will likely find an equivalent in France. As well as indulging in your hobby, this is also a great way of course to meet like-minded folk, both French and British and indeed many other nationalities.
If you are ready to buy in France within the next few months, call our friendly France Resource Team on 020 7898 0549 or email

[email protected]

.
If you are seeking work of some sort, although it may be difficult to find a job if your French is not quite up to scratch, all is not lost. Once you get settled, consider offering your services to the locals. We have several friends who have established good contacts simply by word of mouth for jobs such as gardening, hairdressing, taking care of changeovers for rental properties, computer and website aid etc.
My key points for making a success of moving as an expat to France
Making a success of moving as an expat to France really depends on you! The most important points to remember are:
To integrate fully into the French lifestyle and ways, meaning that you look upon the differences as positive ones rather than worrying about change or something you are not used to.
Making sure you get out and about from day one discovering your neighbourhood, lingering a little when you go shopping.
Accepting all invitations, whether they be from your local mairie (always a good idea since they take great pride in their patch and will welcome newcomers!).
Getting to know your neighbours and mixing with both the French and your fellow expats.
Remember always that you decided to live in France because you love the country: a simple thought but one that is very important in order to be happy and fulfilled away from our home country.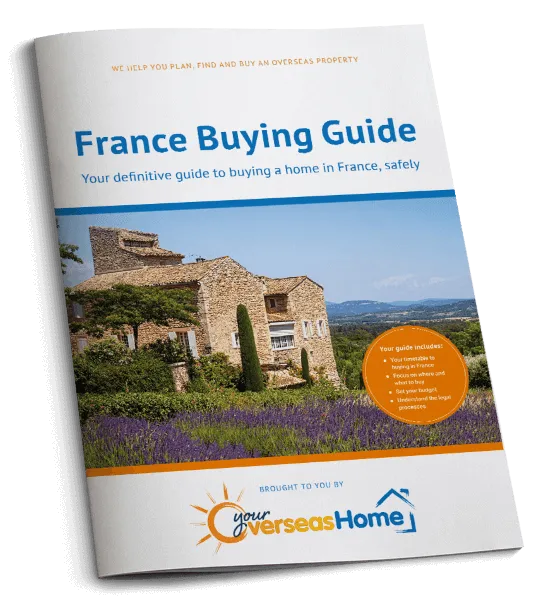 Buying a property in France is extremely exciting, but it can be nerve-wracking: in what ways is the process different to the UK, how do you cope with the language difference, what fees should you expect and just who is the notaire? That's why we've put together our France Buying Guide, to help you through the process, step by step.
Written by experts, it covers every stage of buying, from viewing to contracts and fees. Get your copy of the French Property Guide by simply filling in the form below.
✔

  Ask the right questions
✔

  Avoid the legal pitfalls
Download your free guide to buying in France