Where are the best places to buy property in France?
France is a huge country with a surprising regional diversity, from the flat, green northeast to the hilly northwest, mountainous 'midi' and balmy southern coast. How do you decide where to buy in France when choosing your dream property?
France is a big country, offering diverse attractions and surroundings. The population of France is only slightly greater than that of the UK, at 67 million, compared to the UK's at 64 million, but the country area is more than twice the size. This is often cited as one of the most appealing features for the many Britons who consider moving here.
How do you decide where to buy in France?
You may well be thinking of your move to France knowing exactly where you would like to live at the outset. Maybe it's somewhere you already visit regularly, perhaps, or somewhere you already have friends or family. However, France has many different climates, distinctive geographical attributes and varied property costs due to its vast land mass.
Download our free France Buying Guide here for more tips on the property buying process
To help you decide on the right place and lifestyle to suit you, France Property Guide has created an overall tour of the different regions, the property prices in each region, their distinctive climates, and the individual characteristics of each area. Click on the titles to reach more detailed info about the areas.
Known for its coastline and culture, this area of France is closest to and most accessible from the UK. It is therefore perhaps no surprise that Brittany, Normandy, Nord-Pas-De Calais, Picardie, Paris and the Île-de-France are firm favourites with British expats because of this. Given that there are regular ferry links from ports such as Dover, Portsmouth and Plymouth, it's equally handy if you're coming by car. If you're looking where to buy in France for a holiday home you want to be able to quickly visit at weekends, then this is a great choice.
This region is particularly popular with second homeowners. Second homes make up 20% of the properties here, chiefly in rural areas.
Eastern France is steeped in history and culture.
The gateway to Belgium, Germany and Switzerland, this part of France is steeped in both medieval and modern history. Moreover, it's famous for the multi-national population and the cosmopolitan area of Alsace-Lorraine, formerly part of the Holy Roman Empire and now one of the seats of the EU. That's not all: it has as a long and illustrious wine- and food-making tradition. The area includes the Champagne region, made famous, of course, by the sparkling wine.
This area is historically seen as the heart of France, home to a surprisingly varied landscape, unspoilt countryside and areas of natural beauty. The region also has much to offer in terms of investment opportunity. That said, access from the UK's a little more difficult, but you're rewarded with plenty of gorgeous, unspoilt natural scenery.
Still popular with British buyers, Central France is said particularly to offer "la vraie France", or "the real France" to those looking for an authentic French lifestyle. If you're considering where to buy in France and are looking for a particularly quiet region, this could be it.
The favourable climate here makes it equally popular for holiday homes among the French and expats, particularly in Poitou-Charentes and Pays-De-La-Loire. The hot summers are made comfortable by breezes coming from the Atlantic.
The countryside and coastline are especially attractive – not to mention that property prices are cheaper here than in other popular areas. If you look at equally popular regions such as the Dordogne, the median prices are generally much higher. Furthermore, the region is also easily accessible from the UK, providing a popular base for second homeowners.
Home to the famous city of Bordeaux, this part of France is equally well known for its wine-making rural regions. The Midi-Pyrenees, as the name implies, are bordered by the Pyrenees mountain range. The southern part of the region is therefore popular with expats, firstly as a destination for snow-sport fans and secondly to invest in ski resorts, too.
In addition to airports, there are also ferry services from Plymouth and Portsmouth to Bilbao and Santander in Spain. After that, it's a short drive up to France.
The areas of the Rhone-Alpes, Provence-Alpes-Cote-D'Azur and the Languedoc-Roussillon are some of the most sought-after in France with British expats. The famous French riviera, with its Mediterranean climate, is a huge plus for many. Nonetheless, this does come with a hefty price tag.
The historical playground of artists, writers and the rich and famous, this is not only an area with great investment potential, but also with a particularly thriving second home market. The area offers a wide variety of natural settings for those who are active outdoor enthusiasts, from skiing, to mountain biking, to canyoning.
If you're looking to finally make the move across the Channel, deciding where to buy in France is a key first step. Many regions are equally attractive, but for different reasons – so draw up your priorities to help narrow down which region would suit you.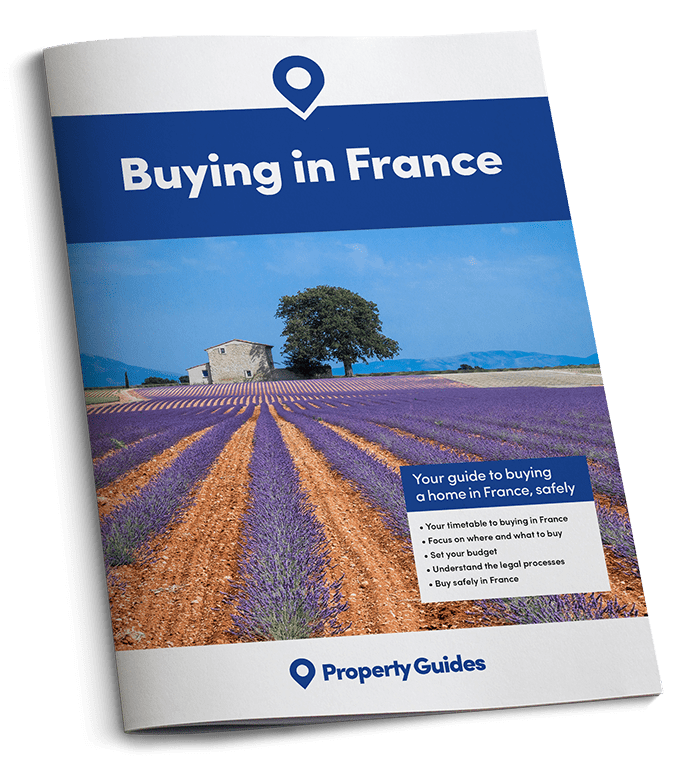 The France Buying Guide walks you step-by-step through each stage of the property buying process in France. Additionally, there are also practical recommendations from our experts who have been through the process themselves. The guide will help you to:
✔

  Ask the right questions
✔

  Avoid the legal pitfalls
Download your free guide to buying in France