Download Smart Currency Exchange's handy three-step currency guide for France today
Download Smart Currency Exchange's handy three-step currency guide for France today
However far along you are in buying a house, the handy Smart Currency Exchange currency guide for France will be especially useful. We have already talked about what we view as the three essential steps to purchasing your dream property in France. Additionally, Smart Currency Exchange also recommends these three key steps for every property purchase. They are:
An agent you can trust.
An independent solicitor.
A currency exchange specialist.
What makes these steps so important?
Your experienced, trustworthy estate agent will be key in choosing your dream home. They'll find properties that truly meet your requirements. A bad one will just push any house to make a sale.
These three resources are the three critical pieces of the property buying puzzle.
An independent, bilingual solicitor will help you to get through the often lengthy process in an unfamiliar country. They'll help with different laws and a new language. They'll also be someone firmly on your side throughout the buying process.
Finally, a currency exchange specialist will work with you when you transfer your funds. They'll help you protect your budget from risky exchange rates – protecting thousands of pounds. You will also find useful information on what you should expect on your property viewing trip. Find out more by downloading your copy of Smart Currency Exchange's 'Three Essential Steps to Buying Property Abroad'.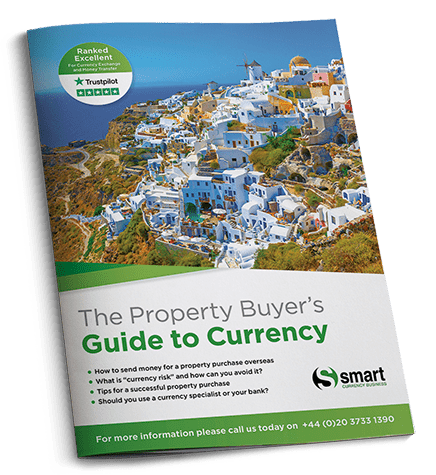 The Property Buyer's Guide to Currency will help you:
✔

  Understand the currency markets
✔

  Protect your property budget
✔

  Use a Currency Specialist
✔

  Learn from other overseas property buyers
Download the Property Buyer's Guide to Currency