The hidden costs when buying property in France
It's important to remember that the listed price of a property will never be the only cost you end up paying. You will also need to consider fees, taxes and fluctuations in exchange rates – these will all affect the overall amount that you spend on your new French property.
Once you have found your dream property and worked out the price, it's important to remember that there will always be additional costs that you need to consider. These must be taken into account before you can determine how much you can afford – after all, the last thing you want to do is find your dream property at your absolute highest price, and then find that you cannot realistically afford to complete on the property once you have also paid for the solicitor, estate agent and other essential professional services. One thing to remember is that the French property buying process is much more biased towards protecting the purchaser than the seller – although both are protected – but you will find that once everything is in place and completion is nigh, there will be penalties if you decide to withdraw from the sale.
Once you have found your dream property, it's important to remember that they will be additional costs to consider over and above the purchase price.
How much extra will you need to spend?
The cost of these extras will vary depending on a number of factors – the age of the property, whether you need a loan to buy it, and any additional, niggling costs that could pop up unexpectedly. We generally advise all purchasers to allow around 7-10% of the property's costs for all fees and charges, or 2-3% if the property is new. This would include your deposit, the fees involved in setting up a mortgage (including life assurance), transfer tax or stamp duty, notary fees, independent legal fees, property registration fees and possibly a survey – as well as the estate agent's fee, which is paid by the buyer in France and generally much higher than in the UK (this can be up to 5%, depending on the property).
Key considerations
There are numerous extra costs that you should consider and factor into your budget. The France Buying Guide recommends thinking about the following:
The total amount of money you have available to purchase a property
If you buy with a mortgage, how much of a deposit will you need (this will usually be at least 20%)? How much will the repayments be, and how will the repayments be made?
The possibility of re-mortgaging your UK home to release equity
The additional costs that come with buying property (i.e. taxes and fees)
The cost of maintaining the property and spending time there
Your maximum purchase price, taking all of the above into account
Have you thought about your currency exchange requirements?
When transferring funds from the UK to France, it is very important to ensure you make the best of your international currency exchange and ensure that you do not spend far more than you need to as a result of weak exchange rates and additional fees. By using our recommended currency exchange specialist, Smart Currency Exchange, you can ensure that you avoid losing money unnecessarily – by taking advantage of their bank-beating exchange rates and no fees on transfers over £3,000, and by working closely with your dedicated currency trader as they monitor the markets for you. They will also work with you on the best currency strategy to ensure you are not adversely affected by the fluctuating exchange rates for future payments.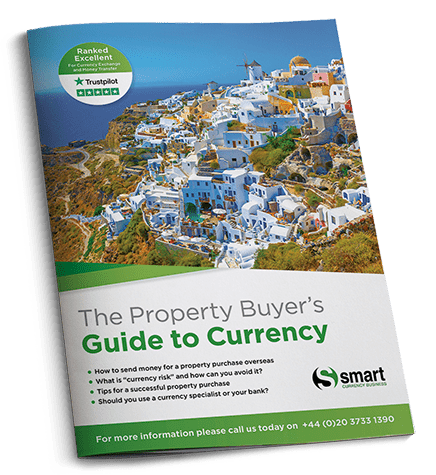 The Property Buyer's Guide to Currency will help you:
✔

  Understand the currency markets
✔

  Protect your property budget
✔

  Use a Currency Specialist
✔

  Learn from other overseas property buyers
Download the Property Buyer's Guide to Currency