The hidden costs of buying in France
It's important to remember that the listed price of a property will never be the only one of the costs of buying in France. You will also need to consider fees, taxes and fluctuations in exchange rates – these will all affect the overall amount that you spend on your new French property.
Once you have found your dream property and worked out the price, it's important to remember that there will always be additional costs that you need to consider. These must be taken into account before you can determine how much you can afford.
After all, the last thing you want to do is find your dream property at your absolute highest price, and then find that you cannot realistically afford to complete on the property once you have also paid for the solicitor, estate agent and other essential professional services.
The French property buying process does protect the purchaser above all. However, once everything's in place, you will find as a purchaser that there are penalties for withdrawing.
Once you have found your dream property, it's important to remember that they will be additional costs to consider over and above the purchase price.
How much extra will you need to spend?
The cost of these extras will vary depending on a number of factors – the age of the property, whether you need a loan to buy it, and any additional, niggling costs that could pop up unexpectedly. We generally advise all purchasers to allow around 7-10% of the property's costs for all fees and charges, or 2-3% if the property is new. This would include your deposit, the fees involved in setting up a mortgage (including life assurance), transfer tax or stamp duty, notary fees, independent legal fees, property registration fees and possibly a survey – as well as the estate agent's fee, which is paid by the buyer in France and generally much higher than in the UK (this can be up to 5%, depending on the property).
Find out more about the costs of buying in France with our 'How to Pay for It' Guide. 
Key considerations
There are numerous extra costs that you should consider and factor into the costs of buying in France. The France Buying Guide recommends thinking about the following:
The total amount of money you have available to purchase a property
If you buy with a mortgage, how much of a deposit will you need (this will usually be at least 20%)? How much will the repayments be, and how will the repayments be made?
The possibility of re-mortgaging your UK home to release equity
The additional costs that come with buying property (i.e. taxes and fees)
The cost of maintaining the property and spending time there
Your maximum purchase price, taking all of the above into account
Have you thought about your currency exchange requirements?
Transferring funds from the UK can add to the costs of buying in France if not done correctly. Exchange rates move all the time – between days, hours, even minutes. This means that, for example, between putting in an offer and paying a deposit, the value of a house in GBP could change drastically. This could cause you to pay out thousands of extra pounds, from just a 1% change.
If you are ready to buy in France within the next few months, call our friendly France Resource Team on 020 7898 0549 or email

[email protected]

.
But you can control that risk entirely. We have worked with the UK's only property-specialised currency exchange, Smart Currency Exchange, for over a decade. They have used techniques like forward contracts – where they guarantee an exchange rate for 12 months – to help protect thousands of our readers' budgets. In turn, Property Guides readers have left them over 1,000 5* reviews on TrustPilot. Find out more and get a free, no-obligation quote on our currency specialist page.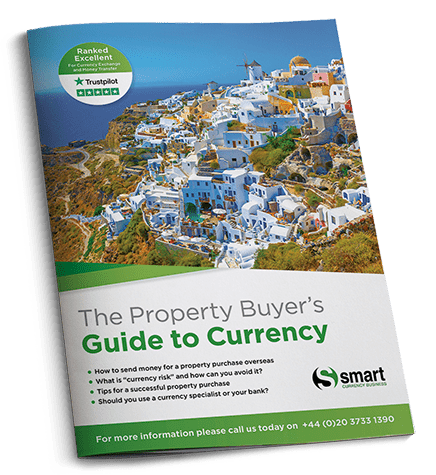 The Property Buyer's Guide to Currency will help you:
✔

  Understand the currency markets
✔

  Protect your property budget
✔

  Use a Currency Specialist
✔

  Learn from other overseas property buyers
Download the Property Buyer's Guide to Currency