Get a taste of France by mastering French food and drink
France is well known for its food and wine, which are both important aspects of French life. Make the most of the French food and drink available in your area of France.
A healthy yet inexpensive lifestyle
French food emphasises fresh produce, instead of the ready meals and processed food that so many of us get used to in the UK. You may then find that, despite indulging in the many French culinary delights, you adapt to a healthier lifestyle and way of eating.
Most people can enjoy a very good diet in France without overspending. French food prices in the supermarkets are all in all on a par with the UK. The large hypermarchés (hypermarkets) are especially cost-effective. Equally, eating out is generally less expensive, apart from the very upmarket establishments and some restaurants in large cities and tourist hotspots. Additionally, many restaurants in France offer a 'prix fixe' menu, which is extremely good value.
You will find that you can enjoy a very good diet in France without overspending.
Making the most of French markets
Markets (marchés) are the mainstay of French life, and have been an important part of life in France for hundreds of years. Each one will usually have some speciality French food, so it's always a good idea to find out the times and dates of your local one. Even if you do not have a specific shopping list, it's still a pleasure to wander around the vibrant French markets for inspiration and to get to know the local area better.
Local French food shops
Smaller towns and some villages will usually have dedicated individual shops selling all the mainstays of French food. Fior example, you'll often find a boulangerie (bakery), traiteur (deli and caterer), fromagerie (cheese shop), boucherie (butcher), charcuterie (deli) and épicerie (grocer). Most butchers and bakers stock their own food and, generally, these specialists will have studied their particular trade for many years. You may pay a bit more in these shops in the smaller villages. However, the end product will be fresher and of a higher quality. As you would expect in France, there is a vast choice of wines available, with many good quality ones priced cheaply at around €5.
Different areas of France are particularly well known for their own food choices. Join us on a tour of France's culinary delights.
Alsace
In Alsace, the cooking draws for the most part on Germanic influences, owing to its position on the border. It uses a lot of the fish caught in local rivers, with popular dishes like carpe frite and pike quenelles. Undoubtedly, its most famous contribution to French food is the tarte flambée/flammekeuche, the 'Strasbourg pizza', with crème fraîche and lardons. There's also, of course, la choucroute – sauerkraut, a markedly Germanic influence.
There is also a great tradition of white wine in Alsace, with the region equally well known for its beer.
Auvergne
The Auvergne was once an important wine region, and is slowly making a comeback. In terms of French food, the area is also chiefly famous for its cheeses, such as Bleu d'Auvergne, Salers, Saint-Nectaire and Cantal.
The speciality local dish is potée auvergnate – a hotpot of vegetables and pork. The term à l'auvergnate means 'in the Auvergne way' and usually refers to a preparation 'with cabbage, bacon and sausage'. Truffade is a hearty dish of potatoes and Cantal tomme cheese. Ham features prominently in the region: pounti is a terrine based on ham, pork breast, prunes and beet leaves.
Brittany
Every day is Pancake Day in Brittany! Crêpes, or thin pancakes sprinkled with icing sugar, are emblematic of the region, so much so that every crêperie in France declares itself to be Breton. Likewise, there are also the popular buckwheat galettes as well.
Brittany is additionally renowned for its seafood. The official 'plateau de fruits de mer' will usually include at least six kinds of shellfish, served on a bed of the local seaweed, goémon. Finally, green vegetables generally feature strongly in this area, particularly artichokes, broccoli, cauliflower and peas.
Cidre (Cider) is the main drink in Brittany, and it is the second largest cider producing region of France.
The Burgundy region is wihout a doubt a gastronomic paradise, home to some of the best French food and wine.
Burgundy
The Burgundy region is without a doubt a gastronomic paradise, home to some of the best French food and wine. One of the most popular dishes internationally is boeuf bourguignon. It's essentially a rich stew of beef cooked in wine with bacon and shallots, served with Dijon mustard from the town of Dijon in the region.
Chaource and Epoisses are particularly known for their cheese namesakes. The area is additionally home to a host of rustic foods, including snails (escargots), mushrooms, crayfish and quail.
Bugundy's also famous for its wines, made from Pinot Noir (red) and Chardonnay (white) grapes. Unsuprisingly, along with Bordeaux and Champagne, it is one of three main centres of wine production in France.
Champagne
The Champagne region is of course famous worldwide for its sparkling white wine. At the same time, many other wines are also produced here, including rosés and still red wines.
The cuisine of the area is characterised by the abundant wild game. Troyes is best known for its speciality sausages and andouilletes, while Ardenne is renowned in French food for its quality hams and terrines.
Franche-Comté
Franche-Comté specialises in charcuterie (cold meats), particularly smoked beef, sausages and hams. It's also known for its jelly made from quince pulp (oddly known as quince cheese in English and pâte de coing in French). Comté, a hard cheese made in the region, is the most popular cheese in France.
Languedoc-Roussillon
The cuisine in Languedoc-Roussillon is undeniably one of the standout ones among French food. It's unsurprisingly similar to the traditional food in Catalonia, just across the border in Spain. Cassoulet, a rich stew traditionally made of goose, duck and sausage, mixed with beans and a topping of breadcrumbs, is the signature dish of the region.
Meatballs, grilled snails, peppers and aubergines are the food most likely to be found on the restaurant menu, as well as seafood in the more coastal areas – mussels, oysters and clams in particular. Other local specialities include tapenade, duck cooked in red wine, foie gras and confits.
The best wines of the region are Corbières, Minervois, Fitou and Cabardes – produced in the Aude.
The food in Limousin is traditionally simple and filing.
Limousin
Food in Limousin is chiefly simple and filing. The forest yields wild mushrooms, and the chestnuts found here are a renowned speciality of La Creuse. Its beef, pork and lamb are likewise all of emphatically high quality. A typical dish from the region is farcidure, a potato tart (and also a signature dish of former President Hollande!).
Normandy
Normandy's specialities in French food are its cream and butter, as well as its seafood. It is customary here to have a pause in between courses of copious means for le trou normand ('Norman gap'), where you drink the local calvados (apple brandy) to restore appetite.
All kinds of meat are popular in the Normandy region, particularly duck from Rouen and andouilles, which are sausages made from cows' intestines.
Paris
While Paris is known as one of the world's greatest gastronomic centres, there are few specifically Parisian dishes in the canon of French food. The city is home to a wealth of global cuisines, with particularly good North African and Vietnamese restaurants. The brie de meaux cheese has been made in the suburbs of Paris since the 8th century. There is also a famous local ham, literally known as jambon de Paris.
Provence-Alpes-Côte d'Azur
The food of Provence-Alpes-Côte d'Azur is chiefly based around olive oil, basil, olives, fish and shellfish, with the generous use of thyme and rosemary giving dishes a genuine Mediterranean flavour.
Provençal cooking is one of the healthiest styles of French food, with bouillabaisse (fish soup) a meal in itself. There are also some classic cow's milk cheeses from the region, such as Tomme d'Izoard, Bleu du Queyras and Gruyère Fontu. Of course, the salade niçoise has also made its way around the world, but the authentic version is found in Nice.
Provençal cooking is one of the healthiest styles of cooking in France.
Dry, fruity rosé wines, especially Côtes de Provence, are popular jug wines from the region of Provence. Popular red wines from this area of France include Châteauneuf-du-Pape and Côtes du Rhone.
French Culture & Customs
Food and Drink
Sport and Leisure
Shopping in France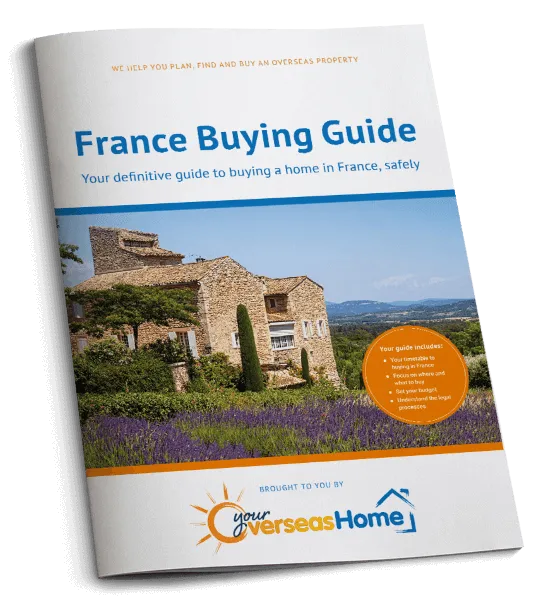 Buying a property in France is extremely exciting, but it can be nerve-wracking: in what ways is the process different to the UK, how do you cope with the language difference, what fees should you expect and just who is the notaire? That's why we've put together our France Buying Guide, to help you through the process, step by step.
Written by experts, it covers every stage of buying, from viewing to contracts and fees. Get your copy of the French Property Guide by simply filling in the form below.
✔

  Ask the right questions
✔

  Avoid the legal pitfalls
Download your free guide to buying in France