With a Welshman winning the Tour de France, will more of Geraint Thomas's countrymen be keen to swap the valleys of Wales for the fields of France? The British have enjoyed a long love affair with France's bucolic beauty, and especially the affordable homes to be found there. So, let's have a look at moving to the countryside in France, from where to go to what to keep in mind before you move. 
The route of the Toiur de France showcased France's picturesque scenery and we'd certainly understand if it got you dreaming of country homes in France. A spacious house, land of your own, wonderful views and clean, fresh air are all easily achievable across the Channel. In fact, it's a buyer's market. So, if there was ever a time to make your dream a reality it's now.
Where's best for country homes in France?
Two of the best regions of France to buy are Burgundy, located in the east of central France, and Poitou-Charentes, in the southwest. Both offer rural living in gorgeous scenery, while still having attractive property prices and excellent transport links for the family to come over. And, of course, there's that enviable French quality of life.
If either of these areas tick all your boxes, you might want to go and see some properties. Get ready with our Viewing Trip guide to make the most of your time.
Living in Burgundy
This historic land of the Dukes of Burgundy boasts a rich history, beautiful countryside and, of course, extensive vines. Property types range from châteaux and 'maisons de maître' (manor houses) to traditional timber-and-stone cottages and modern villas. You're in the countryside but can easily access Paris or the South with the excellent motorway network. By TGV (the efficient high-speed train network), you can go from the regional capital Dijon to Paris in 1hr 30, Marseille in 3hr 20 and Montpellier in 3hr 30.
Burgundy is much loved by the French, particularly Parisians seeking a country second home.
Aside from the beautiful towns of Dijon, Auxerre, Nevers, Macon and Beaune, the landscape is rich and rolling. The Morvan Regional Natural Park is the most rural part, with small villages nestled among 430,000 acres of forest and lake. The Autunois is hilly, while the area around the River Saône is much flatter.
Burgundy is much loved by the French, particularly Parisians seeking a country second home. There are fewer British people than in some other regions, although its popularity amongst us is fast rising.
What kind of homes can I find?
This is truly the heart of France and the best part is that property prices have largely remained stable in the last ten years or so. A typical house is priced at €1,218 per m2. Messigny-et-Vantoux, the area around Dijon, is the most expensive at €2,141 per m2. Bargains can be found towards the west and north of the region, such as in Nièvre (€942 per m2) and Noyers (€759 per m2).
Finding a beautiful countryside property in this area should not prove too difficult. Take a look, for example, at this stunning 4 bedroomed detached villa, being sold with a large garden, an acre of land and a barn at €250,000. Now where would you find such a place at such a fabulous price in the UK?
Or how about this five-bedroom, 18th century mill, set on the edge of the Morvan Natural Park with extensive grounds for €255,000?
The stunning local area, excellent transport links and mild weather make this an excellent area for country homes in France.
Living in Poitou-Charentes
This is a wonderfully diverse region. There's lush green countryside, seaside towns, wooded valleys as well as canals and superb hiking trails. It's the perfect area for those who love the outdoors. Access to and from the UK is easy with regular flights from Brive, Bordeaux and Limoges.
This is an ideal location if you're thinking of country homes in France. The region has three natural parks (Brenne, Loie-Anjou-Touraine, the Marais-Poitevin). The region is largely low-lying, with plenty of rivers and lakes. Anyone familiar with the British weather will be glad to know there's only around 600-950mm of rain a year and over 2,400 hours of sunshine.
What kind of homes can I find?
Types of property include stately manor houses, stone cottages, converted barns and farmhouses.  Prices are very reasonable here, with the average house costing €1,540 per m2. It is worth bearing in mind that the closer to the sea you go, the higher the prices. Postcard-perfect towns like La Rochelle do help to push prices up, with the Charente-Maritime's average house costing €2,068 per m2. In inland areas like Vienne, it's just €1,293 per m2.
Take a look, for example, at this four-bedroom, renovated stone rural home with a heated swimming pool. It's located on the edge of a hamlet, thus offering the peace of the countryside without being completely isolated. The asking price is just €243,800.
Or how about this charming, three-bedroom house with outbuildings and barns, in traditional materials? The asking price is just €218,980.
Get the most out of the property market by upping your negotiating game. Read our guide: How to Negotiate Abroad for advice and insider tips.
What should you keep in mind buying country homes in France?
Moving to the countryside is fantastic for getting away from the hustle and bustle of city life and getting plenty of space for your pound (or euro). However, it's important to consider all aspects of daily life to really make a success of the move.
Emergencies and maintenance
Firstly, country homes in France can be quite isolated (hence that wonderful peace and quiet), so know your nearest village and whom to call in an emergency. The French government's put together an infographic with all the key numbers. 15 is the number for an ambulance, 17 for the police and 18 for the fire brigade. If you read French, you can use the Annuaire online to find your nearest public service.
Secondly, you'll find many country homes in France aren't on mains drainage. Instead, they use a septic tank. This isn't a problem, but it's worth noting that they must be kept up to current standards and well maintained. As a buyer, your seller is bound to produce evidence that the septic tank is up to scratch. You will then need to keep it so!
Similarly, gas bottles are very common in France as many village and rural homes are not connected to mains gas. Again, this is not a problem (the bottles last for very many months). It just means you need to check out where your nearest supplier is – often a local petrol station or supermarket.
Getting weather-ready
In some parts of France, particularly in the south, you'll get wonderfully hot weather in the summer. This does, however, mean the occasional thunderstorm (often accompanied by quite spectacular lightening!). Power cuts can happen and your internet connection may sometimes suffer.
Getting someone out to see to any such problems may be trickier and take longer than in a town. It can be worth asking for recommendations of a local handyman as soon as you move in. This way, you'll already have their number in your phone if anything happens.
Many parts of France do get snow in the winter, particularly at higher altitudes and away from the sea. We even had a freak snowfall in the south of France in May this year! Check the climate averages for where you're moving and think about your transport. If you're buying a second home and intended to just rent one while you're there, make sure it's equipped for the season.
Holiday country homes in France
Following on from this, what if you're not going to be there for part of the year? Is there someone local who can go in and keep an eye on things for you? Properties need to be occupied, particularly those which are more remote.
As for generating an income, many properties with good exterior space and a swimming pool will lend themselves to holiday rentals. If you are considering a second home, this is a great option in order to make it pay for itself.
Consider also how popular hunting wild boar, game, rabbits and deer is in France. The hunting season starts in September with designated dates chosen by the local prefecture. Living in the countryside means respecting this as well as the local farmers. You'll need to understand the seasons, learn about any animals which are raised in your neck of the woods and what grows there as well.
Joining the community
The key to making a success of moving to France is integrating with your local community. This is even more important in the countryside, where you'll find out about so many events by word of mouth. Your town hall (mairie) is more of a community hub than many councils in the UK. You'll be able to find out here about local committees, festivals and businesses. Even in the most rural parts of France, there are all sorts of activities and sports clubs in nearby villages. French people will generally welcome anyone who is friendly and wants to make a life for themselves there.
Your town hall (mairie) is more of a community hub than many councils in the UK. You'll be able to find out here about local committees, festivals and businesses
It's also good to remember that French culture can seem more formal than in the UK. Don't be disheartened if many locals are 'Monsieur …' or 'Madame …' for a while before you begin addressing each other on an informal basis.
All of these matters are worth looking into ahead of buying property in the countryside in France. None of them are too difficult to deal with. But they are important to know about when buying that lovely stone farmhouse you have hankered after for so long.
A great time for buying country homes in France
Prices have remained stable in many parts of France for the last few years. However, there are sure signs in many areas of a gradual rise, making now an incredibly attractive time in which to buy here.
We have several British friends who have bought country homes in France. Not one of them has ever regretted their decision to do so. One couple we know keep chickens and grow their own vegetables; in fact they are practically self-sufficient and have started to sell their own home grown goodies at their local market. Their only regret is that they did not get away from the hustle and bustle of London sooner! So to go back to the beginning, if it is your dream also to get away from it all and buy a countryside property in France, you will undoubtedly be delighted that you did so.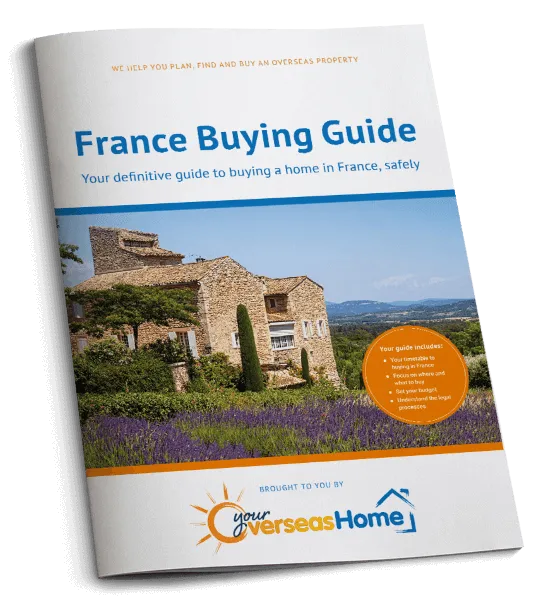 Buying a property in France is extremely exciting, but it can be nerve-wracking: in what ways is the process different to the UK, how do you cope with the language difference, what fees should you expect and just who is the notaire? That's why we've put together our France Buying Guide, to help you through the process, step by step.
Written by experts, it covers every stage of buying, from viewing to contracts and fees. Get your copy of the French Property Guide by simply filling in the form below.
✔

  Ask the right questions
✔

  Avoid the legal pitfalls
Download your free guide to buying in France