Central Florida's Top of the Pops with the Brits for a reason (or several): year-round sunshine, world-class beaches, no state taxes – and surprisingly affordable property. If you're looking to buy in Central Florida, this one's for you. We're exploring the property hotspots, what you can expect to pay in each area, whom these areas would suit, as well as our favourite topic, the weather.
Download your free, comprehensive USA buying guide to find out everything you need to know about purchasing property in the USA.
What can you expect from a home in Central Florida?
Central Florida is a hub of action and adventure, attracting millions of tourists from all corners of the world all year round. Sport and leisure opportunities in the US are generally great, and this is no exception. The wonderful climate is perfect for beach days, leisurely rounds of golf, water sports and natural springs. There are also national parks, lakes and nature reserves to explore…
The region is home to exciting cities like Tampa and Orlando. These are pulling an increasingly young crowd due to their booming economies and low-cost lifestyle. If you move to Central Florida, you'll also find smaller, quieter towns and villages where you can escape the tourist hustle and bustle.
Plenty for the kids (and adults!) to get up to
Central Florida is home to much of The Sunshine State's excitement. In fact, it's highly unlikely you'll ever find yourself short of activities if you move to Central Florida. Orlando alone is home to a dozen theme parks, including Disney World, Universal Studios and The Wizarding World of Harry Potter. Be wowed by the wildlife at SeaWorld or cool off from Florida's lovely sunshine at Wet n'Wild, Aquatica or Typhoon Lagoon. Tampa is home to Busch Gardens, Adventure City and the Florida Aquarium.
If you're more of a 'lazing around in the sun' kind of person, you'll be pleased to know there are more leisurely things to do than lurching around on a rollercoaster. For the beach bunnies among you, here's an insider tip: set yourself up in the west of Central Florida. The water on the Gulf Coast is markedly warmer than on the ocean side! Highlights include Caladesi Island State Park, Honeymoon Island State Park, Clearwater and Belleair.
Central Florida is home to much of The Sunshine State's excitement. In fact, it's highly unlikely you'll ever find yourself short of activities if you move to Central Florida.
Over on the East coast, you can find great surfing at Cocoa Beach and a whole host of secluded beaches dotted along the Space Coast near Melbourne Beach. Here you can fish for your dinner (or just eat fresh fish someone else has caught). You can also cool off with a spot of scuba diving or snorkelling.
Other activities you might like to enjoy when you move to Central Florida include hobnobbing with astronauts at the Kennedy Space Centre, checking out the International Speedway at Daytona Beach or getting into nature at Lake Toho, Blue Spring State Park or Canaveral National Seashore.
Arts and culture
For those in search of a little culture, a move to Central Florida will grant you to access many a world-class museum. Check out the Orlando Museum of Art and the Cornell Fine Arts Museum. Alternatively, you can head to Tampa for the Henry B. Plant Museum, Tampa Bay History Centre and Tampa Museum of Art. Furthermore, over in St Petersburg there's the Salvador Dalí Museum, the Museum of Fine Arts and many more.
Read our guide, How to Negotiate Abroad, for insider tips and tricks on getting the best price when dealing with estate agents.
Getting to Central Florida
Given that (in a nornal year) 70 million tourists visit Orlando, it's no surprise there are multiple airport options for you when you move to Central Florida. London Gatwick to Orlando International Airport takes a little over nine hours. In my experience, it's possible to secure a one-way flight for as little as £250.
Should you buy closer to the West of Central Florida, Tampa International Airport is your best bet. The flight time is 9.5 hours. Finally, if you plan a move to the east of Central Florida, you can fly to Daytona Beach International Airport. Expect one stop-over, usually in Atlanta. This makes the flight time around 12 hours as long as you secure an efficient connection.
Job opportunities
If you want to work in tourism, then you've come to the right place. Walt Disney World alone employs 74,000 people! However, tourism and hospitality jobs aren't the only options in the region. Major industries include healthcare, education, agriculture, international trade and aerospace and aviation. Central Florida is also home to a number of internationally renowned pharmaceutical and biomedical research institutes.
If you're sourcing work within financial services, you probably won't struggle to find employment. Florida has one of the wealthiest populations in all of the United States, so there are plenty of potential clients.
Bear in mind, of course, that US visa rules are strict and you will need to start your search from the UK.
Climate
There's a very good reason why 'Snow Birds' migrate down from the USA's northernmost states during winter – and why the region remains so popular with Brits. Sunshine! Florida is The Sunshine State, after all.
In Orlando, you can look forward to 236 days of sunshine per year. Tampa residents bask in 244 glorious days of sunshine. Daytona Beach receives slightly less with 229 days of sunny weather.
While the climate is pleasant all year round, general consensus is that January through to April is the best time of the year. Firstly, you'll benefit from the company of fewer tourists. Secondly, you'll enjoy pleasantly warm temperatures and very little rain. During spring and autumn, temperatures linger around 21 degrees. Come summer time, the mercury (and the humidity) ramps up to an average of 32 degrees. Should you be in town during this peak time, expect to experience thunderstorms and downpours most afternoons.
When planning a move to Central Florida, it's important to consider that coastal cities in the region are susceptible to hurricanes (between August to October). There is also risk of tornadoes (June to September) and wild fires (March to June). Always do your research into where to buy and how to protect your home and yourselves before committing to a purchase in Central Florida.
Where are the best areas to live?
We've rounded up our four favourite areas to move to Central Florida, combining a high quality of life with great property prices.
Kissimmee
If you want to be close to the action, Kissimmee is a popular choice, and there remains many a property bargain to be found. If you plan on renting out your holiday home to generate some income, this is the ideal spot. The city is located on the shore of Lake Tokopekaliga (Lake Toho to the locals) just minutes from Orlando's biggest attractions. One of the nicest spots is its vibrant waterfront area, which is just perfect for leisurely evening strolls and dining al fresco.
Download your free Viewing Trip Guide to make a success of your trip to view properties in the US.
St. Petersburg
St Pete, as it's called by the locals, has chalked up a Guinness World Record for recording the most consecutive days of sunshine, 768 in fact, earning it the nickname 'The Sunshine City'. St Petersburg also boasts a vibrant arts scene and is home to the Tampa Bay Rays – one of Central Florida's major League Baseball teams. Other perks of a move to St Pete include affordable housing, low cost of living, no income tax and friendly people.
New Smyrna Beach
Those looking for something further away from the tourists might like to consider New Smyrna Beach, one of Central Florida's classic beach towns. You'll be able to enjoy 13-miles of unspoilt coastline, great surf and golfing, and an annual jazz festival which takes place every September.
You'll enjoy being close to the town's Indian River Lagoon Park where you can canoe, kayak and fish to your heart's content.
Mount Dora
This beautiful lakefront town is a wonderful choice that'll make you feel as though you've stepped back in time to the 19th century. You'll be able to spend sunny days browsing antique shops and galleries and dining in gourmet restaurants, which stock only the finest wines from the area's surrounding wineries. Mount Dora is picturesque spot for those in search of a quiet life in the Central Florida countryside.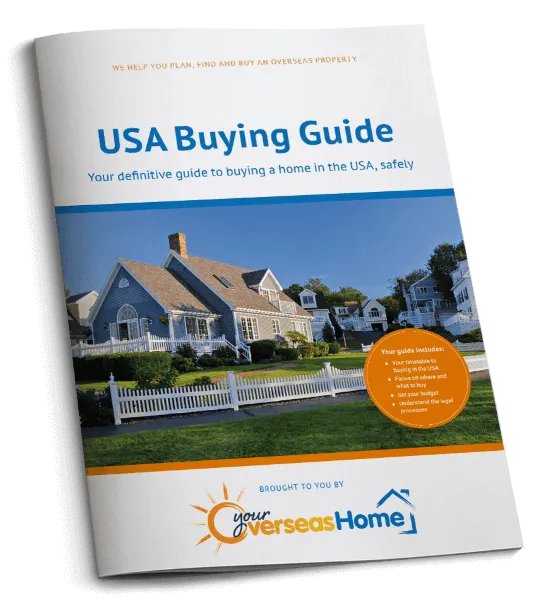 Download your free USA property guide
Our guide to buying a house in America is readily available online, but you can also a PDF version to view when you're offline or print. Simply fill in the form to the right and you'll be able to download your free copy.
Ask the right questions
Avoid the legal pitfalls
Find your property
Avoid losing money
Move in successfully
Download your free USA property guide