In terms of sporting fixtures, they don't come much bigger than the annual Super Bowl, pinnacle of the American Football League. Just why do Americans get so excited about the event?
Unless you're a huge fan of American football, chances are that every time you've heard the word 'Super Bowl' you've just wondered which huge music acts will be filling the coveted halftime slot. The Super Bowl is a key day in the year for all Americans – an unofficial holiday where most wouldn't dream of being anywhere other than in front of a TV in order to see which NFL team seizes the ultimate prize. As the Super Bowl is taking place this Sunday the 5th February, we thought we ought to explain what the Super Bowl is, what it means to Americans, and what you can expect from Super Bowl Sunday when you've finally made the move to the USA.
What is the Super Bowl?
The Super Bowl is the all-important deciding game in the NFL calendar that determines who is crowned the best American football team. In order to demonstrate its popularity, it's worth noting that all seven of the most-watched broadcasts in television history have been the Super Bowl. It's not just Americans that tune in – the event is among the most-watched sporting events in the world, second only to the UEFA Champions League final, which is the most-watched sporting event across the world.
Each Super Bowl Sunday 1.25 billion chicken wings are eaten, 28 million pounds of crisps and 8 million pounds of guacamole
As so many Americans tune in every year, the day itself, dubbed "Super Bowl Sunday", is now considered an unofficial American holiday. In keeping with holiday traditions, Super Bowl Sunday is the second biggest day of the year for US food consumption after Thanksgiving. If you're wondering what you'll be eating – let me warn you, it's not healthy. Each year 1.25 billion chicken wings are eaten, 28 million pounds of crisps, and 8 million pounds of guacamole. Super Bowl Sunday is also a lucrative time for pizza places, as 60 percent of takeout ordered on the day is pizza. When in Rome…!
Who's playing this year
This year the New England Patriots will take on the Atlanta Falcons at the NRG Stadium in Houston, Texas. The New England Patriots remain the favourites to secure the trophy. This is their ninth Super Bowl, the second time in three years that they've reached the final, and their seventh Super Bowl with current coach, Bill Belichick, and star quarterback, Tom Brady. This is just the second time the Atlanta Falcons have made the final.
Where to watch
If, like most, you don't have tickets to the event – you'll be able to watch the match in a number of ways, including on Fox, Apple TV, Amazon Fire TV, Android TV, and Roku. The game kicks off at around 6:20pm eastern standard time.
If you're still in the UK but you want to see what all the fuss is about, it is possible to catch the game – let's just hope you have Monday off work as it starts at 11:30pm, and won't be finished until around 3am. You can tune in on BBC or Sky Sports.
Why is it such a big deal?
In order to understand what makes this sporting fixture so much more popular than other sporting finals, the USA Property Guide chatted to Carew Blythe, a Maine native and committed sports fan. He explained why Americans go all-in on Super Bowl Sunday:
"The Super Bowl is just the pinnacle of Americana. You get together with friends and family to watch the match, drink beers, eat buffalo wings, chips and salsa and pizza. It's a fun day. I particularly enjoy debating the merits of the teams, especially the Patriots, who because they win so often (and were involved in a cheating scandal) are disliked by many. Our whole town comes to a standstill. People are either at home or in bars – but no one dare miss it."
"The Super Bowl is just the pinnacle of Americana. You get together with friends and family to watch the match, drink beers, eat buffalo wings, chips and salsa and pizza"
Super Bowl traditions
In addition to the match, the Super Bowl is known for its spectacular half-time performances from the biggest names in show business. Last year Beyoncé wowed the crowds, and previously we've seen The Rolling Stones, Prince, Bruce Springsteen, U2 and Katy Perry. This year, Lady Gaga will be responsible for getting the crowds, and those watching at home, dancing in the aisles (and hopefully burning off those chicken wings!).
In addition to the always-spectacular half-time show, another area that gets a lot of attention is the advertising shown between plays. As so many people tune into the match, this is the time for big brands to target the masses, and budgets seem to get bigger and bigger each year. Some advertisers pay as much as $3.5 million for a 30 second ad. Famous commercial campaigns seen over the years include the introduction of Apple's MacIntosh computer back in 1984, and Budweiser campaigns. Many tune in specifically for the adverts – a study by Nielsen back in 2010 reported that 51 percent of those that tune in do so specifically for the commercials.
Sound exciting? If you want to see what all the fuss is about, pour yourself some coffee and tune in at 11:30pm this Sunday evening. This time next year you could be watching at a more sociable hour, beer and pizza in hand.
If you have any questions at all about making your dreams of moving to the USA a reality, give the Resource Centre a call today on 020 7898 0549.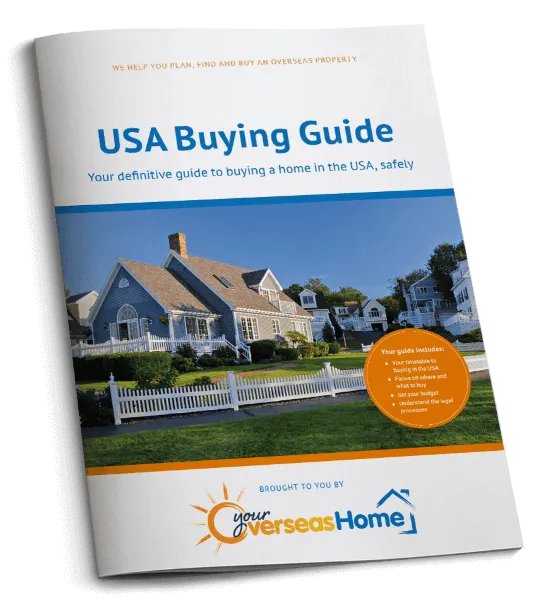 Download your free USA property guide
Our guide to buying a house in America is readily available online, but you can also a PDF version to view when you're offline or print. Simply fill in the form to the right and you'll be able to download your free copy.
Ask the right questions
Avoid the legal pitfalls
Find your property
Avoid losing money
Move in successfully
Download your free USA property guide