When you get to the US and are sitting in that coffee shop with your new co-workers, or chatting away with the hairdresser, you won't want to feel left out will you? So let us introduce you to the people you'll be gossiping about!
America is the land of celebrity. There are Hollywood starlets, rappers, sports personalities, supermodels, musicians, soap stars and, this week above all, politicians and their husbands, wives, families and sons-in-law! Here are the names you need to know…
If your guilty pleasure is watching the lives of others, you'll be spoilt for choice
Politicians
If you thought Ed Balls on Strictly was scary enough, let me introduce you to Anthony Weiner…. (on second thoughts, lets leave that well alone!). From the private lives of the Kennedys and Clintons, to Watergate and any number of "gates" that have followed it, Americans love their politics. What other country would have elections that last a whole year from primary to inauguration? And while the Leo Blairs and Florence Camerons of this world were largely ignored, even the White House dog is big news. Trump has picked a Goldendoodle, by the way, and called it Patton after the cigar-chomping general. What will we make of Melania and Trump's son Barron, I wonder!
Reality TV
If your guilty pleasure is watching the lives of others, you'll be spoilt for choice; reality stars are plastered all over the press. You can expect a few familiar faces from British TV, including America's Got Talent, The Voice, Masterchef and American Idol. Next up, you have those that focus on 'interesting' families – Keeping up with the Kardashians, Teen Mom, Mob Wives, Dance Moms, and The Real Housewives of [insert chosen location here, i.e. Atlanta, Miami, New York, Beverley Hills]. If that's not enough to satiate your hunger for sensationalism, you can look forward to TV shows about cooking, dating, modelling, high profile restaurants, hoarders, hunters (both duck and bounty) and business – although Trump wasn't impressed with Arnold Schwarzenegger's turn in his place on Celebrity Apprentice, tweeting "Wow, the ratings are in and Arnold Schwarzenegger got swamped (or destroyed) by comparison to the ratings machine, DJT". Yep, everyone joins in celeb gossip in the US!
Sports stars
America is a nation of sports fans, loving to read and watch what their favourite athletes are up to, especially if that involves them behaving badly. In addition to the reality shows that follow the wives of NFL players, you can expect regular news coverage about the sex lives, politics and personal problems of the country's sporting heroes. You won't need reminding of the media storm that followed Tiger Wood's womanising revelations.
Over the years, we've seen "Deflategate" when New England Patriots quarterback and husband of supermodel Gisele, Tom Brady investigated for allegedly deflating the game ball, doping scandals involving baseball player Alex Rodriguez, and Lance Armstrong, and cases of sexual assault and domestic violence against such high profile sportsmen as Kobe Bryant and Floyd Mayweather.
TV hosts
"You get a car, you get car, you get a car! Everybody gets a car!" (If you don't know what I'm talking about, you really will need to brush up on your memes before you get stateside). TV hosts in the USA are widely loved by the entire population. You've heard of Oprah, Ellen and Jay Leno, but that's not the half of it. Jimmy Fallon is the popular host of The Tonight Show, and Brit expat James Corden's career is going from strength to strength as the host of The Late Late Show. Americans love the British on TV, by the way, with Simon Cowell and Gordon Ramsay just two of many British successes here. The hosts of shows like these, and breakfast television, like Good Morning America, are screened every day, which means much of the population know the ins and outs of every detail of their lives, which means they also enjoy speculating about it.
Movie stars and pop stars
The USA is, of course, home to the world's biggest celebrities – Beyoncé, Brad Pitt, Madonna – the list goes on
The USA is, of course, home to the world's biggest celebrities – Beyoncé, Brad Pitt, Madonna – the list goes on, and on (and on) and this means colourful gossip rags, like People Magazine and US Weekly, clog up shelves in every US supermarket, gas station and news stand. How much of it is factually accurate? Frankly, who knows, who cares? Expect daily speculation on the relationship and mental health status of anyone and everyone famous – it's the American dream that anyone can "make it", and everyone else can bitch about them!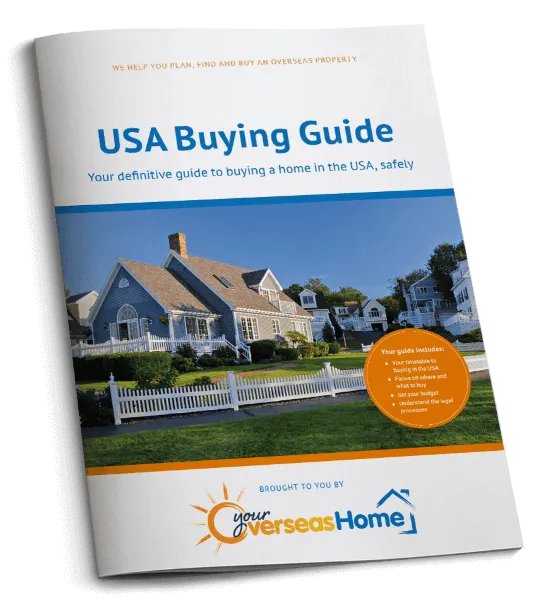 Download your free USA property guide
Our guide to buying a house in America is readily available online, but you can also a PDF version to view when you're offline or print. Simply fill in the form to the right and you'll be able to download your free copy.
Ask the right questions
Avoid the legal pitfalls
Find your property
Avoid losing money
Move in successfully
Download your free USA property guide