Considering a permanent move to France, but worried you don't speak French? Well, worry not! It'd of course be easier to have a basic understanding of the language of romance, but it's entirely possible to get by as an English speaker.
If you're not a language whiz or would prefer to live somewhere in France where it's acceptable to speak English, you're in luck. We've gathered a selection of the best places in France for English speakers.
Let's remember that English is the most popular second language taught in French schools, sometimes from primary age, but more commonly from age 11 and up. That being said, a lot of French citizens will have a good understanding of basic English – enough so to converse with you at least.
Lyon
Lyon is the third-largest city in France and is hugely popular with international students.  Recognised in particular for its cuisine and historical and architectural landmarks, Lyon is hugely important to France in particular for pharmaceuticals, biotech and banking. More recently, Lyon has gained a reputation within the software industry, namely video gaming. The city is also proud to actively nurture an ever-growing startup industry.
This city never truly sleeps. There is always something to do within the buzzing and vibrant city centre. From the beautiful architecture to the wide range of cultural offerings, this romantic city is the perfect location in France for English speakers to settle down. Lyon is also popular with international buyers who do not want to drive, as it has a great public transport system and is lovely on foot too. It's also well-positioned for easy travel to Paris, Italy and Switzerland, not to mention the Alps.
There are countless job opportunities in Lyon, namely within technology, administration and logistics as it's an industrial hub first and foremost. Lyon has many clubs and associations designed to welcome English speakers and expats. There is the Lyon International Association, as well as various groups that allow international professionals to network and share job opportunities.
Nice
Spectacular Nice is the second-largest city on the French Riviera. It's known for being an arts hub that attracts artists, writers and filmmakers and is a popular location in France for English speakers. Nice is historically popular as a holiday resort for the wealthy English. In fact, they originally conceived the construction of the promenade for which the city is famous – it's officially known as "La Promenade des Anglais" in their honour. With mild winters and hot, dry summers, Nice appeals to those looking to escape typical English weather conditions and live what feels like a completely different lifestyle.
There are many opportunities in Nice for job seekers. It's home to the third-busiest airport in France (after Paris Orly and Paris Charles de Gaulle) and has a rich and diverse historical heritage attracting people from all nations.
Due to the large number of expats who call the French Riviera home, there are many associations designed to help non-French speakers integrate into a new life in Nice. Those include the business club Cote d'Azur, for both building friendships and job networking and the usual Facebook event groups for the area.
Eymet
Eymet is in the southwest Dordogne, affectionately known to some as "Dordogneshire" due to the proliferation of residents who originate from the UK. It's about 20 km from Bergerac Périgord Airport, which is useful for those also looking to get to and from their holiday homes. Eymet is a hugely popular relocation choice in France for English speakers, who reportedly account for 10 per cent of the population. Eymet has a typical Bastide-town layout with a medieval house at its centre, with straight roads leading to its central square. Originally an agricultural centre, the town now boasts a fairly thriving commercial centre with bars and restaurants aplenty.
The area just outside the town is abundant in vineyards and farms. They offer great opportunities for those wishing to in indulge in active outdoor pursuits or seeking a slightly more rural lifestyle rather than bustling city life. With close proximity to the famous Dropt Valley with its magnificent unspoilt rolling countryside and a spattering of woodlands. And for the wine lovers amongst us, close to Duras with its numerous chateaux and famous wine-tasting tours.
There are specific groups in Eymet dedicated to promoting cultural life and well-being. They include the British in France and Association Culturelle Franco-Anglaise d'Aquitaine, which specialises in promoting Franco-English harmony for all things cultural. You'd be hard-pushed to take a stroll and not hear an English voice in this town. Many choose to set up their own businesses here, providing services to other English speakers in the area – from cleaning to gite management and changeovers and gardening.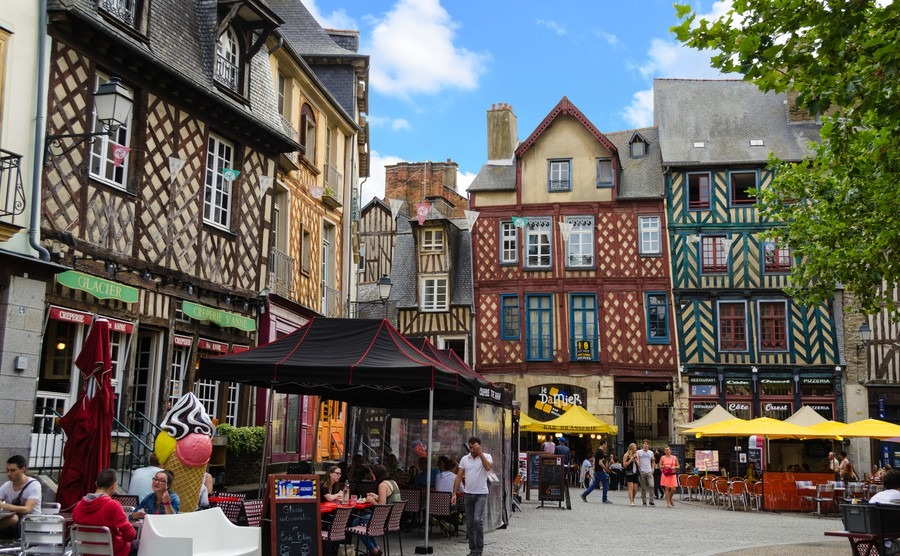 Rennes
Just 50 kms from the English Channel is the beautiful city of Rennes in Brittany – an obvious hub in France for English speakers, as it's the closest in proximity to the UK. Boasting 2000 kms of coast, islands, beaches, ports and historical towns Brittany remains a firm favourite relocation area for expats. Rennes is the capital of the region and is a city of art and culture. It is home to the eighth-largest university campus in France. In 2018, it was named "the most liveable city in France" by L'Express (a famous French Magazine).
Featuring an Oceanic climate, Rennes pertains to having half of the rainfall of some other towns and villages in Brittany. For those not wishing to live day-to-day life in searing heat, but still more favourable temperatures to the UK, this area is the perfect choice. Job opportunities here range from providing services to other English speakers, hospitality roles as well as of course teaching English.
Paris
Of course, we can't finish without including the magnificent capital, Paris. As a French speaker myself, people in Paris are ready to speak English and often do to tourists or other English speakers. It's home to over 12 million people and about 20% of them are believed to be from overseas, so are likely to have knowledge of English. Paris is one of the world's most famous centres of finance, commerce, gastronomy and of, course fashion. Home to a major railway, roadway and airway hub with two international airports, as well as the second busiest metro system in the world.
In terms of job opportunities, there are always roles available within the hospitality industry or perhaps working as a tour guide. Speaking multiple languages is a valuable commodity in this city, even if you can't count French within your repertoire. There are also opportunities to teach English, as well as nannying or au pair jobs.
Paris' large expat community brings with it the advantage of several clubs and associations designed to help those wishing to meet other English speakers. These offer a fantastic way to discover and learn new things about the city. These clubs include the Paris Anglophone Book Club and WICE (where Internationals Connect in English) which offer a variety of learning and volunteer opportunities centred on language, art, writing and culture.
So there we have it. If your French is not perfect, certainly do not despair! Opportunities to start that new life in France for English speakers certainly do exist!
You might also be interested in: