Learning French isn't so hard after all, according to new research that shows the positive effect of a drink or two. Don't worry, just start chatting as best you can.
There are so very many reasons why us British people love France: the culture, the history, the climate, the beautiful villages and towns, the beaches, the very reasonable property prices, the food and wine. The list truly does go on and on.
Although some French people have a reasonable command of English, it is so much more rewarding to be able to converse with your new-found French friends and neighbours in their own tongue. French is a beautiful, romantic language and many of us will have a smattering of "schoolboy" French already. But how do you get to the next level? Is it worth the effort? We will look at the answer to the first question here. The answer to the second one is a resounding "yes"!
They love to hear their language spoken with an English accent, much as we find the French accent in English attractive
Not only will speaking reasonable French enable you to dust off your brain, however old you are, and give you a new interest – plus a certain amount of pride in yourself – it will allow you to become fully integrated into the French lifestyle.
Sexy English accent
Firstly, put away any worries you may have about getting the grammar a little wrong or not mastering the French accent: no-one minds about that. In fact, you will find that the French love it that you are making the effort to speak their language and they love to hear their language spoken with an English accent, much as we find the French accent in English attractive.
The best way to improve on your French is to immerse yourself in the language. This means listening to everyone you meet, to people sitting around you in cafes and wandering around the market. Listen to French radio and watch French TV if you can. OK, you may not get the total gist of, say, a French film but the news is always a good one as this is normally read at a slower pace. Arm yourself with some French children's books and a good dictionary. Practise your French with everyone you meet and you will soon build up a good vocabulary.
A votre santé
A somewhat reassuring study has just been made by British and Dutch researchers, which shows that moderate drinking of alcohol can improve your language skills! There has been previous research showing that alcohol can benefit your pronunciation skills too.
If you are ready to buy a home in France, Property Guides will be at Your Overseas Home. It's a new style of overseas property show, where those serious about buying can get detailed information and introductions to trusted lawyers, agents and currency providers. Click here to apply for FREE tickets.
The latest study tested 50 German speakers studying in the Netherlands who spoke to a Dutch mother tongue speaker for two minutes. Half of them drank a glass of water beforehand, the other a glass of something alcoholic roughly equivalent to a pint of beer. The result? Those who had drunk the alcohol spoke better Dutch than those who had drunk the water, plus their pronunciation was better.
Naturally, this isn't "carte blanche" to drink but still, rather a nice thought to help you along the way to speaking better French!
Finally, the Michel Thomas language learning system is highly recommended. You purchase the CD and learn through repetition with a tutor.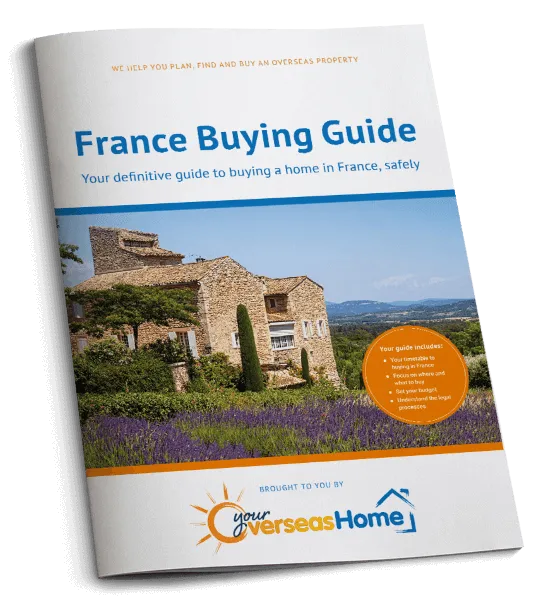 Buying a property in France is extremely exciting, but it can be nerve-wracking: in what ways is the process different to the UK, how do you cope with the language difference, what fees should you expect and just who is the notaire? That's why we've put together our France Buying Guide, to help you through the process, step by step.
Written by experts, it covers every stage of buying, from viewing to contracts and fees. Get your copy of the French Property Guide by simply filling in the form below.
✔

  Ask the right questions
✔

  Avoid the legal pitfalls
Download your free guide to buying in France