Texas is known for many things; cowboys, southern hospitality, country music, the best BBQ in the world. But did you also know that The Lone Star state is one of the fastest growing states in the USA? Since 2010, more than four million people have made the move to Texas. We find out what's drawing so many buyers, including from overseas.
With the new arrivals, the population now stands at 29 million, so thank goodness there's a whole lot of room! Texas is the second largest US state after Alaska, and is equally as spectacular. The state is home to deserts, mountain, ranch land, vineyards and forest, plus it's got a hefty 360-miles of coastline. Today, we're running through the many reasons why people have their sights set on the state, and listing 10 of the most desirable places to consider if you fancy a move to Texas.
Jobs and low taxes
Firstly, the state's job market is a huge lure for those looking to upgrade their quality of life. Unemployment is lower than the national average and there is no corporation tax, which makes it very business friendly. For that reason, many companies have set up headquarters in the state, including 54 Fortune 500 companies. Also, Texas is one of the few states in the US that doesn't charge income tax. On average the state collects $3,500 per year per individual. This is considerably less than California, $4,900 and New York, $7,400. When you see these stats, it's little wonder professionals are flocking to cities like Austin, San Antonio and Dallas. Sadly, you won't dodge tax entirely when you move to Texas. Expect to pay sales tax, which varies from county to county, and property taxes, which are some of the highest in the US.
Let the sunshine in
If you like your weather hot, hot, hot – you are going to be delighted with a move to Texas! In summer, enjoy hot and sunny days with temperatures typically hitting between 26-37 degrees. Think of all those days beside the pool. Come winter, temperatures usually hover between 10-24 degrees.
Don't let worries about healthcare put you off. Find out about accessing medical attention in your free Guide to Healthcare Abroad. 
Low housing costs
According to Zillow, the average home price in Texas is currently $196,000 (£155,000), and the average cost of a month's rent is $1,595 (£1,260). Another major factor enticing people to move to Texas from other cities is the sheer size of the homes you can acquire here for so much less. It's possible to buy a home with four bedrooms, a sizeable garden and a pool for $175,000 (£138,210) in some parts of the state. Additionally, cost of living is below the US average.
Fantastic education
Texas is home to more than 200 colleges and universities, many of which are considered the best in the country. The public school system is also revered across the United States for its excellence.
Culture
Texas is a beautiful state perfect for nature lovers who can't wait to spend more time outdoors when they move to Texas. Whether you're spending the weekend at Palo Duro Canyon, exploring the 100,000 acres of backcountry at the Big Thicket National Preserve, or relaxing at Padre Island National Seashore, you're in for a real treat. Also, if you're a music lover, you are going to have a field day in Texas – music is embedded in the state's culture, and live music is many folk's favourite pastime. Furthermore, Brits concerned that the US offers a distinct lack of history needn't worry. Texas delivers its fair share; with Native American roots, a diverse population, and a background in science, there's plenty of fascinating history to get your teeth into.
Where are the best areas to buy a house in Texas?
1 – Austin
Nowhere is cooler right now than Austin, Texas. This city, which is the capital of the state and close to its centre, has been attracting so many start-ups that Forbes have predicted it will become the next Silicon Valley. With fantastic universities, jobs galore, and a burgeoning restaurant and music scene, the young population have plenty to keep them occupied. Currently, the average salary in the city is $59,556 (£47,075) and the average cost of property is $363,300 (£287,190). Also, Austin has been voted the number one place to live in the USA by US News for the last three years.
2 – Georgetown
For something smaller, consider Georgetown – one of the Top 15 best small cities to move to in the USA. The town has a very low crime rate and is the first in the southern US, and only the second in the whole country to switch entirely to renewable energy. Its population is made up of healthy people who make the most of Georgetown's outdoor swimming spots, award-winning golf courses, and hiking routes. The average property price is currently $294,900 (£233,190). Living in Georgetown means you're 40-minutes from Austin and Round Rock, another tech hub full of job opportunities.
3 – Houston
Apparently, in Houston your monthly pay check, which clocks in at an average of $59,596 (£47,158), will go further than in any other city in the state. This is due to affordable housing, cheap options for dining out, and the volume of activities you can enjoy in the city for free. The average Houston property will set you back $185,400 (£146,700). In terms of jobs, you'll be spoilt for choice. Major industries include oil and gas, healthcare, manufacturing and (of course) aerospace. Plus, the city is home to 26 Fortune 500 companies. Also, this is a city that likes its food. There are more than 11,000 restaurants to visit when you move to Houston. Good luck finding your favourite!
4 – Lewisville
If taking better care of your health is one of the major motivations behind your move to Texas, consider Lewisville, which Livibility.com ranks one of the best places in Texas for health factors. The town has a population of just over 100,000 and all the action is based around its gorgeous lake. Lewisville is a top choice with families due to its affordable housing, and its proximity to job opportunities in Fort Worth and Dallas. The average property costs $270,800 (£214,115). Additionally, it ranks highly on Niche.com for its public schools, diversity, health and fitness and liveability.
Lewisville is a top choice with families due to its affordable housing, and its proximity to job opportunities in Fort Worth and Dallas.
5 – San Antonio
San Antonio is Texas' second largest city, and the USA's seventh fastest growing city. Currently, the average house price is clocking in under the state average at just $176,000 (£139,165), which means you are able to find something affordable, whether you're in the heart of the city, or one of the lovely suburbs that surround it. Alamo Heights, Boerne and Stone Oak are particular favourites. Also in its favour, cost of living in the city is well below the national average, and property tax is just two percent – making it two percent cheaper than Dallas, and 26 percent cheaper than Austin. San Antonio is an excellent choice if you want to keep costs down, enjoy the great outdoors and an incredible arts scene, learn Spanish, and not have to put up with as much traffic as elsewhere in the state.
6 – The Woodlands
According to Niche.com, The Woodlands, which is located 34-minutes north of Houston, is the second best place to raise a family in the United States. It was also ranked the sixth best place to live in America by the same website in 2018. 105,000 residents call this swanky planned-community home and get to enjoy its low crime rate, upscale restaurants, great shopping, concerts and events, plus a gorgeous woodland setting beside the water. While cost of living is slightly higher than elsewhere in the state, the median cost of property remains affordable at $339,900.
Download your Viewing Trip Worksheets to find out what you need to look out for when viewing a home in Texas.
7 – Plano
Plano, 25 minutes' drive from Dallas, ranked just behind The Woodlands as the seventh best place to live in America. The city has the lowest crime and tax rates in the state, plus its job market is thriving due to many a business relocating operations here, including JP Morgan, Bank of America and PepsiCo. Also, Plano is one of the most diverse locations in the state, with more than 80 languages spoken within is exemplary school system. Plano provides a welcoming, family-friendly community that prides itself in offering excellent education. The average property price currently stands at $335,200 (£265,000).
8 – San Marcos
Those that want to embrace the arts and music scene should consider San Marcos when they move to Texas. This small student town of 62,000 people is packed full of artists, musicians, and outdoor enthusiasts. By day, you can cool off in the crystal-clear waters of San Marcos River, or visit Texas' best wineries, the Driftwood Estate or Duchman. By night, follow the sound of music trickling out of bars and cafés or tuck into some BBQ – San Marcos is the epicentre of the state's barbeque region, so you'll be in marinade heaven.  The population of San Marcos has doubled in the last 25 years, but home prices remain affordable at $215,200 (£170,260).
9 – Dallas-Fort Worth
Dallas and Fort Worth are so close together (30 minutes) that if you position yourself right, you can enjoy the best bits of both. Fort Worth is known as the 'City of Cowboys and Culture' – enjoy the world's largest rodeo every year, as well as a number of world-class museums. The average salary here is $50,350 (£39,833) and the average cost of property is $197,400 (£156,144). Dallas is lauded for offering the perfect balance of urban and rural living. When you're in the mood for bars, shopping until you drop or getting behind your new local sports team, Dallas delivers. There are also bags of job opportunities within the financial, business and education sectors. But when the need for peace and quiet hits, the suburbs provide respite that will make you feel like you're in the countryside. If you choose to be closer to Dallas, the average property price is $212,100 (£167,760).
10 – Seabrook
For a slice of Texas coastal living, set your sights on this family-orientated seaside community, which is idyllic if you enjoy boating, seafood, and hanging around in marinas with the wind in your hair.  Houston is an easy commute, which means you can enjoy its employment opportunities, cultural activities, concerts and sporting events. The median household income in this glorious corner of the state is $82,047 (£64,870), and the median home price of $199,300 (£157,577). Area Vibes, a website that ranks US cities, named Seabrook the best place to live in Texas.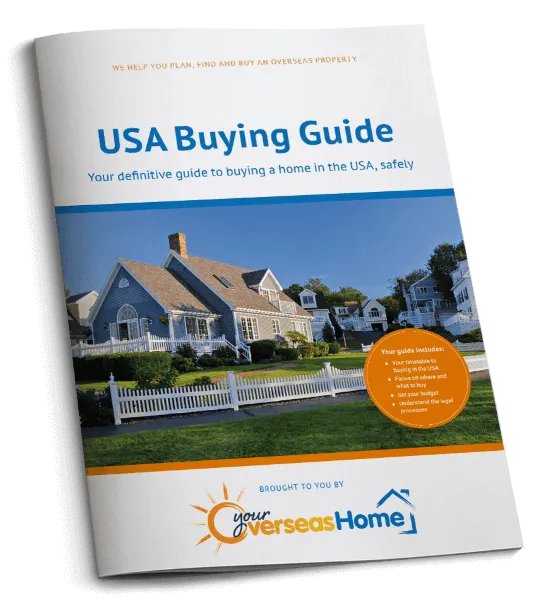 Download your free USA property guide
Our guide to buying a house in America is readily available online, but you can also a PDF version to view when you're offline or print. Simply fill in the form to the right and you'll be able to download your free copy.
Ask the right questions
Avoid the legal pitfalls
Find your property
Avoid losing money
Move in successfully
Download your free USA property guide