Feeling peckish? Moving to America means saying hello to a whole new world of taste sensations. Today we check out the most popular items on any American menu, so you'll know what to try when you settle down on that diner stool.
Around this time of the year, it's impossible not to think with your stomach. In the festive season diets are out the window, no snack-food is off limits and we can always find room for 'just one more slice', or one last chocolate from that industrial-sized box of Quality Street you're keeping beside the sofa! Food is one of the best things about Christmas, but it's also one of the most fun and exciting parts of making a move to another country. Just think of all the new dishes you'll be able to sample when you touch down in the United States! Today, in honour of a time of year where our hunger knows no bounds, we take a look at the USA's most popular foods.
Regional Favourites
Much as we have pork pies from Leicestershire, jellied eels from the East End, and stotties up in Stoke, across the US there are different culinary favourites according to what State you're passing through. Here are just a few of the USA's regional favourites…
Across the US there are different culinary favourites according to what State you're passing through
Philly cheese steak
This tasty offering is a hotdog roll full to the brim with thinly-sliced pieces of steak, all smothered in cheese. As the name suggests, the Philly cheese steak originates in Philadelphia, Pennsylvania, but you're likely to find it on menus across the country. You'll be impressed by the array of accoutrements you'll be offered alongside your meaty sub. Usual suspects include fried onions, peppers, mushrooms, as well as ketchup, mayonnaise and hot sauce.
New England Clam Chowder
The US region of New England is made up of a number of states: Rhode Island, Massachusetts, Vermont, New Hampshire, Maine and Connecticut. This region has much to offer visitors and those looking for a new life in the USA, and one of those things is their incredible clam chowder. As well as clams, this creamy broth comes with potatoes, onions and celery, and is usually served with small crackers. In some places, you may find the chowder comes served in a bowl made of freshly baked bread. This hearty soup is just perfect for warming your cockles when the New England winter kicks in to full gear.
Grits
Pull up a chair to dine anywhere in the south of the country and you're likely to see grits on the menu. At first glimpse, it may appear that your fellow diners are enjoying bowls of porridge with their eggs and bacon, but in actual fact, these are grits. A savoury corn dish usually enjoyed at breakfast time, as a compliment to the usual breakfast suspects, or topped with gravy, cheese, or a sausage ragout at other times of day. A popular variety of grits comes served with shrimp. Much like you would with polenta, you cook your grits slowly, on a low heat, whilst whisking in butter, crème fraiche and, of course, as much cheese as you like.
Gumbo
This delicious stew originated in Louisiana in the 18th century and Americans have been enjoying it at dining tables all across the American south ever since. Many Americans take pride in their own secret gumbo recipe, but essentially the dish comprises stock, a thickening agent called filé powder, celery, onion and peppers, and then of course the meat or fish of your choice.
US Institutions
Twinkies
We can't possibly mention American snacks without mentioning the infamous Twinkie! Although there's not much nutritional content to be found, this sponge cake filled with cream is an American institution that you simply have to try. Make sure it's top of the shopping list the first time you hit the supermarket in your new town.
Corndogs
Once living in the USA, you'll likely find yourself enjoying the sights and sounds of a county fair or two – and when you do, be sure to swing by the corndog stand. Now, we'll admit that a frankfurter dipped in a cornmeal batter and served on a stick, might not sound like the snack food of your dreams – but again, it's an institution. Americans love a hot dog, in fact, the National Hot Dog and Sausage Council (that's right!) estimate that Americans eat 20 billion hot dogs every year, that's 57 each!
Americans consume 20 billion hot dogs every year, that's 57 each!
Peanut butter and jelly sandwiches
Heading to a ball game? Or for a hike in the nearby national park? Then you know what you need? Peanut butter and jelly sandwiches. This US culinary staple of peanut butter and jam is loved across the country. In fact, the National Peanut Board have estimated that a typical American child "will eat 1,500 peanut butter and jelly sandwiches before he/she graduates high school." Sounds like you'll have a lot of catching up to do!
Sweet Treats
Pancakes
Coming from a country that prides itself on its savoury fry-up breakfast, pancakes as the first meal of the day can take a little getting used to for us Brits. However, as pancakes are delicious, especially when topped with crispy bacon and lashings of maple syrup, we suggest you give them a go. Other tasty US breakfast options for those with a sweet tooth include waffles or French toast.
S'mores
If you're excited to enjoy family camping trips when you move to the USA, one thing you must remember, aside from your tent, is the ingredients to make this traditional campfire staple. To make s'mores you'll need to roast marshmallows over the campfire until mushy. You then pop the molten marshmallow in between two chocolate-topped graham crackers, and then eat the whole thing like a sandwich. Hardly good for you, but if you've spent the whole day exploring nature – you'll have earnt it.
Key Lime Pie
If like many of our readers, you're moving to the Florida Keys, you'll want to sample Key Lime Pie. This popular American pie is made from lime juice (traditionally from the Florida keys area), egg yolks, and sweetened condensed milk. It might sound unusual, but it's a tasty treat loved all across the USA.
If all this talk of the delicious food you'll get to sample if you make the move to the USA has got you fired up, why not call our Resource Team to chat through your plans? Get in touch on 020 7898 0549 today.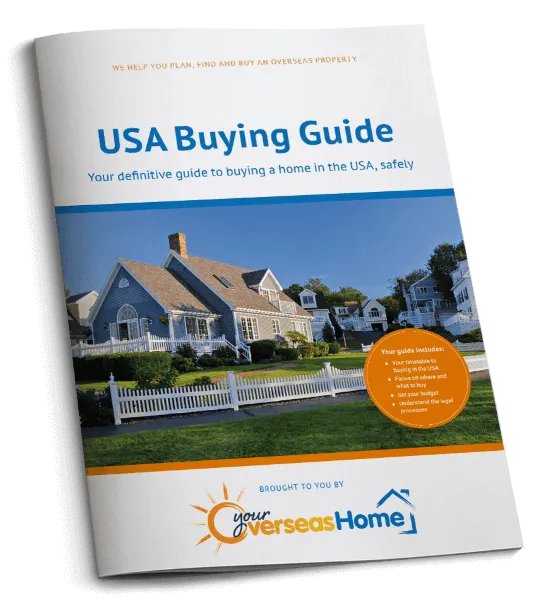 Download your free USA property guide
Our guide to buying a house in America is readily available online, but you can also a PDF version to view when you're offline or print. Simply fill in the form to the right and you'll be able to download your free copy.
Ask the right questions
Avoid the legal pitfalls
Find your property
Avoid losing money
Move in successfully
Download your free USA property guide