You've seen Sex & the City; you know about America's rugged wilderness – but if you move to work in the USA you'll probably be living in a suburb. Here are four neighbourhoods on the edge of famous cities that might just offer the best of both worlds.
Unless you're retired, you're going to need to find a way to support your lifestyle in the USA when you make the move – and this means you'll need to move where the job opportunities are. Now, of course, we all want to live close to Florida's beaches, or next door to one of the country's breathtaking National Parks, but if you also need to work, the good news is that there are wonderful, affordable suburbs located around the USA's biggest cities but close to its wild countryside too. Today we're running through four of our favourites and revealing what kinds of property you can get for your money.
There are some wonderful, affordable suburbs located around the USA's biggest cities.
Miami Subrub – Cooper City
If it's the Sunshine State that's calling to you, perhaps Cooper City, located conveniently between Miami and Fort Lauderdale, could be just the spot for you. Cooper City is one of the safest Miami suburbs, home to the Cooper Colony Golf and Country Club and Brian Piccolo Park and Velodrome. Whether you're in the market for a modern condominium or a Mediterranean villa-style home, Cooper City delivers.
Set in three quarters of an acre, overlooking a pretty creek is this wonderful four-bedroom, two-bathroom property. Outside you'll enjoy a shady deck overlooking your own swimming pool – surrounded by the obligatory palm trees of course! Inside the property is spacious, offers open plan living in the main areas and ample storage space. The property comes with brand new stainless steel appliances and has just been fitted with granite countertops.
New York Suburb – South Orange, New Jersey
Just 30 minutes train ride from New York City's Penn Station is the charming town of South Orange, New Jersey – population 16,380. Here you'll find a restaurant scene that rivals New York and ample opportunity to enjoy outdoor activities like hiking and mountain biking at the South Mountain Reservation, in South Orange Park and Meadowland Park. This is a kid-friendly spot which offers a real slice of the small town America we've all seen in the movies – they even have gaslight lamp lit streets! So quaint! The median house price in South Orange is $562,800 (£434,000).
Big family? You'll struggle to find an affordable six-bedroom home in Manhattan, but Just half an hour from NYC you can own this attractive family home with large front and back gardens for just £400,000. This stone-fronted colonial property is traditionally decorated, boasts an impressive entrance hall and sweeping staircase, and a wonderful sunroom, perfect for reading or entertaining new friends and neighbours. The third level of the property could be converted into an additional bedroom, office, or living space, as could the basement. Nearby you'll find schools, shops, recreation spaces and commuter trains just minutes from your door ready to whizz you into the city whenever duty calls.
Tampa Suburb – Dunedin
If your job is located in Tampa, the oceanfront town of Dunedin, which is just 24 minutes away from the CBD, could be the dream suburb for you. The town presents plenty of choice for homebuyers whether you're in the market for a spacious ranch, a cottage style property or a chic, modern condo with waterfront views. Embrace the healthy lifestyle encouraged in town by snapping up locally grown fruit and vegetables at the Dunedin Downtown Market, or at the Dunedin Community Garden. When the working week is done you can enjoy days spent boating at the Dunedin Marina or enjoying family picnics in the Florida sunshine at Hammock Park.
If your job is located in Tampa, the oceanfront town of Dunedin, which is just 24 minutes away from the CBD, could be the dream suburb for you.
How do you fancy a three-bedroom, two bathroom property complete with sunny front deck for the incredible price of just £60,000? Although more ideal for a couple than a family, this property is modern, spacious and wonderfully located within the peaceful Lake Haven community, which boasts a sociable clubhouse and communal swimming pool. The community's fantastic location means that you're just five miles outside of Clearwater, another spot where you might be able to seek work, as well as fantastic beaches, shopping and medical facilities.
Los Angeles Suburb – La Palma
If you need to be close to LA for work, La Palma could be a wonderful and affordable option for you and your family. In fact, in 2013, the city was ranked the 31st best city to live by CNN's Money Magazine. The city is known for its low-crime rate, the shortest police response time in Orange County and for high-ranking schools. Although technically a city, La Palma has a small-town vibe that will make it easy to get chatting to new friends.
This three-bedroom, two-bathroom property is located within a secure gated community, complete with communal swimming pool and Jacuzzi. The townhouse is spacious, bright and airy and boasts a cathedral ceiling in the living room. All of the bedrooms are sizeable and have fantastic storage. The kitchen has recently been updated. There is a one-car garage, plus space for another car to park at the rear of the property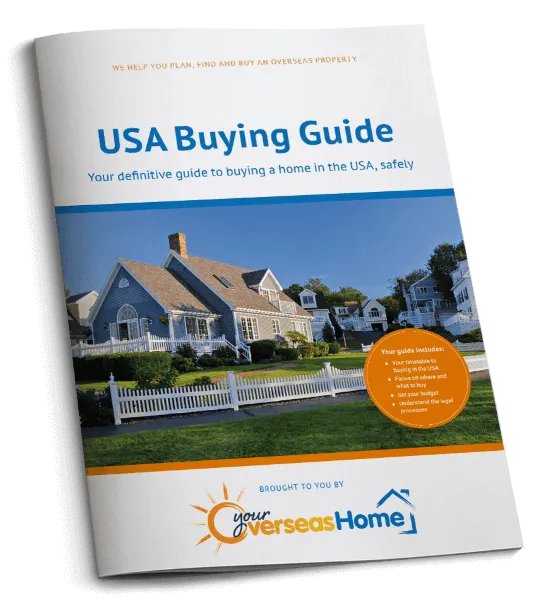 Download your free USA property guide
Our guide to buying a house in America is readily available online, but you can also a PDF version to view when you're offline or print. Simply fill in the form to the right and you'll be able to download your free copy.
Ask the right questions
Avoid the legal pitfalls
Find your property
Avoid losing money
Move in successfully
Download your free USA property guide