Your bags are packed, you're ready to go, the taxi's waiting, blowing his horn… Hang on a minute, how are getting the rest of your stuff to the USA? Read our top moving tips.
1. Plan ahead
The golden rule for moving overseas is to plan, plan and plan. Moving abroad is a long process which can take up to six months from start to finish. The earlier you plan it the cheaper you can do the move, but send it too early and your furniture will be in Miami while you're still negotiating on the price.
The hardest part about this process may be the letting go—the best bit of advice is to just do it!
2. Keep, sell and donate
In order to get an estimated cost from international movers, you will need to decide what needs to be moved overseas. This is your big chance to downsize your life; organize your home into three categories: keep, sell and donate. The hardest part about this process may be the letting go—the best bit of advice is to just do it! Do you really need all that stuff? "Does it spark joy?" to quote uncluttering guru Marie Kondo.
3. Consider long-term storage
If you really can't let go then research long-term storage options. You may have a family member with spare garage or loft space, although this probably won't be climate controlled and can be an imposition on relatives. Even though you may have to pay for a storage unit, your belongings will be safe and the cost may help change your mind about what you really need to keep!
4. List items to be replaced
Make a list of must-have items so that you can budget for their replacement on arrival in the USA. Online research will give you an idea of replacement costs. In America, every day consumables and household goods can be bought very cheaply; electrical appliances are also cheaper. Good quality furniture, fixtures and fittings are generally more expensive.
5. Guesstimate cubic capacity required
Once you have completed your purge, you need to work out the amount of space your belongings will take up in a shipping container to see if you need a full or a part-container. The smallest containers are 20' by 8' by 8'; the largest containers are 40' x 8' x 8'. Shipping companies provide this service for a fee, so you may prefer to do it yourself. You can estimate your needs by considering a washing machine to be roughly the same size as a cubic yard or cubic meter and then add up how many washing machines your furniture and packed belongings would represent.
Before you wave your possessions off at the port, you should be checking how you get American healthcare and what it will cost. Read our brand new guide, Healthcare Abroad 2018.
6. Make a detailed inventory
List every item you will ship and record a replacement price so that you can accurately assess your insurance needs. It is worth noting that it will cost to have the removal company do your packing, but if you self-pack your insurance may not cover items broken in transit.
7. Remove anything edible, living or prohibited!
This may sound strange but you may have heard friends joking about how their removal company even packed the half-eaten toast they left on the breakfast table…the truth is that this does happen. The problem is that this may result in a huge headache for you. Sniffer dogs are used by customs at the destination port and food that is not contained is a violation of customs regulations that can result in a fine for you. Other prohibited items include: firearms & ammunition (don't worry, you can buy some when you get there!); inflammable goods and substances; plants and plant material; narcotics and dangerous goods; offensive materials; alcohol and tobacco.
8. Pack necessary items in luggage
Because of the time taken to ship goods (anywhere from two weeks to three months depending on whether you fill a container or only take up part of a container), you will be without your possessions for a long time. Obviously, keep medicines and personal belongings with you, but if you really can't live without that favourite ornament or your child can't survive without a particular toy, find a way to pack it in your luggage.
9. Arrive before your shipment
Customs agents strongly suggest that you arrive ahead of your shipment because you are legally meant to be in the country to receive your goods. If not, you will have to sign over power of attorney to your destination agent to receive your goods on your behalf and you will have to pay storage fees at the destination port until you arrive in the country to receive the shipment.
10. Consider collecting from the port.
If your possessions arrive by container to a port like Miami or Baltimore, instead of paying yet again to get it transferred to your home, is this time for the great American road trip? There are plenty of good truck rental operators and you can usually organise a one-way rental.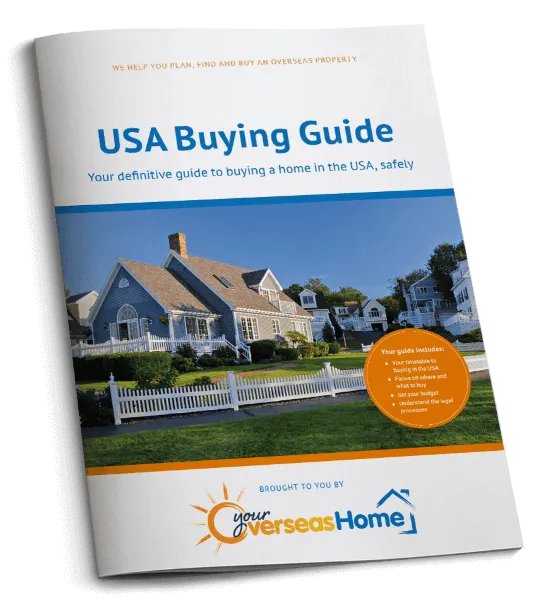 Download your free USA property guide
Our guide to buying a house in America is readily available online, but you can also a PDF version to view when you're offline or print. Simply fill in the form to the right and you'll be able to download your free copy.
Ask the right questions
Avoid the legal pitfalls
Find your property
Avoid losing money
Move in successfully
Download your free USA property guide