Making new friends can seem daunting whatever age you are, but there's no need to panic. American's have a reputation for being some of the friendliest people on the planet, and if all else fails you can lay it on thick with your British accent – they'll be putty in your hands.
Moving to another country presents a whole host of personal challenges, many of which might be the reasons you wanted to move in the first place: a fresh start, a career challenge, to meet new people. Unless you're moving to be closer to loved ones, international moves typically involve moving far away from friends and family. Making new friends is therefore fundamental to the success of an international move, but how on earth do you go about it? Today we're providing some useful tips on how and where you're likely to meet new buddies when you move to the USA.
The best and most natural way to make genuine friends is to get involved in the activities that interest you.
Be friendly!
The most important thing to remember is to be friendly and open. The majority of Americans love interacting with Brits – whack on a smile, ham up the accent, and you'll have a whole host of new mates in no time! Joking aside, it pays to be friendly. If you're relocating to a small town, you'll see the same faces time and time again. Introduce yourself, let people know that you're new in town, and always offer a smile and wave when you're out and about. You'll soon find the invites flooding in – Americans are friendly people!
TOP TIP: Remember to accept how things operate in the US and respect the differences. Be open to learning about the culture, and don't be afraid to ask questions about how things operate.
Sports
The best and most natural way to make genuine friends is to get involved in the activities that interest you. This is the best way to meet kindred spirits you'll have lots in common with. For example, are you a sports nut? If so, great news – Americans are sports mad! Whether you're already mad on American football, basketball or baseball, or you're excited to learn more about these popular games, you won't struggle to find someone to watch the game with or to help explain the rules. You'll find that many social events revolve around sport – display an interest, back a local team and you'll always have something to chat about.
New hobbies
If chatting touchdowns is your idea of hell – what other activities have you always fancied having a go at? Painting, guitar, French lessons, a writing course? This is your chance to take up a new hobby and to meet local people with similar interests. Developing a routine in your new country is a tried and tested way of feeling more settled. So, if you attended yoga twice a week or go to the gym every day, start doing exactly that in the US. It'll make you feel at home, plus you'll soon start recognising familiar faces, and then all you need to do is pluck up the courage to say hello.
Cultural events
If you're worried about having something to chat to new people about, pay close attention to the events calendar in your new town or city. Art exhibitions, galleries, concerts and plays are both fun to attend, and a prime opportunity to strike up conversation.
In the workplace
If you've moved to the USA for work, you have a whole host of potential new friends waiting for you in your workplace. While some might prefer to keep things professional, there's likely to be many opportunities to socialise. You're on similar schedules so planning lunches or after-work socials should be easy. You also have a huge shared interest in common, which means you shouldn't run out of conversation. Your colleagues will also be an invaluable source of information about the local area, so don't be shy to ask for places to check out, or tips for where to find the best bargains/ shops/ schools etc. Embrace every invitation – at least until you've established whether or not you have anything in common with the people you work with.
Make friends through your children
If you're relocating with your family – lucky you! Your children will introduce you to a whole host of new people who can become friends. Keep an eye out for social events, extra-curricular activities, play dates – all of these events provide brilliant opportunities to meet other parents in the same stage of their lives as you.
If you don't have children – consider getting the next best thing: a dog! America is a nation of dog lovers. Having a dog will encourage a lot of people to strike up conversation with you – although they will probably be more interested in stroking your dog. Dog parks and doggie day-care are a good way to meet people.
Ask for introductions
Do any of your friends know anyone in your new area? Do any of their friends? If so, ask for an introduction. People are far more likely to spare some time if they are meeting someone that they know, in however vague a way. Don't be shy when it comes to asking for introductions. If you have mutual friends, chances are you'll have something in common.
The internet is a wonderful resource for finding expat groups to become a part of.
Get online
If you're relocating to a fast-paced city, you'll find a lot of people often have their own friends and rarely have time for making new ones. There will however be plenty of people out there just like you, who are looking to expand their social circle. Try Meetup.com – no matter your interests, you're likely to find a meetup to attend. You'll find book clubs, hiking or running groups, craft evenings, the list goes on…
The internet is a wonderful resource for finding expat groups to become a part of. BritishExpats is a good place to start, but your area could have many more groups, especially if you're relocating to Florida or somewhere with a lot of Brits.
Volunteer
Another wonderful and rewarding way of making friends is to volunteer. Having some volunteering as part of your routine is a fantastic idea. It keeps you busy, helps you get to know your local community, and you'll make a lot of friends and acquaintances along the way.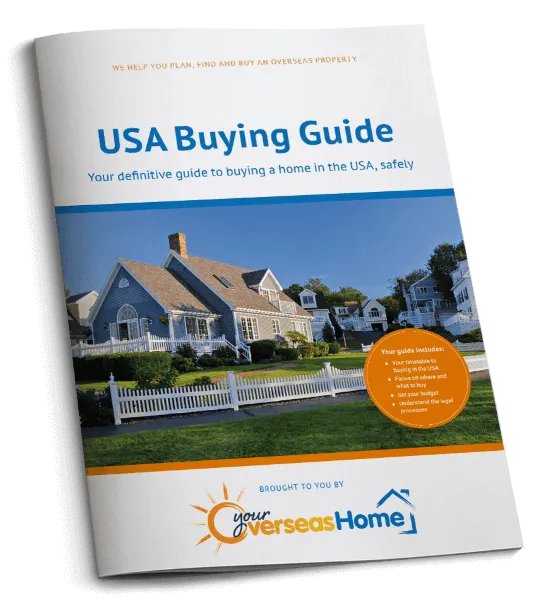 Download your free USA property guide
Our guide to buying a house in America is readily available online, but you can also a PDF version to view when you're offline or print. Simply fill in the form to the right and you'll be able to download your free copy.
Ask the right questions
Avoid the legal pitfalls
Find your property
Avoid losing money
Move in successfully
Download your free USA property guide