Today we chat to a British grandmother about how her family life has been transformed since she purchased a holiday home in Florida.
Back in 2012, Anne Briggs and her husband Chris, finally decided to act on their long-cherished dream of buying a holiday home in Orlando. As parents to five grown-ups, Anne and Chris are frequently surrounded by grandchildren and wanted somewhere to share holidays and build wonderful memories. Today the USA Property Guide speaks to Anne about her experience:
Chris and I maintain it's the best decision we've ever made."
Why Florida?
"We've always holidayed as a family in Florida, mostly because we needed a place with winter sun as Chris's job made it impossible to get away over the summer holidays. We've built some of our fondest memories in and around Orlando. I still remember the first time we holidayed there – it was in 1990, and we went to Disneyworld. We had such a good time that we came back to the area all the time as the kids were growing up. Now my kids take their kids there. The weather is always great and there are so many family activities that it's impossible to get bored."
Quality time
"As our children have grown up and started their own families, they've gradually moved away, which makes it harder to spend as much time with them as we'd like. We realised that what we really wanted was quality time – and that's when we decided to look at property in our family's favourite place. We found that prices in Orlando were well within our budget and we snapped up a large, four-bedroom property with its own pool, close to all the attractions and amenities. Chris and I maintain it's the best decision we've ever made."
Enjoying Florida
"During the winter we spend as much time in Florida as possible. We're both retired so it's something wonderful to look forward to post-summer, around now, when the temperatures start to dip and the nights start drawing in. Our children will bring their families out at different times, sometimes there's a little overlap, which although a little chaotic, we actually love! It's just wonderful to have a home we love that can house our brood, and where we can treasure our time together."
If you'd like to chat to someone at The USA Property Guide about making your dreams of purchasing a holiday home in Florida, or anywhere in the USA, contact the Resource Team today on 020 7898 0549.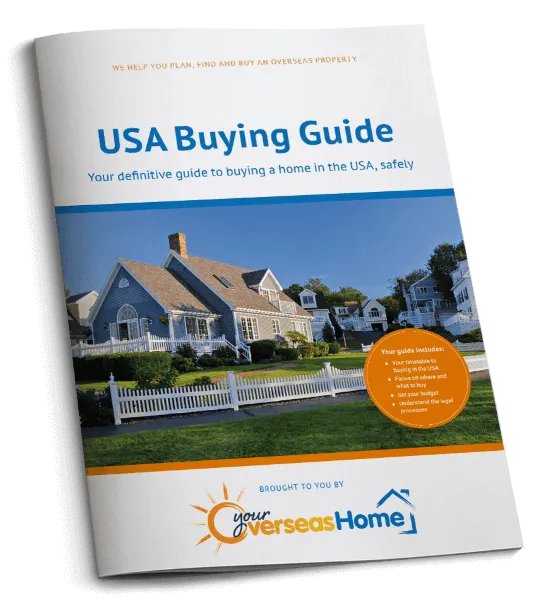 Download your free USA property guide
Our guide to buying a house in America is readily available online, but you can also a PDF version to view when you're offline or print. Simply fill in the form to the right and you'll be able to download your free copy.
Ask the right questions
Avoid the legal pitfalls
Find your property
Avoid losing money
Move in successfully
Download your free USA property guide