In this month's area guide we're travelling to Georgia to consider what The Peach State offers expats looking to relocate to the USA.
Georgia is the largest US state east of the Mississippi River, bordered by Tennessee, South Carolina, Florida and Alabama. The state is known for its interesting civil war and civil rights history, Southern charm, beautiful properties and for having some of the most friendly and exciting towns and cities in the USA. Today we're looking at what Georgia offers, suggesting a couple of places you might like to check out and seeing what types of property you can get for your money. Spoiler: gigantic ones!
The state is known for its interesting civil war and civil rights history, Southern charm, beautiful properties and for having some of the most friendly and exciting towns and cities in the USA
Georgia – an overview
Georgia is a varied state, both in state-of-mind and landscape. In the north, you'll find the Georgia Mountains Region, part of the Appalachian and Blue Ridge Ranges, meaning cooler temperatures, roaring rivers and incredible wilderness. This is a brilliant spot for outdoor adventurers, hikers and cyclists. To the south the state is home to coastal marshlands, barrier islands, untouched beaches and swamps – they're more interesting than they sound – including the enormous Okefenokee Swamp. Cities like Atlanta and Savannah are progressive and wealthy, with plenty of opportunities for the business-minded, as well as things to see and experience.
Job opportunities
Georgia is a farming state, with one in seven Georgians working in agriculture. It ranks among the USA's top producers of blueberries, peaches (hence the state's nickname), peanuts and poultry. If you buy a pecan nut in your local supermarket, the chances are that it came from Georgia.
The film and TV industry is also thriving. The state has the country's fourth largest entertainment industry and around 30,000 employees within the sector. Fun fact – Forrest Gump was filmed in Georgia, and the famous park bench is in Chippewa Square, Savannah.
You should also be able to find work relatively easily within the energy sector – Georgia leads the country in terms of net electricity production. The state earns $35 billion per year from energy, creating close to 30,000 new jobs.
The sterling value here is the interbank rate at the time of going to press. This is not available to the general public, but contact Smart Currency Exchange for a free, no-obligation quote and a friendly chat about exchange rates. You can also download Smart's Property Buyer's Guide to Currency, packed with insider tips.
The automotive industry is another big employer. Kia Motors, for example, hails from Georgia. In total, there are around 250 facilities employing more than 20,000 people within Georgia's automotive industry.
Finally, work in the tourist industry is relatively easy to come by. The state welcomes around 14 million tourists each year to its biggest attractions, including the Martin Luther King Jnr Memorial Park, Jekyll Island and Tybee Island, and World of Coca-Cola (just $17 for entry).
Climate
Due to its significant size and varied landscape, Georgia's climate varies significantly depending on your location in the state. Essentially, the state has a humid subtropical climate – which means mild winters and long, hot, steamy summers. Summer highs during summer months in its most southern regions are around 30-32°C.
If you're in Atlanta, or further north, summer high temperatures are likely to be consistently in the low 30°s. Due to the humidity, tropical summer thunderstorms are common. Georgia is also susceptible to hurricanes and tropical storms in late summer so do bear that in mind if you are planning on buying a holiday property. Winters are mostly mild, with temperatures sitting at a very manageable 18°C. Some parts of Georgia do get the odd bit of snowfall but only in the north, up in the mountains.
Where to live
Atlanta
Known as the "capital of the south", Atlanta has experienced massive growth in the last few years and is now considered one of the USA's prime locations. The city itself offers a lot to see and do, most notably its iconic African-American history, as the birthplace of Martin Luther King. There's a thriving music scene, film and TV production is on the up and there are some excellent restaurants, bars and shops – everything you need from a big city.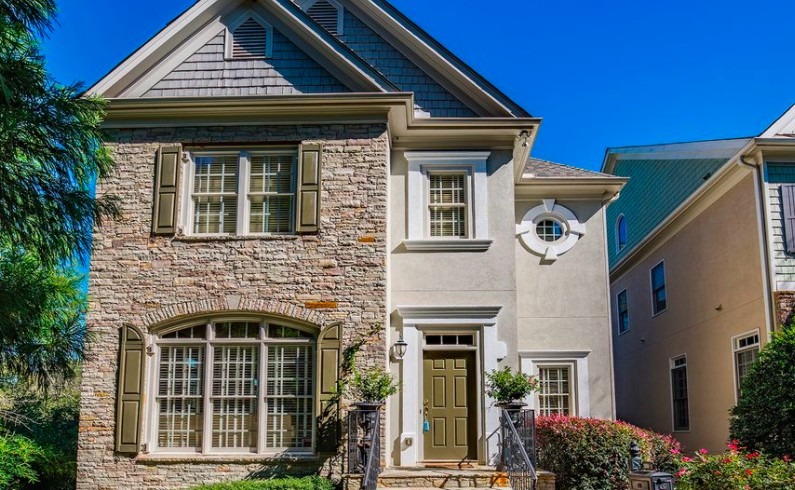 This three-bedroom, four-bathroom property is located in a peaceful, green, gated community and is a steal for just $648,000 (£490,000). The property has a large sundeck, a purpose-built bar, a media room and a two-car garage.
Canton
If you want to feel like you've stepped back in time to a quintessentially Georgian city every time you leave the house – check out Canton. This historic town hosts the Festival of Arts in May, boasts an array of community-based activities, such as the Downtown Farmers Market. It also has low unemployment, a crime rate that's half that of the rest of Georgia, and a sales tax of 6%, which is a lot less than in some states. Canton also has some of Georgia's best weather, with the average temperature sitting at a mighty pleasant 25°C. Canton is located in the foothills of the Blue Ridge Mountain Range, making it a perfect location for lovers of hiking and the great outdoors.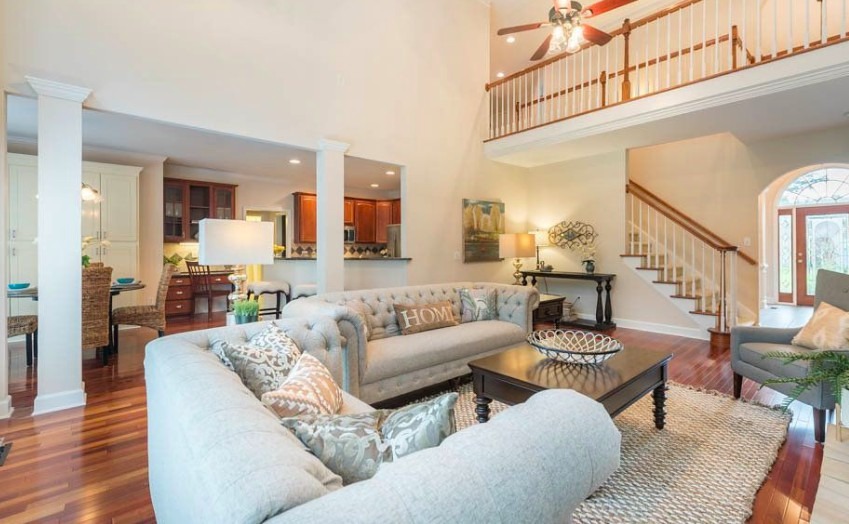 This gorgeous modern property has seven bedrooms and six bathrooms, all for a price tag of $478,000 (£361,000). Everything in the property is brand new, plus there is a 'man cave' and views of the neighbouring golf course.
Fayetteville regularly tops lists of Best Places to Live in Georgia.
Fayetteville, Georgia
Fayetteville regularly tops lists of Best Places to Live in Georgia. The town of 16,000 offers low sales tax, low unemployment, a student-to-teacher ratio of 15 to 1 and a median household income that's 48% higher than the state average. Downtown has been revamped and there are a number of beautifully manicured city gardens to enjoy in the sunshine. The town is said to have provided some inspiration for Gone With the Wind – writer Margaret Mitchell used to visit frequently.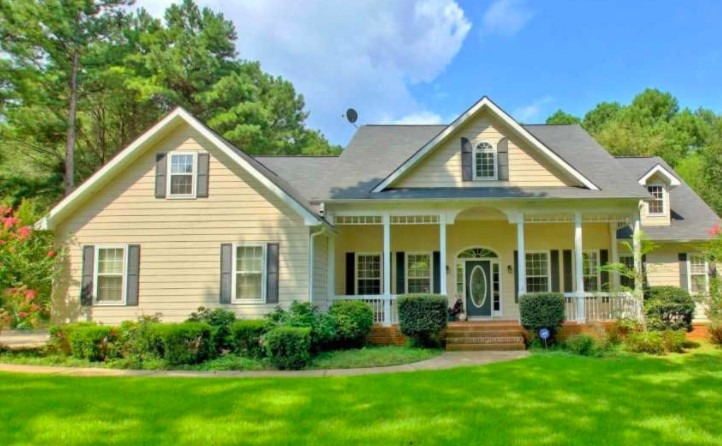 This four-bed property is impeccably decorated throughout and boasts a huge backyard, complete with saltwater swimming pool. The spacious property is ideal for those who like entertaining and is on the market for just $390,000 (£294,450).
Duluth, Georgia
Technically a suburb of Atlanta, Duluth is considered one of the best places to live in the United States. You'll find a jam-packed events calendar with lots of concerts, festivals and events that bring the community together. This spot combines a small town feel with big city amenities.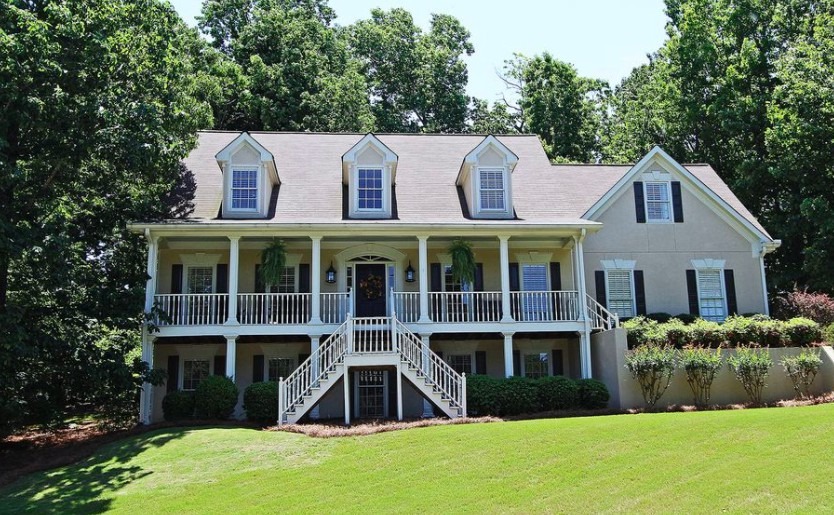 One for those who enjoy an active life, this enormous four-bedroom property is located in a swimming and tennis community. The property has a gorgeous front porch, a games room in the basement, and is on the market for just $450,000 (£340,000).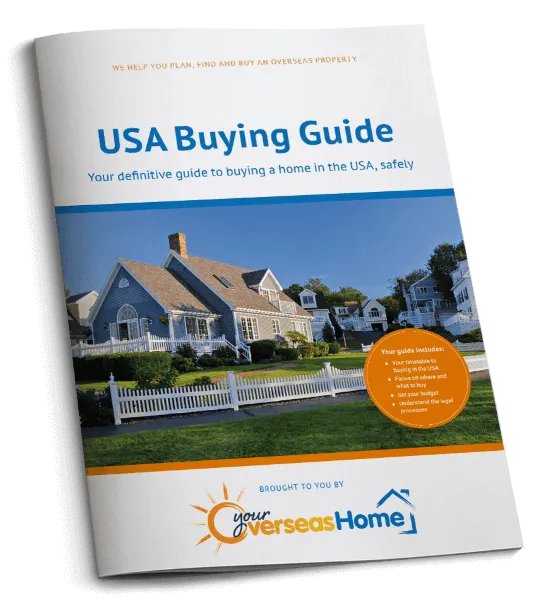 Download your free USA property guide
Our guide to buying a house in America is readily available online, but you can also a PDF version to view when you're offline or print. Simply fill in the form to the right and you'll be able to download your free copy.
Ask the right questions
Avoid the legal pitfalls
Find your property
Avoid losing money
Move in successfully
Download your free USA property guide